Venture builders are a super-hot topic in the open innovation arena. In the past few months more companies have announced that they have created a venture builder (Iberdrola and Telefonica Wayra, just to name a few of the most recent ones); and many others are about to launch (we see RFPs coming), or internally about to assess the option through benchmarking analysis.
That said, a common denominator in most of the discussions we are having on the topic is the lack of clarity of what a venture builder really is and what makes it different from other models that, while sharing some characteristics, are not venture builders.
Spoiler alert: a venture builder is neither a corporate accelerator nor a startup

studio.
While a certain level of indetermination is OK — nothing is written in stone here and models are evolving as we speak — a bit of clarity might help. Otherwise, there is a risk that companies will end up with an old-fashioned model that won't produce significant results, and will activate initiatives without clear expectations, goals and budget. Either way, brace for failure!
Let me try to shed some light.
Spoiler alert: a venture builder is neither a corporate accelerator nor a startup studio.
This table summarises the main differences: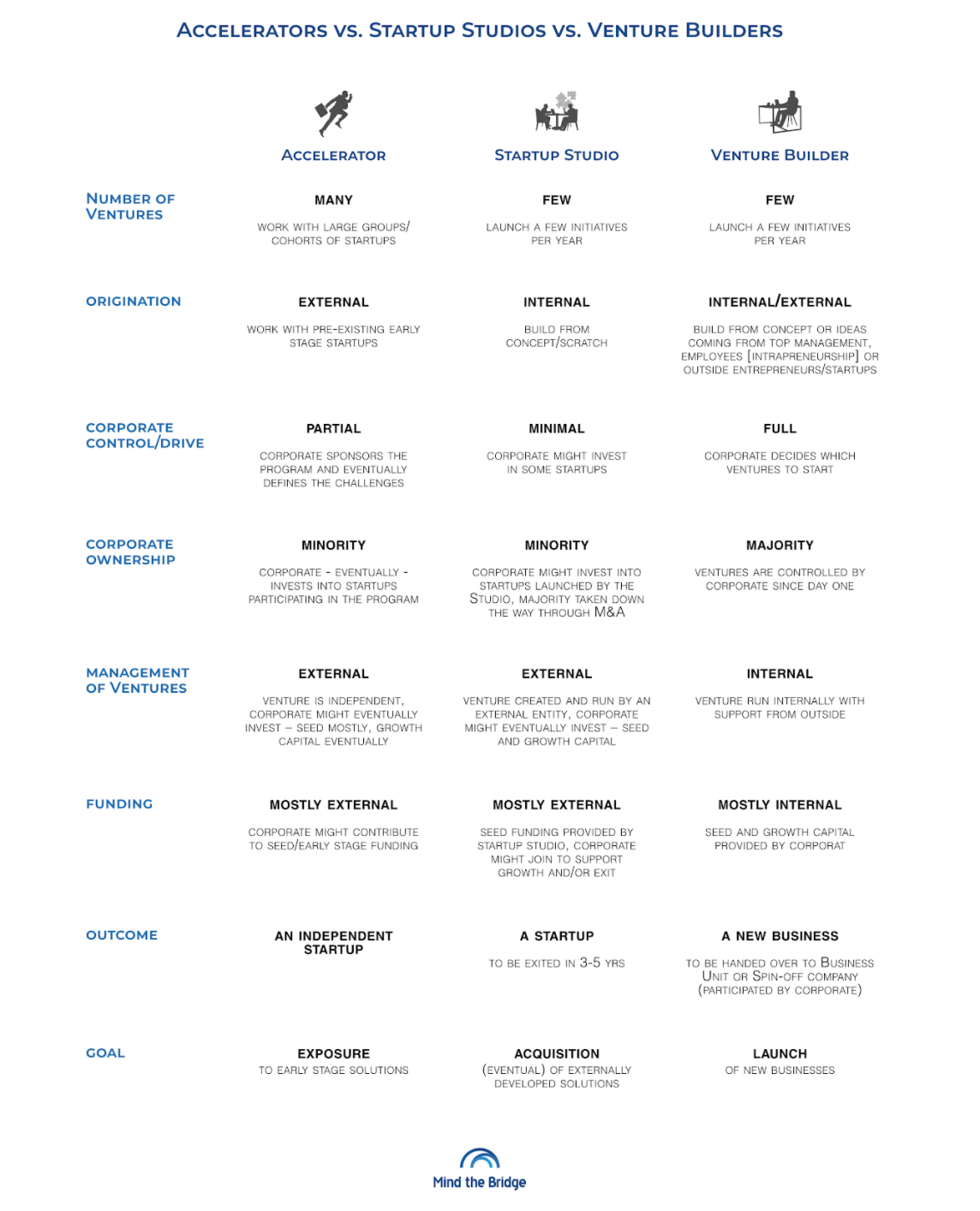 What makes a venture builder different from a corporate accelerator?
1. Goals: The venture builder's goal is to launch new businesses, while the corporate accelerator's is mainly to provide exposure to innovative early-stage solutions.
2. Focus: A venture builder has to be very selective (running two to three projects per year), while accelerators adopt a broader portfolio approach ('spray & pray').
3. Level of control: Startups participating in accelerators are totally independent of the corporate, while ventures in the builder are corporate-owned — though a minority might be left to the internal entrepreneurial team or eventually open to third party investors/partners.
What makes it different from a startup studio?
1. Outcomes: Startup studios produce startups with the goal to exit them — eventually to a corporate that typically becomes involved with the project later on. Venture builders produce new businesses with the main goal of handing them over to the business units. A new entity (spinoff) might originate but — if successful — the new company is supposed to mainly work with the parent company rather than be an independent entity.
2. The way it's managed: Initiatives run through a venture builder are managed internally by the corporate — although the managing team is usually complemented by third parties providing entrepreneurial skills, outside investors view, and cross-industry experience. In a startup studio ventures are backed and run almost independently, although with potential areas of integration with the corporate(s) participating in the project.
The jury is still out on how well venture builders work
The model is still fairly new and evolving. That said, there are a few companies that are ahead of the game and worth watching:
BP's Launchpad programme has the ambitious goal of building five billion-dollar businesses to tackle the dual energy challenge by 2025. It has a team of 40+ people from very different backgrounds — "80% of them were recruited from outside BP!" said Stephen Cook, senior vice president at Launchpad & Ventures, in our Mind the Chat.
Launchpad selects the ventures to build using two criteria:
1. Strategic: they should have the potential to become a future Business Unit;
2. Financial: "They should have the potential to generate $250M+ revenue in 3-5 yrs.", said Siobhan Clarke (Operating Partner, Launchpad).
Similarly bold is the National Grid.
In 2018 they created National Grid Partners (NGP), a $300m CVC fund based in Silicon Valley in order to "disrupt themselves". In two years NGP has made 27 investments and has had two exits.
They also created a venture builder, i.e. about 20 people multifaceted team (50% internal with industry knowledge and 50% with a fresh perspective from outside) led by Brian Ryan, vice president of innovation. They run a handful of projects per year.
The main goal is to handover them to the business units. "Selected projects pass through a two stage process: an initial concept stage (What's the problem you're addressing? How does your solution address the problem? How do you monetise it?) and — about one year later — a scaling stage", Ryan said in our Mind the Chat session.
Other interesting benchmarks for venture builders (though on a smaller scale) are Engie New Business Factory and Enagas Emprende. An example of a corporate startup studio is Kamet Ventures by AXA. What, a corporate startup studio? Right, that's the exception that proves the rule.