For those worried about the impact of the Covid-19 pandemic on VC investment across Europe, the latest report from Pitchbook should make for welcome reading.
According to the report, released today, VC deals in Europe totalled €10.6bn in Q3 2020. That's one of the strongest quarters on record, bringing year-to-date funding to €29.5bn and meaning it's on track to eclipse the €37.2bn raised in 2019.
"Despite economies falling into recessions, unemployment rising drastically across numerous different sectors and multiple stimulus measures being announced by pretty much all of the European nations, venture deal value and activity hasn't really reflected impacts of Covid-19," Nalin Patel, the lead author of the report, tells Sifted.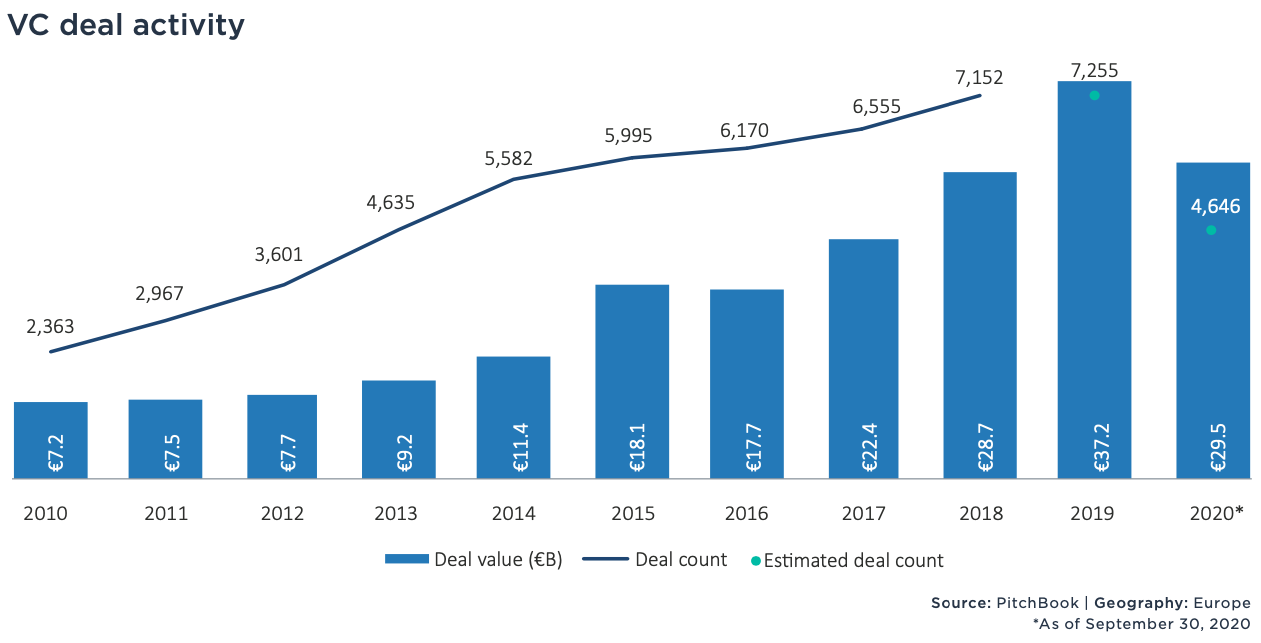 Pitchbook isn't the only one to see strong signs in the European VC market. KPMG released its own report earlier this week which, among other things, highlighted the fact that the Nordic region (€1.8bn), Germany (€1.8bn), and Israel (€1.3bn) all saw record levels of VC investment in the third quarter.
However the UK, which accounts for the largest share of VC investments in Europe, saw a quarter-over-quarter drop, from €3.5bn to €2.6bn, likely tied to a decline in the overall number of deals.
Pharma's big rise
While the Pitchbook report found that software startups continue to dominate, representing nearly 30% of total VC investments in Europe in the first nine months of 2020, pharma and biotech has grown to represent roughly 20% of VC investments, likely driven by greater interest in the space due to the global pandemic.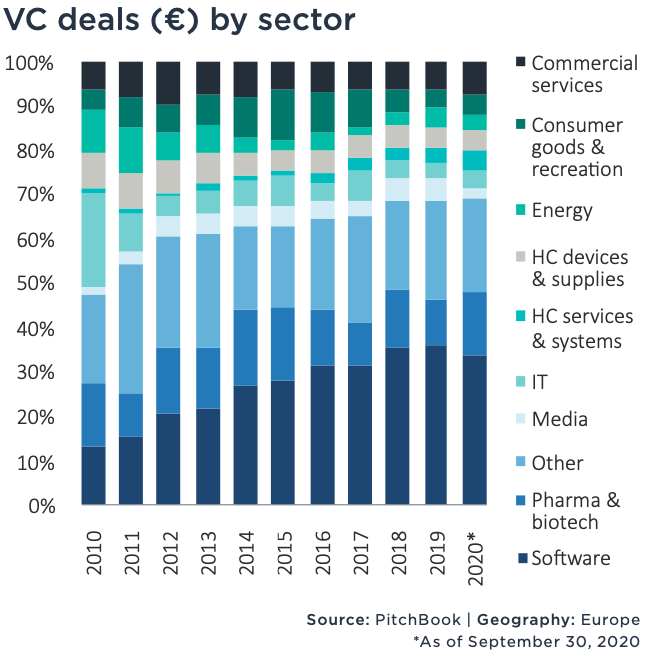 Pharma and biotech startups also accounted for four out of the five largest exits in the third quarter of the year, representing a combined value of €5.3bn. That's on track to beat the annual exit values from software startups for the second consecutive year, according to the report.
This trend is most visible when it comes to German-based CureVac, which is among those working on a Covid-19 vaccine. The company closed a €560m funding round in Q3 — one of the largest deals in the quarter — and subsequently exited at a €2.2bn pre-money valuation.
Sifted Newsletters
Up Round
Every Friday
Dive into VC and meet the people holding the purse strings.
Gap between first and follow-on rounds
There is, however, a large gap between first-time rounds and follow-on rounds of funding. The report points to the growth in larger rounds, which has helped to propel aggregate deal values to new heights. In Q3, this trend was led by payment platform Klarna, which closed a €548.7m round. The Swedish company has raised over €1.6bn since its founding in 2005.
In the first nine months of the year 93.4% of all VC funding in Europe went to follow-on

rounds.
At the same time, the report found that in the first nine months of the year 93.4% of all VC funding in Europe went to follow-on rounds. If the trend continues it would result in the largest disparity between first-time financing rounds and follow-on rounds in at least a decade.
"I don't think [overall monetary] value has actually been decreasing in first-time rounds, that's kind of remained flat," says Patel.  "Follow-on rounds have actually just increased drastically this year."
US role in VC rounds in Europe
The pandemic doesn't seem to have had an impact on US investors' interest in VC deals in Europe. Deals involving US investors reached a value of €16.1bn through Q3, putting 2020 on track to surpass the record €19.1bn set in 2019.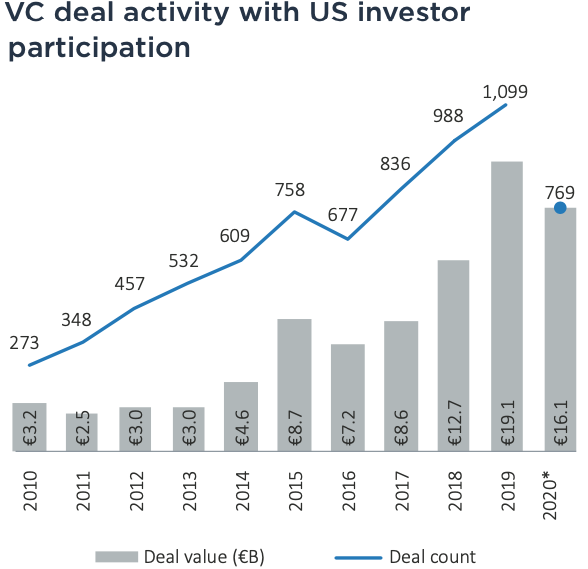 American investment in European VC rounds has increased significantly over the last decade. Company valuations tend to be lower in Europe compared to the US — and American VCs are likely also attracted by the potential for European companies to then enter and scale in the lucrative US market. Startups like Checkout.com, Deliveroo and Revolut have all closed rounds with US investors on board.
At the same time, according to Patel, capital is flooding into the ecosystem from more and more sources, including from non-traditional investors via sovereign wealth funds, pension funds, as well as high-net worth individuals. "We have a lot of high-net worth individuals that are former tech founders or tech entrepreneurs, and they are becoming serial angel investors," he says.
VC fundraising
As of the third quarter, VC fundraising in Europe had reached a value of €11.1bn, ahead of the pace set in 2019, with London-based Dawn Capital's new €337.9m fund one of the biggest to close in Q3 2020.
However, the data suggests a drop in the overall number of funds that have raised, at least compared to some previous years.
Even so, the pandemic doesn't seem to have affected first-time European VC funds coming to market, with 21 vehicles having closed through Q3 2020, according to Pitchbook. They've raised a total of €1.5bn and surpassed the annual aggregate capital raised by first-time funds in each of the last three years.
In its analysis of the data, Pitchbook suggests that limited partners (LPs) have been eager to commit to new first-time funds "in fear of missing out on startups or sub-sectors illustrating pandemic-proof growth."
Slower exits
Exits have been the most muted aspect of the European VC ecosystem in 2020, according to the report. As of the third quarter, exits had reach a combined value of €9.3bn, and while they are still likely to pass the €10bn threshold for the eighth consecutive year, overall exit values could reach their lowest level since 2012 by year end.
Overall exit values could reach their lowest level since 2012 by year

end.
The five largest exits in Q3 were all IPOs, led by the IPO of CureVac.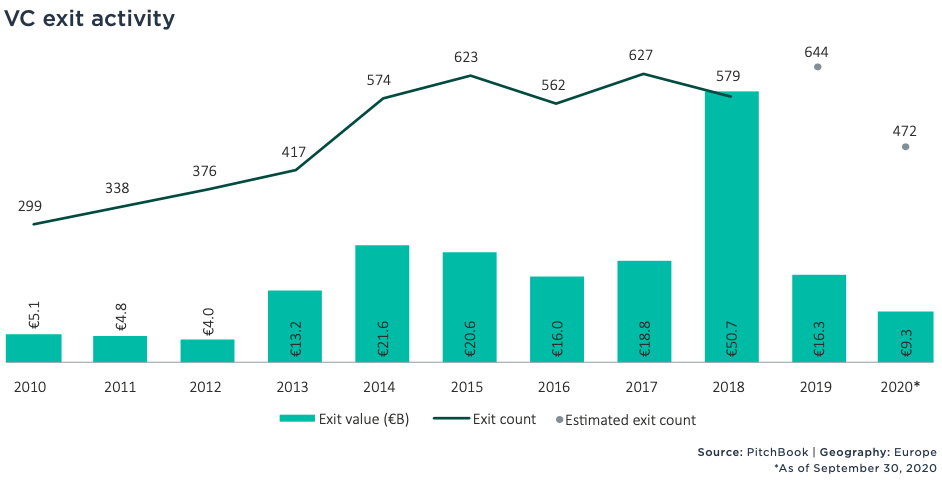 Looking forward
Despite the pandemic, VC activity in Europe has proved resilient. "I think we've had plenty of time for VC investors and startups to show how they have performed during the pandemic," says Patel. "We're definitely beyond that period of a dip and I don't think that there'll be one that occurs as a result of coronavirus."