Venture capital has helped bring the world many things. Semiconductors, recombinant DNA technology and… very beautiful, very expensive electric bikes. 
But the e-bike dream was dealt a blow when Dutch startup VanMoof, which had raised close to $200m in funding from investors including Balderton and Felix Capital, was declared bankrupt in the Netherlands this week. Its problems had been mounting: 2021 sales figures showed that its bikes cost more to produce and repair than they were sold for; the costs of repairs or replacements under warranty in the same year totalled around €8m; and supply chain issues slowed down deliveries. 
Following the news, the company posted on its website that its trustees are now "setting up a sales process for the assets and activities of VanMoof, in order to find a party who is willing to continue the activities of VanMoof [in the Netherlands]". Sifted has reached out to the company — which also has operations in several other countries — for comment.
The announcement has fans of the $3,998 vehicle losing their minds — and competitors licking their chops. Some are even calling on entrepreneur Elon Musk to come in and save the day. 
Nice bike
VanMoof rider Franz Kalina, a 26-year-old student living in Austria, purchased his bike on a subscription basis in 2018.
"People would often ask you, 'Oh that's a nice bike — what is it? Where's it from?' So it made you feel good," he says. 
Kalina recently got in touch with the company to end his subscription, and got an email saying he had to go into a VanMoof store to speak to the staff to end his contract. There was just one problem: VanMoof didn't have any shops in Vienna, so he had to get on a train to his hometown of Berlin.
"I did the whole trip and tried to give it back on Friday, only to find the store shut. There were still bikes hanging up that were undergoing repair. It looked spooky, like they'd left in a hurry," he tells Sifted.
"As it stands I'm still a paying customer, even though I've tried to cancel. How VanMoof are behaving feels very unprofessional. It leaves a lot to be desired."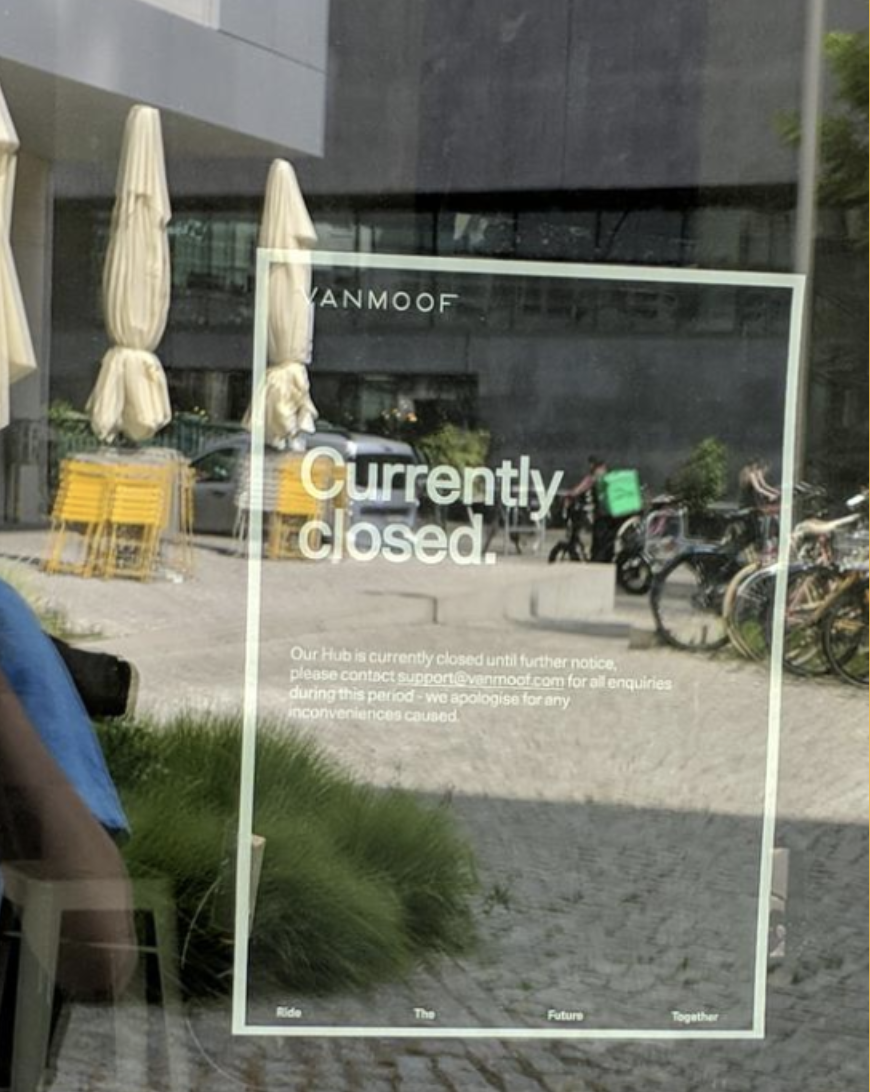 "When the bike works, it is certainly the best e-bike out in the market," one person from the Netherlands who ordered the latest version of VanMoof for more than €3,000 in April — but is yet to receive it — tells Sifted.  
"It was supposed to be delivered in June. But the reason they gave me was that there are transit delays and hence delayed by another month. In the meantime, the news is out that the company is going bankrupt.
"So now, I'm stuck. I'm guessing I won't get the money back. I'm hoping my bank will return the money to me since they do have a three-month dispute time but I crossed it by two days. So now I've gotta wait and try my luck."
The Tesla of electric bikes
The outpouring of frustration and sadness on social media reflects the fact that VanMoof has always been more than just a piece of transport. 
As the Covid pandemic fuelled demand for bike ownership, VanMoof became a status symbol in and of itself; Singer Frank Ocean has been photographed with one, as have rapper Tyler, the Creator and fashion designer Simon Porte Jacquemus (not names we usually read in Sifted). One YouTuber called it the "Mercedes-Benz or the Tesla of electric bikes". 
Unlike normal bikes, VanMoof's bikes also came with perks and add-ons. Customers could pay $348 for three-year maintenance coverage, and $398 for "bike hunters" to track down a stolen bike. The startup also offered repairs to its customers at VanMoof shops. But many of those functionalities, including the basic act of locking and unlocking the bike for use, are dependent on an app whose future is uncertain as the company behind it collapses.
Some users are already devising workarounds; one person, who says they are a former VanMoof employee, posted on a Facebook group for "VanMoof addicts" offering maintenance support for bike owners in the Utrecht area "for a fair price". 
Others are trying their luck with the authorities, which prompted the Amsterdam police to make a statement on Tuesday. 
"The Amsterdam police are currently receiving many reports and questions from customers of the now bankrupt bicycle company VanMoof," the statement said. "The police would like to ask all victims not to report to the police. Bankruptcy is a civil and not a criminal matter." 
The competitors move in
VanMoof's competitors are making the most of the moment. 
The software team at VanMoof's closest competitor, Belgium-HQ'd Cowboy, built an app, "Bikey", over the weekend, which it says will enable VanMoof users to continue to use their bikes if VanMoof's servers are switched off. 
Hungarian e-bike maker Blurby Bike became the first to offer a trade-in deal for VanMoof customers looking to shift their e-bikes: part-exchange your VanMoof S2 or S3 and get €500 off a Blurby Bike, or exchange the newest S5 model for €1,000. 
Eric Quidenus-Wahlforss, founder of German e-bike subscription company Dance, offered VanMoof owners a 25% discount on its service, saying the Dutch company "contributed massively to making cities more liveable by getting lots of people on their bikes. It's a shame that they didn't make it". 
Tough luck
But while many VanMoof customers are now unsure of what's going to happen to their bikes, not everyone is feeling sympathetic. The high price tag, combined with the fact you could only have them repaired at the company's own swanky inner-city outlets, prompted one Dutch LinkedIn user to describe the brand as "​​a symbol for the gap between city and country, rich and poor, the haves and have-nots".
Meanwhile, crowing VC have been quick to slam the brand as a product of an investment environment that's out of touch from the common man.
Others pointed out that the waste created if VanMoof's bikes could not be repaired would defeat the planet-friendly purpose of e-bikes in the first place.  
What's next?
VanMoof also has operations in Germany, France and the UK, plus the US and Taiwan — which have not been declared bankrupt. 
VanMoof said for Dutch customers it plans to "keep our app and servers online and aim[s] to secure the ongoing services for the future", but recommends that Dutch riders create a backup unlock code to allow them to unlock the bike using the handlebars rather than the app if need be. 
For customers in the Netherlands looking for repairs, there could be a long wait ahead: though riders were once able to order individual parts and repair bikes themselves, VanMoof stopped that option earlier this year and asked customers to send their bikes to repair shops instead. The website states that "currently it is not possible to schedule a repair appointment in the VanMoof stores in the Netherlands".
The company's statement adds that "depending on the outcome of the sales process, it will be decided if repairs in the VanMoof stores are continued". E-bikes currently sitting in repair shops in the Netherlands can be collected — but only if the rider picks them up in person, and the company warns that "unfortunately it could be the case that your bike is not repaired when picked up".
Sifted has reached out to investors Balderton and Felix Capital for comment. 
Elon?
As the company continues its search for a buyer, some fans took to Twitter to ask Elon Musk to become its saviour.