If you've ever tried to organise an office pizza party, get feedback from customers or run a product sprint — if you've ever worked in tech in pretty much any capacity, you've probably used Typeform. 
The Barcelona-HQ'd company has done what very few startups on this side of the pond have achieved: become a household name. Apple has used its tech. So have Airbnb, Nike and Uber. Its default aesthetic is the unescapable vision of millennial no-code consumer tech: all rounded buttons, sans serif fonts and soothing beiges. 
But now, this European success story could be falling victim to the US-style company building that its early team tried desperately to avoid. 
New data seen by Sifted shows that the company's market share has dramatically dropped as a slew of cheaper copycats have appeared, while the company's revenue growth has started to flatten. After failing to meet 45% annual revenue growth targets, it laid off 25% of staff in December. 
10 former employees tell Sifted that, since raising its Series B in 2017, a new CEO, multiple overhauls in senior leadership and a poorly managed shift to Silicon Valley-esque "hustle" mentality have resulted in high employee turnover and a loss of faith in leadership.
So how did Typeform lose its way?
The early Typeform 'gravy train'
Typeform was founded in 2012 by web designers David Okuniev and Robert Muñoz, who came up with the idea to help one of their clients — a toilet company — and saw it quickly take off. The startup rapidly scaled its operations after raising a $15m Series A in 2015 and a $35m Series B in 2017, by which time it had 160 employees. 
"There really was a feeling for me that they had struck gold with a few just bits of luck," says Jerry, a former senior employee (whose name, along with those of nine other employees who spoke to Sifted, has been changed). "The product's virality was so effective. You didn't need to do anything else, that thing would grow exponentially."
Typeform didn't respond to Sifted's request for annual revenue figures, but company sources tell Sifted that annual recurring revenue (ARR) grew from $1m in 2014 to $2.4m in 2015 and $5m in 2016.
US-style growth mixed with the Mediterranean's work-life balance made for an intoxicating mix. 
Staff enjoyed all the Silicon Valley perks — free lunches, unlimited holidays, new daily smoothies, a well-stocked beer fridge at the "Barception" and, of course, ping pong tables — as well as a European pace of life.
"It was like, 'Wow, you can make these Silicon Valley-like products, but actually in a city which is more well known for its work-life balance than Silicon Valley'," says one former employee, Toni.
But early employees of the company also tell Sifted that they sensed that the good times couldn't roll on forever. One, Ellie, says there was "little pressure to deliver long-term results".
Emma, a senior employee who left in 2022, describes her early experience as a "dream job" that "felt too good to be true".
As the business grew, reality started to bite.
'Index controls all of this'
Big changes at the company started when Typeform's founders stepped back, former employees say. In September 2018, when the company had 240 employees, Muñoz and Okuniev appointed Joaquim "Kim" Lecha, who had been made COO in August 2018 and had 20 years' experience working in finance and software, as CEO. 
"We believe that Typeform has reached a stage where it needs a more experienced leader to scale the company and move it forward," Okuniev and Muñoz wrote in a blog announcing the move. "Now it's time to add more structure, clarity, and guidance to what we've built." 
We could never figure out what was Neil and what was

Kim
Bill, a former employee, tells Sifted that Lecha was brought into the company at the instruction of Index Ventures partner Neil Rimer — who, he says, had a tight grip on the company's operations after first backing the startup in 2015.
"Index controls all of this, it's absolutely clear… They lost trust that this company will grow and be profitable, so they brought in Kim as COO," he says, adding that Rimer was intimately involved after Lecha took over as CEO. 
"I can tell you that we could never figure out what was Neil and what was Kim. They talked bi-weekly and Neil often directs Kim on what to do."
Index declined to comment.
In a leaked audio recording of an all-hands meeting from February 2019 (while the cofounders were still involved in the running of the company) obtained by Sifted, Lecha hands the microphone over to Okuniev, who describes wanting to resolve "big issues" raised by staff.
These include "lack of direction, not a strong enough focus, execution, and also better accountability" that Okuniev says he believes had prevented Typeform from achieving "healthy growth".
Company sources tell Sifted that Typeform's ARR growth was slowing at this point, going from $9m in 2017 to $15m in 2018.
Overhauls in senior leadership
The change of CEO was followed by an overhaul of Typeform's senior leadership in the months following Lecha's appointment. The company hired a number of senior executives who Emma describes as being culturally in "that US tech mould".
"To me it clearly came out of the desire for massive growth, so you bring in people who you think can help do that," she says. 
In the same February 2019 meeting, Lecha can be heard introducing a new Barcelona-based COO, Mike Pilawski, who had worked at Silicon Valley-based startups for seven years previously.
"My role is to help us grow faster," Pilawski can be heard saying.
As the meeting goes on, Lecha, Muñoz and Okuniev can be heard optimistically describing the new leadership team's recent offsite, making jokes about bad coffee and welcoming new members of the team, before making a big announcement, 30 minutes in.
"We have hired a new CTO and we decided to finalise the contract with Jason," says Muñoz, referring to former CTO Jason Harmon, who had been at Typeform for three years.
Leaked messages from Sli.do, a tool for anonymously posting comments during online meetings, show multiple staff expressing their unhappiness with the decision and how it was handled during the meeting.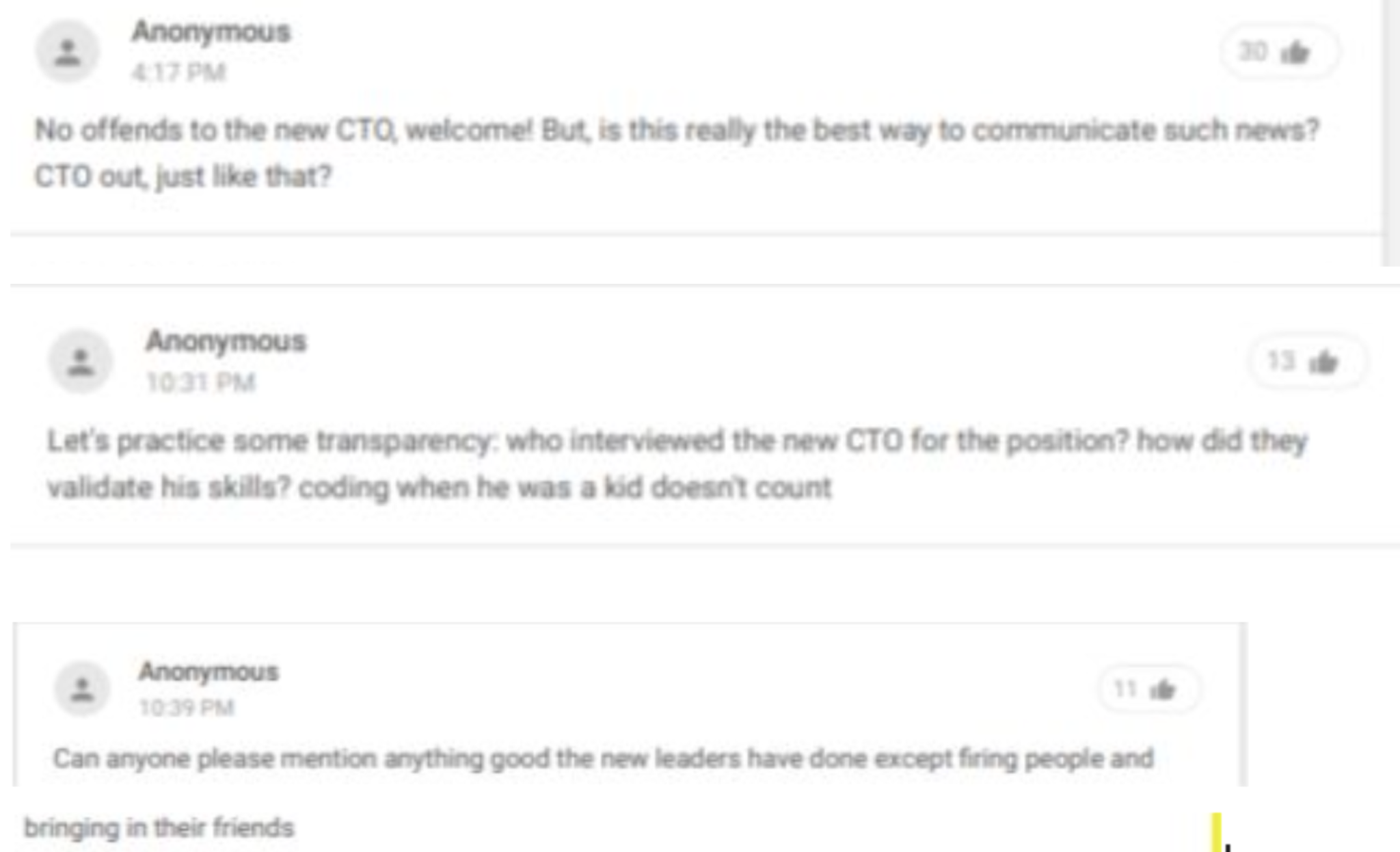 "You have half of the meeting like, 'How fantastic was the off-site, kumbaya, we're all friends.'  And then at some point of time comes, 'Oh by the way, we've decided that Jason will be stepping down'," Bill remembers. "How is that a fucking 'by the way'? 100 people reported to that guy… it was extremely disrespectful for Jason and it was extremely disrespectful for the team."
Matthew, an employee who left the company in 2021, says that moves like this led to higher turnover: "At one point it felt like a person left every week and Slack became a very toxic place — I knew I had to get out."
"They bled talent after that. No question," says Jerry.
Turnover
Bill says that, in 2019, around 110 people left the company — just under 50% of the 240-strong workforce.
"That year we hired 110, 115 people, but I looked at our headcount and we were in exactly the same position," he says. "I was like, 'Oh my god, this is not good.'"
This instability was compounded by a clearout of senior leadership at the company.
Toni, who worked at Typeform during this period, says: "Within six months, the entire leadership team had either been forced out or left on their own accord — every single person in the leadership team was gone."
At one point it felt like a person left every week and Slack became a very toxic place — I knew I had to get

out
Notable exits include the company's then director of product Milos Lalic, VP of marketing Sançar Sahin, director of analytics Alessandro Pregnolato, CFO Huw Slater and Chris Linnett, chief design officer. 
Bill says that, since Lecha's arrival, there have been ongoing changes in senior leadership. Since 2019 there have been four different CPOs at the company: Chris Linett, Michelle Chen, Irana Wasti and Oji Udezue.
"It was like living between revolving doors. New leaders come in — marketing, product or engineering — and start introducing new processes and bringing their people in. By the time you think things are actually settling, they were already out," he says. "At some point, you give up. There is no point putting your heart into any project as it is likely to be killed when the next leader arrives."
Building hustle culture
Six former Typeform employees tell Sifted that the company culture was damaged by a poorly managed attempt to shift to a more Silicon Valley-style "hustle" mentality. The company had opened an office in San Francisco in 2018, but began hiring more senior US-based employees from 2021. 
"The US culture crept into a company that was Spanish before and it was really jarring to be suddenly working with people who asked you to work overtime — and not in a polite way," says Ollie, another former employee. "A lot of people resented the fact that they were kind of rewarded for working overtime and made to feel guilty if they didn't."
One WhatsApp conversation between two Typeform colleagues in December 2021 suggests that Lecha told staff they should be using holiday time to brainstorm company strategy.
This attitude from the top was compounded by different expectations around working hours in Europe and the States.
"They [US-based colleagues] did make shitty little comments like, 'Oh yeah, we've noticed that people finish a little bit early on Friday over there'," says Toni. In Spain, finishing early on a Friday afternoon is a common policy for companies.
"I don't believe you can truly take Silicon Valley culture and apply it to European startup and not fuck up things," says Bill. "The people in America often said, 'I can't work with Barcelona, getting everything done takes two weeks that should take an hour'."
Employees in Spain also tell Sifted there was frustration over the big pay disparities between the two teams.
James — who was laid off in 2022 — says his previous role was filled by an American employee with a much higher salary after being told there was no budget for the position. Matthew, who left in 2021, says he was replaced by a US-based person making three times his salary. 
"The whole experience of being overworked, under-appreciated and then laid off really knocked my self-esteem and had a very damaging effect," says James. "And the discrepancy between salaries was crazy; the company had the tendency of lowballing people outside the US."
Typeform's new, more bullish approach also saw the company hire a former US Army special ops sniper, Steven Broudy, as its head of sales in 2021. He drew inspiration from his days of combat in a LinkedIn post announcing his new role.
"What was the most powerful thing about going to war 5x as a part of an Army Special Operations unit?," he wrote. "I knew that I was completely accountable to my team for my actions… Anything short of excellence was totally unacceptable. I've strived to recreate that kind of environment in the private sector.
"I feel a genuine excitement about the possibility that, here at Typeform, this might well be the team, the company, and the environment where I once again find myself terrified — terrified to be working aside people so-damn-good that the 'scary' things aren't scary." 
Broudy left the role after a year. 
Dictatorial
While Typeform's new CEO did get revenue growth trending up again (sources tell Sifted ARR went from €19m at the end of 2018 to €50m by the end of 2020), the success appears to have come at the cost of company culture.
Typeform's current rating on employee review site Glassdoor is 3.2 out of five while CEO Lecha's approval rating is 56%. Poor approval of Lecha, high employee turnover and a lack of faith in leadership and the people team dominate the poor reviews.
One employee describes the company as a "sinking ship" in their Glassdoor review. Another says "every team member is overworked, with little regard for their wellbeing from leadership".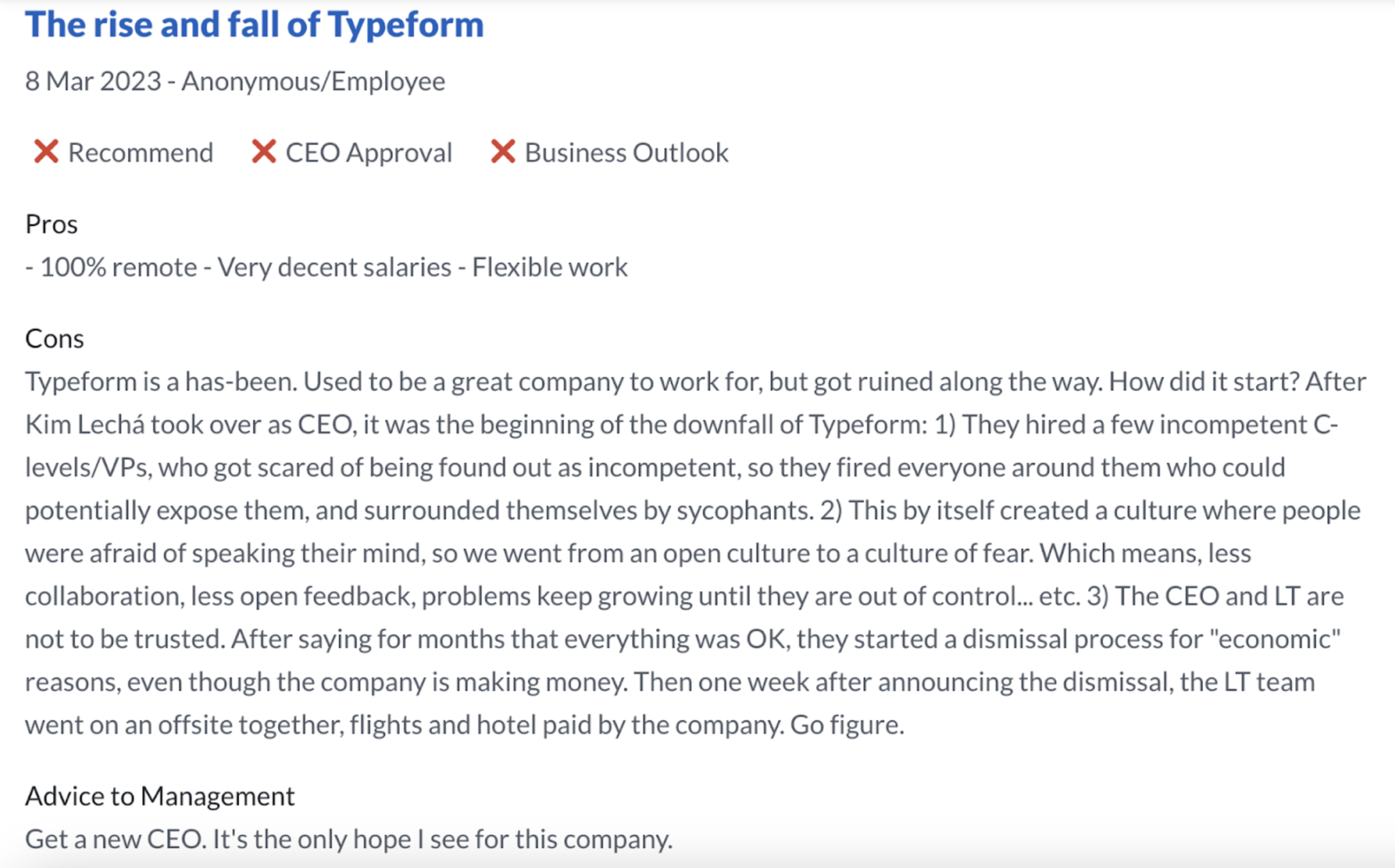 Four employees tell Sifted that Lecha also brought in a top-down management style to a company that had previously felt very collaborative.
"It was that old-school management of top-down, 'don't question me, I tell you what to do, and you go do it'," says Jerry. "It was just oil and water right off the bat. He was roundly despised as soon as he came in as CEO because of his style."
"It became much more dictatorial," Emma says. Ollie says this contributed to a "loss of ownership" of the work people were doing.
A crowded market
While Typeform's revenue growth did recover after Lecha took over, today the company is struggling to maintain momentum, says Bill, with annual recurring revenue growth of €70m-79m in 2022.
This, he says, compares to €50m-70m in 2021, €32-50m in 2020 and €19-32m in 2019.
The company has plenty of competitors these days — and they're eating away at its market share. Data from SaaS management platform Cledara, based on software spending at 1,000 companies, shows that Typeform's share of total spend on form-building tools has fallen from a high of 29% in April 2021 to 11% in April 2023. 
The number of form builders that companies spend on has also increased by fivefold in the same period, according to Cledara's data. 
"The forms business is very high churn. There are many options. Many of them aren't that great, but they're cheap," says Jerry.
Typeform's paid plans cost between $290-990 annually, while alternatives like Ninja Forms and Everest Forms cost $43 and $49 annually, respectively, and that's not even to mention all the free, open source alternatives that exist.
A Typeform spokesperson told Sifted that the company has grown its customer base by more than 3x over the past four years and "continues to see strong growth and engagement from our customers," adding that "we are already on track to surpass last year's growth."
Jerry adds that Lecha — who had previously worked at mobile game maker Social Point — brought a more consumer-focused marketing strategy to Typeform's B2B product. "Coming from that gaming perspective, he was like, "Where's my big splash partnership? Where do we make millions all at once?'" he says. "This isn't consumer, this isn't gaming. We don't have big splash marketing events. It's B2B and these things grow over time. It just didn't click."
"There was never really a great product plan for customer retention," says Bill. "There's like five features that were released in the last five years. For a company of that size you would expect at least 20 times that."
The Typeform spokesperson responded saying the company has released "countless" features over the past several years.
'You can't just U-turn a culture'
Toni says that, while Lecha has taken much of the blame for the change to the company's culture, the roots of the problem began with Typeform's generous perks in the early days.
"With the unlimited holiday about a third of people were taking the piss and weren't really being held accountable," she says. "A lot of the toxicity in my opinion comes from the fact that there were all these nice things thrown at people with not much accountability at the beginning. People became really entitled."
She adds that Lecha brought in a company culture coach called Max Hunter in early 2019 to "completely reverse the culture at Typeform", but the company was reluctant to remove perks.
The problem that I see at Typeform was that the culture was destroyed, but no new culture was

created
"Reversing an unlimited holiday policy is very difficult to do without creating loads of shit… There were certain things that were so ingrained in the culture, if you took them away it would have caused a massive drama," Toni says. "They brought this guy in to try and change the culture without actually changing any of these concrete things."
Bill adds that it's natural for scaleups to experience growing pains during a leadership transition, but Lecha struggled to establish a new culture at the company.
"The problem that I see at Typeform was that the culture was destroyed, but no new culture was created," he says.
Jerry says that, while Typeform was right to find a new CEO when it did, Typeform's story serves as a lesson in the damage that can be caused when board members and investors pick the wrong person: "A very promising platform for the future of the internet has been grossly mismanaged."
Sifted reached out to Typeform's founders and CEO requesting interviews. Lecha said that the company "has grown rapidly over the past four years, presenting us with both challenges and opportunities". 
He added that fostering "a supportive and inclusive environment for our employees remains a top priority" in the company's next phase of growth.
Sifted edited this article at 08:00 BST, to reflect statements from a Typeform spokesperson which the company sent the evening before publication.