Why bother to join a startup accelerator? It was a fair question to ask the six companies that took part in the first-ever accelerator programme run by the pet food company Purina. Most of them were already working with Purina in some form when they were recruited for the 6-month Unleashed programme.
"We would probably have worked with Purina anyway," says Guiseppe Scionti, founder and CEO of NovaMeat, a Spanish startup developing plant-based proteins with the look and feel of meat. NovaMeat's pet food division, Natu, is developing plant-based snacks for dogs, and was looking for a big pet food brand to partner with.
So why not just develop a commercial relationship with Purina, without all the faff of the application forms, the sprints, the T-shirts and the graduation day pitches that are part of the accelerator experience?
An accelerator protects startups. It is a visual public

collaboration.
For Scionti, it was partly about security. "An accelerator protects startups. It is a visual public collaboration. You are acting in a certain framework," he says. Protecting the company's intellectual property was a key worry for Scionti, as  Purina's parent company Nestlé is known to be working on a number of its own alternative protein ideas.
But the accelerator framework was reassuring for Scionti. "I was not as worried about IP because our working together was very public," he says.
In fact, says Kim Bill, head of Purina Accelerator Labs, they bent over backwards to make sure that it wouldn't jeopardise NovaMeat's IP in any way, hiring a third party — French agri-food consultancy Vitagora — to do the initial evaluation of Natu's technology.
It was a similar story for most of the participants — the key appeal of the programme was that it offered a safe space in which to interact with a juggernaut the size of Purina. It was a temporary suspension of the normal business rules, where big corporations can end up bulling their smaller suppliers.
When it is a supplier relationship, what they say goes. Here it was easier to test

things.
"This completely changed the relationship," says Bruno Farinha, founder and CEO of Petable, a Portuguese startup that builds e-commerce websites for veterinary practices. "When it is a supplier relationship, what they say goes. Here it was easier to test things and find common ground."
Petable had already been working with Purina's Portugal unit before joining the accelerator, but things were moving slowly as the team were cautious about working with a young startup with no track record.
"We were getting no traction," says Farinha."Unleashed opened doors for us, with their backing, the Portugal team felt they could invest in us without risk."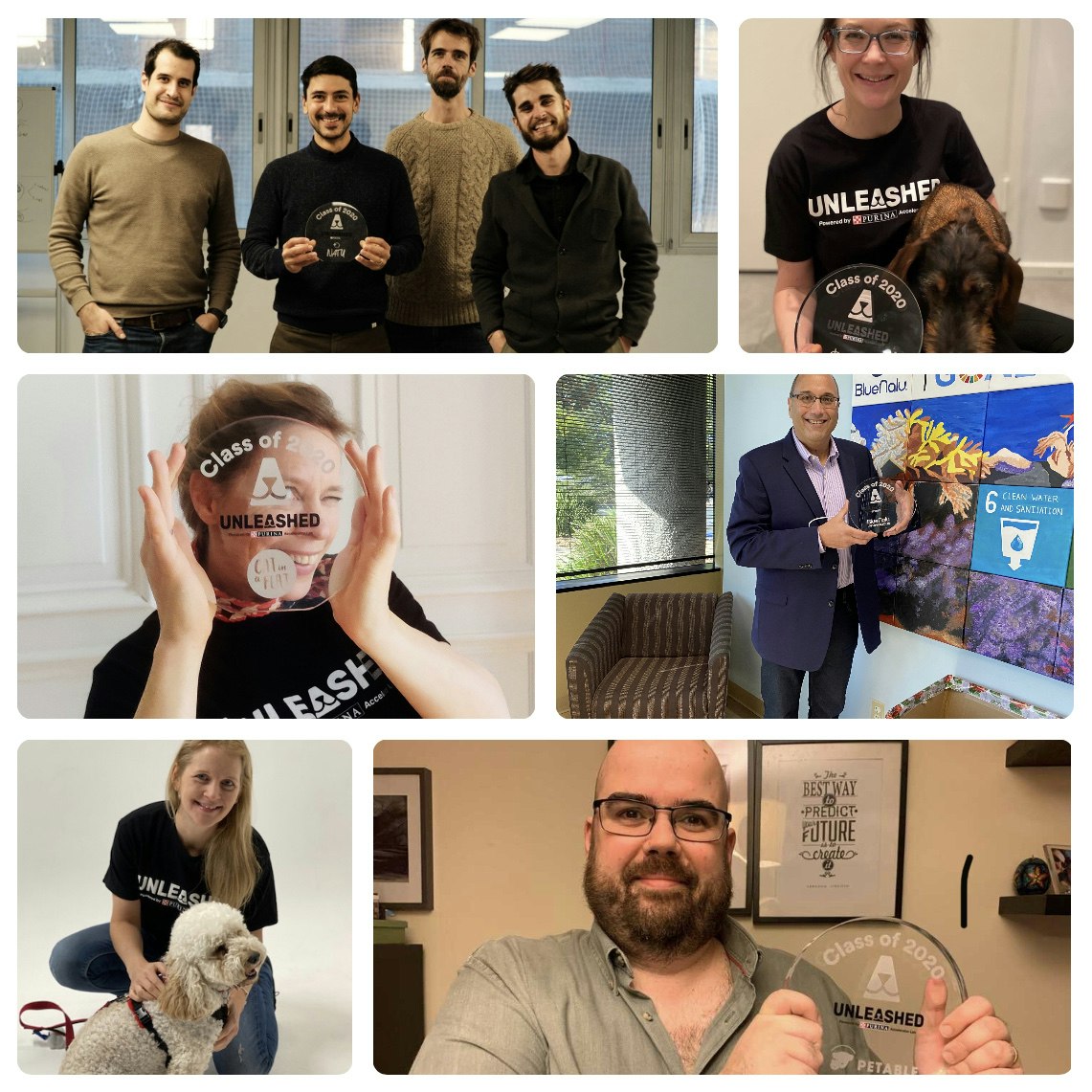 In part, creating the special atmosphere of the accelerator was about internal signalling —  Bernard Meunier, CEO at Nestlé Purina PetCare in Europe, Middle East and North Africa has been visibly involved in the programme. Lou Cooperhouse, who has himself run several incubator and accelerator programmes, before his present role as president and CEO of BlueNalu said the involvement of senior management set Unleashed apart from most other accelerators he had come across.
The programme was also structured to create a balance between the small startups and the big corporate. For example,  three — and only three — team members on the Purina side were assigned to work with each startup.
"We didn't want the usual thing of having meetings where there are 20 people from the corporate and two from the startup," says Bill.
What worked and didn't work?
Most of the startups like the fact that Unleashed was a highly focused accelerator. It wasn't the kind of accelerator where you learn the basics of running a business. It was for companies that already had a minimum viable product and had ideas about something they could build together with Purina.
The time the startups spent on the Unleashed programme varied. Farinha estimates that the programme took up about 50% of his time in the busy periods. Kathrin Bruckhardt, cofounder of Cat in a Flat, the cat-sitting platform, meanwhile, estimates that she spent around 10% of her time on the work related to Unleashed.
For the Natu team, around 80% of the startup team was involved in the Unleashed programme. Given that the pet food startup needed some fairly intensive R&D lab collaboration, this joint project was much more intense than some of the others.
If there was one gripe about the programme it was about having too many meetings. Purina did its best to cut out many corporate behaviours but still ended up with more meetings than most of the startups wanted.
"There were a lot of meetings, projects and presentations. Sometimes we felt we were just working for the meetings," says Farinha.
But this was relatively minor. Most participants were pleasantly surprised at how agile Purina was able to be. They worked in sprints and learned to use tools like Trello and Slack in order to be responsive in the ways startups wanted them to be.
What did the companies get out of it?
The six startups came to the programme from very different starting points.
OneMind Dogs, founded in 2012, is quite an old startup to be going into an accelerator. The company, which started as a system to train dogs for agility competitions already had a product and a loyal customer base — including nearly 100,000 Facebook followers — mainly in the US.
But the company is looking to move out of the agility niche and apply its dog training system — which can be done online — to the mass market, for any family to train their new puppy. Coronavirus, which saw thousands of people adopting dogs to help with the loneliness of lockdown, changed everything for OneMind Dogs, and the company was keen to capitalise on it.
Noora Keskievari, CEO and cofounder of OneMind Dogs, was particularly interested in learning from the Purina team, understanding how to package and market services for the mainstream consumer market.
The company has plans for a joint project with Purina, the details of which they are not quite yet ready to speak about. As an additional bonus, Keskievari met members of the FirstVet team on the Slack channel run by the Unleashed programme, and this led to a collaboration between the two companies.
Cat in the Flat, which launched in 2014, had a similarly established proposition. The startup offers a platform where cat owners can find cat sitters, and has a presence in 8 countries already, including the UK, Germany, Ireland, Netherlands, France and Belgium. The bootstrapped company is growing 70% a year on its own steam, but wanted to work with a large brand to gain exposure. The accelerator programme helped open doors for them.
"It is hard to meet the right people inside Purina if you are coming at it from the outside," says Bruckhardt. The startup is already running a pilot project with Purina Germany which sees the two companies cross-promoting products. Purina customers get to hear about the cat sitting platform, while Cat in the Flat's customers — a group who like to spend money on their cats — are recommended Purina foods to stock up while they are away.
BorrowMyDoggy, a London-based dog walking platform, is working on a similar collaboration with Purina.
The two novel food projects on the programme, BlueNalu and Natu, meanwhile are moonshots that will take longer to realise. BlueNalu is working on cell-based seafood for human consumption and applying the same idea for the pet food market was something they had only begun to explore. The Unleashed accelerator was a good opportunity to explore the idea, says BlueNalu's  Cooperhouse. The two companies conducted join market research in 3 European countries and found that there was consumer appetite for pet food based on cell-based seafood. Whether they will continue to collaborate is still under discussion.
Natu's Scionti says the company will continue working with Purina's R&D team until February — the pandemic made starting the lab work slow, so the collaboration has been expanded beyond the December 18 end-date of the programme. Scionti is hoping to have Natu products out in supermarkets in two year's time.
There are few formal announcements yet about any continuing collaborations. Bill has hopes of a continuing relationship with each of them, but the projects now have to pitch for support from the overall business. No more training wheels, the projects have to make commercial sense.
Can startups partner without "selling their soul"?
Getting the messaging right about the corporate partnership has been a tricky balance admits Bruckhardt.
"We didn't want to come across as having sold our souls. We had to really make sure we kept in mind our own brand values."
Previous scandals have left Nestlé with some baggage as a brand. Working around this was an issue for many of the startups.
Petable, for instance, is now working in partnership with Purina to build ecommerce websites for veterinary clinics. Purina has helped with the negotiations with logistics providers, for example. In return, the Petable websites for vets to stock Purina products, helping Purina break through into the specialist vet market where it has been something of an underdog up to now.
Sometimes working with the system is the fastest way to save the

planet.
But Farinha fought hard to make sure the Petable platform didn't seem too focused on Purina. Purina food is just one of many product options, and the websites are set up like that as a default.
"If it was just a single vendor site, it wouldn't be interesting to anyone," says Farinha.
Scionti says he also reflected on whether partnering with a big brand might undermine an alternative food startup like his, but ultimately decided it was worth the risk.
"If your mission is to make an impact, thinking logically, you can make a bigger impact by getting a big partner to change their strategy. Sometimes working with the system is the fastest way to save the planet."
  What did Purina get out of it?
There is no financial return on investment specified for the accelerator — or if  there is, Bill is not telling Sifted about it.
We're not measuring ROI as a return on a packet of

kibble.
"We're not measuring ROI as a return on a packet of kibble. I would have been very disappointed if it was set up as having a budget of X to get a return of Y. There has to be a value exchange but it is much broader than that," she says.
With some of the digital companies, the joint projects could begin to bring in new revenues relatively soon. But for Bill, results are more about building ongoing relationships and being part of an ecosystem of pet tech.  The ability to pick up the phone to anyone in pet tech in the future, if the need arises, matters as much as anything else.
Clearly, the programme has hit enough achievement milestones that it is running for a second year. Bill is already planning the next cohort — applications open in February.
In the next group, Bill says she is looking for more IoT solutions, more solutions for cats, and more direct-to-consumer startups. But any startup with a disruptive innovation — and with a clear idea of how they might work with Purina — is invited to apply.