Separating truth from propaganda is never easy during war. And it's even harder in the social media age, where verified facts are even harder to come by. That leaves Ukraine's digital-savvy tech workers on the front line in this battle for information.
As the invasion now moves into its third month, Ukrainians with UX writing, social media and cybersecurity experience are sharing their own narratives of the war in an effort they hope will help the country's military resistance.
Truth, propaganda and fake news
One of them is Stanislav Olenchenko, a UX writer for Kyiv-based software company MacPaw, who has now fled Ukraine. He dedicates at least half of his day, sometimes more, to UA explainers: a series of social cards with bite-sized messages about the Russian invasion, which people can easily download and share on social media. 
"We're trying to convey a message that Ukraine is fighting a war of existence, and that it really needs all the military and humanitarian help it can get," he says. "My job as a UX writer involves explaining complex things in a very short, simple way — and this is exactly what we're trying to do with UA explainers."
Some of the cards recount Ukraine's tumultuous history with Russia and are created using historical facts. But Olenchenko admits that some of the cards have a clear "political position," because how could they not?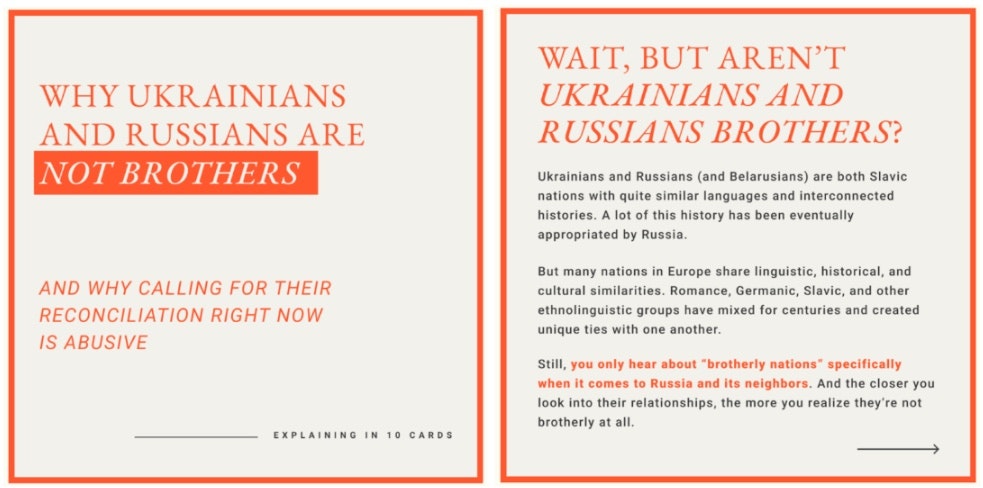 "Global media is doing a poor job of covering Ukraine, and this was the case even before the war," he says. "Of course, this project was born out of political need. I would be happy to go back to my comfort zone, UX writing and not doing [these cards), but I can't."
Reflecting on the role of truth in war — and stories like the Ghost of Kyiv that turned out to be false — Olenchenko says that objective facts are not always the most important currency, as his country fights for survival.
"I think it's important to try to understand what the purpose is of this exact messaging," he argues. "If it's just for a morale boost, and it is harmless, then I guess I wouldn't call it fake news… But, when the message is being conveyed to justify war crimes or genocide, then that is definitely a problem, and it definitely has horrific consequences."
Sifted Newsletters
Sifted Newsletter
3x a week
We tell you what's happening across startup Europe — and why it matters.
Hacking and beers
Russia's own use of misinformation to justify the war has been well documented, with accurate reporting of atrocities in Ukraine totally absent in the country's media.
One startup that's been trying to combat that is Hacken, a cybersecurity company from Kyiv that's been devoting its time to hacking Russian government and social media sites. 
Speaking to Sifted in March, Hacken CEO Dmitry Budorin gave the example of a successful breach of VK.com — a Russian Facebook equivalent — which allowed the hackers to leave a message for the Russian people: "The main target is to wake up Russians… They need to understand that only they can stop this guy and this evil."
But as the war has gone on, Budorin says that the hacking strategy has changed, as people lost faith in the ability to win over Russian hearts and minds.
"The first initial thought in the cyberwar was that Russians did not have enough information about what is happening in Ukraine… In fact, we understood that Russian people are aware of everything. They have sources of information but they don't want to hear the Ukrainian truth position," he tells Sifted a few weeks later. "The amount of effort to do that [hack social media sites] is quite significant, and when you see that it wasn't giving clear benefits, a lot of people stopped."
We found that Friday evening is the best time, when people are at home drinking beer and we send a message saying 'Let's attack the

Kremlin.'
Now Budorin says that he and other hackers are focusing on small wins by disrupting Russian government and critical infrastructure websites, and recently managed to take 40% of the Russian government offline for a few hours.
The cyberattack efforts, he says, have gone from an everyday occurrence to something people do to unwind at the end of the week. And even if the disruptions are only temporary, Budorin says they boost the morale of the hackers and the nation as a whole.
"We're not focusing on everyday attacks, but we're having Friday and beer attacks. We found that Friday evening is the best time, when people are at home drinking beer and we send a message saying 'Let's attack the Kremlin.' If they manage to shut down a Kremlin site, it's good for morale," he says.
"The Ukrainian army are big heroes for us. They also read the internet and see about these small wins and they're happy about them. Our task right now is to make them confident that the whole nation is supporting them, and we're acting as one."
Unusual channels
While the disruption of government websites is one way to make an impact in Ukraine's information war, the effort is also starting to spill over into more Gen Z territory.
The team at Ffface.me — a Kyiv-based studio creating AR products, augmented fashion and NFTs, among other things — has been developing Instagram and Snapchat filters promoting positive, morale-boosting messages as well as a war diary from its own virtual influencer, Astra Starr. 
The avatar tells stories based on real moments experienced by the Ffface.me team — moments of being scared, lonely or confused — and speaks openly about dealing with mental health in war.
"The younger generation don't really read articles because they know that it's a basic fact that the media lies, that advertising is trying to sell them something, so they only trust what is told to them by people," says Ffface.me's founder and CEO, Dmitry Kornilov, who says that Ukrainians are all experts at interrogating what they read in the news, and discerning what is truth or bias.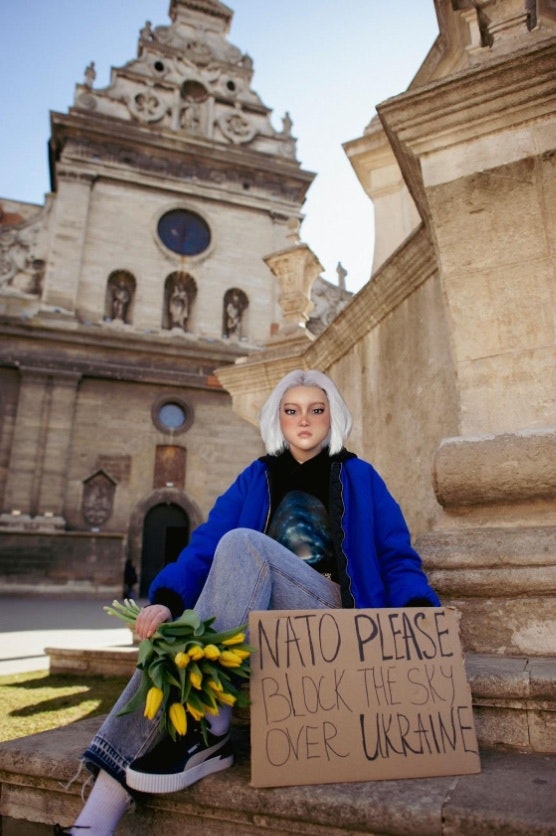 "We knew that if we gave this information in this particular form, it would help younger people to understand what's really going on in their (digital) language."
The information war is spreading into the unfamiliar territory of LinkedIn too. The normally corporate, polite — some would say dull — platform has been full of unexpectedly hot political takes since the day of the Ukraine invasion. 
Daria Aleksieieva, 31, is a product marketing manager with US no-code startup Popup and a daily chronicler of the war on the social site. Her deeply personal posts typically amass thousands of reactions.  
Censorship
Lately, however, the platform has been stepping in to put some restrictions on her voice. "I've noticed four counts of deletions by LinkedIn for various posts and comments I've made," Aleksieieva says. 
Her first big viral post, where she talked about her new job as "a bartender" making molotov cocktails for the Ukrainian army, was deleted — she thinks — because it contained the suggestion of violence. After a review, it went back up. 
LinkedIn moderators stepped in another time when someone wrote under an Aleksieieva post that they "hoped Putin [the Russian president] will be punished" for the war. "Probably someone complained but for me, there was no violence here. It's strange if you're limited when you say the word 'punished'," she adds. LinkedIn eventually restored the comment, but they separately suspended the account of her boss, Matteo Grassi, for his posts about the war.
It's difficult to know whether Aleksieieva's posts are falling foul of bots established by LinkedIn to root out what it feels are inappropriate comments or images or whether she's getting blowback from Putin supporters. "I don't want to post something inappropriate. It's actually a super important platform for my work," she says. Her posts continue to attract big attention on the site, as she tries to drive donations to help Ukraine, "but of course people were more active to offer help at the very beginning," she adds.
While LinkedIn and other social sites continue to referee Ukraine content, some have made the point that big tech sites appear to be more permissive in general of commentary on the war than they are for other conflicts around the world. 
Her posts continue to attract big attention, "but of course people were more active to offer help at the very

beginning
Aleksieieva is sympathetic to people who feel the big social sites (and western populations in general) have been uniquely receptive to Ukraine's plight. Someone who works at LinkedIn even reached out to say they'd help her if she has further content taken down. 
"I understand the people who say it's unfair that we've had more freedom to post and [that we've received] more reaction than people who've faced war elsewhere," she said. Aleksieieva says she doesn't know why but feels it's partly due to Ukraine's close proximity to Europe. 
"I just hope our stories are good for other countries. Next time it will be somewhere else and we hope to see a similar reaction," she adds. 
A spokesperson for LinkedIn said the site applies its "professional community policies equally to all of our members, and to all types of content, across all regions of the world".
"Our safety teams are closely monitoring conversations on the platform and we have clear terms of service and policies that we expect all of our members to follow," the statement adds. 
Currently paying a small fortune to rent temporary accommodation in Lviv, Aleksieieva is thinking about moving back to her flat in Kyiv, which she fled shortly after the invasion. 
Life for now is relatively calm in western Ukraine but she remains extremely wary of the Russian threat. "We can go now to cafes and restaurants — but we go early because if the air raid siren goes off in the evening, you don't want to be out," she says.
Whatever happens, she will continue to tell her story on LinkedIn. "Posting updates means people [won't] forget it's not over."
Tim Smith is Sifted's Iberia correspondent. He tweets from @timmpsmith 
Miriam Partington is Sifted's DACH correspondent. She tweets from @mparts_
Eanna Kelly is a contributing editor at Sifted. He tweets from @EannaKelly1