The gender pay gap at some of the UK's most successful scaleups is worse than the national average, government pay gap figures show, throwing cold water on the tech scene's progressive image.
According to data submitted by 10 of the UK's biggest tech companies since 2019, energy provider Bulb is the only one to have reported no median hourly pay gap. 
Six of the other nine largest scaleups that have reported since had a pay gap that was worse than the 2019 national average of 17.4% — in some cases considerably. 
GoCardless, which is yet to file its figures this year, most recently reported a pay gap of 42% in 2019 and Gymshark and Wise had pay gaps of 24% in 2020.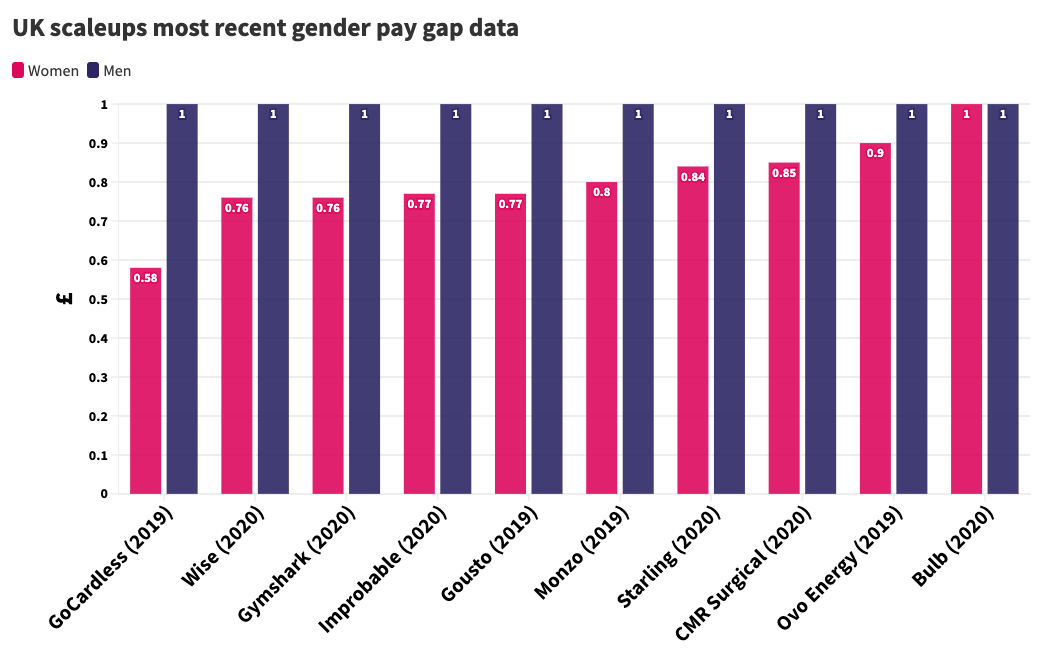 Data shows the amount earnt by women at these scaleups for every pound earnt by men.
While some of the data is a few years old, it's a sign of how much work is still to be done in UK tech to not only to reach a state of equality in pay — but just to reach a state of inequality that's no worse than normal.
This comes amid growing calls in the startup world for more transparency around pay, as well as more gender equality around the ecosystem, from the venture capital world right through to the startups that they fund. 
"The gender pay gap is in reality a progression gap," CEO at gender diversity non-profit Wise (not the fintech) Kay Hussain tells Sifted. "For tech, where women represent just 17% of the profession, there is an urgent need to recruit and progress more women into roles at all levels."
But how bad is the situation? And what's being done to tackle it? Sifted finds out.
How the situation has changed over time
Between 2017 and 2020, the gender pay gap in the UK closed by around 3 percentage points to 15.5%. 
Generally speaking the UK tech scene, and particularly the fintech scene, has improved at a quicker rate than that — but it's had to. 
When reporting began in 2017 neobanks Starling and Monzo had pay gaps of 49% and 48%, more than double the national average.
To put those figures in perspective, the two other UK scaleups required to report that same year, Deliveroo and Ovo, reported a gender pay gap of 13% and 4%, respectively. 
Major improvements have been made since by the neobanks, but the historical figures show just how underrepresented the tech industry can be.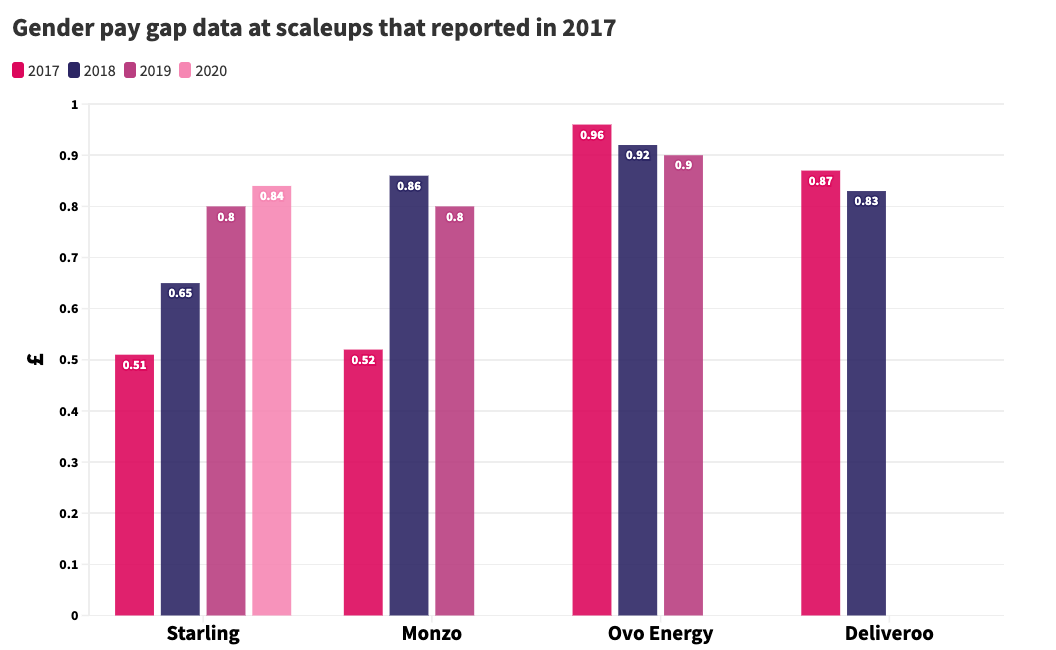 Data shows the amount earnt by women at these scaleups for every pound earnt by men.
Payments groups Wise, which first reported in 2019, started out on better footing with a pay gap of 29%, and has improved year-on-year — but its figures are still above the national average. 
Gousto has also improved — reducing its pay gap by 10% between 2018 and 2019, and CMR Surgical reported the same reduction between 2019 and 2020.
Despite signs of improvement over the years from many UK scaleups, only Bulb, which reported a pay gap of 5% in 2019, has closed the gap entirely to zero.
At others the gap has widened. Improbable, Gymshark and Ovo have all seen their pay gaps increase in the years they've been reporting. 
Perspectives from the inside
Glassdoor, the job review site, has also measured diversity and inclusion ratings by staff at some of the biggest startups in the UK (500 employees or more).
The ratings are based on reviews from the full and part-time employees, and are measured on a 1-5 scale. These take into account employees' "perspective" of how diversity and inclusion is treated rather than measurables like pay or senior representation. Sample sizes vary but generally include the largest pool of reviews on the site, and include reviews from all employees — regardless of gender, race and demographic. 
Note that the overall scores are cumulative of all reviews up until 6 May 2021. That means it's worth noting that the rating may differ when filtering only for action taken in the past year.
The results, shown below, place SumUp and Checkout.com as the best performing for diversity, and Darktrace and Revolut among the worse. None of these four companies have yet submitted pay gap data to the government.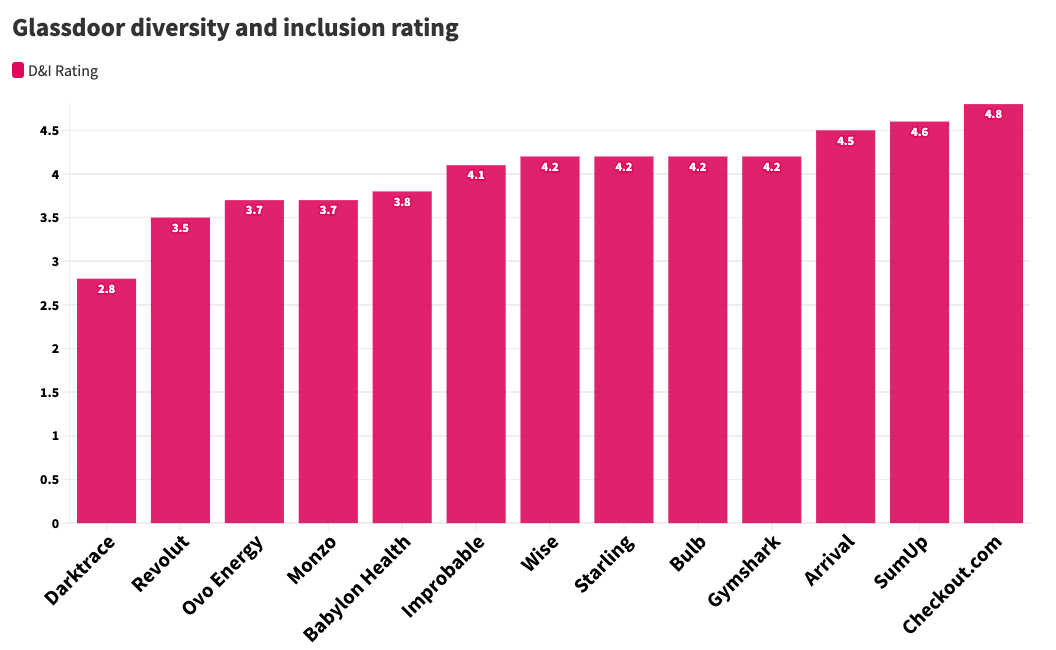 What's being done about it
Broadly speaking, there are two key areas the UK scaleup community is focusing on to try and close the pay gap. 
One is external initiatives — the way that a company hires people from without. The other is internal initiatives — the way that a company promotes and invests in its people from within.
"[Taking action to counter the pay gap] requires a commitment led by the board to create and be accountable for transformative change by embedding diversity, equality and inclusion at the heart of the organisation," says Hussain. 
"This includes, ensuring transparency around salary, reward and progression processes and encouraging salary negotiation by clearly displaying a salary range for a role when hiring," she adds. "In addition, leaders need to be actively involved in monitoring pay and promotion recommendations before they are finalised to identify if women are losing out."
Starling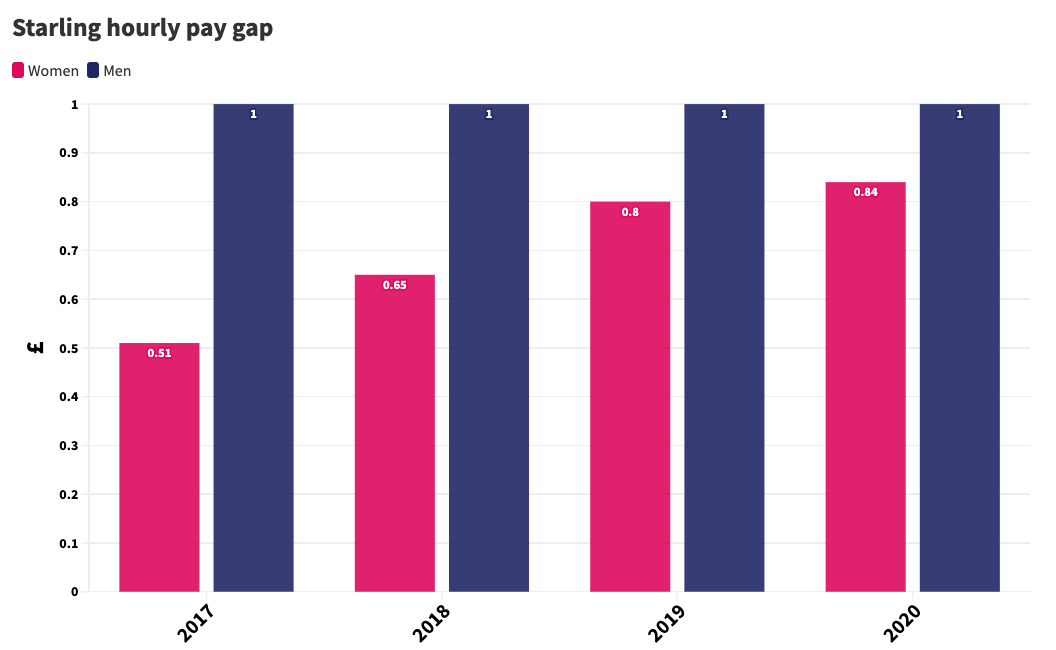 Starling is part of the government's inclusivity initiative, the Women in Finance Charter, and says it's currently ahead of its commitment to have 40% of senior leadership positions held by women in 2021, with 43%.
"Our goal at Starling is to eliminate the gap," A Starling spokesperson tells Sifted. "Not only is this right and fair, we believe it is likely to make for a more successful company that better serves its customers. 
"One approach we are taking to eliminate the gap is focusing on our talent pipeline," they add. "This year, we've launched our inaugural Starling Management Programme. This is fully inclusive and open to all those in their early management career. We will be ensuring that we have representations from all diversity strands including gender." 
Monzo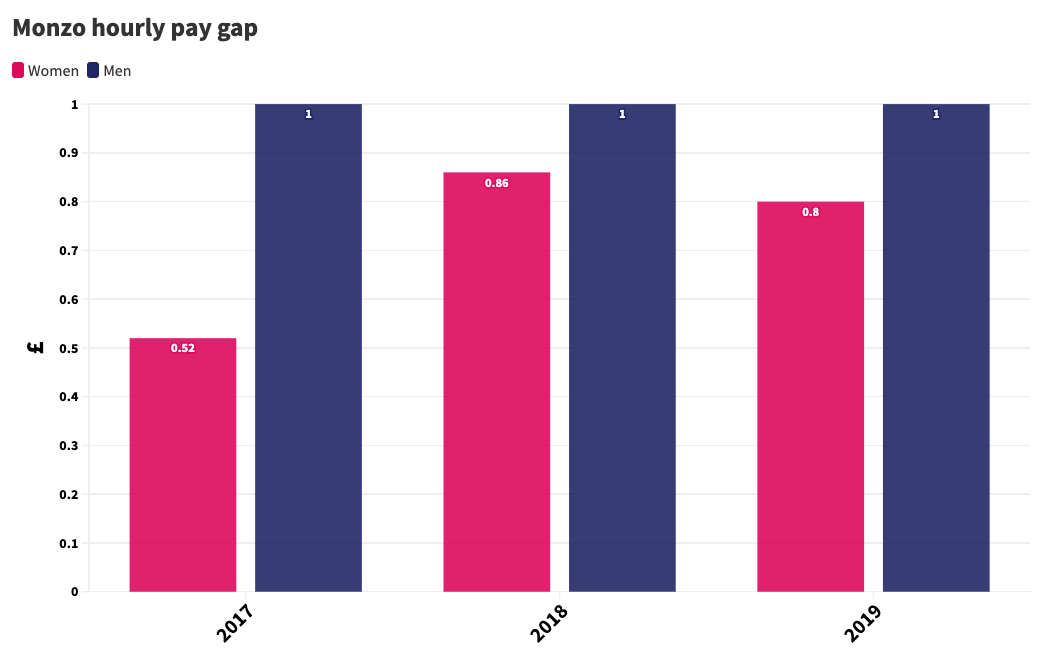 Monzo said in a blog post that it's working to understand more about its staff with better data — to find out what the barriers for entry and progression are — and offers anti-bias training to all of its employees.
The startup tells Sifted it has met its Women in Finance Charter target of having women make up 40% of its executive team, and hired a director of diversity and inclusion in March this year.
"At Monzo we're focused on creating lasting and systemic change," a spokesperson says. "Fixing the gender pay gap is part of our priority to ensure that everyone is treated equally and has the same opportunities. Our work here is never over and is driven by our company values: to make a difference and help everyone belong."
Wise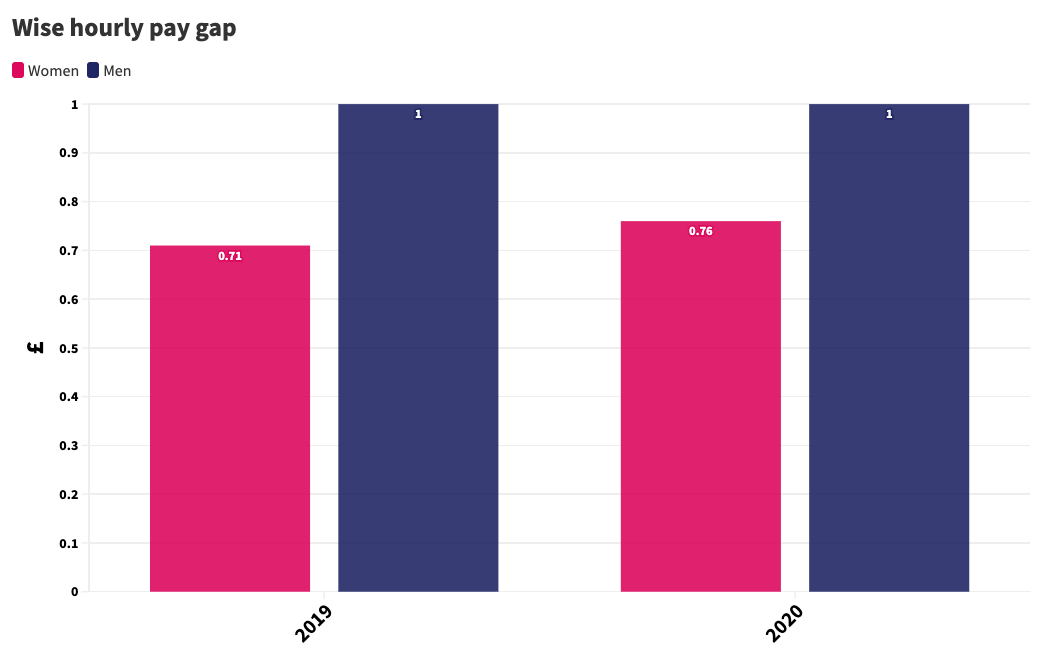 Wise tells Sifted it's targeting having half of its senior leadership team female by 2022, and its marketing department has committed to sourcing at least 50% women and non-binary candidates for any role. It will also make sure that 25% of incoming applicants, and 20% of all engineering head hires are female by the end of 2021.
"While we've seen some improvements in our pay gap, it's clear we still have some work to do to achieve parity," says senior people lead at Wise, Hayley Bucur. "But [these actions] show positive steps on our journey towards becoming a truly inclusive and diverse company."
The scaleup hired a diversity and inclusion lead at the start of 2021, and tells Sifted it's headhunting only female candidates for board positions over the coming years.
GoCardless
"Two years have passed since the publication of this report and GoCardless has changed significantly — with headcount up around 60% and growing, two new offices and more than 175 employees promoted," chief people officer Eva Ducruezet tells Sifted. "During this time we have continued taking proactive steps to reduce the gender pay gap. 
"These include completing an organisation-wide review of salaries to address any internal discrepancies and ensure competitiveness against the external market, and hiring a head of rewards to create more structured governance around our compensation framework," she adds. 
GoCardless says it has achieved an even gender split in finance, marketing and strategy, and is currently in the process of recruiting a head of diversity and inclusion. 
Bulb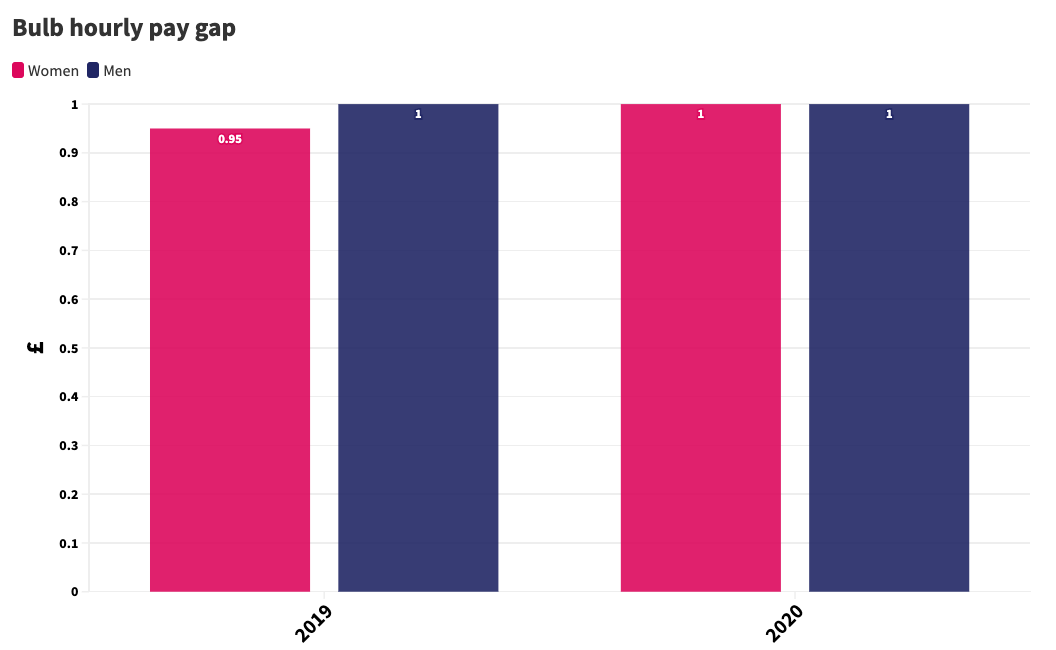 A Bulb spokesperson tells Sifted that over the past year it's made changes to the way it hires. For energy specialist (customer service team) roles, it uses a software called ThriveMap to test suitability rather than screening by CV, which it says reduces unconscious bias.
Like many companies in this article, Bulb is paying attention to the language it uses in job descriptions, and uses gender 'decoding' to filter out hidden bias. The startup also says that it's expanding its women mentoring programme this year, and will continue to increase the number of women in technology roles through internships and apprenticeships. 
Ovo Energy
Ovo tells Sifted it has committed to reach at least 40% female representation in leadership roles and 25% in tech roles by 2025, via the Bristol Women in Business and the Powerful Women Pledge. It's set itself a target of reaching full gender equality (49% female identifying, 49% male identifying and 2% non-binary) across the company by 2025. 
Using inclusive language on its job descriptions is also high on the agenda, and Ovo says it's using more diverse jobs boards and has hired an external consultant to review the entire interview process. 
Gousto
"We're proud to have recruited more females into higher salaried technology roles in 2020 and 2021 than ever before, with nearly 30% of our technology team being female, which is well above the industry average," founder and CEO Timo Boldt tells Sifted.
"While we're making progress on this each year, our goal is to have no gap at all," he adds. "So we continue to focus on how we can build more diverse and inclusive hiring processes to tackle industry-wide challenges such as more men than women studying technology at higher education. Gender equality and diversity remain top of our agenda."
Gymshark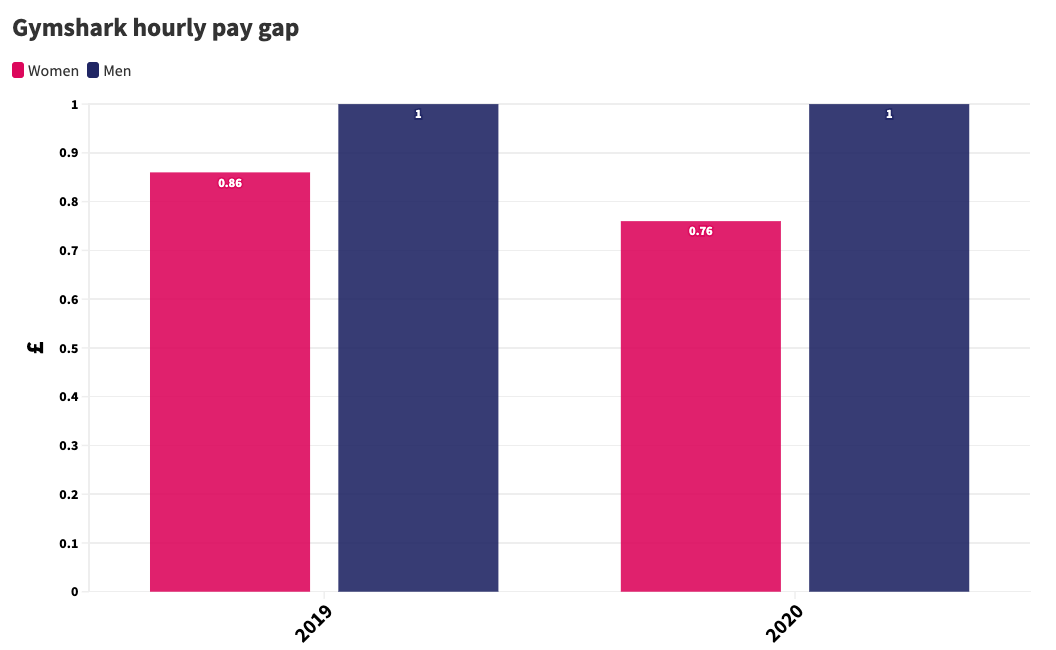 Gymshark declined to comment.
Improbable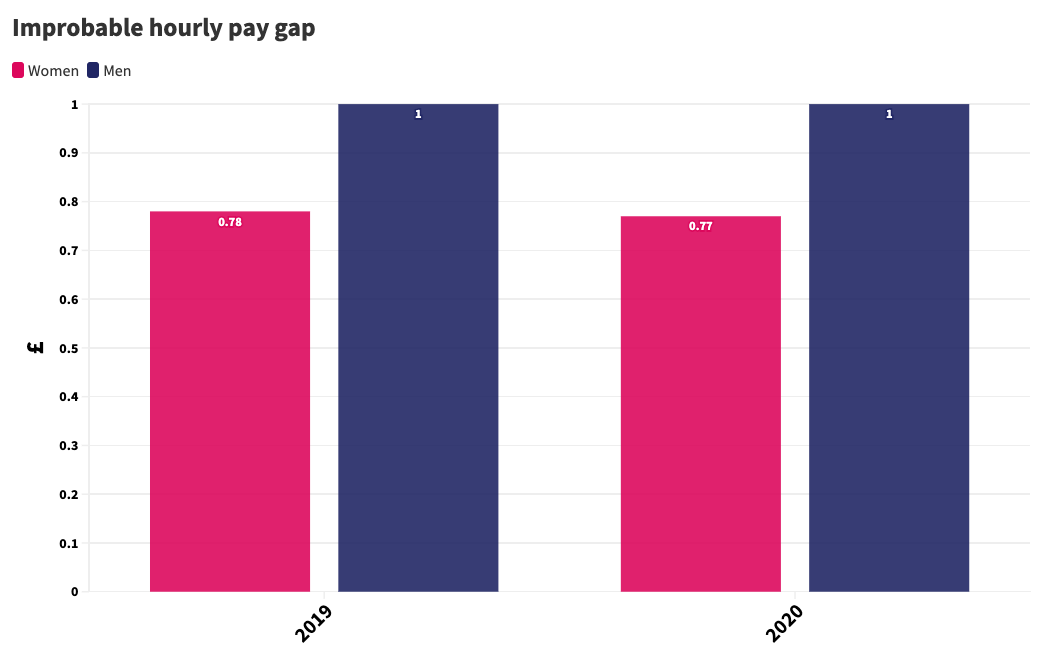 Improbable could not be reached for comment, but said in a blog post it has aspirations to increase diversity of applicants for roles at every level. According to the company, it is building relationships with academic institutions and diversity focused networks, and ensuring job descriptions are compliant with best practice on gender-neutral language. 
Wherever possible in its executive hiring process, at least one woman is among the final candidates selected for on-site interview, the blog post said.
CMR Surgical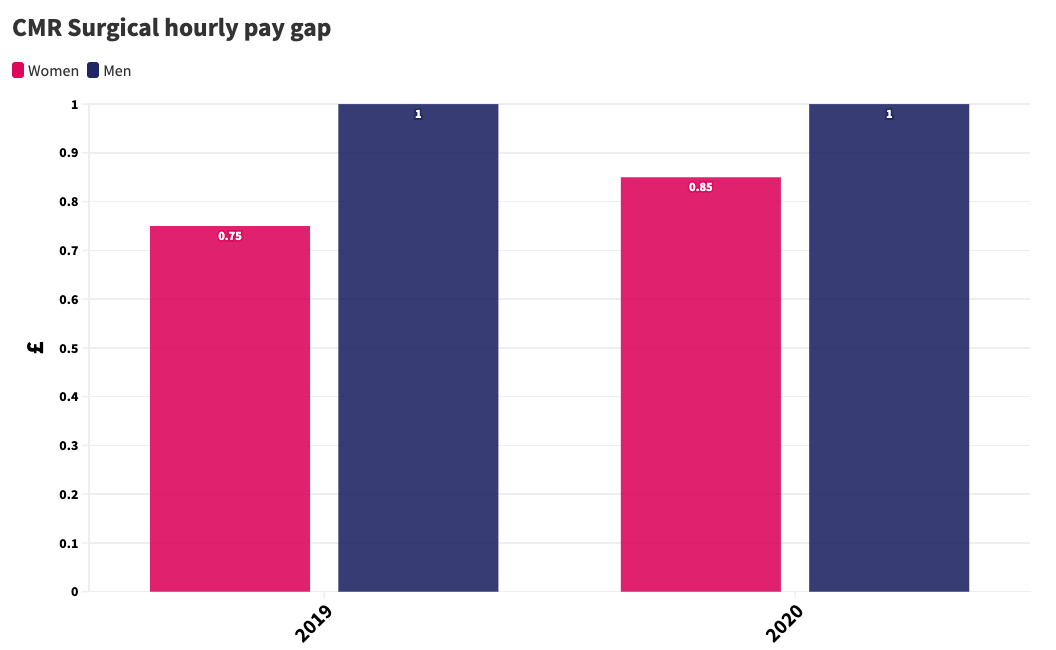 "We have made significant headway in improving our gender pay gap over the last year and have recruited 10% more women into senior level positions," a CMR spokesperson tells Sifted. "These roles have been across a variety of functions including technology, medical affairs and operations."
"While we recognise there is still more work to be done, we are actively committed to several initiatives to improve this further," they add. "This includes refreshing review processes and bonus policies, as well as kicking off a formal succession planning process to help build exceptional, diverse leaders of the future within CMR. Additionally, we are reviewing our recruitment processes to attract a wider applicant pool and eliminate any unconscious bias."
Conspicuous absences
Cyber security unicorn Darktrace has not submitted any gender pay gap data since reporting began in 2017, but tell Sifted it will be reporting later this year in line with the extended deadline.
Digital health unicorn Babylon Health last reported in 2018, showing a pay gap of 29%, and declined to comment. 
Fintech WorldRemit also last filed in 2018, with a pay gap of 46%, and tells Sifted it's currently working on reporting for the extended deadline.
Neobank Revolut — which has not been required to submit pay gap data before this year — tells Sifted that it will be reporting in line with the extended deadline this year, and has put in place a number of initiatives to reduce it. 
The company runs a women in leadership programme and group focus sessions to understand the barriers to success its women perceive, VP of people Jim MacDougall tells Sifted. "We are also evaluating our recruitment processes through an inclusive recruitment audit," MacDougall adds. "We'll be assessing means to attract an equal number of male and female candidates to apply for roles within Revolut as well as looking to increase the diversity of our interview panels."
What is gender pay gap reporting?
Since 2017, all companies with 250 or more employees in the UK (but not Northern Ireland) have been required to report their gender pay gap data to the Government Equalities Office (GEO). 
The GEO collects data on the hourly pay gap, the breakdown of men and women in different pay quartiles and bonuses. The median hourly wage gap is commonly referred to as the gender pay gap.
Usually a company has to submit the data by 4 April each year, providing a snapshot of the gender pay gap the year before. Due to Covid, reporting was suspended in 2020, and the Equality and Human Rights Commission (EHRC) have told companies they will not enforce reporting in 2021 until October.