Despite Covid-19 and the uncertainty of Brexit, investment into tech companies in the UK was at record levels last year, the proportion of foreign investment rose, IPOs gathered pace and seven new companies made unicorn status.
There could be challenges ahead though — the country's R&D capabilities trail other countries and investment is increasingly concentrated in the capital alone. 
"This year has highlighted the UK tech sector's enormous resilience and world-beating innovative spirit," says Gerard Grech, chief executive of Tech Nation, which compiled the new data. 
"In the face of a major global crisis, it has not only survived; in many areas, it has boomed."
Record investment levels
VC investment into the country reached $15bn last year, $200m more than in 2019. Investment gathered pace throughout the year, peaking in December at $1.9bn.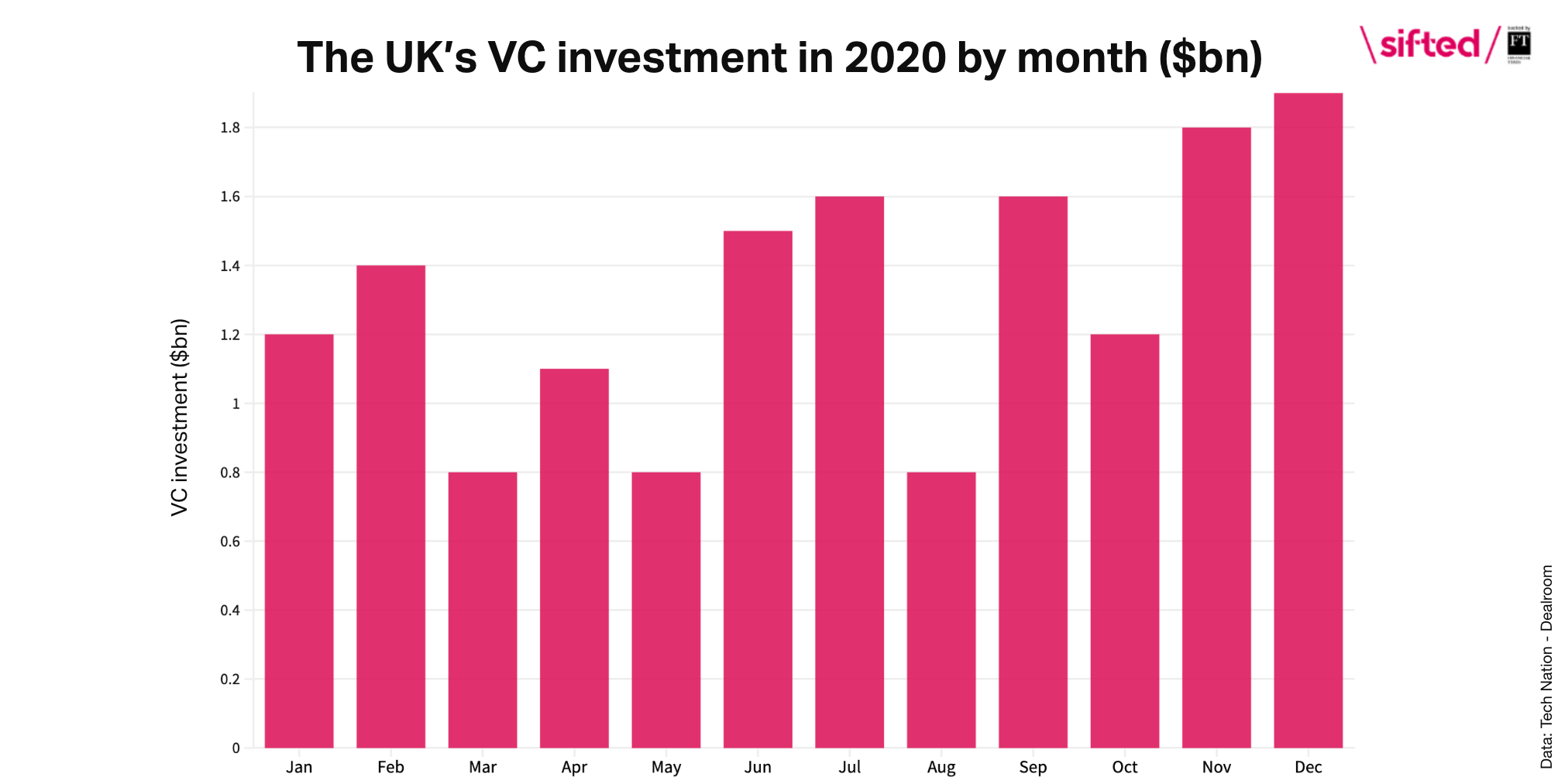 The 2020 figure places the UK third highest globally, behind the US and China, which brought in $144bn and $45bn respectively.
In Europe, the UK continues to be the country bringing in the most VC investment, followed by Germany and France.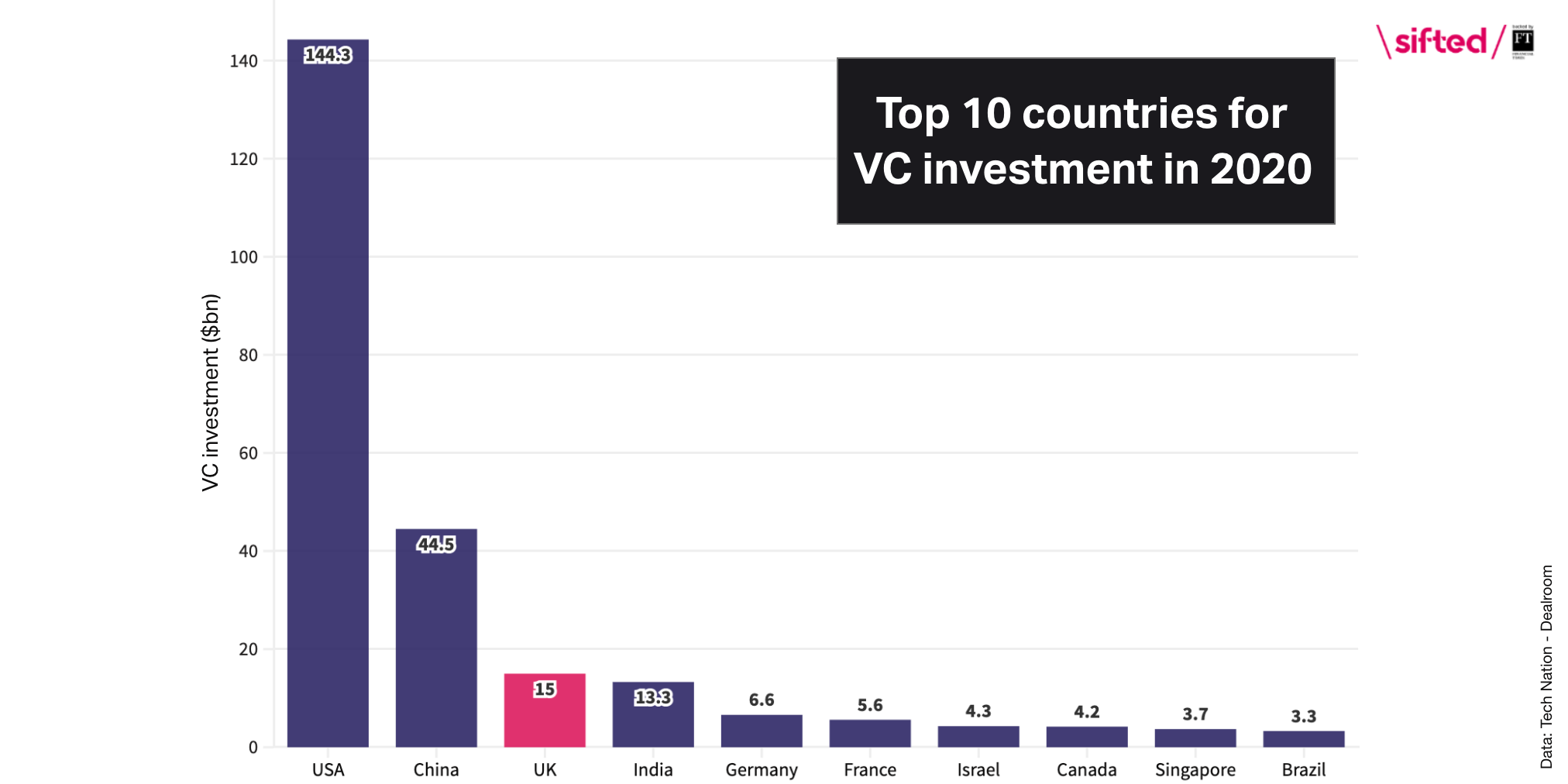 Increased foreign investment
The amount of money coming into the country from overseas also increased, which will be seen as positive news following the UK's exit from the EU. 
In 2020, two thirds (63%) of investment ($9.4bn) in UK tech came from overseas, compared with 50% ($3bn) in 2016. Chinese and US investors in particular are becoming increasingly active across Europe.
IPOs gather pace
The amount that tech companies went public for in 2020 increased too, indicating the health of the late-stage ecosystem.
Eight unicorns IPOed on the London Stock Exchange, together raising £3.1bn. Compared to 2018, last year had half the number of IPOs but double the amount of capital.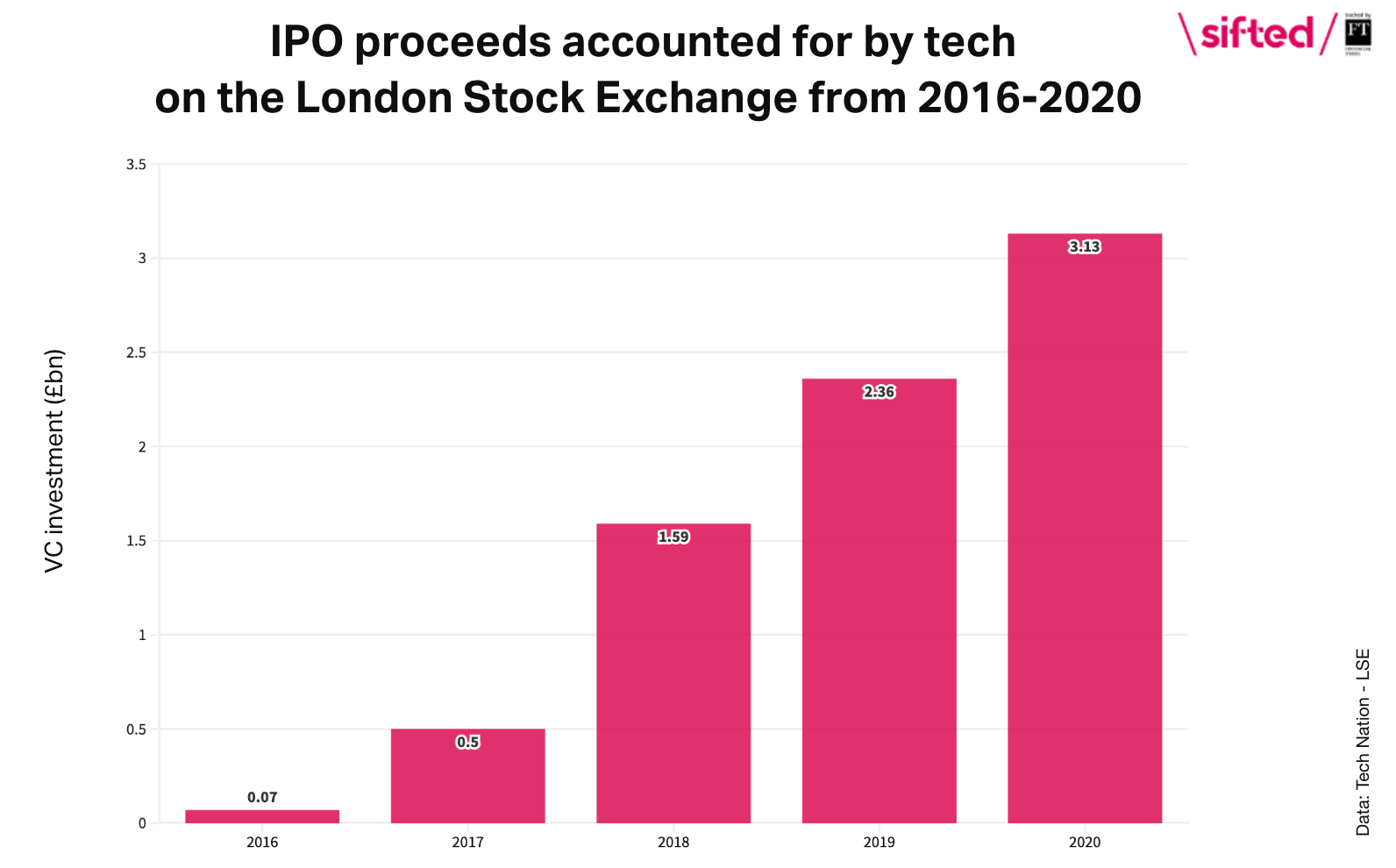 10 tech superstars
10 companies together secured 20% of total tech investment ($3.5bn). 
They are:
Revolut, fintech, $580m raised last year 
Octopus Energy, an energy provider, $577m raised last year 
Ki, insurtech, raised $500m last year
Arrival, transportation company, raised $400m last year
Karma Kitchen, foodtech, raised $333m in 2020
Cazoo, used car online retailer, raised $310m last year
Gymshark, fashion ecommerce startup, raised $264m last year
Graphcore, semiconductor provider, raised $222m last year
Infobip, marketing enterprise software, raised $200m last year
Zenobe Energy, energy company, raised $198m last year 
Octopus Energy, Arrival, Cazoo, Gymshark, infobip, Gousto and Hopin were the seven unicorns to make it into the unicorn class of 2020, bringing the UK's total unicorn count in 2020 to 80 (following data company Dealroom's criteria).
An additional five unicorns have already been created so far in 2021, Blockchain, Kymab and PPRO, Touchlight Genetics, Starling Bank and Zego. 
Tech sectors to watch
Data shows a surprising champion in 2020 — transport tech. The sector saw a 160% increase in VC investment between 2019 and last year, reaching $1.7bn. This was driven by electric van company Arrival, which netted $400m in growth equity and used car online retailer Cazoo.
Deeptech also saw a surge, up 17% to just under $4bn. That's the highest rate of growth for the sector

globally.
Deeptech also saw a surge, up 17% to just under $4bn. That's the highest rate of growth for the sector globally, with China and the US seeing relative decreases in investment levels last year.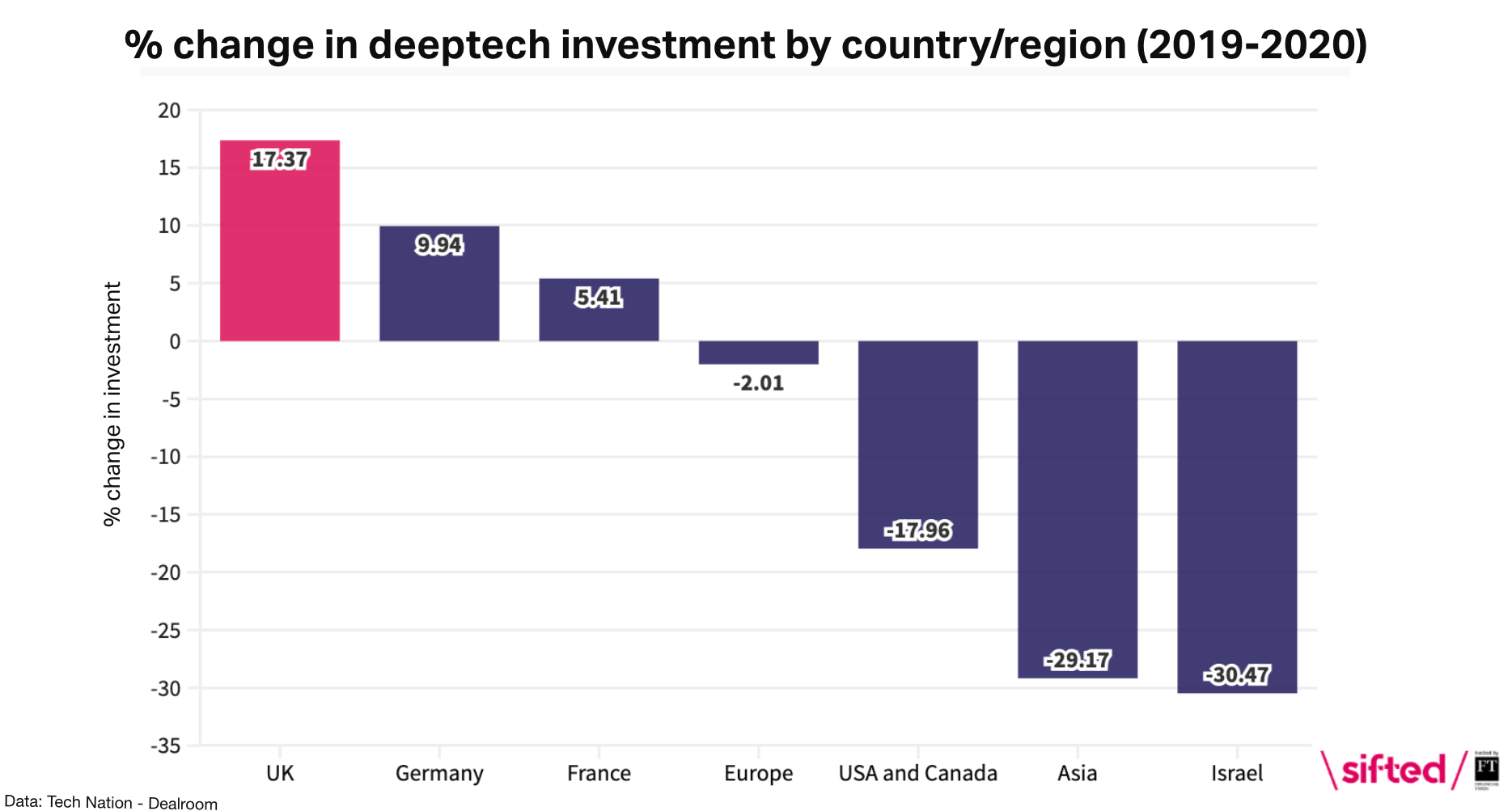 The sustainability sector also boomed last year. Investment has more than doubled (160%) since 2018, up to $2.6bn. This puts the UK third in the world for total impact tech investment — behind only the US ($11.4bn) and China ($2.9bn).
On the other hand, fintech investment decreased by 23% last year — though the UK still remains the second in the world for VC investment into fintech.
The next decade
The rate that tech contributes to the UK economy has increased by 7% every year since 2016. 
And with unemployment high on the national agenda following Covid-19, data shows that there are nearly 3m jobs in the digital tech economy — more than either construction (1.9m) or financial services (1.2m). 
But UK tech faces some challenges. 
There's a shortfall of UK late-stage investment — 76% of rounds over $250m involved a non-European or UK investor last year — which Tech Nation signals could "surface potential national security concerns", with UK tech firms increasingly owned by non-UK actors.
There's also an increased concentration of investment in the capital — in 2018 73% of investment was into London-based startups and in 2020 this was at 88%, showing a lack of regional diversity. 
The country also trails behind on research and development, with some private overseas companies investing more in R&D than the UK does as a nation. 
In 2018, the UK's R&D expenditure was just over £38bn, while Amazon's alone was

£40bn.
In 2018, the UK's R&D expenditure was just over £38bn, while Amazon's alone was £40bn, the US' was $551bn and China's was $463bn.  
Despite the high levels of VC  investment in the country, a lack of funds could hamper the country's capabilities in things like AI, machine learning and quantum computing, as well as bringing new tech to scale.