TransferWise has just minted 33 new millionaires, bringing the total number of employees or investors with six-figure holdings in the payments company to more than 150, according to a Sifted analysis.
This comes as the London-based startup was valued at $3.5bn this week following a deal in which hundreds of employees and early backers sold shares to new investors and existing stakeholders.
The move doubled its valuation from just 18 months ago — making it the most valuable fintech in Europe. Fintech Revolut is worth just $1.7bn, by comparison.
The wider diffusion of wealth to employees and investors is set to be a shot in the arm for the wider European ecosystem, as typically money from a successful startup is ploughed back into other startups.
Already more than a dozen former TransferWise employees have gone on to start their own businesses including Victor Trokoudes, chief executive of personal savings AI assistant Plum.
A trio of TransferWise alumni – analytics expert Jeff McClelland, fraud prevention expert Taavi Tamkivi and technologist Jordan Valdma – founded the anti-money laundering intelligence startup Dataminer.
According to a Sifted analysis of company filings, employees who have become new paper millionaires include the former Transferwise software development lead, the former head of banking relationship and the former communication head, according to the last UK regulatory filing on April 16 this year.
For many of these employees, it may not just be "paper" money either. The $292m sale share announced this week - at the $3.5bn valuation - was exclusively to allow early employees and investors to turn their shares into cash.
Sifted Newsletters
Sifted Newsletter
3x a week
We tell you what's happening across startup Europe — and why it matters.
It is not clear who cashed out exactly, but TransferWise told Sifted that "many hundreds" of employees, former employees and early backers took up the opportunity.
The company's 1,600 employees collectively have around 2m vested options, according to last year's company filings, which at the last valuation would be worth $250,000 per employee on average.
Other successful European startups have gone on to create a whole ecosystem of other successful startups, as shown by this graphic about Spotify about Atomico here: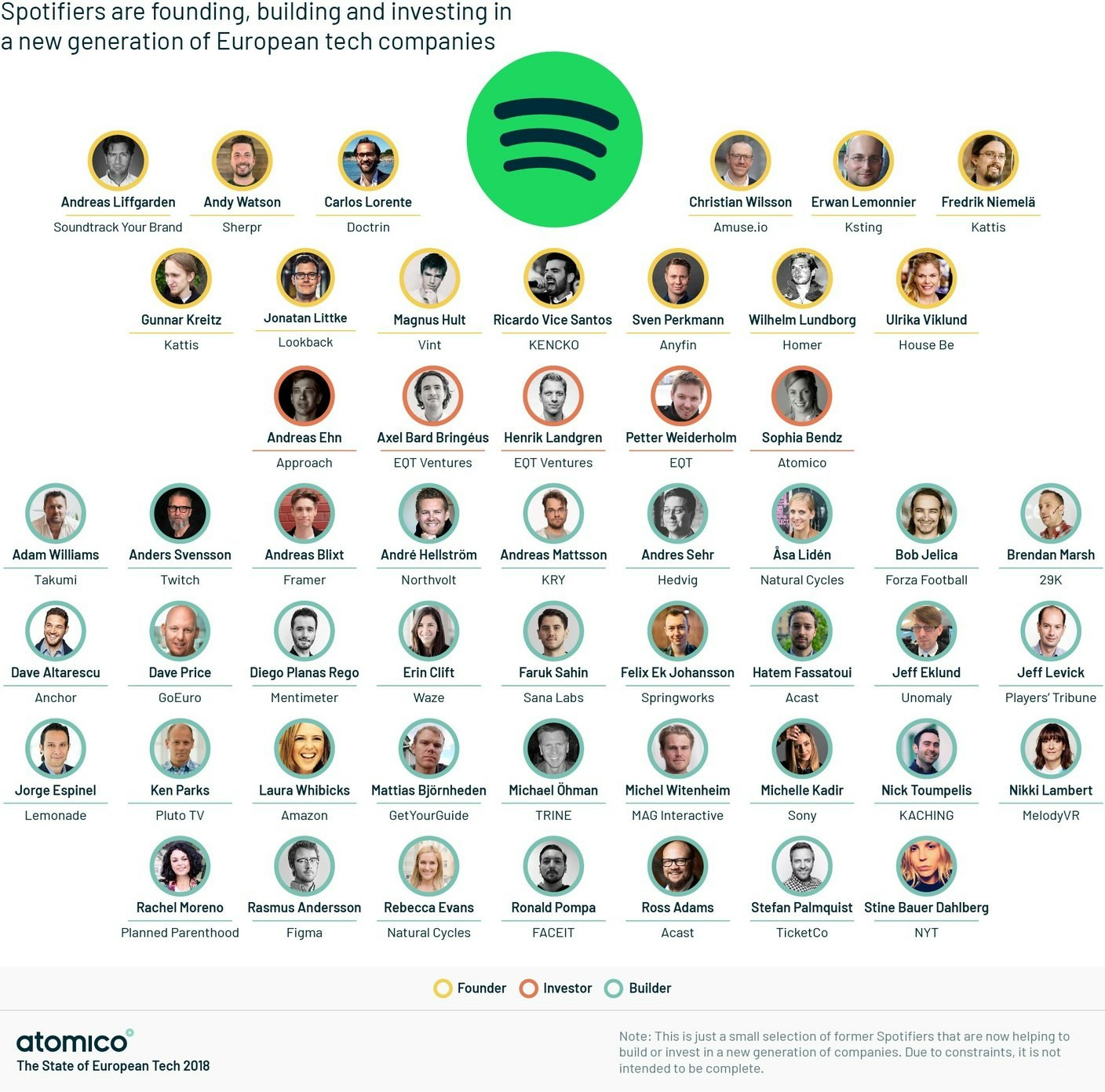 Head of recruitment at TransferWise, Ben Craig, said that the company actively encourages employees to channel the "entrepreneurial mindset" into other projects, through initiatives like a six-week paid sabbatical after four years with the company, even though this can lead to "Wisers" leaving TransferWise to focus on starting their own businesses.
"Our old employees are totally advocates of our brand and we're advocates of their companies as well," he says, referencing formal partnerships between TransferWise and Plum, and another potential partnership with Dataminer.
"They've used our offices, we use their offices, we're all in constant communication," Craig adds. "We encourage employees who go out and start their own companies to lean on the skills of the two entrepreneurs who founded TransferWise, and to use the expertise of everyone who has worked with us over the last seven years to TransferWise to where it is today."
The founders of Transferwise, Taavet Hinrikus and Kristo Kaarmann, said this week that they sold "much less than 20%" their own holdings, which are worth $1.3bn at the new valuation. Other big shareholders include Andreessen Horowitz with $65m worth and IA Ventures with $267m worth.
Hinrikus said the $292m sale would allow some of the company's earliest backers to realise the substantial gains on their investments, without forcing it through the "distraction" of an initial public offering.
TransferWise, unlike many of its fintech peers, has registered two straight years of profits, posting £6.2m in post-tax profits for its fiscal 2018 on £117m in revenue.
It does this by significantly undercutting the fees charged by the big banks. TransferWise charges less than 1% on many currency transfers, compared to what the World Bank estimates is an industry average of more than 7%.