In April, Martynas Gudonavičius started receiving a whole lot of emails. European cities were thinking about edging out of lockdown — and worrying about how to get their citizens moving again, safely, and without relying on cars too much. 
It seemed like his company Trafi, a mobility-as-a-service startup which allows cities to integrate various forms of transport into a single app, could have the solution for them. 
"We saw a spike of inbound requests," he says. City leaders were looking at Jelbi, Berlin's all-in-one transport planning and payment app which Trafi runs in partnership with the public transport authority Berliner Verkehrsbetriebe (BVG) — and they wanted something similar. 
The timing couldn't have been better for Trafi, which was mid-fundraise. "We were afraid at first that [Covid] might really influence the fundraising — and not in a good way," says Gudonavičius. "But we were in a great position — our numbers didn't go down; we actually signed more cities and partners."
Now, 2020 and beyond is looking pretty promising for the Lithuanian company. It has raised a Series B round led by two Japanese corporates — Sumitomo Corporation and Aioi Nissay Dowa Insurance — with existing investors Octopus and European Bank for Reconstruction and Development (EBRD) chipping in (Gudonavičius says he's under strict instructions not to disclose the amount, but it close to doubles Trafi's $14m of funding to date). 
This week, it's rolling out the world's first country-wide mobility-as-a-service (MaaS) platform in Switzerland. It will also soon launch in Munich — and in a "huge city" in Latin America. On top of that, Gudonavičius says Trafi is in "more than 10 tenders for different cities" in Europe (including five in France) and further afield, and will be announcing partnerships with some "very well-known names" in the tech world (it already counts Google, Apple, Lyft and Gojek as customers).
So, what is it about Trafi?
The biggest MaaS in the world
"We want Trafi to become the default word when you think about mobility-as-a-service," says Gudonavičius — as synonymous with transport journeys as Google is with search. "We want to be the global, dominant tech." 
We want Trafi to become the default word when you think about

mobility-as-a-service.
In Berlin, you can test out a version of that future. The Jelbi app (pronounced 'Yell-bee' if you want to sound like a local) lets users plan routes across the city using public transport (bus, train and tram) and private providers (scooters, bikes, mopeds and cars). It means that Berliners don't need to download 20 different apps, only need to register once, can pay for all their transport in one place and can compare routes based on time, price and weather. 
"It's the largest MaaS deployment in the world; nobody has done one with more options," says Gudonavičius. He estimates that about 10% of Berliners have so far used the app since it launched in June last year.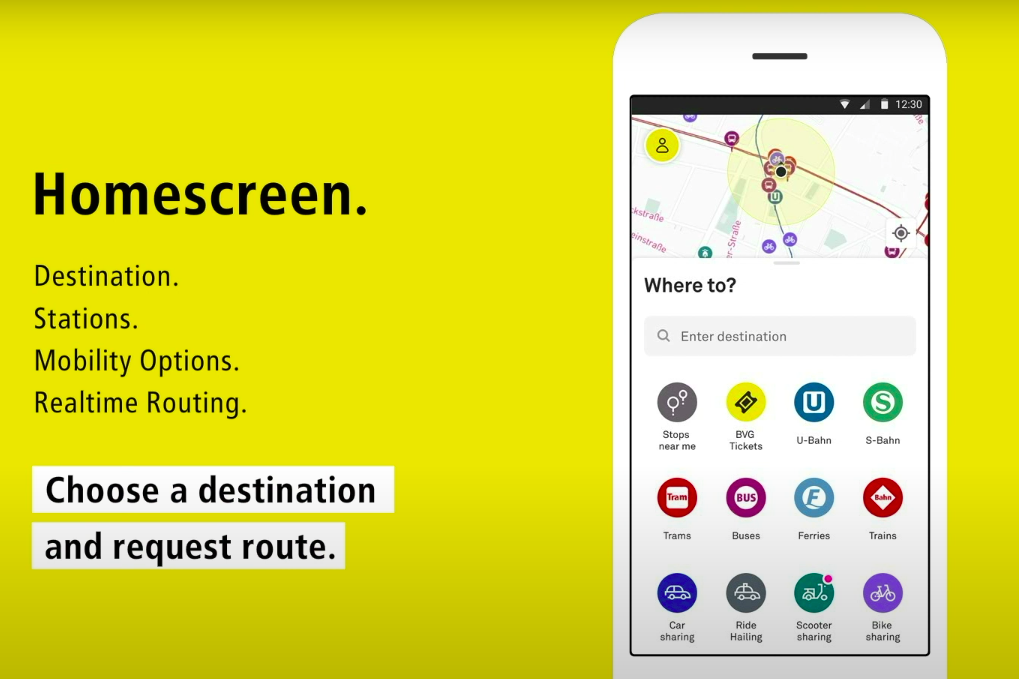 But until recently, it was an uphill struggle to explain to cities why having a MaaS system was a good idea. "We needed to do a lot of education for cities," says Gudonavičius — explaining the value it brought to citizens and why it was important that it was the city, and not an Uber or a Google, that operated the system. (The answer Trafi gave them: "The city is the only agnostic and independent operator who can combine all modes of transportation without being biased.") 
Post-Covid, cities don't need convincing. "It's all about the pros now," Gudonavičius says. "Cities have realised this is a platform they really need." 
In Berlin, Jelbi is being used even more than it was pre-Covid, and about 50% of journeys are made on single-occupancy vehicles like bikes and scooters. This is music to the ears of other city authorities in Europe, which want to help people get around but don't want them to rely solely on cars.
With a MaaS app, cities can actively encourage people to use single-occupancy modes of shared transport via subsidies. In Berlin, for example, Trafi is starting to experiment with offering users vouchers.
In every mayor's office sustainability and emissions are high on the

agenda.
There are also environmental — and economic — benefits to MaaS. "In every mayor's office sustainability and emissions are high on the agenda," says Gudonavičius. Next year, he says he expects the European Commission to begin fining cities which do not take sufficient action to reduce emissions.
"When people discover shared mobility they start using their cars less."
Going global
Trafi's next big move is in Switzerland. 'Yumuv', its Swiss app, has gone live in Zurich and will soon launch in Basel and Bern too. The partnership — with SBB, the Swiss national rail company, and local transport operators — will enable users to pay a single transport subscription for trains, buses, shared scooters and bikes. 
This poses Trafi with a new challenge: catering to intercity travellers. "They have very different needs and perspectives," says Gudonavičius — plus, not all of the transport options available in one city are available in one of the others, adding a layer of complexity to any subscription product. "These are cool challenges."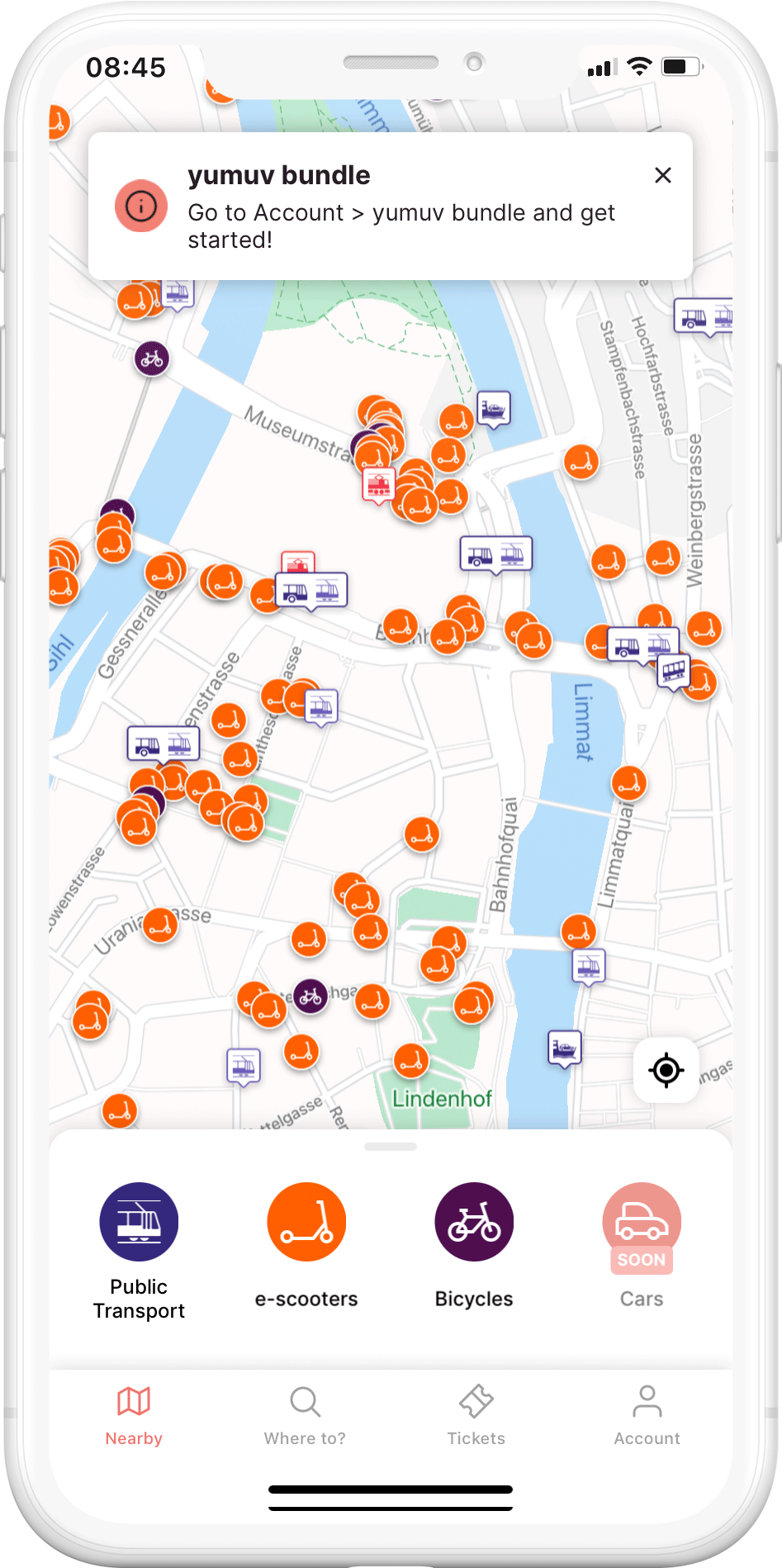 Launching in Latin America will also bring new complexities. Latin American cities rely on a huge amount of unofficial transportation such as colectivos — small buses run by local communities which can be hailed at the side of the road. Unlike the London Underground or the Paris Metro, there's no open data source tracking where the vehicles are at any time; so instead Trafi has mapped out their networks and the most important places where they stop. "That gives us a fairly good prediction model," says Gudonavičius. 
In 2021, Gudonavičius hopes to massively increase the number of people using Trafi. "We're already benefiting tens of millions of people per month," he says. "I want to triple or quadruple that next year." 
We want to have an impact — we want to get people out of their

cars.
From a city perspective, he adds, he'd like to have partnerships in 15 or so big cities across the world. "We want to have an impact — we want to get people out of their cars." 
Moving away from B2C
But things weren't always going so smoothly for Trafi. 
Trafi started out with a business-to-consumer app — similar to that of London-based Citymapper or Israel's Moovit (which was acquired by Intel in May this year). It launched in Vilnius in 2013, and by 2014 was live in the Baltics, Indonesia, Brazil, Turkey, India and Taiwan. "We were helping consumers plan journeys in developing markets," says Gudonavičius. "People loved it". 
"But we never figured out a business model. About four years ago, we said we can't continue like this, we're not going to make money out of it." 
Trafi decided to pivot and offer the tech it had built for its app to others. "We talked to partners and ecosystem players and they liked it," says Gudonavičius. "That was the click moment." 
Now, Trafi not only works with cities to help them set up MaaS systems and continues to run its B2C app in more than 30 cities around the world; it also licenses its software, including its multimodal routing algorithm, to some of the world's biggest companies. Trafi is at work behind Google Maps, Apple Maps, Lyft and the giant Indonesian delivery app Gojek, taking open data on public transport and enhancing it, for example offering more accurate predictions of when a vehicle will arrive than the authority's own algorithm can provide. 
"We learn a ton from working with these big guys — Google is really hard on you on latency and security, for example, because it needs to be good enough for them to use it in their products," says Gudonavičius. "Cities really like that aspect too."
This business model — licensing off-the-shelf products to cities, tech giants and transport companies, rather than offering a free product to consumers or building custom solutions for clients — is helping Trafi grow fast, while fellow MaaS startups are stalling.
Citymapper, despite being wildly popular with consumers in London and several other big cities, has struggled to find ways to make money for years (it dabbled in running a bus service and shared rides in London, and then launched ticketing in 2019). It is reportedly looking for a buyer and struggling to entice new investors. It has also recently lost its president and head of business, Omid Ashtari. 
Citymapper is in the situation we were in four years ago — they can't figure out their business

model.
"Citymapper is in the situation we were in four years ago," says Gudonavičius. "They can't figure out their business model." 
Trafi is also outshining some of the huge corporates which also provide software to cities, like Siemens, Cubic and IBM. "We're competing with all these legacy players," says Gudonavičius. "Luckily we are winning tenders against them." 
Still, for all Trafi's success, the shared transport revolution isn't going to happen overnight. 
"It's definitely not going to happen super fast, but it is inevitably going there," says Gudonavičius. And with any luck, the pandemic might just bring about change faster. 
"Cities need to be bolder with regulations. Everyone is talking about how we should decrease car usage in urban areas — so give people incentives to do that. Give them subsidies to use shared mobility, create more bike lanes and walking lanes," says Gudonavičius. "Some cities started doing that aggressively during Covid — but don't do it temporarily, do it for good."