Last year, Europe's trading apps breathed a sigh of relief when US giant Robinhood announced it was cancelling plans to expand into the UK.
But competition in the trading space could be heating up once again. This time it's from Lightyear, an unexpected newcomer building a pan-European investment app that's free of commission and  foreign exchange fees.
Lightyear might still be small but it packs a punch.
The company is founded by two former Transferwise employees and has brought on their old boss — Taavet Hinrikus — as an angel investor in its $1.5m pre-seed round. It has also snagged Revolut's trading lead, Nishil Parekh, as head of product and brought on staff from Robinhood's now-dismantled UK team.
The new platform essentially applies the core principles of Wise (previously TransferWise) — low FX fees — to make it cheaper to buy international stocks. To do this, Lightyear will offer multicurrency accounts in the app, and "free" access to global markets, targeting the continent's 500m-strong population.
That could spell trouble for local competitors like Freetrade and Trade Republic, whose business models rely heavily on charging users for overseas stock purchases.
"Nobody has managed to expand across Europe," cofounder Martin Sokk told Sifted. "The US is 30 years ahead [on infrastructure]...we believe we need to build that infrastructure."
He added: "It's a global-local play...It's a global product that's accessible locally."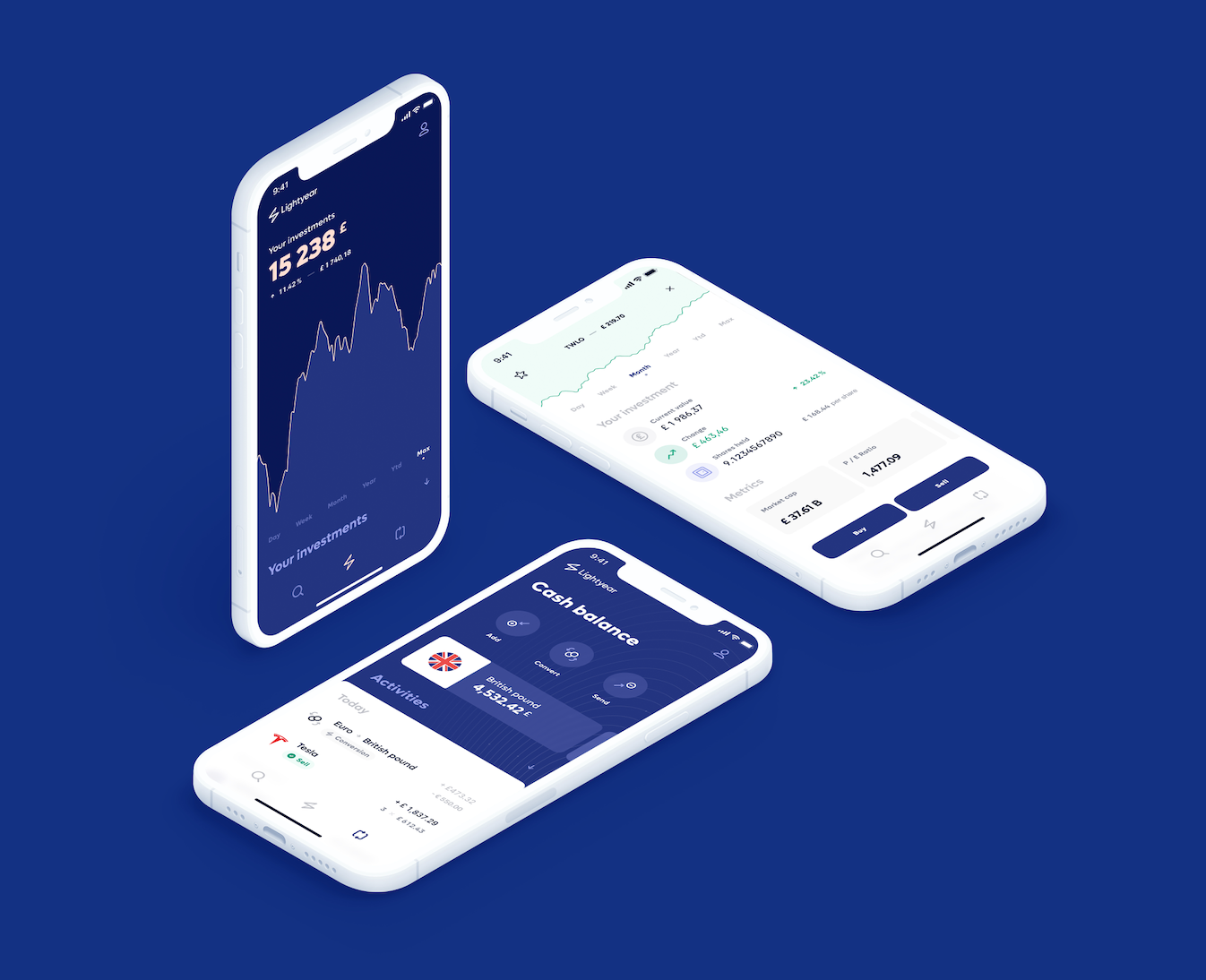 Lightyear plans to launch first in the UK later this year and will soon be opening its waiting list. It will initially target people who have existing trading experience, rather than total newcomers.
Nonetheless, Sokk says over time he wants to stop the investment space being "white male land", and is thinking deeply about what "sustainable" investing looks like — discounting most existing products as "greenwashing. He is also hoping to shift consumer behaviour in Europe, where retail investing is still uncommon.
"It's a) how do we get people away from [just saving in] banks, and b) get people investing."
David vs Goliath
Lightyear may be ambitious, but it'll have its work cut out.
It's going up against European trading fintechs who have already undeniably made investing more accessible and far cheaper.
Existing fintechs are also well capitalised, with Berlin's Trade Republic raising an eyewatering $750m last month. Other local peers include 99 in Spain, Holland's Bux, Israel's eToro and the UK's Freetrade.
But despite all the funds at play, Lightyear says there's still a gap in the market for a cheaper and more informative platform that serves the entire continent.
"This is what we did [at Transferwise].... borderless finance with no FX."
Sokk also said he isn't phased by competitors' war chests. "You can have lots of money...[but] now there's the question of who has the better product."
Lightyear is also confident it can carve out a revenue pathway despite crunching the key margins. The company will charge a subscription for highly engaged users and charge for currency conversion over £3k per month. It is also considering targeting big institutions in due course.
Investor attention
Lightyear has already pulled in a strong pool of angel investors.
At the forefront is Wise's Taavet Hinrikus, marking his first investment in partnership with fellow tech founder Sven Tamkivi.
The irony is that Hinrikus himself has never bought public stocks, telling Sifted earlier this year that he prefers to stick to investing in startups.
Still, the Wise founder has been won over by what he calls "a kickass team like few others in Europe." He quipped that "those guys built the core of Transferwise (me and Kristo just took credit...)."
In an email to Sifted, Hinrikus added:
"The sector is hot hot hot — many more people want to invest and there really is no product to offer real free investing in Europe just yet. (While we acknowledge that there will be a few choices), I believe the key is to be more European here to win, that means offering sustainable investing choices (vs incentivising people with too much leverage, etc)."
If Lightyear can get Hinrikus trading, they'll be well placed to convince even the toughest customers.