Over the last decade, the fintech sector has lured employees with record venture backing, the potential to deliver cutting-edge products and the hyper-creativity that embodies the startup world.
Fintechs have also made public promises of richer, more inclusive 'work cultures' than their older banking peers.
But to assess employees' experience at these fintechs, Sifted has commissioned data scientists at Glassdoor — the job-seeker site — to compare staff reviews at 15 top companies using a five-point scale, ranging from "very dissatisfied" (1.0) to "very satisfied" (5.0).
Here are the results!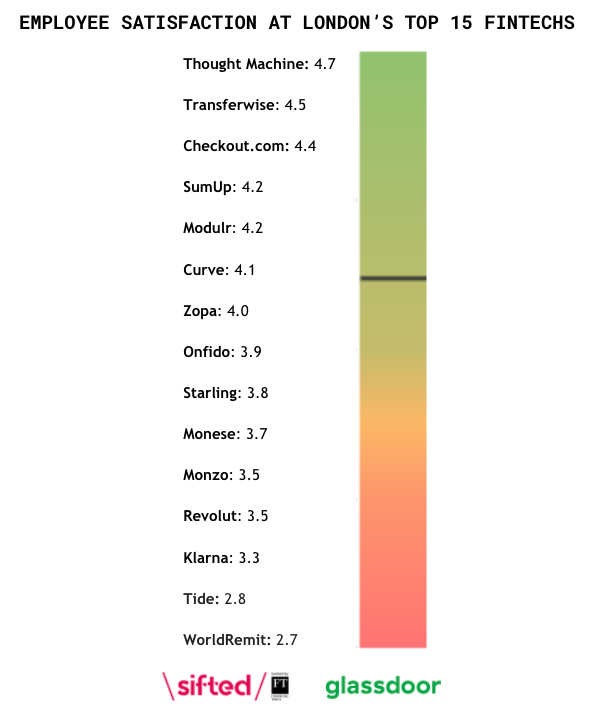 To ensure the study was up-to-date, it is limited to reviews submitted over the last year (the public site only shows cumulative ratings, and therefore can include reviews dating back many years). We also limited the study to top fintech companies with over 15 reviews within this period to ensure there was a reasonable sample size.
Of course, Glassdoor reviews are not a perfect representation of everyone's experiences. Often people have a greater incentive to leave a bad review than a positive or 'average' one.* Nonetheless, Glassdoor offers a useful snapshot of the general mood inside companies and how they compare to one another — particularly when using a controlled methodology.
A good bunch?
The Glassdoor global average is around 3.4, meaning most of the best-known fintechs sit above this benchmark. The study also reveals how most London fintechs steer clear of dropping below 3.0 — which Glassdoor considers "fairly poor".
So the answer to whether they're a good place to work is overall,

yes.
Nonetheless, there is clearly room for cultural improvement among several fintechs, whose ideals of a progressive, exciting workplace seems to contradict many employees' experiences.
In particular, the study shows that, broadly speaking, the bigger the fintech gets, the more satisfaction slips — perhaps speaking to the pressures of scaleups and the changes in culture that follow.
A small handful — including Revolut and Freetrade — have also faced damning reports about company culture and high attrition rates.
For other big companies, incomplete Glassdoor data means we are unable to offer prospective employees transparent insights. For instance, GoCardless only had 13 reviews (with a rating of 3.6), while OakNorth Bank had 10 reviews (with a rating of 3.3) over the last year.
Addressing these 'satisfaction shortfalls' is important given fintech founders have complained of tough competition for engineering talent in London,
Indeed, many are already having to offer ever-higher bonuses and salary packages in an attempt to lure the limited pool of specialised talent. The "talent gap" in London is such that 42% of employees at UK fintechs were hired from overseas last year.
Given these challenges, holding on to talent and fostering a strong work environment is a vital focus, says Balderton's head of talent Kiana Sharifi.
"Say you have five engineers who are very good but need some training and guidance. Making these five twice as productive and engaged [by investing in them] makes more sense than hiring another five engineers," she wrote in a Sifted article last year.
How to satisfy employees
It's clearly not an easy feat to continually meet employees' expectations and sustain satisfaction across the workforce.
But ThoughtMachine — which sells core operating systems to banks — has managed to top the leaderboard.
Founded in 2014 by Google Veteran Paul Taylor, the fintech now has over 300 employees across its London and Singapore offices, and says it's found the recipe for happy employees.
"Disrupting the age-old core banking problem is a team sport. Our shared commitment to moving fast and continue learning keeps us motivated," Taylor told Sifted.
"We work hard to provide an environment for our team that combines high-quality technical work with lots of fun. Engineers and non-technical employees are encouraged to debate, deliver and review work constantly. This translates into a motivated, happy workforce, which we're delighted is reflected in our Glassdoor score."
Nonetheless, it's worth flagging that Thought Machine has a distinctly homogenous executive team, lacking a single woman and non-white leader. The company will now want to prove it can be equally welcoming to all groups of people.
* Glassdoor has a "give to get" policy, meaning users must contribute a piece of information (review/ salary etc) in order to access the site. The firm says this ensures the motivation to leave a review does not just come from those with an axe to grind - more often than not, it is an exchange of data. This has reduced the likelihood of extreme 1 and 5 star reviews - called 'polarisation bias' - according to a study the firm conducted.