Welcome to The Big Idea, where each week we pick a company with a weird, wacky or gamechanging notion that could have a massive impact on the world around us. Next up is Thymia, a UK-based company working on using smartphone video games to target and monitor mental conditions like depression.
Emilia Molimpakis was working as a scientist at University College London, researching how language analysis can be used to detect mental health conditions like depression, when her close friend and a fellow academic found herself struggling with symptoms of the illness. 
"She tried to go through the healthcare system," explains Molimpakis, but she struggled with waiting times and clinicians failed to realise the severity of her condition. "Essentially, the system failed her." 
Alongside her research Molimpakis was helping a gaming company, using her knowledge of neuroscience to make the levels of a game harder each time. 
"I realised that if we tweak these video games, you could essentially help target depression," she says, and that the tech could be used by people like her friend, who struggle to receive the continued care they need in the current system.
Off the back of that realisation, Molimpakis cofounded Thymia alongside physicist Stefano Goria. The company's developing video games to monitor depression, and it's just raised a $1.1m seed round, led by Kodori AG and Calm/Storm.
What problem does it solve?
"The current system for diagnosing depression has quite a few flaws throughout the process," says Molimpakis. "This has nothing to do with the clinicians themselves, it's really to do with the tools that they have."
In the UK, she says, doctors within the state healthcare system don't have time to routinely assess for depression, so a patient has to come with a complaint.
Sifted Newsletters
Sifted Newsletter
3x a week
We tell you what's happening across startup Europe — and why it matters.
Once they do that, clinicians have a very limited set of tools to diagnose patients with — and they haven't been updated for decades.
"They will run through a set of questions with you, but they're very subjective," Molimpakis says. "They'll ask you something like, 'On a scale of zero to three, how sad have you felt in the past two weeks?' Or 'have you had trouble sleeping?'"
It's a subjective system that's prone to bias and often leads to people being misdiagnosed, Molimpakis says.
"Mental health issues are incredibly complex problems to assess, but there can be better ways to do it using technology."
How does Thymia work?
"Depression can be thought of as a systematic difference in the way our brain functions that is exhibited through cognitive patterns, behavioural patterns and also physiological symptoms,"  Molimpakis says. 
Thymia uses video games to collect voice and facial expression that can signal when a patient is exhibiting symptoms that are linked to the behavioural patterns of someone with depression. The games are played on the patient's smartphone, using the front-facing video camera. 
One game presents patients with a series of bumblebees flying around the screen. They have to click on each bumblebee once, remembering which they've already clicked as they move around. Individuals with depression can have lapses in this type of memory cognition, Molimpakis says. 
"We look at facial microexpressions and eye gaze," she says. "We're never actually looking at the video of the individual themselves, we pick out isolated, completely anonymised features and we look at how they interact with each other and how they move."
There are also videos that elicit the patient to speak. Their speech patterns are then dissected, analysing the acoustic waves. Isolated features of speech are analysed using AI, developing a digital signature of depression. 
To try and make sure the data recorded is as accurate as possible, the team's collecting as much data as possible to allow them to remove variables created by things like age or accent.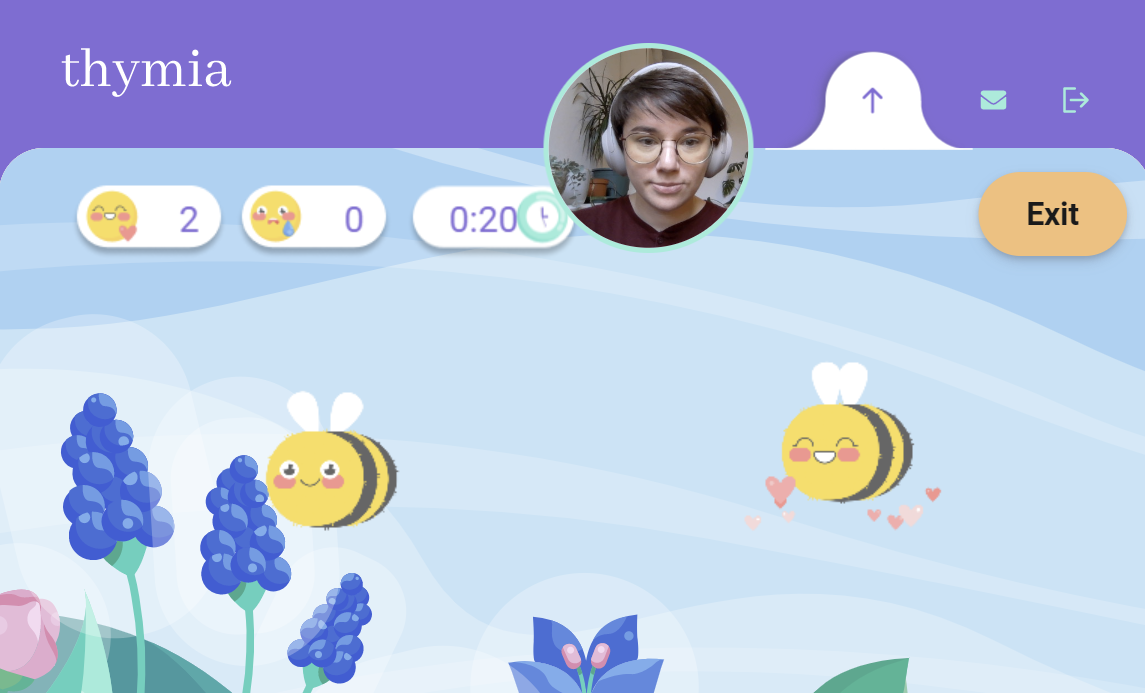 How does it help?
Molimpakis is keen to stress that the tool's not a diagnostic platform. All the data it collects gets sent to the patients' clinicians, who can use the information to help make decisions. 
Patients are asked to play the games daily, meaning those treating them have more continuous data to use. 
"It allows them to get the full picture of the patient between the sessions, which is something they don't have at the moment," Molimpakis says. At present in the UK, she says, it's normal practice to see your psychiatrist or mental health expert every four to eight weeks, but with Thymia, patients can input useful data on a daily basis. 
The tool also means that clinicians could spend less time analysing their patients' conditions and more time working on treatment. Thymia says the tech could double the number of patients each medical professional sees each day.
How have patients reacted?
"Patients have said they find it really entertaining and also calming," says Molimpakis. "It has a stabilisation effect on them because they feel that somebody is constantly monitoring them."
The team had expected to see younger patients interacting more easily with the games, but have been surprised to see older patients interact with it well too. 
Patients have been keen to see the information collected by the games and, as well as giving them better insights into their progress, Molimpakis believes the tool could help to destigmatise depression.
"If you show that this is an objectively measurable and real condition, then you also address the stigma associated with it," she says. 
In the same way that someone with diabetes measures their blood sugar levels to keep them on track, Molimpakis believes Thymia could offer a similar service to people with depression, showing like their progress and helping them treat it as an illness, reducing some of the stigma around it.
What next for Thymia?
Thymia plans to work with hundreds of patients and control groups over the coming months to gather more data. The company has a number of contracts with healthcare providers, which it will start working on soon. 
Thymia's also looking to expand abroad — at present its focus is on Norway, Germany and Brazil.
"We're also starting to gather data from other disorders. We're looking at Alzheimer's disease, Parkinson's disease, dementia and a number of others," says Molimpakis.
"The aim is to expand to every other cognitive disorder and become the gold standard of assessment for all of them in the next ten years."