Raphaele Leyendecker is an entrepreneur with two startups under her belt: Agronergy, a renewable biomass supplier she started in 2012, and Horseee, a social network and marketplace for equestrian sports, founded in 2015. Nowadays, however, she builds startups for corporate customers — including big names like Carrefour, Nestle, Thales and Airbus — as chief operating officer of Pathfinder, the corporate innovation arm of venture capital firm The Family.
She told Sifted what she has learned about running corporate projects like these: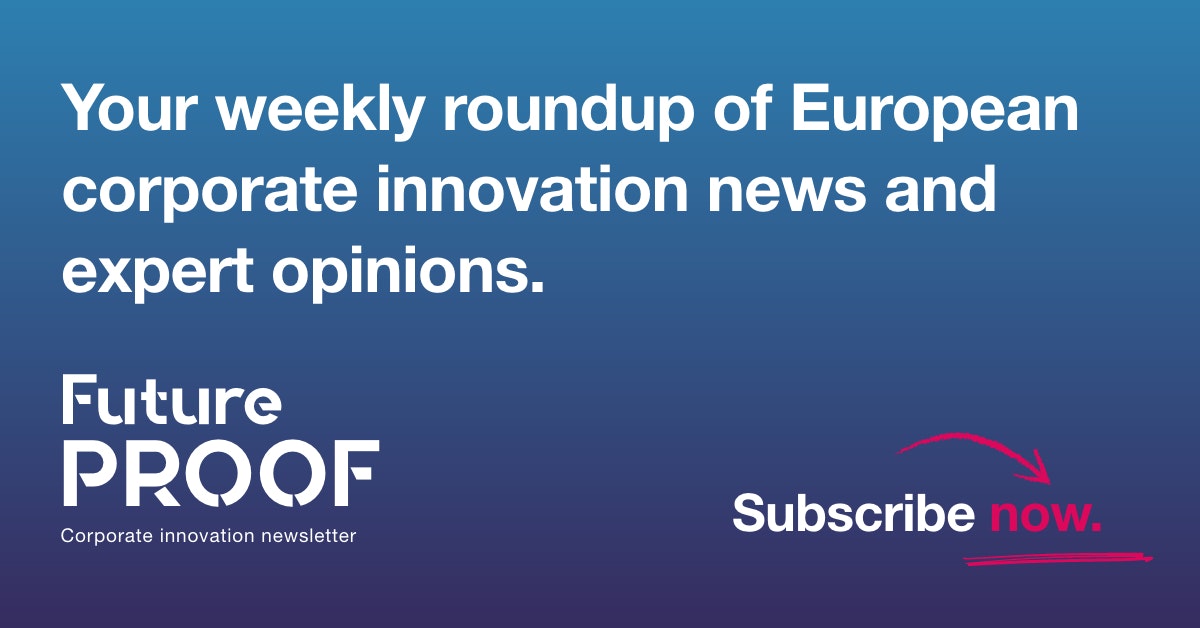 Want the Future Proof corporate innovation newsletter in your inbox every Tuesday? 
How do you define 'innovation' and how do you best describe your job?
We spend a lot of time trying to change corporate decision-makers'

mindsets.
Innovation is learning faster than your competitors followed by a fast execution. Nowadays, innovation has become fashionable and the term is misused. In reality, learning is not as easy as it seems: it requires experimenting, pushing the boundaries outside corporations' comfort zone and having the ability to fail, in order to faster reach a successful solution.   
My job as partner at Pathfinder (part of The Family, the venture capital firm) is to create value for traditional companies by bringing the execution ability of entrepreneurs to big corporates so that they can create new ventures and reposition themselves. We spend a lot of time trying to change corporate decision-makers' mindsets. 
What do you think will be the biggest change in your industry in a post-Covid-19 world?
Healthtech, edtech and deeptech energy projects could stay at the top of the pile for many big corporations, but I am afraid they might stop moving up the innovation learning curve.
Traditional organisations will need entrepreneurs more than ever now. As Marc Andreessen highlighted in a recent article, we need entrepreneurs to solve the big problems of our time. Back in 1929 Frank Knight, the American economist, went even further, saying that entrepreneurs deserve their profits for putting up with times of uncertainty.
The good news is that it might get easier to hire talent, but big corporations may still have to adjust their procedures to attract them.  
What is your best communication or corporate storytelling tool when trying to get buy-in from corporations? 
Coming from the startup world, we are highly result-driven. Our goal is to realign entrepreneurs and corporations' interests. We don't work by the hours, we act as sparring partner. Because we have built a portfolio with more than 45 corporate clients so far, we're not afraid to take a radical standpoint. It makes us pretty unusual in the French innovation landscape. 
How do you challenge yourself and your team to 'think outside the box'?
We like to say that we evolve in chaos, where we are the most creative. We try to use as few templates and guidance as possible so each of us is always working to maximum capacity. We are in a constant improvement mindset. That being said, our methodology and tools should be really strong to be minimal but effective.
Sifted Newsletters
Sifted Newsletter
3x a week
We tell you what's happening across startup Europe — and why it matters.
What is currently not working in corporate innovation?
Pathfinder was created because we saw that open innovation partnerships and corporate venture capital investments were not working. Startups and big corporations don't have the same time frame.  
Over the last four years, 10% of our projects have got Series A

funding.
Creating new ventures with entrepreneurs outside of corporations' core business was one way to solve this problem. Over the last four years, we have delivered more than 90 projects with fully working teams and prototypes: 10% got series A investment, 10% were rejected. The 80% remaining got the initial approval of the big corporations but were not pursued for three main reasons: 
Even within six months, there are many changes of governance in big corporations, which can mean projects getting blocked.
A chief executive's decision can be killed if their operational team is reluctant to execute. The finance, legal or merger and acquisitions (M&A) functions often don't know how to deal with building ventures. The sums are smaller than what they are used to, but with a high risk and uncertainty. 
It is easier to invest in operational rather than capital expenditure, although it is counterproductive. To go faster and take risk they'd better invest in Capex with strong deadlines and incentives.
What advice would you give to any Heads of Innovation during Covid-19? 
Since the Covid-19 crisis, after talking with all our clients, we have created an initiative for Innovation Leaders across industries in order to help them consolidate the position of innovation in their organisation and propose concrete solutions to build a better tomorrow. 
What book has been most helpful to you in thinking about corporate innovation? 
When it comes to innovation and strategy for corporates, L'Age de la multitude from Nicolas Colin (one of our cofounders at The Family) and Henri Verdier is a true guide for analysing how value chains transform with digitisation, as well as the renowned The Innovator's Dilemma from Clayton Christensen. But I'm also keen on entrepreneurs biographies such as Shoe Dog from the founder of Nike, Phil Knight, or the story of Elon Musk written by Ashlee Vance.