Nearly a decade ago, three women — a mother and her two daughters — underwent double mastectomies in France. The family then spent years on waiting lists for reconstructive surgery, before dozens of operations and numerous complications to put in silicone implants.
These women were close friends of Julien Payen, a materials scientist by training, and the unsatisfactory outcome inspired him to launch Lattice Medical, an early-stage startup with a radically new method for breast implants targeting the €1.1bn breast implant market (which is expected to be worth €2.3bn by 2025).
The company creates 3D-printed breast implants which, unlike common silicone implants, dissolve into the body after a year. But the real magic is that in that time the company has a method for regrowing the natural breast tissue so that patients are ultimately left with natural breasts after just a single operation.
Not everyone is sold that the technique will prove practical. It's something that Maria João Cardoso, an executive committee member at Eusoma (the European Society of Breast Cancer Specialists) says is "innovative and interesting", albeit technically challenging and potentially expensive.
But investors are interested. The company has recently won €2.3m in funding from Bpifrance, WiSEED, Nord France Amorçage and Finovam Gestion. And it could be of huge relief to the hundreds of thousands of women who have mastectomies each year.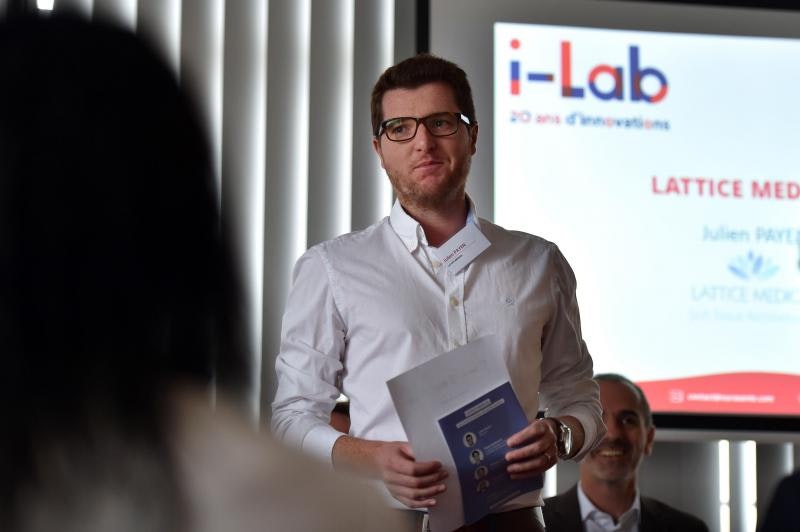 What is Lattice Medical?
Payen and his cofounders — Pierre Guerreschi (a plastic surgeon), Philippe Marchetti (a doctor and biologist) and Pierre-Marie Danze (a doctor and biochemist) — are based at Eurasanté Park business campus, a hospital-university campus home to 13,000 healthcare professionals, 2,000 researchers and 50 labs.  
How does the technology work? First, a hollow implant is 3D-printed using the same material found in dissolvable sutures. Then, a small sample of healthy tissue is taken from the patient and placed inside the implant. Once the implant is inserted into the patient, the tissue within grows and fills out the breast (the team suggest this should take four-eight months).
Finally, the implant's 3D-printed shell dissolves into the body within a year.  "The aim is to take almost the same technique as the silicone implant because it is a very simple widely used surgery, but use autologous tissue, the same tissue as the patient, to reconstruct the breast," Payen explains.
Lattice Medical has already run successful pre-clinical trials on rats and pigs and plans to start its first human trials in 2021. Payen says he wants his solution to end up at a similar cost to silicone implants (a procedure which costs up to €8,000 in the UK).
Why not stick with silicone?
Today, in France where the company is based, only 4,000 of the 22,000 women who have mastectomies go on to have their breasts rebuilt.
This isn't because 18,000 women don't want breasts, says Payen.
The most common reconstruction technique (used in 70-80% of cases today) is the silicone implant. Yet silicone implants need to be repaired or replaced every 10 years and some pose additional health risks (one of the world's best selling silicone breast implants was banned from Europe last year after it was linked to a rare form of cancer).
Other less common breast reconstruction alternatives are complex and longwinded.
So-called 'flap surgery' involves a seven-hour operation to transfer fat from another part of patient's body to their breast, while 'lipofilling' is a transfer process involving more than half a dozen liposuction sessions.
Long periods under the knife simply aren't an option for frailer patients, while lengthy (non-life threatening) procedures are difficult for hospitals to schedule in.
Is Lattice Medical fit for the future?
Lattice Medical has already won the wallets of seed investors. It's now working with a number of partners including Réseau Entreprendre, Up-Tex and Inserm and its academic partners include CHU Lille (France), Université de Montpellier (France), Ghent University (Belgium), California State University (Los Angeles) and the University of Oxford (UK). 
And while the startup says it is "mastectomy first", its techniques have obvious applications in the cosmetic surgery sector where customers spend millions on breast augmentation each year.
But it still has to prove itself to the scientific community.
Cardoso from Eusoma agrees that there is a need for new reconstructive techniques and that many women would prefer a simpler approach to complex surgeries available.
However, the professor also says that silicone implants are generally "satisfactory" and that some of the bans on some silicone affecting France have yet to be adopted by other European countries. She also warns that the procedure may still require lipofilling sessions.
"The cost will obviously an issue as it doesn't look like it will turn into a cheap procedure," Cardoso tells Sifted.