When Theranos, the disgraced unicorn, fell the industry was shaken. 
Hype around the Silicon Valley startup had exploded when it surpassed the $100m mark in 2013, and had heightened with every dollar freely dropped into its $1.4bn pot.
This dizzying ascent, of course, quickly flipped into disaster when it turned out Theranos' tiny blood testing kits had been miniaturized to the point they simply didn't work. The book on Theranos still isn't shut, as founder Elizabeth Holmes awaits her US trial.
You might think this would cause havoc for the wider industry⁠—it would be understandable if investors decided to give the whole sector a wide berth. 
Did Theranos end up helping the market?
But the downfall of the American giant seems to have had a different effect entirely on Europe's blood-testing startups, or else no impact at all. 
And while some leaders still call it out as "the elephant in the room", others see a landscape made more fertile by Theranos' corpse.  
Finland's Nightingale Health, Switzerland's 1Drop Diagnostics, and Spain's RheoDx are at different business stages but have all closed funding rounds since Theranos' demise. 
Here's what its like building a blood business in a post-Theranos world according to founders Teemu Suna, Luc Gervais and Oliver Balcells Navarro...

Teemu Suna, Nightingale Health (€40m raised)
Suna founded Nightingale Health in Helsinki, Finland, in 2013 with Antti Kangas, Pasi Soininen and Peter Würtz. The startup raised €24.5m in 2019 bringing its total funding €40m. It has partnerships with PerkinElmer and the University of Oxford and its blood-testing tech has been used in over 250 blood analysis projects across the world. It made €2m in revenue last year and plans to enter personalised preventative healthcare next year.
On raising, post-Theranos
I think the role of Theranos has been overemphasised. It is just one company, one story and one failure. That's it. 
A single bad experience doesn't tell anything about the industry. That said, no matter what the business proposition is if one is planning to invest in the biotech or healthcare (clinical businesses, and not recreational services), the underlying science and tech behind the should be scrutinised closely. 
On building trust 
Investors are not exactly wary of the industry. The potential that Theranos demonstrated is immense as healthcare is one of the biggest markets in the world. So, if you are able to spot the startups with real substance and solid innovation base, investing in biotech is extremely lucrative. 
Theranos is just one company, one story and one failure. That's

it.
On Theranos' impact
Theranos demonstrated how important it is to look at the underlying science and processes on which a biotech business is built. I believe this is good for both the investors and the industry, in general. Did they improve the market? I don't think so. 
On the future of blood-testing 
There is definitely something very interesting happening in this sector. And the reason behind this, I think, is that the present healthcare system is under pressure to be reinvented. The current systems came into existence in the 70s and are outdated. 
This means this sector is currently a hotbed of innovation and therefore the spike in investor interest is understandable. I think the next major wave in the global economy is going to be healthcare.  
 Luc Gervais, 1Drop Diagnostics ($10m raised)
Gervais founded 1Drop Diagnostics with Jörg Ziegler in Neuchâtel, Switzerland in 2012. The startup closed a $4.3m round last year bringing its funds to $10m. It's filed multiple patents, more than 20 publications, and produced more than 100,000 chip blood tests. It plans to sell diagnostic tests for a wide range of applications (cardiovascular disease, sepsis, neurodegenerative disease, organ function, fertility, iron deficiency, diabetes, autoimmune disease and oncology).
On raising, post-Theranos 
Investors and partners knowledgeable in life sciences were always sceptical and did not invest in Theranos: Theranos did not attract any experienced life science investors, nor partnerships with any life science company or any hospital.
Extraordinary claims require extraordinary evidence. They did not have the science and the data to back it up.
Theranos brought medical diagnostics to the

forefront.
On building trust
Have a convincing story.
We win the trust of our investors and partners by showing results. We were founded by PhDs who are experts in medical diagnostics. We are transparent about our work which is published and peer-reviewed. We have clinical validation data. We have partnerships with major hospitals, pharmaceutical and diagnostics companies. Our board is composed of clinicians and medical diagnostics experts.
All of this demonstrates that our device actually works.
On Theranos' impact
Theranos brought medical diagnostics to the forefront. They demonstrated the inefficiency of today's blood testing and that it is a problem worth solving. We benefit from the greater public interest in improving medical diagnostics.
We're seeing a spike in the interest of investors because we are well aligned with the growing trends of digital health, personalised medicine and decentralised healthcare.
On the future of blood-testing 
We will see more decentralisation of blood testing. Blood testing will be done at home, in doctor's offices and pharmacies. People will increasingly be empowered by controlling their own health information. There will be more transparency and interoperability of health data between different healthcare providers.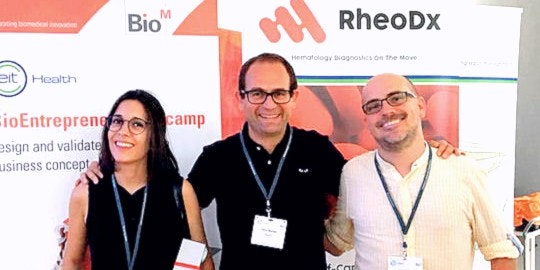 Oliver Balcells Navarro, RheoDX (€350K raised)
RheoDX was founded in Barcelona, Spain, in 2018, and has already won awards from the European Commission. It raised €350K this year on Spanish investment platform Capital Cell (the first in Europe to specialise in biomedicine). Its patented technology is backed by half a dozen published papers and it has partnered with The Institute of Leukemia Josep Carreras (IJC). It aims to complete clinical trials by 2021, with its first sales later that year and FDA Approval in 2022.
On raising, post-Theranos 
Investors are wary of investing in 'medtech' companies in general, given the sheer amount of money they need to start-up and arrive at market.
But if you have great technology, you solve a patient need, you have a great team, then many investors will show their interest.
Theranos had no special influence in

Europe.
On building trust
Know your audience. The audience, in this case, are the investors. Before you speak or try to communicate, take the time out to discover what's on audience members' minds. If you don't address their immediate concerns, they will be less open to your message. Once you have this clear then prepare and adapt your message to them. You have always to update and improve the way you share your project with the investors
On Theranos' impact
It had no special influence in Europe.
Innovators, like us, who seek to revolutionize and disrupt an industry must tell investors the truth about what their technology can do today, not just what they hope it might do someday.
On the future of blood-testing
There will be a growth in Point of Care (POC), with an increase of home health care in developed countries, the introduction of regulatory measures to favour the POC diagnosis, the growth in the prevalence of infectious diseases and a lack of qualified personnel in the area of clinical diagnosis.
There will also be a growth in need for RheoDx with a high prevalence of infectious diseases in developing countries and increasing prevalence of chronic disorders coupled with a rising geriatric population and rising preference for home healthcare across the globe.
The volume of testing performed outside the conventional laboratory will undoubtedly grow and will continue to be driven by the need to deliver care faster, closer to the patient and at a lower cost.