In a packed auditorium at Södermalm in Stockholm, the monthly Sthlm Tech meetup is about to start. The 300 seats are filled with tech entrepreneurs, wantrepreneurs, a few investors and other enthusiasts. In the entrance, a dozen people linger, looking for empty seats. In a city of 1 million people, this is the only monthly event that attracts this level of engagement. In the midst of it all, up on stage next to his side-kick Tuva Palm, is the king of this community, the American Tyler Crowley.
"Hi everyone!"

Dressed in a typical hoodie, but without the hipster beard that is so popular nowadays, the 40 something American is a common feature on the Stockholm tech scene. And although these events follow pretty much the same script all year round, they still attract huge numbers of attendees.
It starts with news from the community, a few shout-outs to some people in the audience, followed by a couple of interviews with a panel, three pitches and ends with a vote on which pitch the audience liked the most. It isn't until the last half hour of the 2.5 hour session that the audience starts getting restless for the drinks that follow. After all, it's all about networking.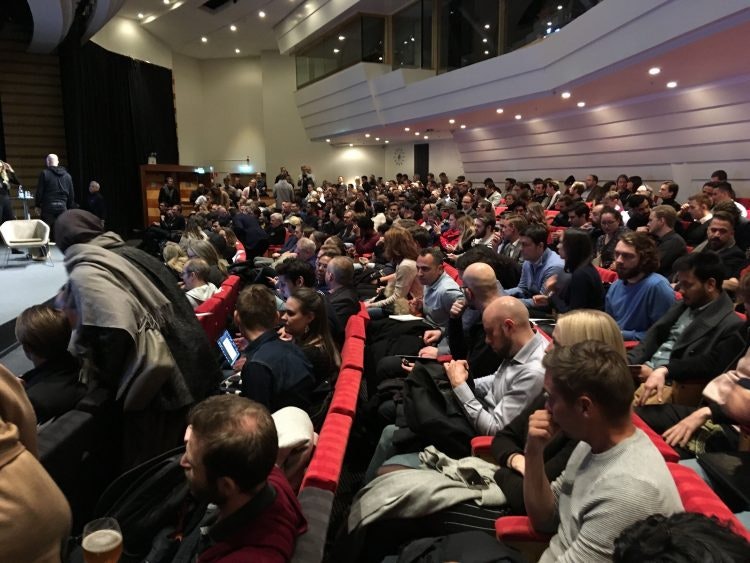 But Stockholm has not always had a tech community like this.
It was in 2012, when Tyler Crowley came to town, that things started to change. And at that time, there were few who believed in his predictions on how the ecosystem would eventually evolve.
"I didn't realise at the time how American I was. I am very LA and we are big talkers and overly friendly and a little off-putting to Swedes. Obviously six years later I am very aware of that, but at the time I didn't realise how insane I seemed. People just nodded and I am sure people were saying that 'this guy is insane'."
It's hardly a secret that Stockholm is the home town of tech companies such as Spotify, Izettle, Klarna, and Mojang (creator of Minecraft) to name a few. And although these companies have put Sweden and Stockholm on the map, that in itself is not enough to create a great startup community.

In 2012, when Tyler Crowley visited the London Olympics, he got an invite from a friend to visit Sweden. Its close proximity encouraged him to board a cheap Ryanair flight to Stockholm. Sweden may be a dreary country in most seasons but in summer it can be overwhelmingly beautiful, at least according to Crowley, who says he was blown away by the scenery.
Shortly after his first trip, he returned to Stockholm and soon found that the city's tech scene had similarities to Los Angeles, where he had played a key role in setting up the startup ecosystem.
"Stockholm reminded me of the early days in LA before we started to grow the ecosystem there. Somebody needed to do the same here but it was clear that it was not on anyone's agenda," he explains while munching on a healthy-looking sandwich at a Starbucks.
"At that time Berlin had the hype. I adore Berlin but the hype was bigger than it should have been," he says. "For me it was clear that Stockholm was much more the cultural centre for innovation."
I didn't realise at the time how American I was. I am very LA and we are big talkers and overly friendly and a little off-putting to

Swedes
For Crowley, who in 2010 was approached by representatives from 10 Downing Street on how to create an ecosystem for London, the opportunity in Stockholm seemed like a no-brainer. After getting in touch with the city officials in Stockholm the community project was ready to roll.
"One of the things you need early on is an event space that is almost free, which ideally also would have a built-in audience, like a co-working space attached to it. And a feeder, like a café. The free event space is key because it really enables people to create meeting groups," he says.
Jessica Stark, who later became one of the most influential voices in Swedish tech, already had the idea of opening a co-working space in the middle of Stockholm, and with a friendly nudge from Crowley, it would go on to become something much bigger.
"I told her that you are not going to create a co-working space, you will create the nest of the eco-system. This is how it works, and we know because we have done it in LA with Coloft."
SUP46, Jessica Stark's accelerator, became the first of its kind in Stockholm with a complete mix of co-working space, café and weekly events for the community.
At the same time, Tyler Crowley became the face of the monthly events, where he gathered the participants from all the tech meetups to discuss the issues of the community. He had already seen how important these monthly meetings were in LA, which he describes as "town hall meetings for the community."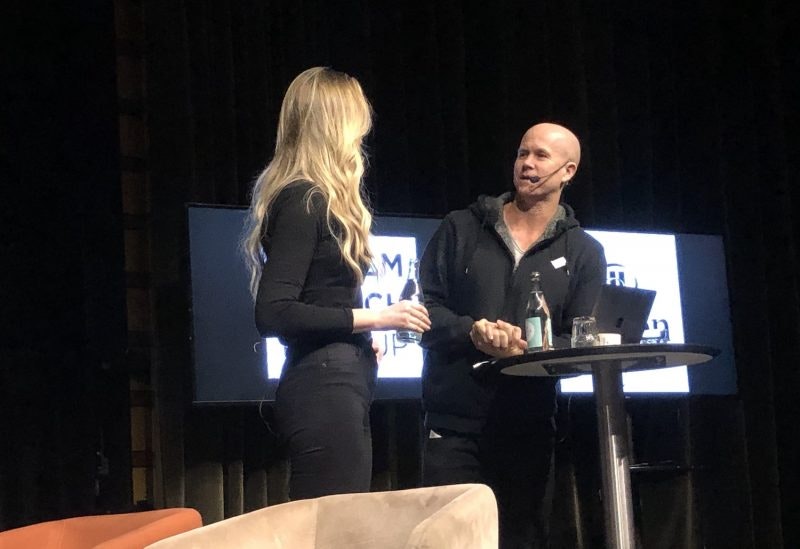 However, for Crowley monthly meetings were not enough. In 2014 he launched the annual Stockholm Tech Fest, a two-day tech conference in the centre of Stockholm. With a great network, he has been able to attract a mix of guest speakers from Sweden and beyond and last year it attracted more than 4,000 attendees.
Crowley is only in Stockholm for two days every month and apart from the monthly tech sessions, his schedule is packed with meetings. The rest of the month he spends in Thailand where he has set up a resort. It is definitely a different kind of life for someone who has pretty much been breathing tech for the last decade.
With that said he is still very involved for this year's Sthlm Tech Fest. Instead of creating yet another conference, he wants the setup to remind us of a small version of SXSW, the annual tech, film and music festival in Austin, Texas.
"There will be about 40 smaller venues in near proximity to each other that will cover niche topics. The content is driven by the attendees themselves rather than being decided top-down. Big conferences are great for certain things, but high-quality networking is better done during small events that cover the specific topic that you are into".
The way I see it, the ingredients were already here. It was just a matter of mixing them in the right proportions and getting the chefs to add a little bacon and

butter
Monday's event is the sixth year anniversary of the monthly tech meetups. And Crowley's predictions have been more or less correct.
Stockholm has become one of the hot spots for investments, co-working spaces and events are commonplace, and there are two media sites competing to cover the best stories from the community. The buzz that was missing in 2013 has arrived.
At the same time as Crowley has changed the startup ecosystem in Stockholm, Stockholm has changed him; the bolshy American that got up on stage a few years ago is now slightly more humble in a European sort of way.
"Maybe I get a bit too much credit now," he says. "The way I see it, the ingredients were already here. It was just a matter of mixing them in the right proportions and getting the chefs to add a little bacon and butter."