For most people, 2020 has been the year the world went online, where bedrooms became offices and family catch ups turned to zoom. 
But for Rahul Goyal and Karan Baweja, the founders of new virtual office platform Cosmos, connecting with people remotely had been part of their lives for a while.
"Both of us are immigrants and our families are back in India, so we have been struggling with the problem of connecting with our communities remotely for about ten years," says Baweja. "Now the problem's become everyone's problem."
Five months ago, the London-based founders decided to use their experience — Baweja at Transferwise and Goyal at Citymapper — to build a new platform to help people all over the world connect and work together, believing there could be better options for remote work than endless zoom calls.
The end result is Cosmos, a virtual venue platform which the pair have raised £2m in funding for, from investors LocalGlobe and Entrepreneur First. 
Using Cosmos starts by creating your own "virtual venue". Currently the options include an office set up —  with meeting rooms, desks and conference spaces — as well as a pub set up and a games room. 
"You're then assigned an avatar in the virtual venue," Baweja explains, "and as you walk around, you can hear and see the people within four steps of you on video link." 
This means people working together can form breakout groups within the same larger space as other groups. Eventually, each venue will be able to hold around 1,000 users.
"The idea is that you never have to leave the Cosmos platform, so you can collaborate and have separate meetings within it," Goyal says. 
They're currently working on integrating Miro, Figma and Google Docs into Cosmos, so teams will be able to sit together at a virtual desk and share documents. There are already whiteboards in the virtual office for teams to draw on together, as well as games like battleships, poker and trivia.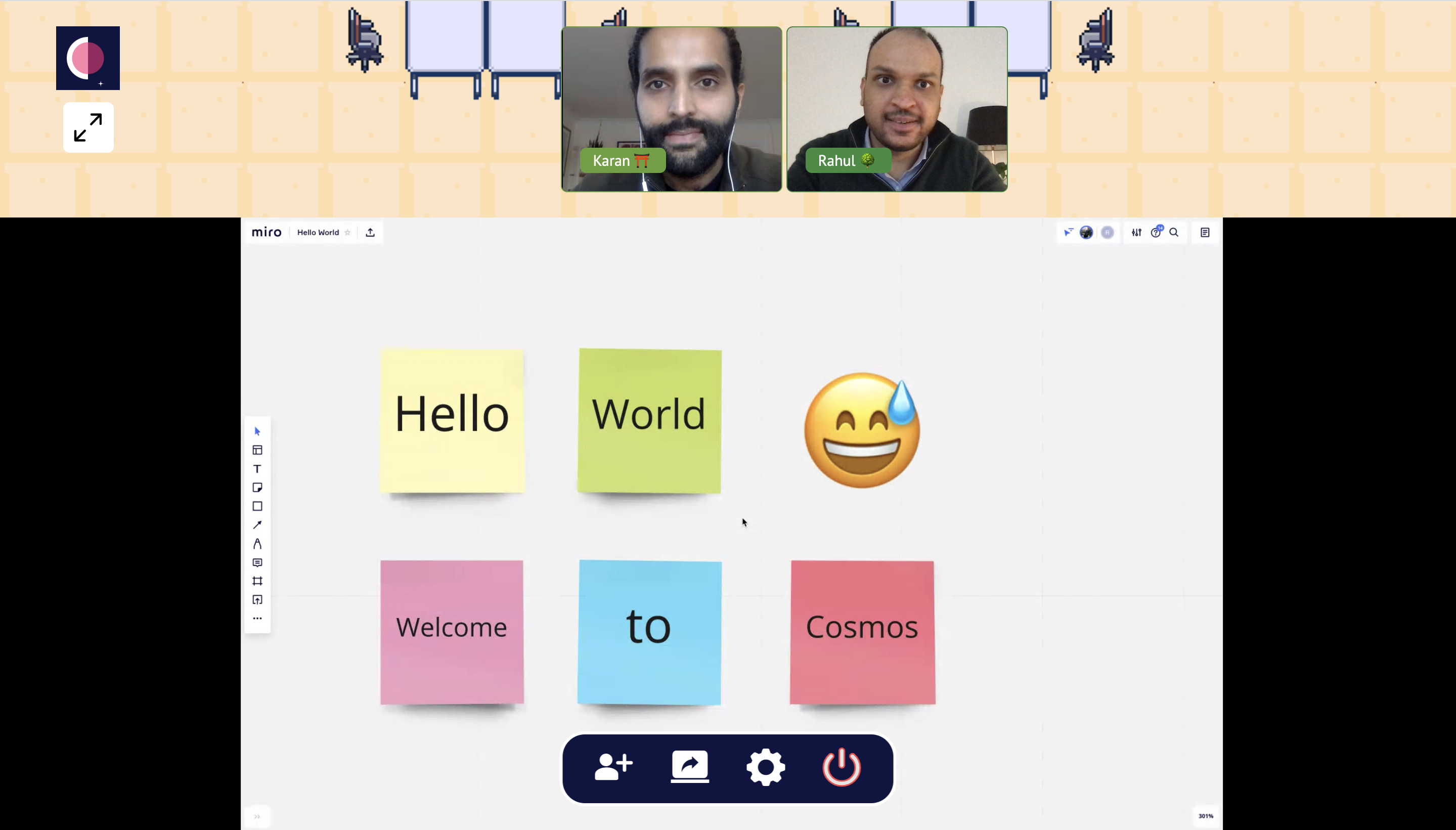 One of Cosmos' central aims is to recreate the spontaneity of the real world office. "Some of the best ideas happen in the kitchens of offices through random conversations," says Baweja. 
As avatars move around the office space, video chats will pop up with anyone they're walking near, aiming to recreate the spontaneity of the office corridor or coffee machine.
Both Goyal and Baweja are confident that the online office is here to stay, even after the pandemic ends. 
"The concept of work is changing and progressing," says Goyal. "The world's becoming one single place, the concept of geographies and borders is dissolving."
Aside from workplaces, universities have contacted Cosmos to ask about setting up virtual campuses with areas for students to meet, as well as lecture halls and faculties. 
Cosmos currently has about 1,000 users testing the site and a list of others waiting for access. 
"The funding will help us bring in a lot of talented people and build the product faster," says Baweja, "we want to listen to current users trialling the platform and improve based on their advice before rolling it out to everyone."
In the meantime, Baweja and Goyal are using the platform to catch up with friends and family back in India.
"My mum loves it," Goyal says, "she's in here everyday, she likes to try out all the different seats and we often play scrabble together."