"Make art not adverts". That's the motto of Sirje 'Sirla' Joala, an artist-turned-entrepreneur who has been making public art in Estonia since she was a teenager.
"I really want to bring beauty and meaning to public spaces instead of adverts that manipulate people to buy more than they need," she told Sifted at TechChill startup festival in Riga, Latvia.  
The 30-year-old launched the Stencibility street art festival in 2010 (while studying at Tartu Art College) and wrote her Masters thesis on the importance of illegal graffiti art. Now she's spreading art around the world with Sprayprinter, a startup which uses wall-scaling robots to print murals for clients like car manufacturer Nissan and global edtech business Mindvalley.
Advertisement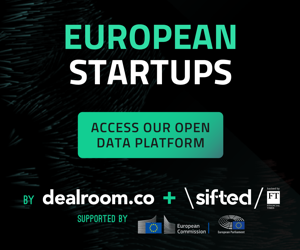 Sprayprinter's robot (affectionately called Albert after Albert Einstein) painted 42 walls last year, with the minimum commission for a 'robot mural' starting at $10,000. The startup's also turned down a slew of clients that don't embrace its 'art-first' ethos.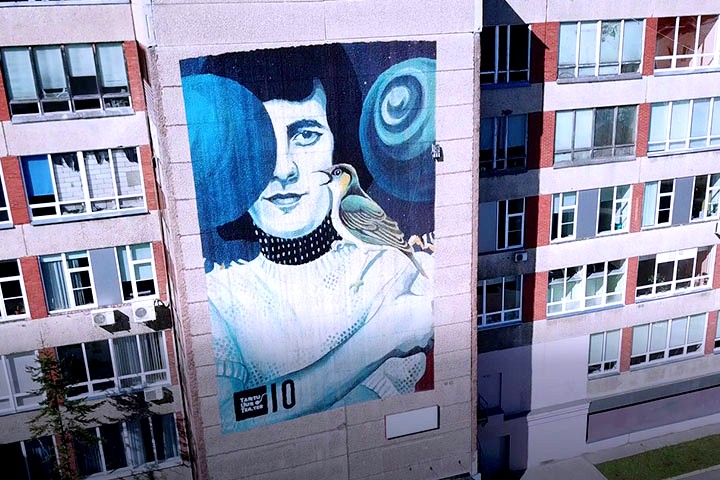 "I really want to bring beauty and meaning to public spaces instead of adverts that manipulate people to buy more than they need."
How Sprayprinter started
Joala founded Sprayprinter in 2015 alongside her brother Mihkel and their friends Richard Murutar, Alo Murutar and Henry Patzig.
Sprayprinter initially found success in 2016 with its smaller handheld device, the 'SprayPrinter'— this is a smart printer head which pairs with a users smartphone to know where to eject paint as it's moved over a canvas or wall. So far the startup has developed two internet-connected products that automate the graffiti-painting process: a handheld 'Sprayprinter' device, and its robot Albert, the 'robot muralist'. Neither product requires users to have artistic talent, as images can simply be uploaded and printed.
With this, the startup raised around €20,000 as part of Baltic hardware accelerator BuildIt and closed crowdfunding rounds on Kickstarter and Indiegogo totalling $120,000. The device won numerous awards in the Baltics, including the startup TV show Ajujaht ('The Brain Hunt') and TechChill's startup pitch (for which the first prize was a trip to Silicon Valley). Over 500 handheld printers have been sold today.
But 2016 also saw the startup quietly develop its 'robot muralist' Albert. This uses similar technology alongside a pulley system to scale and spraypaint large outdoor walls. Albert comes in two parts: 'Al' reads pixelated image files from the ground, while 'Bert' does the climbing and pumps out thousands of 1cm dots to form an image.
It wasn't until 2017, when the startup was sent to Silicon Valley by TechChill, that it caught the eye of big-time investors. The team set up outside Launch startup festival, and decided to print a portrait of investor and festival founder Jason Calacanis. The stunt paid off.
Calacanis came out to see his portrait, promised to invest in Sprayprinter and invited the startup onto California's Launch accelerator. The startup just closed a million dollar round from Silicon Valley backers including Calacanis and Cyan Banister.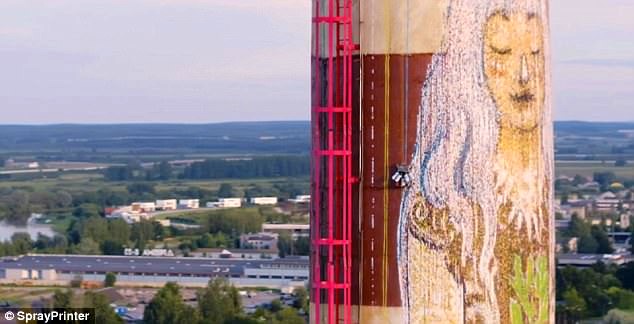 Turning down hard cash
Today Sprayprinter is developing a second generation of its handheld device and is ramping up its mural services. So far it has showcased Albert at California's Maker Faire, Tallinn Airport, Lancaster Museum of Art and History in Los Angeles, and KUMU Art Museum in Estonia. Recent paying clients include city councils in California and New Jersey, and theatres, galleries and museums in Estonia and US.
Monetising Spayprinter's technology hasn't always sat easily with Joala however, as she remains set on disrupting the "unhealthy balance of art and ads".
"Should we say 'no' to a profitable project because it doesn't fit with our beliefs?"
"In Silicon Valley there have been so many people who have seen the potential of our printer in advertising because it's more profitable, but they really missed the concept of why our robot was even built," she explains. "Should we say 'no' to a profitable project because it doesn't fit with our beliefs? Are we a service provider or a world-changer?"
In a bid to find a happy medium, Sprayprinter now tries to weigh up each proposition individually, and find compromises — inviting a company to sponsor a mural or to film the process for a 'live' social media campaign, for example. "There are adverts that are beautiful and add to the environment and those that take away," says Joala.
The startup's Nissan campaign featured an image of a Nissan vehicle, but with a different stunning landscape painted behind it every day for a week, Joala explains, while its commission for a  Mindvalley involved gorgeous giant portraits of speakers attending the event.
Still, the firm has turned away close to 10 campaigns: customers who could have collectively contributed more than $1m in sales, says Joala. This approach can cause tensions, especially when funds run low."Generally the team backs me and feel the same, but it's not always easy," she says.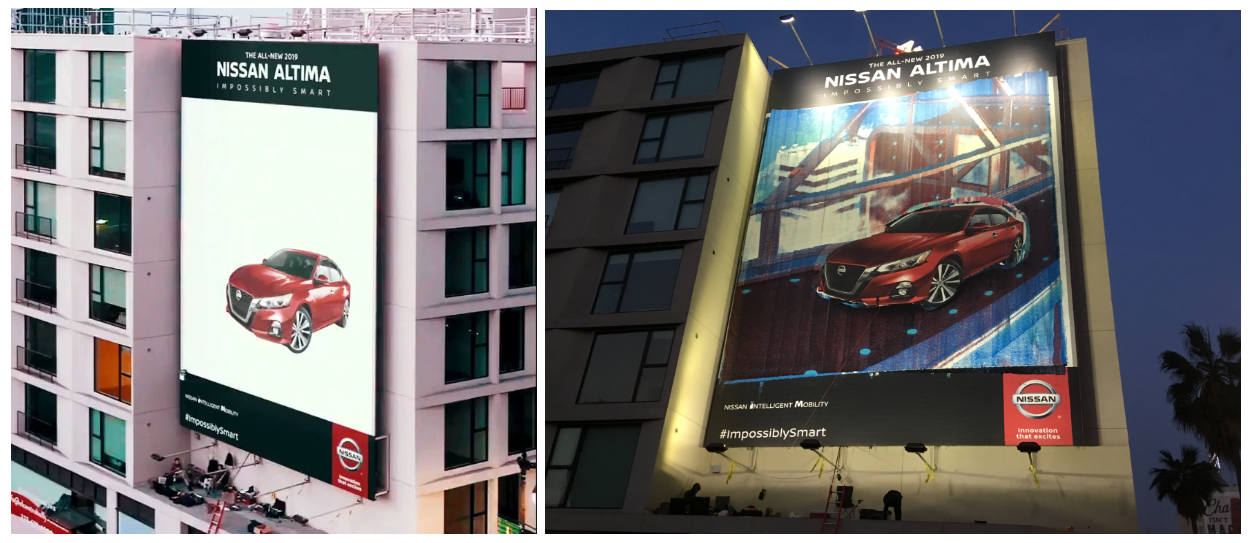 Is it naive to believe art can out-tech advertising?
Florian Heinemann is a founding partner at Project A, a venture capital firm based in Berlin, Germany. The firm specialises in advertising and marketing tech.
Heinemann says that Sprayprinter's success marks the trend towards experiential marketing, where people aims to achieve something that cannot be delivered easily digitally.
"It would be too complicated to do an artwork around everything."
"In a completely digital advertising world, you don't need advertising agencies anymore because it's so easy for people to use Gand and Facebook directly. For agencies, things like this enable you to show why you are still relevant," he explains.  
It's not all good news though, as Heinemann also questions how easy it will be for the startup to scale or become the norm. "It would be too complicated to do an artwork around everything," he says.
"Bluntly speaking, it is a nice form of outdoor advertising, it's nicer than being on bus, but if you are Vodafone you do a couple of thousand billboard advertising a year, and you cannot handle every billboard project this way. My feeling is it not something that will really work on scale."
This harsh outlook hasn't stopped Joala from aiming high. Just this month, the team launched its ArtNotAds website, a place for anyone anywhere in the world to upload pictures and locations of walls they'd like to see art on for the company's future projects.
"One robot is capable of printing 15 murals a month, and we can build as many robots as we want," she says. "Potentially we are able to cover every blank wall in the world."