One of the trickiest challenges facing any ambitious fast-growing European startup is how to pick the right VC firm to lead your next funding round.
Do you aim for a rockstar US fund, like an Andreessen Horowitz or Sequoia Capital, that bring a lot of kudos and connections? Or do you go for a smaller European fund that may have less star power but will take a closer interest in your development?
A new report from Dealroom and LocalGlobe helps separate some of the reality from the mythology in the VC industry by identifying the firms that are most likely to lead a Series A funding round.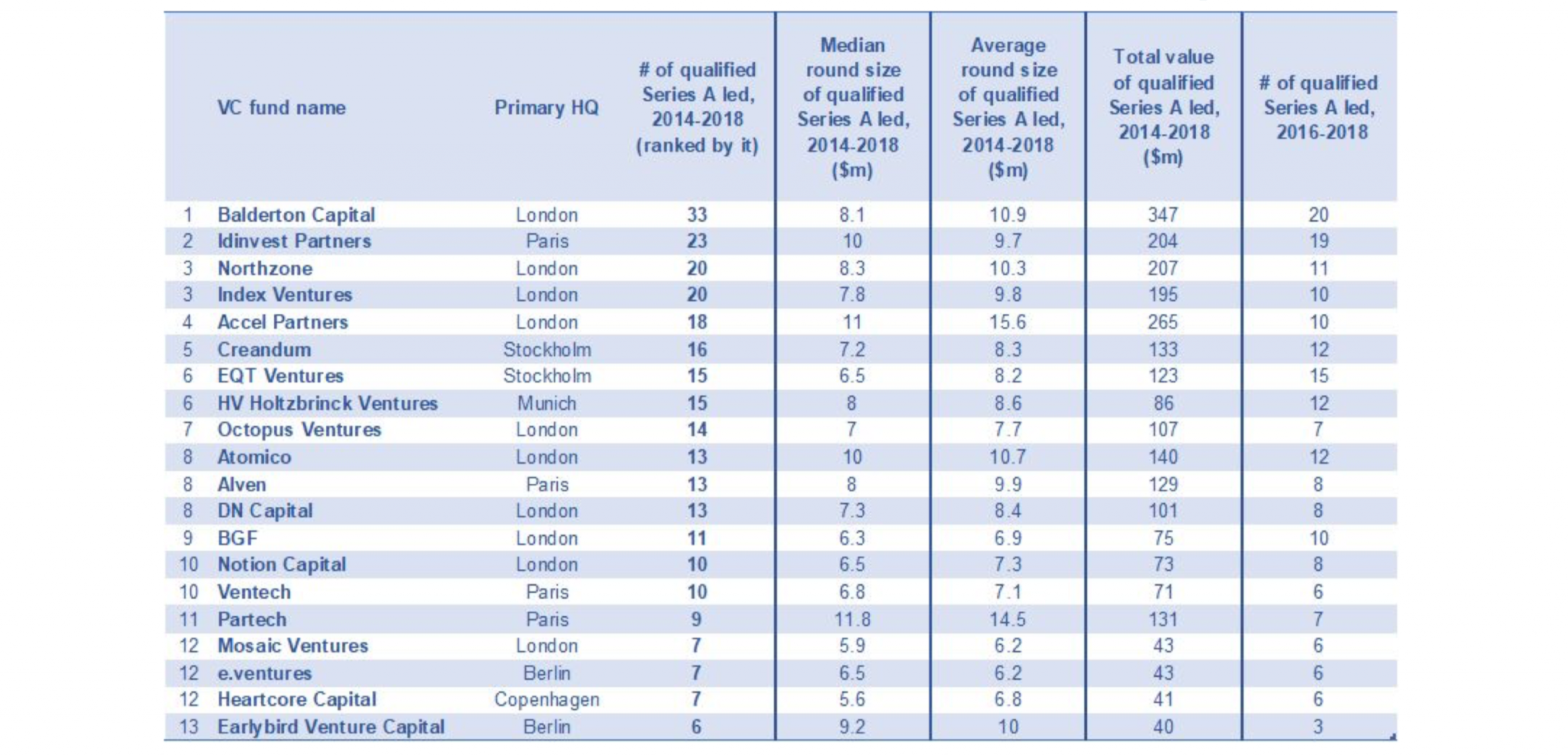 Its most striking finding is that European VC firms led all 257 of the Series A deals between 2014 and 2018 that the report validated and examined. In spite of their stellar reputations and increasing interest in Europe, US firms accounted for not a single one.
Saul Klein, co-founder of the LocalGlobe seed-stage investment fund, says it makes sense for entrepreneurs to go with local firms in the early stages of fund-raising.
"Smart founders understand that you want investors who are not absentee landlords and can sit down and meet you," he says.
Indeed, he argues that if a big-name US investor participates too early then it can even cause problems later. "If the famous name does not lead the next round it can act as a disincentive," he says.
Overall, the early-stage investing market in Europe is in robust health. The total number of Series A rounds led by the 20 most active investors rose from 40 to 73 between 2014 and 2018. Their total value rose from $332m to $731m.
In the Dealroom/LocalGlobe methodology, a seed round is classified as one between $1m and $4m. To count as a Series A round, a fund raise must meet three criteria: it must be above $4m, be labelled by the company as 'Series A' (or at least not be labelled as seed or Series B/C) and have occurred within 7 years of the company being founded.
In some respects, the absence of US firms from the list is not surprising. They tend to focus on the bigger later-stage funding rounds in Europe and have indeed led many high-profile deals. It is also worth noting that the report only covered Series A deals led by the 20 most active VC funds in Europe. In total, Dealroom recorded some 2,288 funding rounds over the period.
The five most active funds by number of deals are Balderton Capital, Idinvest, Northzone, Index Ventures and Accel Partners. Of those, only the Paris-based Idinvest has its primary HQ outside London even if Northzone focuses mostly on the Nordic region.
In spite of the noise around Brexit, London retains its position as VC capital of Europe accounting for half these fund raises.
Geography Matters
When considering a lead investor, it is worth founders noting that the most active VCs across Europe are not necessarily the most active in any one country. This is because most (but not all) VCs like to invest predominantly in their home country, or its immediate region.
The fact that VCs often invest locally means that some of the most dominant VCs in France were way down the list in the UK and Germany, while some of Europe's top VCs barely feature outside the UK.
According to the data, Balderton Capital topped the list as the most active European fund, leading 33 Series A deals. That said, over half its lead investments focused on UK startups, and it was far from the most active lead investor in France and Germany. In France, Balderton came in fifth place after Partech and Alven. In Germany, it was joint sixth.
Meanwhile, the number one VC company for the Nordics in 2018 was Swedish VC firm Northzone. In Germany, Munich-based HV Holtzbrinck Ventures was first. In France, the number one firm was Idinvest Partners, headquartered in Paris.
In short, when it comes to early-stage funding: geography matters. But VC firms are becoming increasingly European in their ambitions and their strategies are certainly not fixed. If a VC was less active in a particular country in 2018, that does not necessarily mean this won't change in the future.
VC Sector profiles
VC firms also have their own areas of specialisation. Not only do VCs tend to focus on different stages of startup investment, they also like to build an expertise in particular sectors. The following table highlights the profiles for each of the top 20 most active lead VCs across a limited range of sectors.

Europe's startup scene is heating up
Founders may have fun picking their way through the data. But the report's overall message is clear and positive: European startups are having a moment. The number and value of Series A rounds has doubled between 2014 and 2018.
This reflects the broader rise in Europe's startup scene with the total amount of VC cash flowing into European startups hitting record highs last year. In total, VC capital invested in European startups has surged from €11.5bn to €24.6bn from 2014 to 2018.
For series A funding, as well as the broader market, this surge is driven by the major startup countries: France, Germany and the UK. Together, these make up 72% of all Series A funding coming from the top 20 VCs.