Amsterdam-based online skills assessment platform TestGorillas has raised $70m in Series A funding, in a round co-led by London-based venture capital firms Atomico and Balderton Capital.
The equity-only funding is pretty large for a Series A — the largest such round for the Netherlands this year, according to Dealroom. 
What does TestGorilla do?
TestGorilla offers skills-based tests for candidates that are meant to be used in place of CVs. Traditional resumes are, according to the company, unreliable indicators of a candidate's potential and often lead to biased hiring decisions. 
The tests assess specific-role related skills, software skills, language proficiency, cognitive abilities, soft skills, personality, motivation and culture-add. 
"By helping employers to focus on applicants' skills, rather than their experience or anything else on their CV, we're creating a level playing field for all candidates," says cofounder and CEO Wouter Durville. "We believe that skills-based hiring is the future: at the moment, talent is distributed equally, but opportunity is not."
TestGorilla has 220 tests available on its platform and has accrued 5,000 customers since its launch in summer 2020. These include Sony, PepsiCo, Bain & Company, Oracle, Revolut, H&M and the UK's National Health Service.
Durville says the company is focusing on medium-sized business (between 100 and 1,000 employees) across all sectors. And while its product is used in markets across the globe, its largest market is the US.
Who's investing in TestGorilla?
Atomico (new investor)
Balderton Capital (new investor) 
Notion (existing)
Partech (existing) 
CapitalT (existing) 
TestGorilla last year raised a $10m seed round from Notion, Partech and CapitalT.  
How will TestGorilla differentiate itself?
There are several other software companies in the market taking on the problem of biased recruiting. 
There's Applied in the UK, which similarly offers anonymised, skills-based recruiting software, and has raised £4.6m to date.  And Retorio in Munich — which offers AI-powered video interviews and assessments, and has raised an undisclosed amount of seed funding — among others. 
Durville, however, says TestGorilla's main competitor is "old-fashioned hiring practices". 
He says that TestGorilla stands out from the competition in the way its product is used. Typically, tests are given to candidates at the end of the recruitment process — after resume-screening and interviewing. But TestGorilla's assessments are used at the very beginning of the hiring process.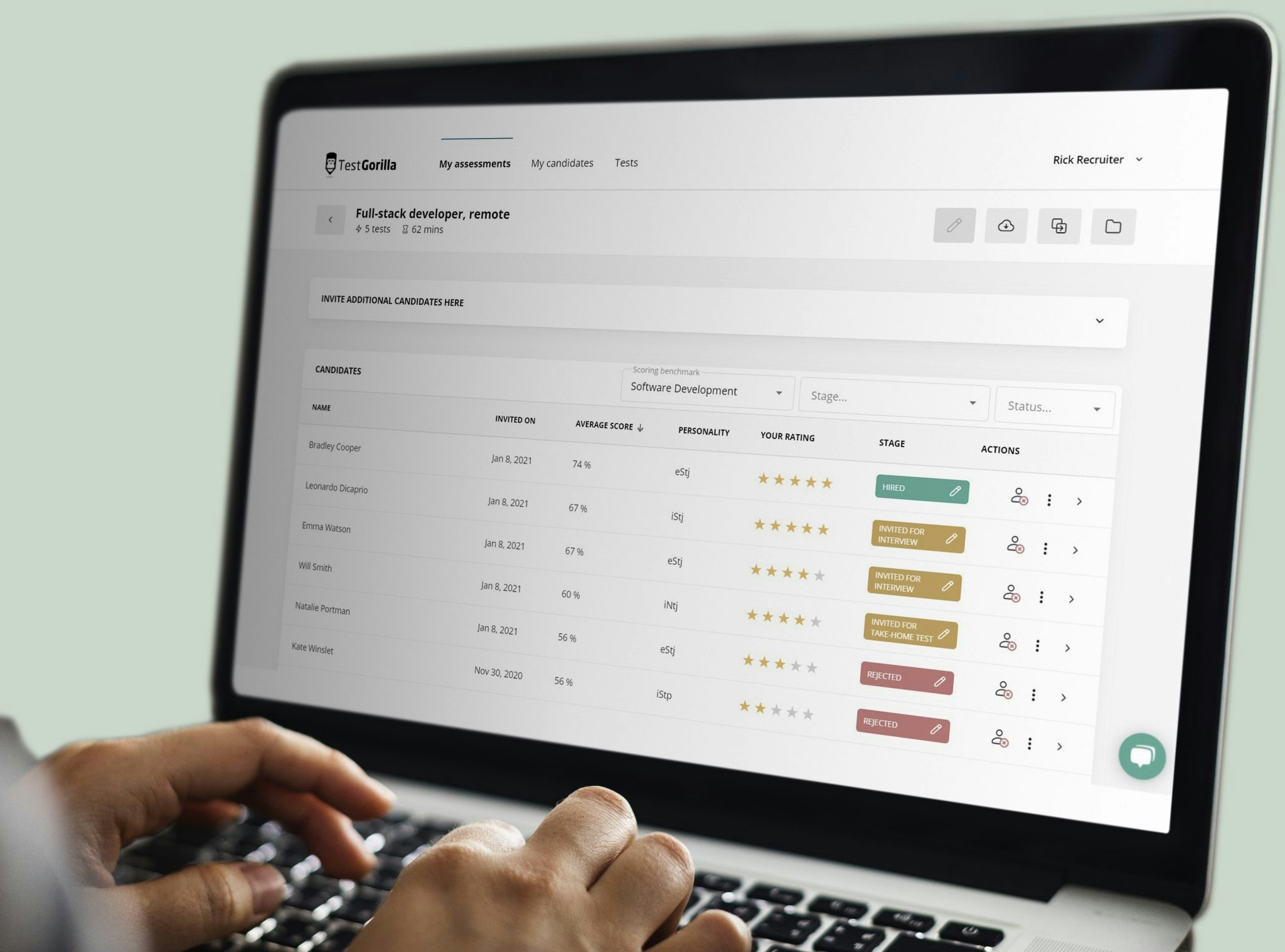 "This removes the bias that occurs during CV screening, when applicants can be rejected based on factors such as their background or education," says Durville. 
It also means that employers can identify the candidates with the most suitable skills before inviting them to an interview — ultimately saving time and money. 
What's next for the company?
TestGorilla is working on making its platform integrate with other applicant tracking systems. 
TestGorilla will also be making advanced analytics and reporting available on the platform soon, to help employers get deep insights into the performance of their candidates.
It plans to add a further 100 tests to its test library, and expects to hire 100 new employees in the coming year.
Sifted's take
Tech knows it's got a diversity problem. Startups are in need of different methods to assess candidates that remove bias from the outset to help them build truly inclusive teams. Skills-based hiring can be helpful for companies who are struggling to hire amid the war for talent — as it opens up a talent pool of candidates who may not have traditional degrees, but that have the skills and competencies necessary to excel.
But skills-based hiring isn't a silver bullet for the talent shortage — or, indeed, the diversity problem. Candidates have to know about jobs to begin with in order to apply (a network issue) and questions still remain about how to get people without a traditional education background into the job pipeline in the first place. So while platforms like TestGorilla are important, at the end of the day tech won't be able to solve its diversity problems with tech alone.