Unless you've just landed from Mars, you'll know that it is hard — and getting harder — to hire talent in the tech sector. One company thinks the answer is an elite tech talent bootcamp that job seekers can join for free. 
It's called Academy, and was recently backed by LocalGlobe as part of a $4m seed round. Its founder, Ashley Ramrachia, has built the business around lessons he learnt as chief people officer of the Manchester-based ecommerce giant The Hut Group, where he built a hiring programme that was at one point onboarding 1,200 new graduates each year.
Like a "traditional" grad scheme, applicants go through a rigorous application process involving 60 hours of assessment in total. Just 1% of those who apply are successful. Then it's on to a four-month training scheme where they're taught tech and leadership skills. And then they spend two years in full-time employment with Academy's partners.
"What we're trying to do is build a modern elite institution — which is elite but not elitist," says Ramrachia. 
Alternative education
Academy belongs to a troop of alternative education institutions that have grown up alongside global growth in entrepreneurship and tech. There's Silicon Valley-founded On Deck, an accelerator and community with cohorts for different tech roles and functions, and Jolt, the Israeli startup that Balderton backed in 2020 to sell its "NAMBA (Not an MBA) programme" for £175 a month. One of the most-well funded is UK-based edtech Multiverse, which has raised nearly $200m to connect apprentices with companies.
There are also several remote engineering schools, like Lambda, which offer ISAs (income share agreements); students pay no upfront tuition but they do pay a slice of their income to the school once they land a job.
What we're trying to do is build a modern elite institution — which is elite but not

elitist
Academy instead makes companies pay for access to candidates, while it's free for "scholars" (as Academy calls its trainees). They're given a £3,700 living allowance while on the training scheme, and are on starting salaries of £35,000 on average. 
Ramrachia thinks that he's been able to attract a more diverse cohort because there is no price tag and because of the attributes Academy is selecting for: "IQ, EQ and drive."
Of the 62 who have begun the programme, 59% of them are from ethnic minority background, 30% of them identify as Black, 52% of them are women and 25% were on free school meals — a measure often used in Britain as a stand-in for growing up poor.
"What we're really interested in is high potential, and that can come from anywhere." 70% of Academy's trainees are from humanities and social science backgrounds.
The business model
Academy is working with 10 companies, including mobility company Beryl, members club Soho House and talent management startup Beamery. Currently, companies pay to hire from the pool (around £8,000) and pay a two-year subscription (at £330 per month) for a development programme for those employees and their managers. 
That second part is key — Academy helps partners with onboarding, "on-ramp" and retention. That's to help overcome the reluctance many startups have to hire junior talent who they fear will suck up too much time from senior talent. 
"We went to employers and said, 'Look, we've got this great pool of people — high potential leaders of the future, who are skilled in engineering and 10 times more diverse than society'. And everyone said, 'This is brilliant, the world needs this. But we don't have the time or the management to onboard young people'," says Ramrachia.
There are very few companies hiring at entry

level
As part of this, Academy offers a six-month training scheme for managers. It teaches them "how to set one-on-ones, give and receive feedback, set career progression frameworks... a whole bunch of management 101 because management in tech is terrible."
Each cohort is also invited to workshops and to a Slack community. "And effectively it is that peer-to-peer community that is the most valuable thing — a bunch of people who are also going through this for the first time." 
An industry issue
"My biggest challenge by far is convincing the tech industry to change their mindset," says Ramrachia.
"There are very few companies hiring at entry level," he adds. "And the ones that do are very specific, targeting computer scientists. Our best and brightest are effectively locked out." 
He has, however, convinced a big group of well-known operators and angel investors to back Academy — and mentor its cohorts. They include Sian Keane, chief people officer at Farfetch; Carlos Gonzalez-Cadenas, former COO at GoCardless; Alex Stephany, CEO of Beam; and Wing Chan, former CTO of The Hut Group.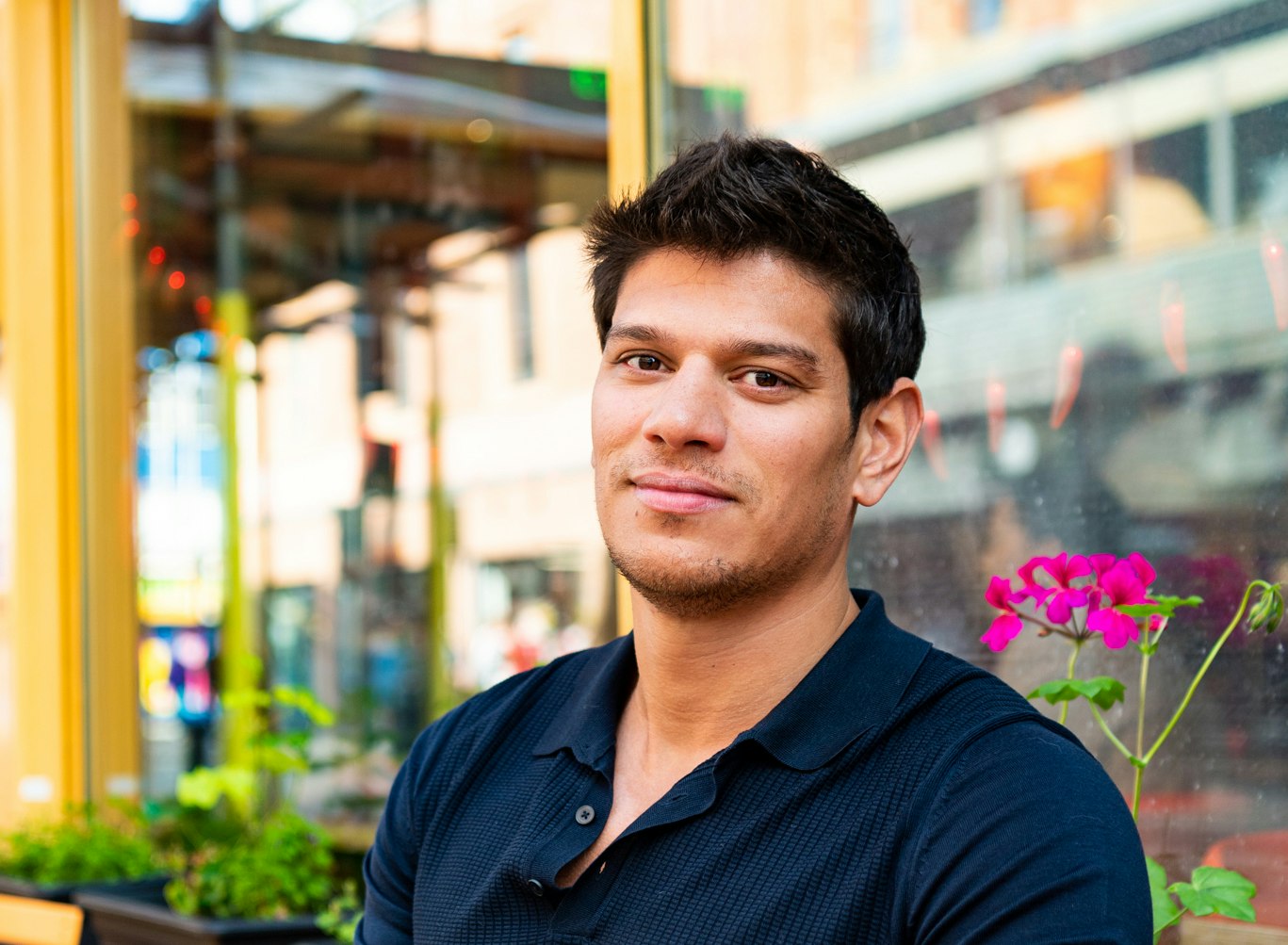 The Hut Group
When Ramrachia joined The Hut Group as a "lowly internal recruiter" in 2011, he was tasked with finding people with digital marketing experience — and there weren't really any around.
"The talent pool was pretty uninspiring. I mean, back then, if it said 'marketing' somewhere on your CV, and you'd take a salary of 25 grand, you had a job at The Hut Group. But that doesn't make for a really high-quality workforce; just those who could get to Northwich, which is a rural, underprivileged area 45 minutes south of the city centre, and would take a salary.
"So we thought, 'What would happen if we just go and find the youngest, smartest, most passionate people we could possibly find?'"
In the early days, that involved Ramrachia driving to the obvious spots — Oxford, Cambridge and other top-tier universities — and trying to convince graduates who might otherwise go into banking or law to try out a career in tech instead.
We were spending £250,000 a week on laptops and adding £1m a week to the

payroll
The success rate was pretty low to start with. "I would say, 'Please, please, please don't go and do that boring stuff. Come help us build a company. We'll give you a bloody big job on day one — you'll skip five rungs of the career ladder and we'll put you in charge of someone'." 
For most candidates, the "safe" path was still the one they took — but "a few brave souls took the plunge". 
Skip forward a few years and The Hut Group had developed a full-on graduate scheme. "At its zenith, we had 100 graduates turning up every Monday for 12 weeks, from June to September," says Ramrachia. "We were spending £250,000 a week on laptops and adding £1m a week to the payroll." 
The roadmap
The Academy team isn't intending to reach quite that intensity anytime soon — it's planning to train 200 "future leaders" in 2022. 
Next year, it will launch also new training programmes, covering AI and big data, cyber defence, and engineering and product, targeting the most acute tech skill shortages.
It will also look to sign up new partners — but the goal isn't to work with any and every tech company out there, says Ramrachia. "We want to build an incredibly aspirational and desirable place to be — so we are going to need to be super selective about which partners we choose. This generation is very choosy about where they want to work — and we'll only succeed if we can bring forward top, forward-minded employees."