Go out to any of the big city parks across Europe, and you will encounter dogs of all breeds, shapes and sizes. On a walk recently near my home in West London, I watched an Italian greyhound gracefully bound across the heath, ducking and weaving his way around other dogs — sprinting effortlessly, far and fast. His sojourn was interrupted by a motley crew of other dogs, including a pug, a cockapoo, a chihuahua and a French Bulldog, all of whom struggled to keep pace. This outdoor encounter begged the question: how do you measure how much exercise a dog needs and how much food it requires when, even in this small sample, the proportions, stamina and physique vary to such a degree from one breed to another?
Plenty of owners seem to be getting it wrong. Pet obesity is now officially recognised as a disease by the National Institute for Health, the World Health Organisation and the American Medical Association. Over 50% of dogs in the UK — and around 40% of cats — are overweight or obese according to the Pet Food Manufacturer's Association. Pet owners, however, appeared to be unaware of the growing problem — 68% of pet owners surveyed believed their pet was the correct weight.

Luckily, a range of technologies is emerging to help monitor a pet's weight and food intake. These range from an automatic pet feeder, which sets and distributes the specific amount of food your pet should be eating each day, to pet cameras, which — where you have, for example, more than one dog or cat — monitor whether one of your pets is eating more than their fair share of food, to pet wearables.
UK-based PitPat has developed an activity monitor, which is an unobtrusive device that attaches to a dog's collar. Working with a free app, it provides owners with a fitness goal which is tailored to their dog and keeps track of how much exercise they are getting. CEO Andrew Nowell set up the company in 2015 along with three other founders who worked in an engineering consultancy designing products for large brands. "I specialised in sensor tech, so I worked on some of the first human wearables," says Nowell. "I realised they did a good job of raising awareness about health and activity — and to me it was a natural progression that would happen in the pet industry. The health of a dog is dependent on the owner — they can't talk. So it was a perfect storm of knowing how to do electronics and the sensing, and spotting a good business opportunity."
He points out that quite a few companies strap a human activity monitor to a dog — but this is not an accurate indicator as their gait measurements differ from that of humans. "It takes a lot to know how a dog is moving and whether it's walking, running, resting or playing," says Nowell. "It's much harder than humans. You have to be able to distinguish between a tiny Chihuahua and a lolloping Great Dane, and whether they are walking or running."
He also said that human fitbits aren't designed for the environment of a dog, which likes to scratch, chew on things or roll in the mud. They need to stay attached to the collar and not break if bitten. The PitPat device also lasts two years before the battery needs to be replaced, rather than constantly having to recharge it. It monitors sleep and activity data. At the moment 90% of their sales are to the UK, and 10% to Europe, with a factory based in Northern Ireland.
"The main reason the pets are overweight is often that they are fed too much and don't exercise enough," says Nowell. "One of the things we have been working really hard on is things like weight tracking through the app, which enables the owner to set the ideal weight with guidance from vets who can help advise on the path to getting there." The next step for their app will be launching portion recommendations based on research on how to evaluate how many calories a dog is burning on activity measurements, based on the weight, shape and breed.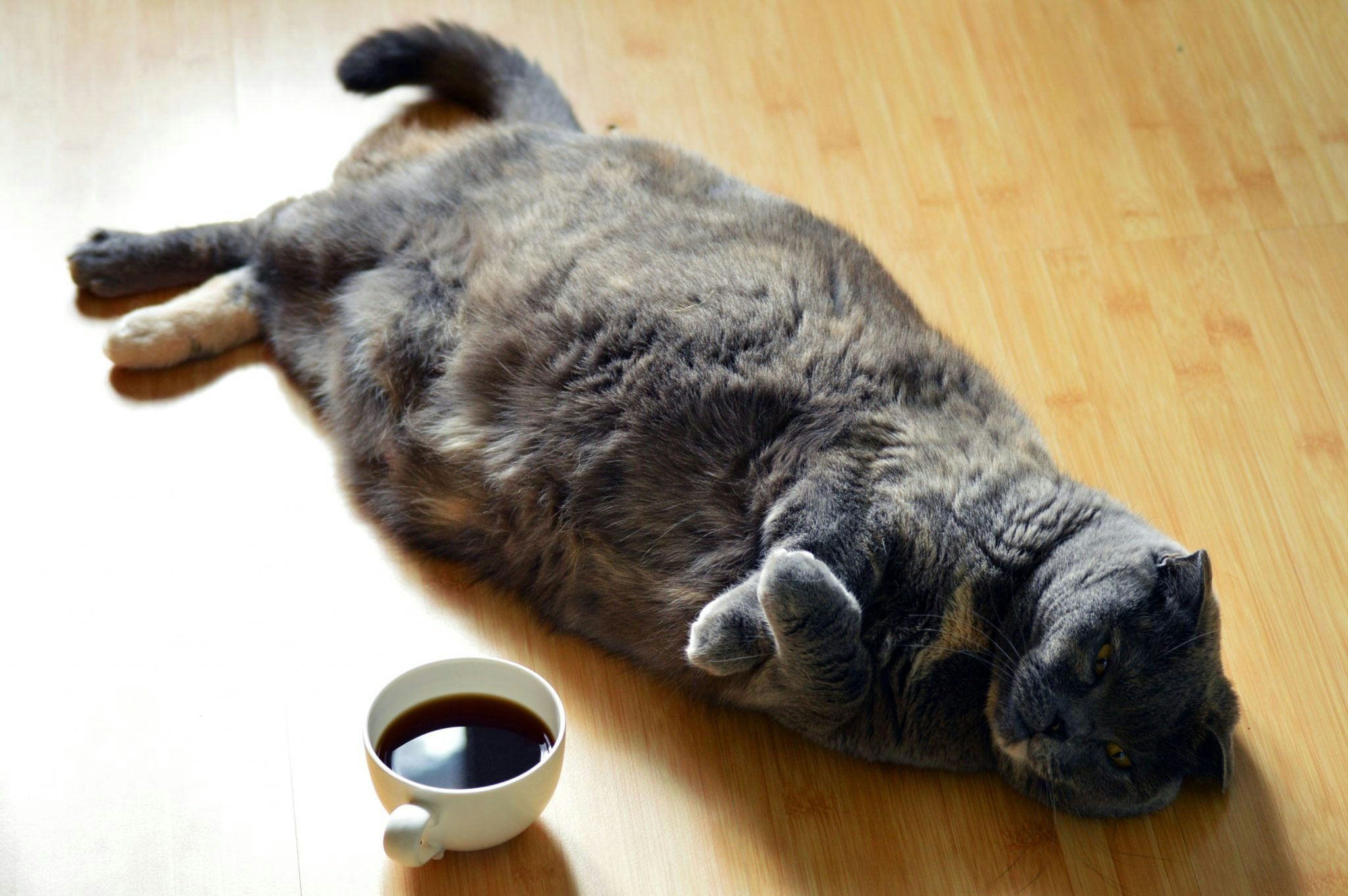 These devices are not just restricted to dogs. Moggie.me, based in Madrid, is a smart collar and mobile app for cats that keeps you informed about their wellbeing when you are, for example, in the office. It also gives you personalised advice as to how you can better look after your pet based on their behaviour and using an algorithm based on veterinary insights.
Another product coming to the market later this year is Moggie.me. It's an accelerometer which you add to the collar of a cat, and it contains a trained data set which understands what a cat is doing — whether it's walking, sleeping, eating and so forth.  Using this data, the programme makes recommendations about what is going on for your cat and what it might need.
"If [your cat]  starts going to the loo 12 times a day or drinking too much — maybe the cat has a urinary tract infection," explains founder and CEO Ali Ganjavian. "You go to the vet with knowledge — a data set that explains what the cat has been doing over last 2 or 3 weeks. A vet can look at it from analytical perspective, so they know what track to proceed with diagnosis. [The device] can determine if your cat has  been more inactive or eating too much — and this can also help combat obesity."
Ganjavian says cat obesity can be particularly difficult for pet owners to notice. Often there is no sense of what a healthy weight should be.
"The relationship with a cat is very private. You don't see people out walking their cats, most of the time your cat is at home," he says. The device can help bring that understanding of what "normal" looks like.
"It's about how you translate scientific information into human-based actionable information," says Ganjavian. "Dogs are very good at communicating to pet parents, where cats are naturally non-communicative."
The company is still determining whether Moggie.me will be available as a one time purchase, or if they will set up a subscription-based model. It's due to launch in September in the UK, before eventually expanding into other markets.
The pet obesity problem is prevalent across Europe, as Tractive, the company behind the Austria-based pet GPS tracker has found. According to their research, 40% of dogs and cats are overweight in European industrial countries. Michael Hurnaus, a former technical programme manager at Amazon, moved from Silicon Valley and set up his company now based in Linz, Austria along with his cofounders. Ploughing their own funds into it, with very little external funding initially, they quickly created a product — and it sold very quickly.
Their product began mainly as a device for locating or keeping track of pets, which would alert owners when they left an invisible fenced area, which the owner can set. Over the last eight years since the product launched, they attracted a €2m investment but also built a very strong subscription base, which enabled them to enhance the device to include data on sleep patterns and exercise. They now have 350k active customers across 150 countries.
"It's a good indicator to quantitatively see how active your dog is: we can compare your 7-year-old beagle with all the others and give you a benchmark of how active beagles are comparatively in the UK, in France and so forth. We have a tonne of data behind this," says Hurnaus.
Their strongest sales are in Germany, followed by the UK and France, although, following the UK's exit from the EU, they have had to halt sales there temporarily while they await their VAT number. They are also selling well in Spain and Scandinavia and launched in the US and Canada in July 2020.
Hurnaus says the main driver of their sales, he believes, is the GPS tracker — which recently featured in The Pack series on Amazon Prime Video — so you can locate your pet. "GPS is harder from a technical point of view, which is what's killed off a lot of companies in Europe." He sounds a note of caution on the market for pet wearables geared mainly to fitness and exercise habits. "I still think they are less likely to pay for a device which is just a fitness monitor. It's a bit like a human fitbit — it's a novelty for the first few weeks but people often lose interest," he adds. "It requires greater engagement."
This is backed up by the Pet Wearable market report by ResearchandMarkets.com which forecasts that the identification and tracking segment will make up the largest share of the pet wearable markets from 2020-2025.
This article first appeared in our monthly Unleashed Pet Tech newsletter, a collaboration with Purina Accelerator Lab. All content is editorially independent. Sign up to our newsletter here to keep up to date with the latest goings on in the European pet tech industry.