Hiring in the tech sector is back to pre-pandemic levels, data from jobs site Otta suggests, and it's fintech, social and gaming unicorns leading the way. 
September saw 3,495 tech roles advertised in the UK, nearing the number in March (3,552) before the country's coronavirus lockdown began. 
For some roles, such as engineers, the number of advertised positions is now higher than it was before the pandemic.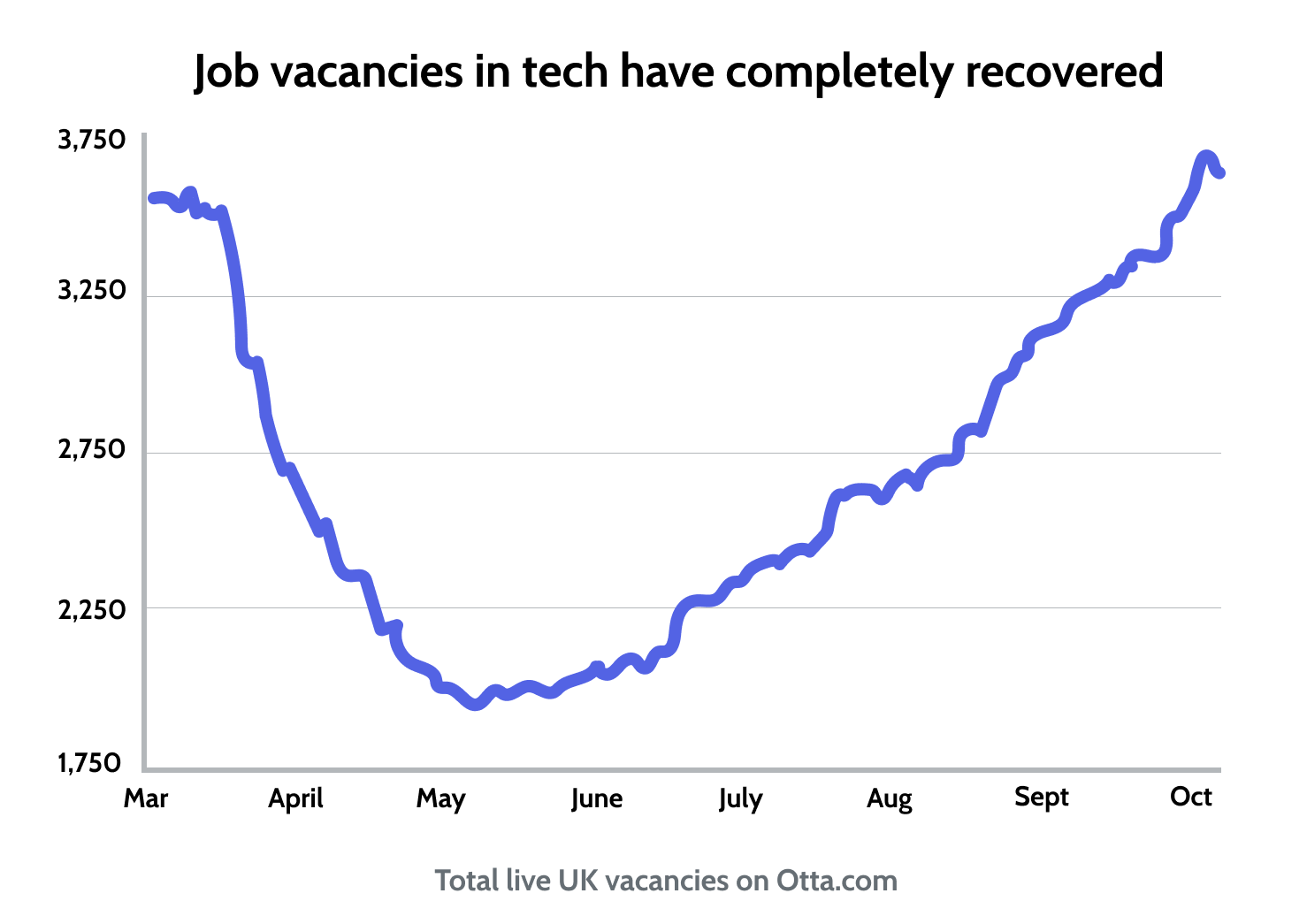 September's numbers also show a strong increase from the midst of the pandemic, up 71% from June, and the figure continues to climb despite the new coronavirus measures put in place in the UK.
Fintech's recovery
The number of roles advertised by fintech companies is still less than it was in March — currently at 73% of the pre-pandemic rate — but the sector continues to rebound quickly in comparison to other areas. 
And it's London-based fintech Revolut which has the most roles open of any tech company. Revolut also continued to hire throughout the height of the pandemic, advertising for more roles than any other scaleup in March, June and September.
"Despite lockdown we have continued our expansion plans, including launching services in Japan, USA and Australia," said Vlad Yatsenko, cofounder of Revolut, which currently has around 2,000 employees. "We are currently looking to appoint around 200 positions."
Fellow British unicorn Deliveroo hasn't had quite such a speedy recovery; the number of roles advertised at the company remains around the same as seen in April, following a tricky few months for the delivery sector.
Sifted Newsletters
Sifted Newsletter
3x a week
We tell you what's happening across startup Europe — and why it matters.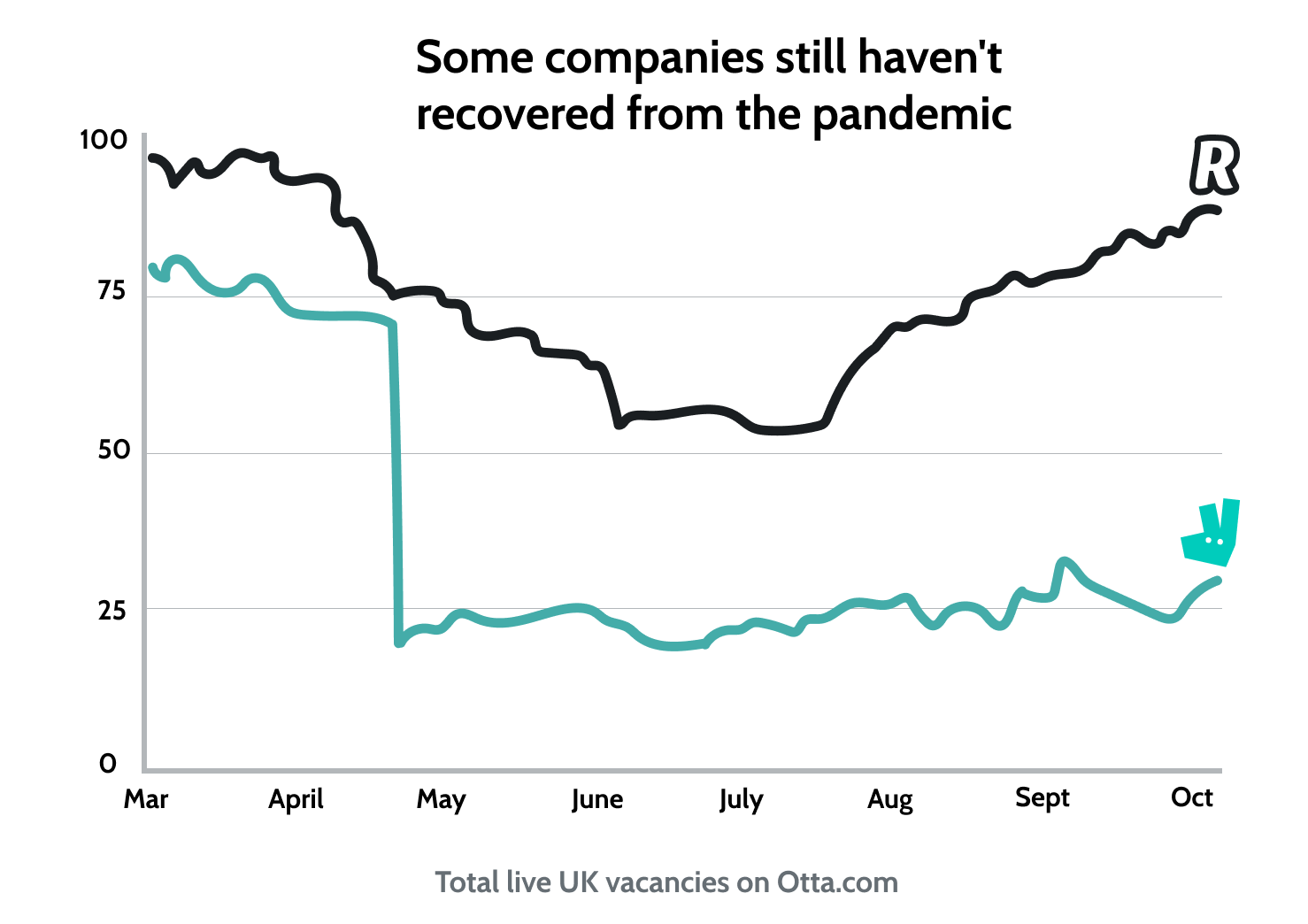 The gaming boom
Several sectors, like gaming and social, have rebounded to higher levels of job vacancies than before the pandemic took hold, thanks to a surge in usage during lockdowns. 
The number of roles in gaming companies rose from 110 in March to 179 in September, and the number at social companies jumped from 74 in March to 234 in September. 
Online events platform Hopin, for example, has grown its team by 300% since April this year, and hopes to double in size again by the end of the year. 
"I believe the pandemic affected many sectors, but in turn, other sectors are growing, so the job market is just shifting from one industry to another. The jobs will still be there, just in different areas or formats," said Yessica Gonzalez, head of people and culture at Hopin.
"I am super optimistic about job market growth. There was a slow down due to the pandemic as people adapted to the new normal, now, new industries are arising."
Among the other companies to accelerate hiring since the pandemic began are Improbable, who provide tech for gaming software, the social shopping app Depop and savings app Moneybox.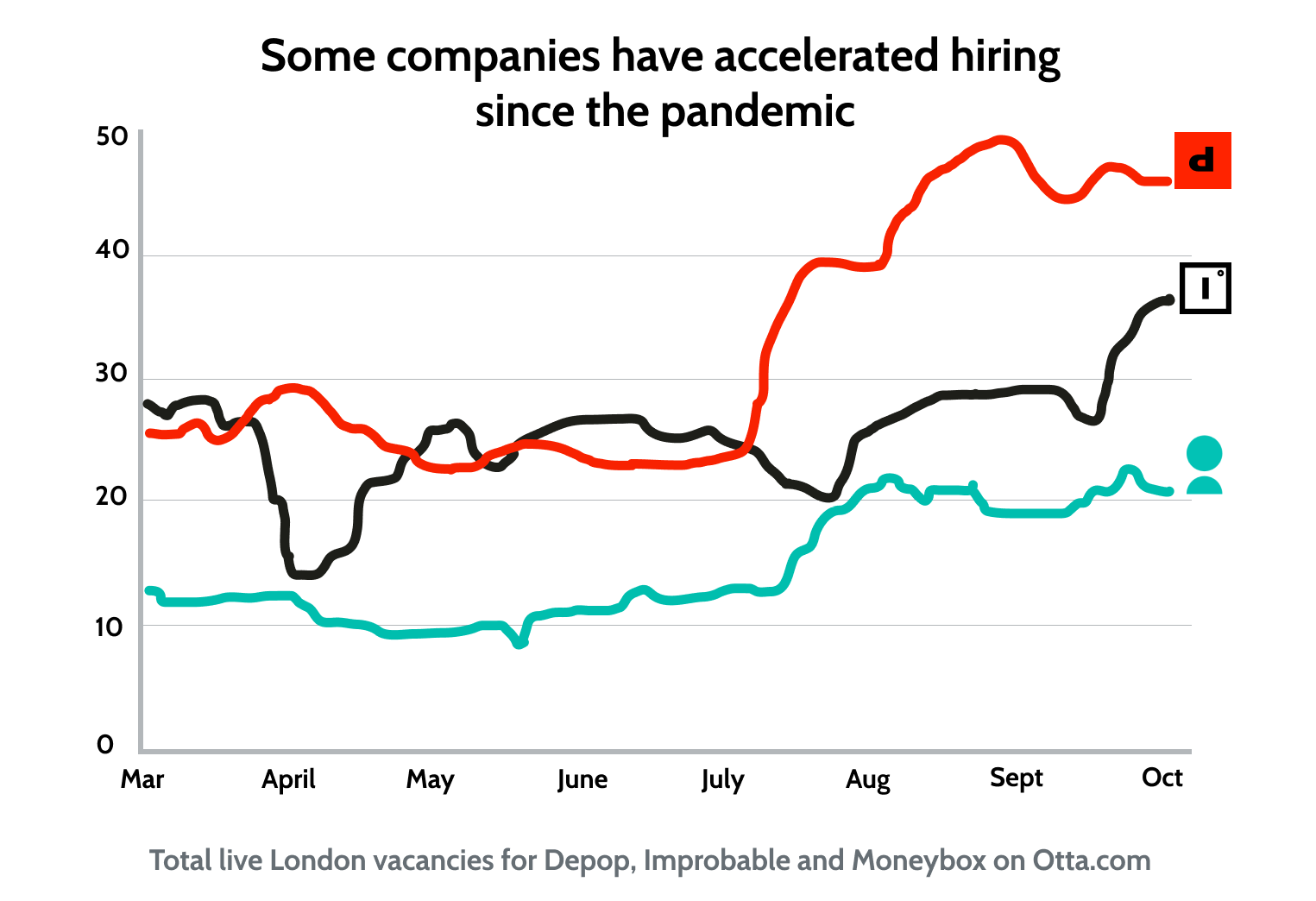 Resilient sectors
The level of vacancies in some companies has stayed resilient throughout the pandemic. Online payments platform checkout.com, food delivery service Gousto and Freetrade, a stock-trading and investment app, have all maintained similar hiring levels throughout 2020.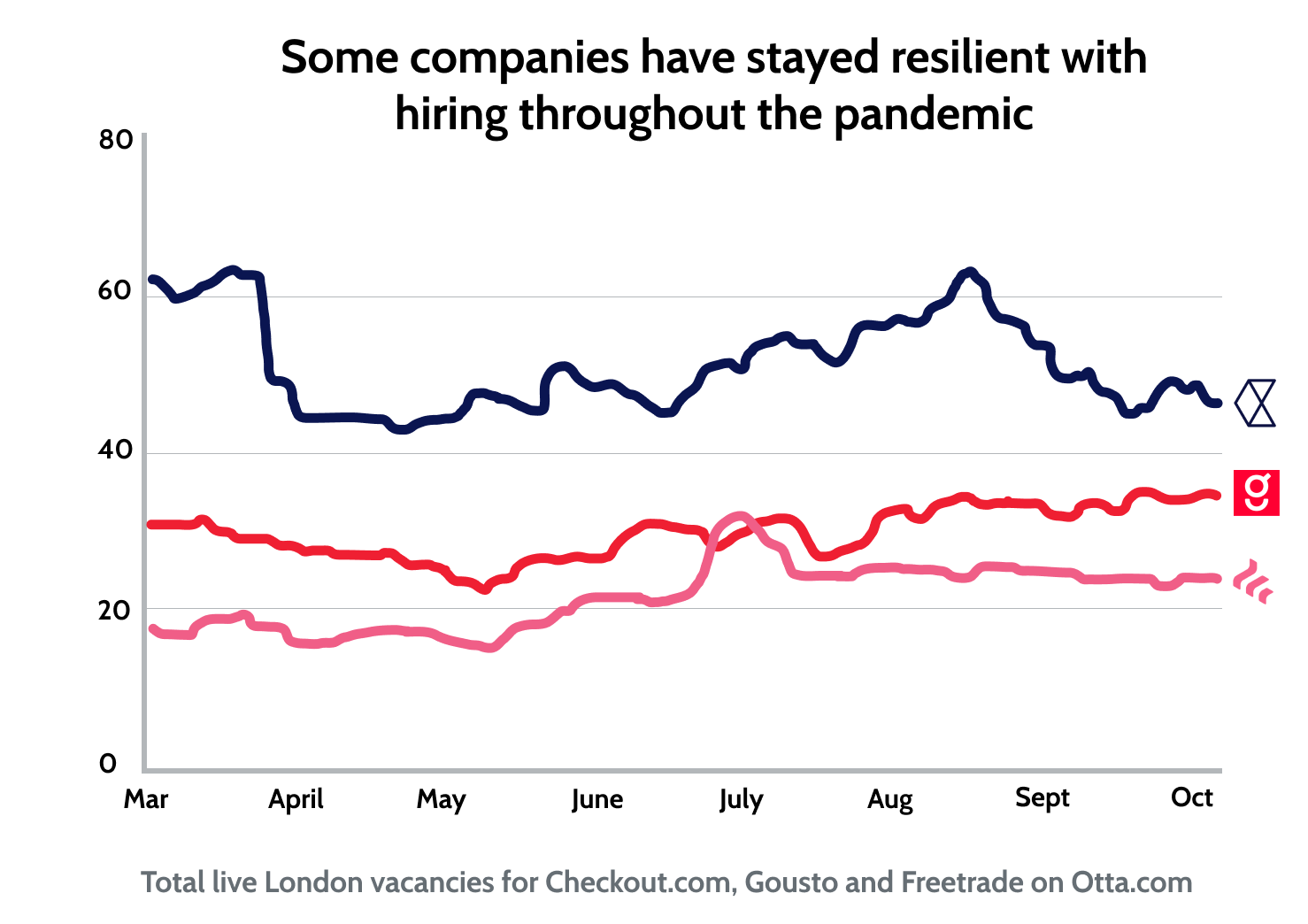 In comparison, other companies have stopped hiring entirely since the pandemic began. These include Iwoca, a business loans company, Appear Here, an online marketplace for short term rental spaces and Skyscanner, the flight comparison site.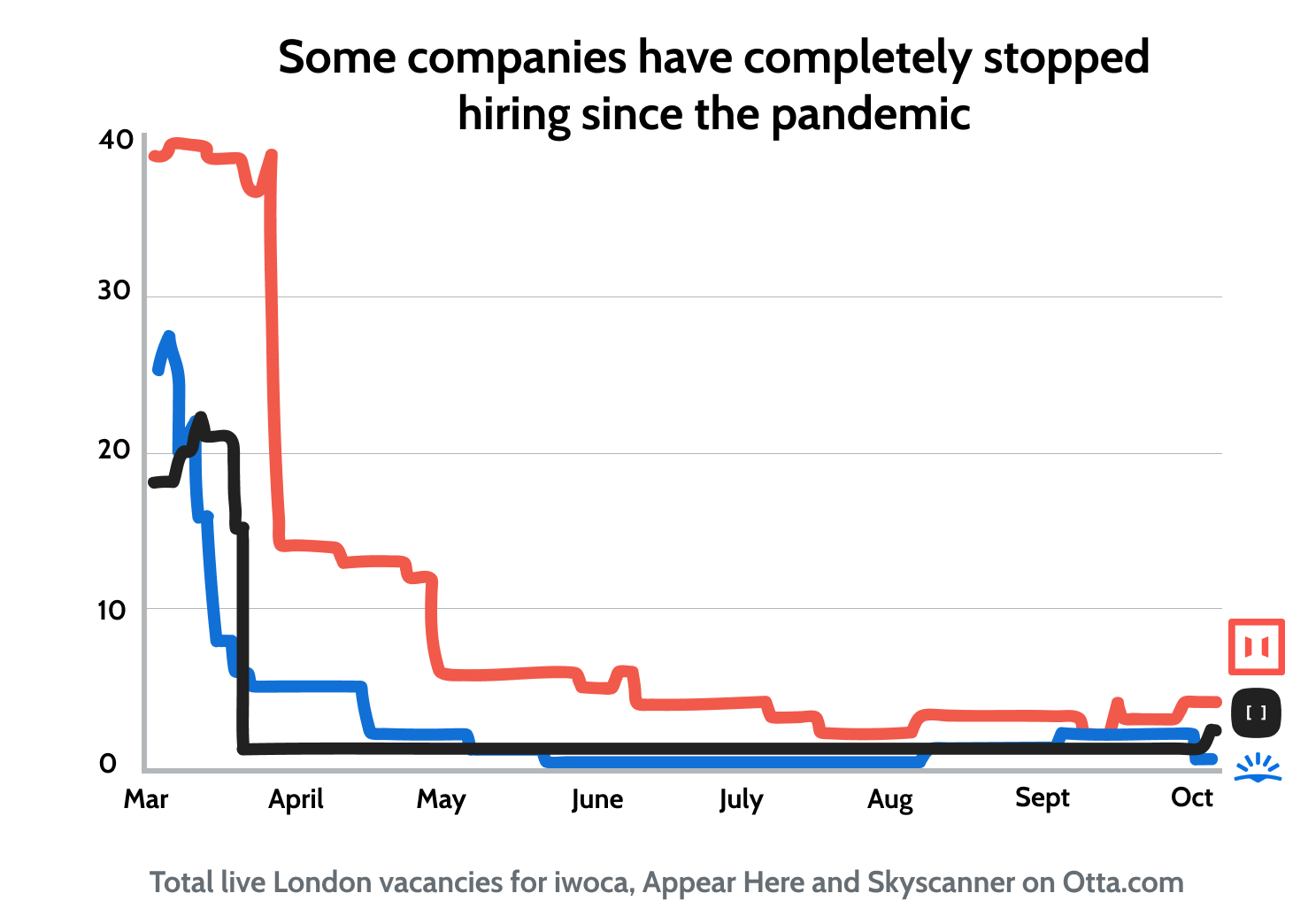 Investment grows
As well as a rebound across jobs in the industry, investment in the tech sector continues to thrive, too. UK startups raised £663m during lockdown, with fintech, artificial intelligence and security companies securing particularly high levels of investment. 
"Tech companies are disruptive and operate in fast-growing markets," said Sam Franklin, chief executive of Otta. "Despite a difficult economic backdrop, many are still growing fast."