How hard can it be, right? When Hays, the recruitment company, and Empact Ventures, the global startup and scaleup scouts, asked Sifted to help judge their Super Connect for Good competition, we were excited to get a ring-side view of the UK's most promising socially-beneficial startups. We'd watch some inspiring presentations and choose the best recipient for the top prize of £90,000.
It was actually agonisingly hard.
While there is huge enthusiasm for using tech for good, the concept is so broad that you get a wide field of finalists, all entirely unlike. Some were more focused on the "tech" than the "good" while others had a clearer social vision but less visionary tech.
One of the problems of tech for good competitions, said Kosta Mavroulakis, founder and CEO of Empact Ventures, is that often tech companies are trying to shoehorn themselves into the "for good" definition, without really being social enterprises.
"A simple, obvious solution to a widespread problem"
The early rounds of the competition had, he said, been about weeding out companies that simply tried to "throw a lot of spaghetti on the wall and see what would stick."
Judging, therefore, began with a debate on the first principles of what "tech for good" should mean.
"A simple, obvious solution to a widespread problem," was how Neil Sebire, chief innovation research officer at Great Ormond Street Hospital, encapsulated it.
Tech for good also had to be a solution that would not exist without the tech for good company pushing for it, said Penny Coulthard, director of investor relations at NorthInvest, a not-for-profit investment organisation facilitating angel investment into tech startups based in the North of England. It had to be something that market forces alone would be unlikely to create.
Measurable outcomes in social benefit was another crucial element, added Amali de Alwis, UK managing director of Microsoft for Startups, speaking on the panel about how to define tech for good.
Sifted Newsletters
Sifted Newsletter
3x a week
We tell you what's happening across startup Europe — and why it matters.
Those that made the final certainly all had a clear vision for how to make a difference to some segment of society  — whether it be people with disabilities (NeateBox), cancer patients (CanSense), people with precarious finances (Personal Data Management), the homeless (Beam). But whose cause was most deserving?

Where does medtech fit in?
The medtech companies among the list of finalists posed a particular quandary. On the one hand, with medtech it is often easy to show the benefits when patients get better outcomes.
Great Ormond Street Hospital's Sebire assured us that there were still many gaps in medicine that large organisations like the UK National Health Service were not able to address. Platforms such as My MHealth, one of the finalists, are providing tools, for example, that would allow individual patients to take more control of managing their own conditions like chronic obstructive pulmonary disease, asthma and diabetes. Kids Speech Labs, an online speech therapy programme, was addressing an acute shortfall in human speech therapists.
Sebire was sceptical about point solutions, however. Part of the problem for the NHS is that there are already too many siloed solutions, with little linking up.
"I'm not looking for an app that does anything. I'm looking for technology that integrates with everything on the back end," he said.
Medtech solutions were also an uneasy fit with Coulthard's description, tech for good should be something that market forces alone would not create. Significant medical breakthroughs should, in theory, find uptake from the market.
Can tech for good make a profit? Should it?
Then there was the question of money. Is a tech for good venture allowed to make a profit? Maybe. But all judges agreed tech for good startups should at least be self-funding, in order to have a long-term future and not live hand-to-mouth from one uncertain grant to the next. Coulthard told us that a lot of her work with the social enterprises is about teaching them to find ways to generate revenue.
Making money was certainly no disqualifier. If anything, the judges tended to favour those startups with a clear funding model over those which had yet to work it out.
NeateBox, an Edinburgh-based startup helping people with disabilities get better service at shops, restaurants and hotels, was one of the neatest examples of this. The software costs venues around £30 a month to run, but many of those taking part in early trials were reporting a relatively quick return on investment, as people with disabilities became loyal customers willing to spend more and visit more frequently.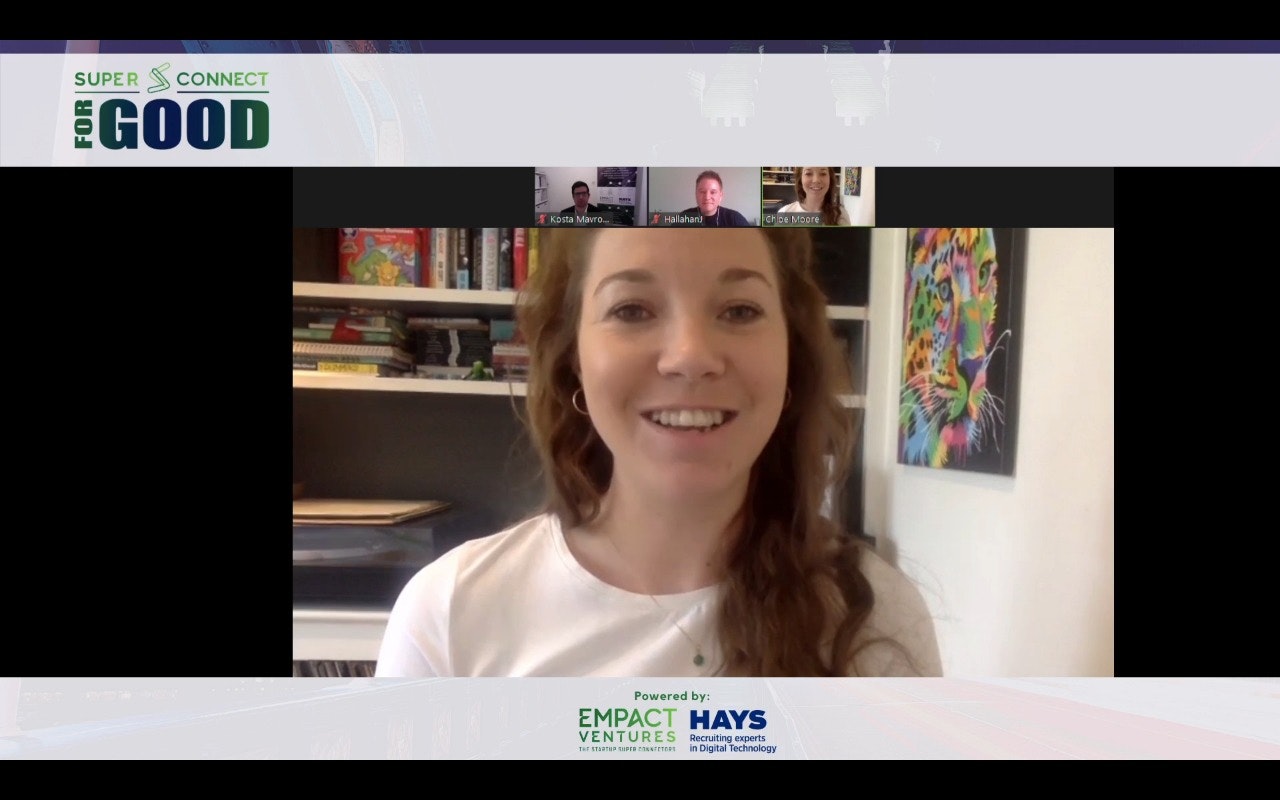 Flip the question around
Even having agreed all this, we found ourselves at a stalemate.
How do you decide between a company like Swansea-based CanSense, working on a blood test to detect bowel cancer at an earlier stage, Belfast-based TapSOS working on a text-based system for communicating with the emergency services, and Beam, a London startup using a crowdfunding model to help homeless people get work?
Then the question was flipped around by James Hallahan, UK & Ireland director for Hays. Perhaps we shouldn't be thinking about which company was best, but which we could help the most? Which one of these companies would get the biggest benefit from winning the competition?
Super Connect for Good is about connecting companies to influencers and partners. Part of the prizes were not for cash, but publicity, partnerships and help with hiring. Some of the companies were better placed than others to make the most of these. Some, which were still in an early experimental stage, might have enjoyed the publicity, but might not have been at the stage to ramp up hiring just yet.
Looked at from this perspective, Beam stood out. The London-based social enterprise has already helped 121 people into work in London, but is now looking to expand. The crowdfunding model obviously works — it has raised more than £1m to date — but crowdfunding is heavily dependent on awareness.
"We have big ambitions to expand our services to disadvantaged communities outside of the capital,' said Montana Gerry, Beam's head of communications.
"The support from Empact Ventures will help us gain more connections with local authorities across the UK who could benefit from Beam's model. We're also on a big recruitment drive at the moment, and we're hoping this award will introduce us to lots of brilliant candidates who want to make a big impact in the world."