It's back to square one for Ning Li, cofounder of online furniture retailer Made.com, who last week launched a new startup, online cosmetics brand Typology.com. Well, not quite square one: he's been quietly working on the Paris-based business for over a year, has already raised $10m and grown it to a team of 13 people. Still, it's early day and this, Li says, "is definitely my favourite part".
"Running and growing Made.com was a very nice feeling, getting it from a €0 to a €100m business, but at some point it became more about managing people than the business," he says.  
Now, in an entirely new industry with some fairly enormous incumbents, Sifted quizzes Li on how Typology.com is going to cut through the crowd.
You spent seven years as chief executive of Made.com, which is a very successful European consumer brand. What learnings — from successes and failures — have you taken from Made.com to Typology.com?
I've made a lot of mistakes, in my multiple businesses, but for me there's nothing wrong with that — as long as you don't do it twice. It's the best way to learn, especially when the company's smaller: the scale of mistake is smaller. My first business, MyFab, which I started in 2007 and sold to French retail group PPR, was a multi-category retailer; it sold anything from fashion to watches, gadgets, bikes and decoration. It scaled very quickly; within a year and a half we had a 180-person team.
But because we only resold other people's products, our margins were very slim, we didn't have exclusive products, and people did not identify products with the brand. So when a product became a success, another bigger retailer would step in and then it's game over. That was an expensive lesson for me.
So when I started Made.com, we decided to really invest in product development, and build up our own supply chain, own the intellectual property of our products, invest in research and development and product, so we grew turnover not for the short term but for the long term.
The notion of creating a brand has changed a lot. It used to be a nice logo, with a set of values attached to it, that was visible everywhere. We used quite a bit of that for Made.com; it is a very heavy advertiser, a lot of budget [goes on marketing]. Times have now changed quite a bit. Talking to millennials, they're sceptical people — advertising doesn't necessarily talk to them (although that hunch remains to be proven). For me, building a brand today versus what was the case 10 or 15 years ago, it's more about having an authentic personality. Having a direct conversation with customers, a shared vision and conviction, that resonates with them, much beyond the product.
If a brand wants to talk to young customers, it has to talk about something that really works, rather than sharing bullshit marketing

messages.
Typology.com is really about the integrity of the ingredients. The entire cosmetics industry today is founded on some sort of promises — anti-ageing cream being the obvious example. No-one really believes in anti-ageing cream, but somehow it's a marketing code that's been used for many years, and keeps working. But we believe that young customers are so much more informed than the previous generation. If a brand wants to talk to them, it has to talk about something that really works, rather than sharing bullshit marketing messages. So in our case, we try to use the best mostly natural and organic ingredients, use recycled and recyclable packaging, and describe our products in a much more functional language, with no incredible promises.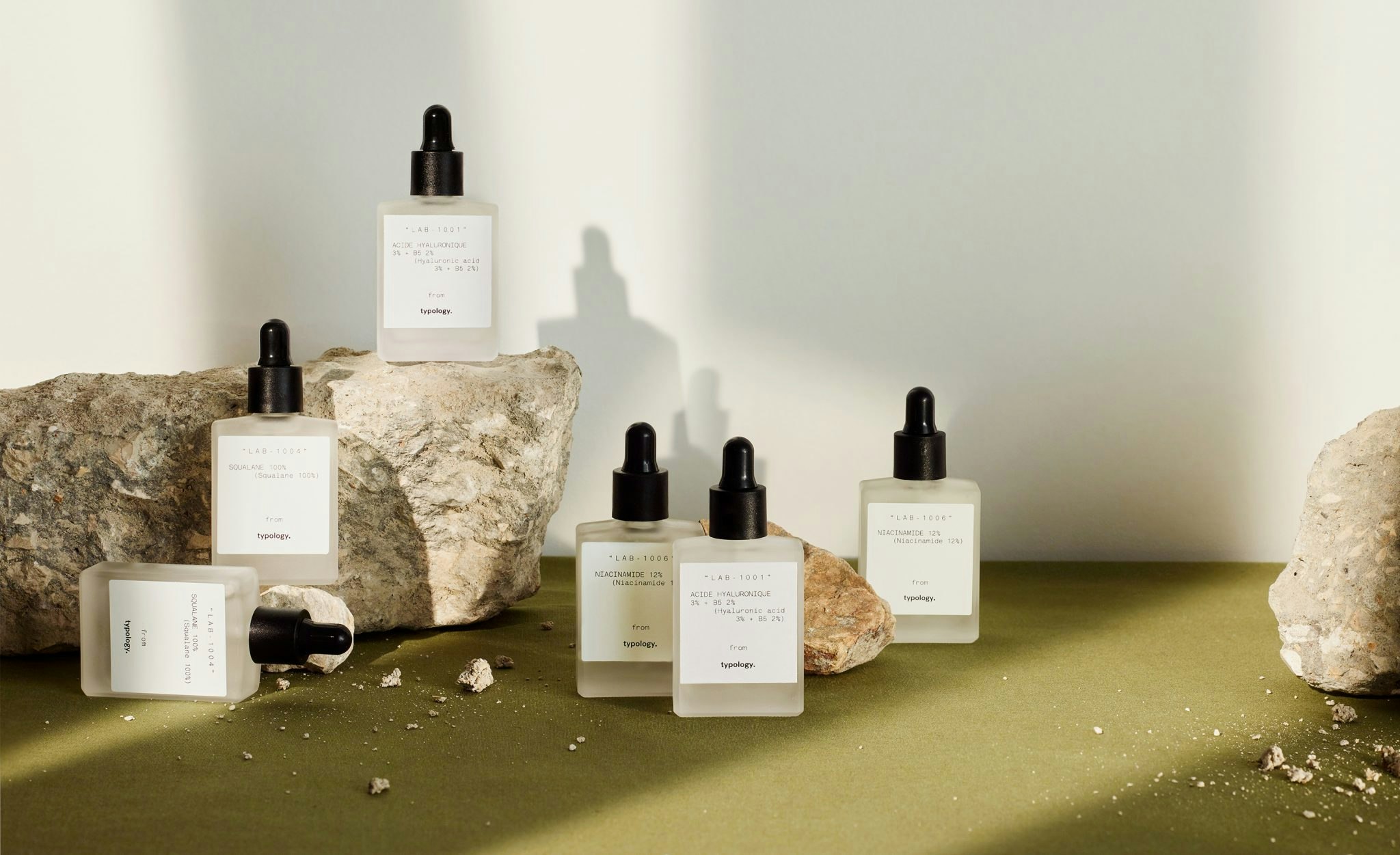 You just touched on a very good point. There are a lot of independent players: every day 10, 20, 100 more independent brands launch. It's a very crowded category, but that's very much influenced by the structure of distribution. Distribution means you have to add a middleman between the consumer and the business [who takes a cut], which brings up the price. A lot of independent players have high pricing. When you're selling a cream for €50, you're doomed to be niche. They may be making good products, but they're very expensive because of the structure of distribution.
When you're selling a cream for €50, you're doomed to be

niche.
We've freed ourselves from the status quo of distribution. We've spent over a year on R&D as a team of 10 people working with a network of a few laboratories in France. A few 100 products are coming to market, all our own IP. Because we're selling online, distributing via our website [with products directly from the labs], we can cut the price, and still put in the best ingredients. It's high quality, at an affordable price.
For a lot of people selling at higher price, it can be a matter of volume [ie. they don't produce enough to benefit from economies of scale], and sometimes frankly by choice. It's such a black box approach — consumers don't really know what they're buying in a bottle — so retailing a product at €100 gives people the feeling that it's a very good product.
You have no experience in beauty. What have been some surprising things you've learned about this industry?
How much bullshit there is: it's amazing. I've found out how traditional marketeers in this industry create promises, and package them up into things they can claim through clinical studies. With clinical studies, you can get any answers you want as long as you write the survey.
It's amazing how much bullshit there

is.
Then because of all these claims, when the product does not do its job, brands add all these agents and chemicals, [for example] to make it tingle when customers apply it. These complex formulae can be very dangerous for your health.
Every day there are new reports of a chemical ingredient which has an impact on your health, but there's a lack of studies on the long-term health impact of those products. Even when they're released to the market, the only approval needed is a one-off test — but people put products on their skin more than once. There's a lack of health awareness, until now.
There's a belief shared by myself and my team that it's better to use natural ingredients; ingredients which have been used again and again, and proven across generations. The newer the molecule, you find there are fewer surveys and scientific studies on the agents, so you're taking unnecessary health risks for the consumer. We want to strip out all the unnecessary ingredients. A lot of those agents were only created to lower the costs: take perfume — natural fragrance costs three-to-five times more than synthetic ones.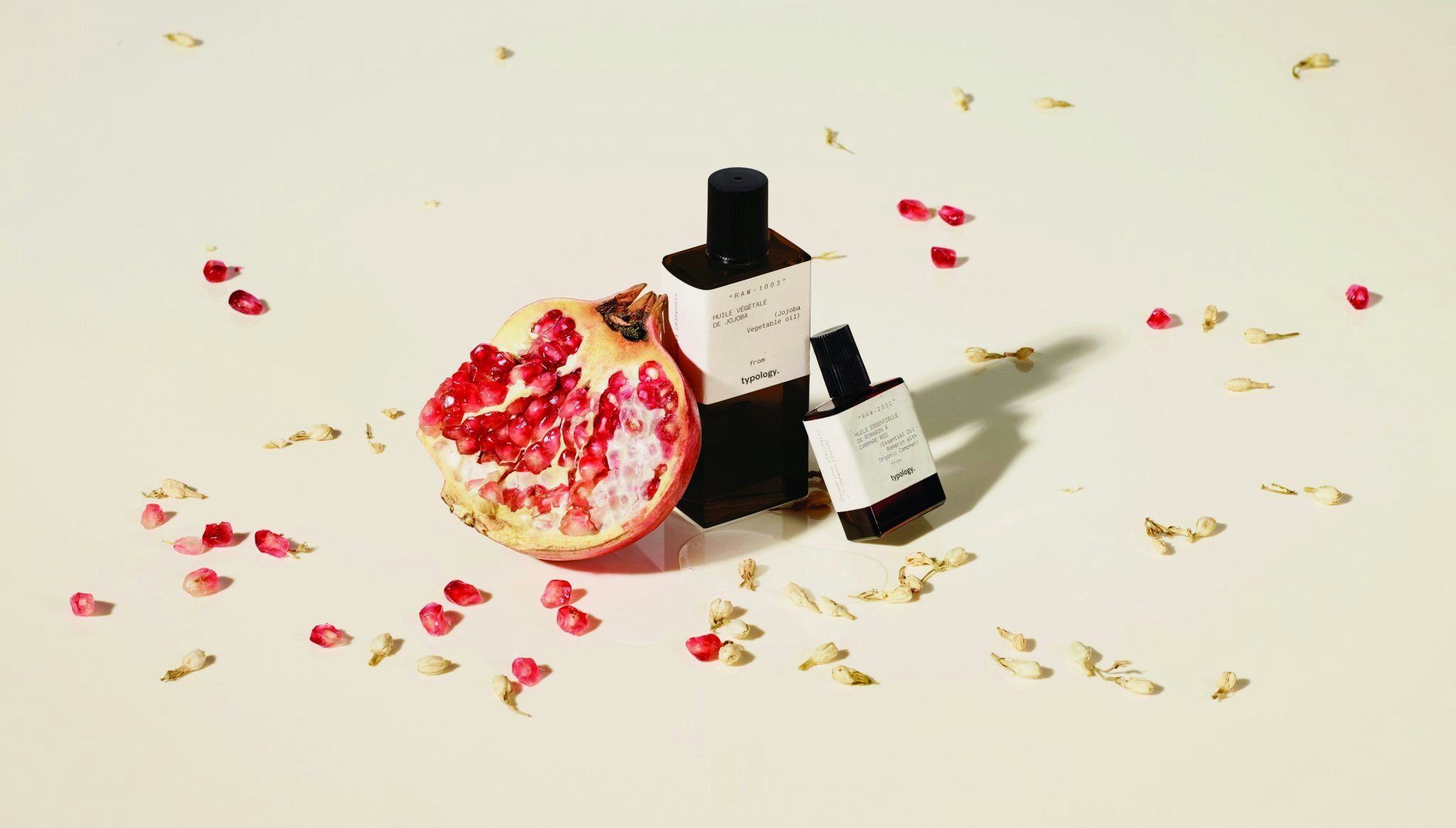 Are you intimidated coming into an industry which has so many huge players, and big startup success stories already like US beauty phenomenon Glossier?
A little bit, but also excited — that's the kick that you get. For a start, we're competing with some of the best marketers in the world, with some of the biggest marketing budgets in the world. We've raised a bit of money, but we're not in the same playing field. Our advantage is not money but agility — we can move much faster than the big guys. We have to be a lot more innovative, take some risks they can't afford, try new products they might not. In terms of risks, that would include any of the products we're selling today, but most importantly, from day one, with no track record, we're launching a few 100 products, which is a huge number.
We're competing with some of the best marketers in the world, with some of the biggest marketing budgets in the

world.
We don't consider [Glossier] as a competitor. We sell very different products and, for now, to slightly different geographies. The way we see it, it's a very, very big market, with about 50% of the market dominated by three or four big players, like L'Oréal, Unilever, Procter and Gamble. That's the market we're going for, that's where you have the market share.
We share a lot of common values [with Glossier] — we're both online, digital, grabbing the market moving from offline to online. When you look at cosmetics as a whole, on a global level, only a fraction of the sales are online versus offline, yet all the studies point to a heavy acceleration of offline to online.
When we started Made.com the furniture sector was just at the beginning of the transition [from offline to online]. It's a good time to start a new business, to catch the tailwind of change.
This interview has been edited for clarity.