From period pants to KeepCups, products that are marketed as sustainable alternatives may well help consumers reduce the amount of waste they generate — but are they as good as their planet-unfriendly counterparts at getting the job done?
Plenty of consumers think not. A 2020 survey from the University of East Anglia found that many consumers see sustainable messaging as being synonymous with "compromise", and they assume products marketed in this way won't work as well as those that don't mention their eco-friendly qualities.
It may sound a bit unfair — but there is a grain of truth in this. There are many sustainable alternatives to non-recyclable, single-use products that have required customers to make a compromise: the Fairphone uses ethically sourced materials and is easy to repair, but its functionality falls short compared to other smartphones on the market; while supermarket refill schemes ask their customers to lug jars and tupperwares to their stores. Some of these products also create inconveniences, like menstrual cups that replace tampons but also need to be washed out at regular intervals (not exactly a discrete activity in the work loo).
Still, interest from consumers in sustainable products is growing — and, more importantly, they're actually buying these things. In August, Accenture reported that 60% of people are spending more on sustainable products than before the pandemic hit. 
The opportunity for product designers is clear: make stuff that doesn't suck, and you could keep these customers for life. But is it really that easy?
Time, money and patience
A number of companies are already putting significant amounts of time and cash into raising the bar on planet-friendly household and personal hygiene products. 
Planera, a London-based startup founded in 2017, is getting ready to launch its debut product: a first-of-its-kind flushable sanitary pad. It is currently giving its pads away for free to beta testers, before rolling out the finished product later this year. The challenges of inventing an entirely new manufacturing process, instead of making tweaks to an off-the-shelf product, are threefold: it requires time, money and patience, three resources that are in short supply for fledgling businesses.
We truly believe sustainability doesn't have to be a

compromise
"Designing a flushable product wasn't the main hurdle. The main hurdle was getting a flushable product that was also stable for up to 24 hours in lab testing," one of the company's cofounders, Olivia Ahn says. To do this, Planera has had to layer biodegradable plant fibres and wood pulp to create a "one way street". That means liquid can be absorbed from the top of the pad, but when the entire thing gets wet (as it will when it's flushed down the toilet) it disintegrates. Unlike the incumbent sanitary pad makers it hopes to compete with, it can't use non biodegradable adhesives to bind its pad together.
Sifted Newsletters
Sifted Newsletter
3x a week
We tell you what's happening across startup Europe — and why it matters.
Ahn says advancements in material technologies are to thank for being able to create Planera's product, and that it would not have been possible to do 10 or 15 years ago. 
"We truly believe sustainability doesn't have to be a compromise," Ahn says. "Certain products have been lazily designed, they've just substituted materials out instead of rethinking the product journey itself. You can make a product more sustainable by looking at production or the disposal route; it's wider than what the consumer sees."
Planera's approach is interesting — but until its products hit the market, the jury is still out on whether it has achieved its goal of creating a superior sanitary pad. From Ahn's perspective, she's keen to see more competition and more consumer attention on sustainable products: it will drive product standards up.
Other businesses are stretching their — and their manufacturers' — product design capabilities to find solutions in other categories. In Denmark, three-year-old business LastObject is creating a suite of personal hygiene products that aim to eliminate the need for cotton buds, disposable tissues and make-up remover wipes.
Meanwhile, a number of companies across Europe have developed new formulations for cleaning products, extracting the water and selling them in tabletised form, with reusable glass bottles so consumers can mix up the solutions as they are needed. To make things even more convenient, companies like Homethings and smol in the UK and Austrian company aer offer refills of their tablets on subscription.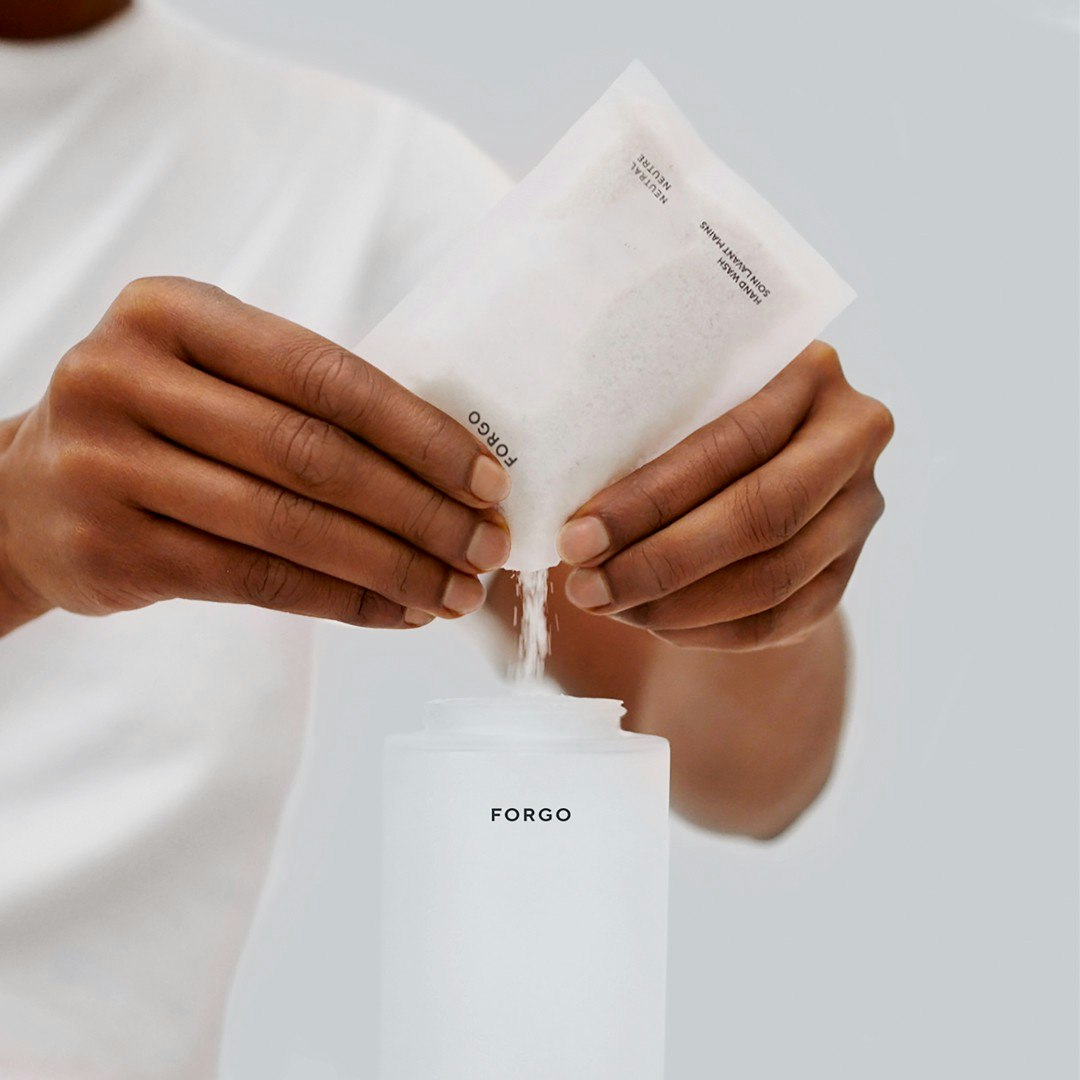 Sustainability that can scale
Approaching product design in this way isn't cheap. While Planera closed a $600k pre-seed investment round in September 2019, it had to develop a working prototype in order to convince investors that its pads were a shoo-in — meaning the company had to spend time fighting it out for grants and competition prizes.
Forgo, a Swedish brand that sells just-add-water cleaning products, has been able to rely on its parent company's support to get off the ground. The brand was launched in February 2020 by Form Us With Love, an agency that takes on industrial design projects to help clients including TetraPak and LG create more sustainable products. 
"Sustainability needs to be aligned with scalability from our perspective," the agency's founder Jonas Pettersson says. "What we try to do is work closely with the industry and look at production and how we can take care of waste or change a toxic material to a non-toxic [one]. That's quite far away from traditional design, but today that's really how you need to work. Coming up with beautiful things isn't enough."
Pettersson says companies should acknowledge that their role is to provide customers with alternatives that are more sustainable, but not to compromise on quality and price. In 2017, the company helped IKEA to create a chair made from waste woodchips — at £70 it is pricier than Ikea's other products, but still not exorbitant. 
"It's hard to change people's behaviours. Businesses are driven by making it as easy for consumers as possible — it's hard to step away from a convenient behaviour to a less convenient behaviour, just because it's more sustainable," Pettersson explains. "We need to design things to be more convenient, less pricey, and then you can really make a big change."
A lot of people talk about being 'green' but that doesn't mean

much.
"It would be ideal if we could change entire consumer behaviours so everything could be reusable," Planera's Ahn says. "But that's simply not possible, there are certain challenges if you are a busy mother or your profession means you can't always be on the go and have a reusable pad to wear." The responsibility to provide workable options, she says, "falls back on the companies".
Companies that pour time and effort into revamping manufacturing processes and creating sustainable products from the ground up, however, do risk their investment not quite paying off. When LastObject launched its reusable cotton rounds in September, some customers complained that the material was scratchy, and that once they'd been washed, they didn't always return to their original shape. Such experiences risk putting customers off trying other sustainable alternatives.
When Planera launches, one of its biggest challenges will be to convince consumers that it's not going to be anything like the sustainable alternatives they've tried before — and that its solution is going to make an impact, even if it is a bit pricier (a pack of 15 pads will cost £6-8 — more than twice as much as a pack of Always).
"How we get that messaging across is something that's going to be a huge challenge," Ahn says, adding that she wants Planera to be able to clearly quantify what the impact of its products are for consumers. "There's a lot of confusion around labels and the language that's used. A lot of people talk about being 'green' but that doesn't mean much."