Investor interest in sustainability-driven startups remains high as the UN's COP26 conference draws closer.
According to Dealroom's Impact & Innovation database, 166 startups committing to at least one of the UN's Sustainable Development Goals (SDGs) raised funding in Q3 2021. That's slightly behind the 175 recorded in Q2 and the 206 recorded in Q1, though Q3's number could end up being higher given the reporting lag.
Over a quarter (28%) of the startups that bagged funding were based in the UK, which accounted for 47 deals. Germany recorded 24 deals and both the Netherlands and Sweden recorded 17. 
The ranking changes slightly, however, when looking at the amount funded. The UK and Germany stay at the top with €1bn and €292m respectively raised by sustainability startups. France, despite recording only 13 deals, placed third with €255m invested.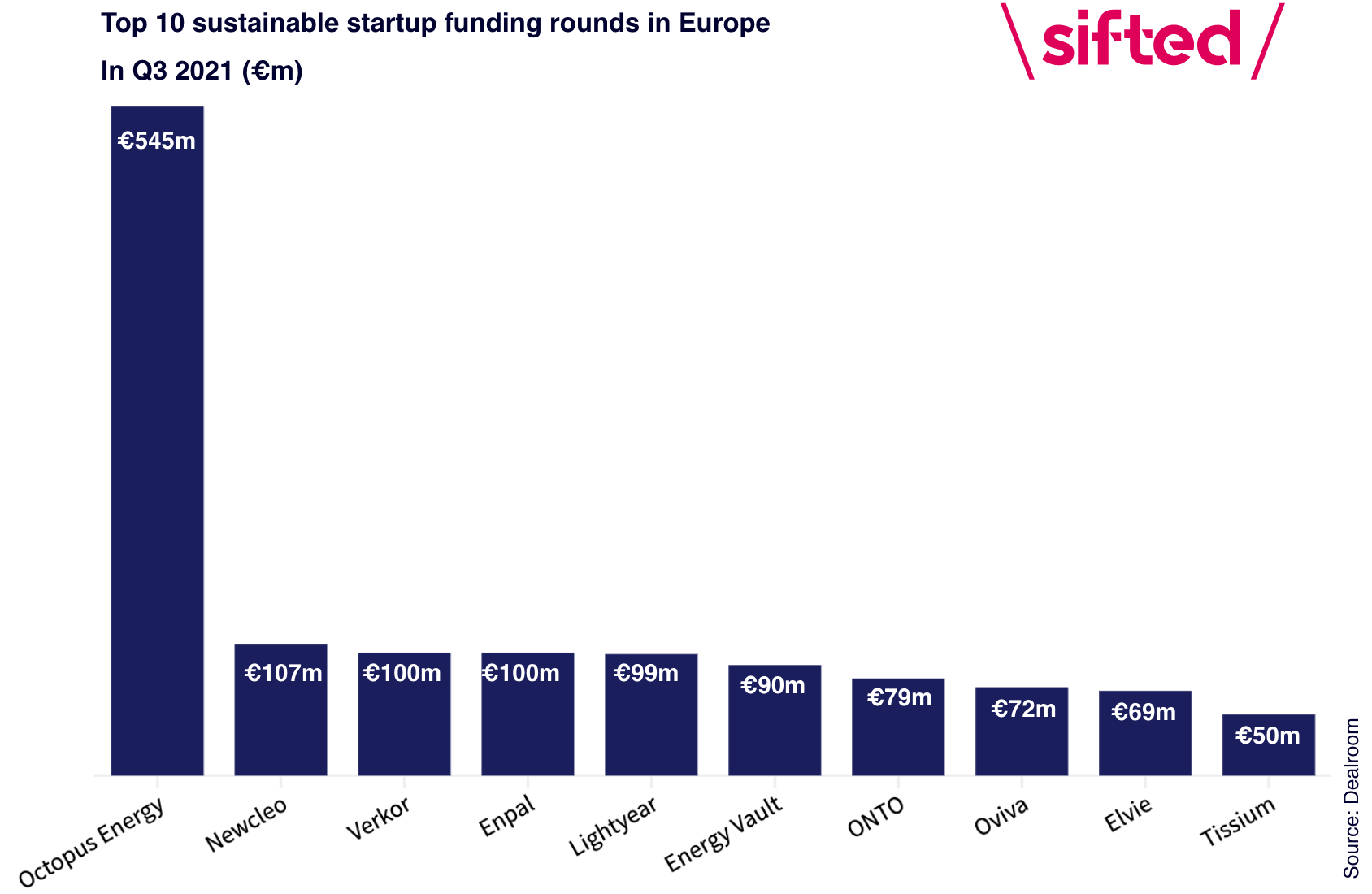 The energy sector was the star of the show, with 86 energy companies (51%) landing deals in Q3. Other prominent sectors included food with 31 deals, transportation with 25 and health with 23.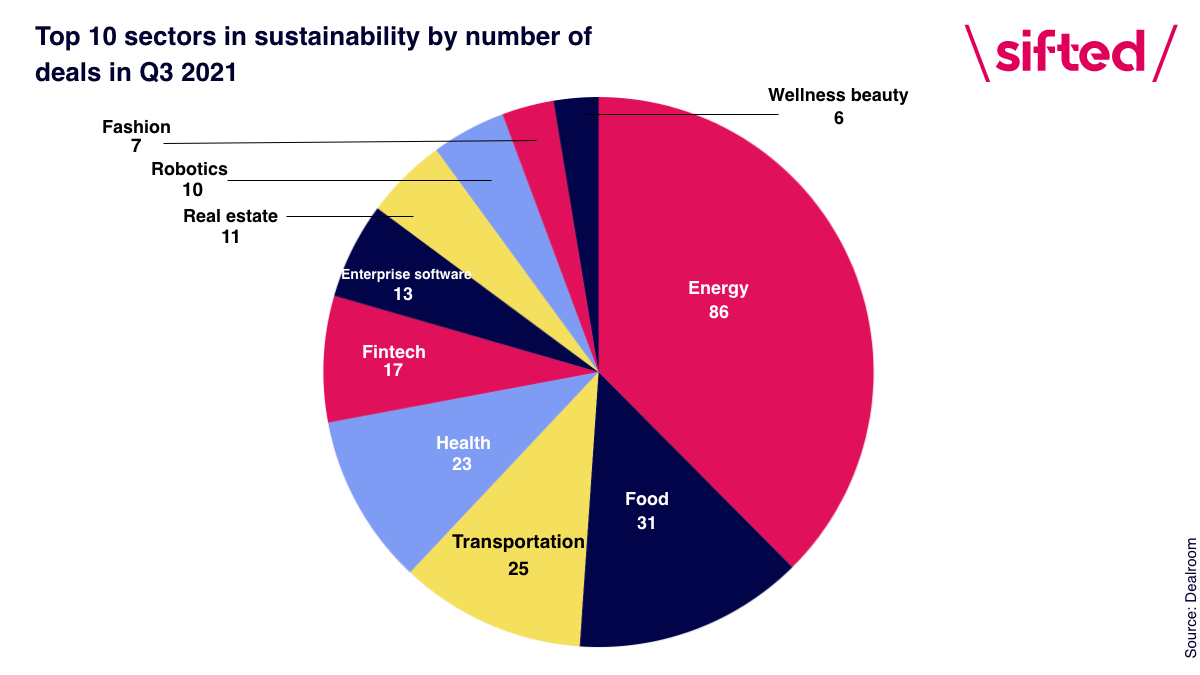 The biggest round of the quarter went to UK energy company Octopus Energy, which raised a €545m equity round.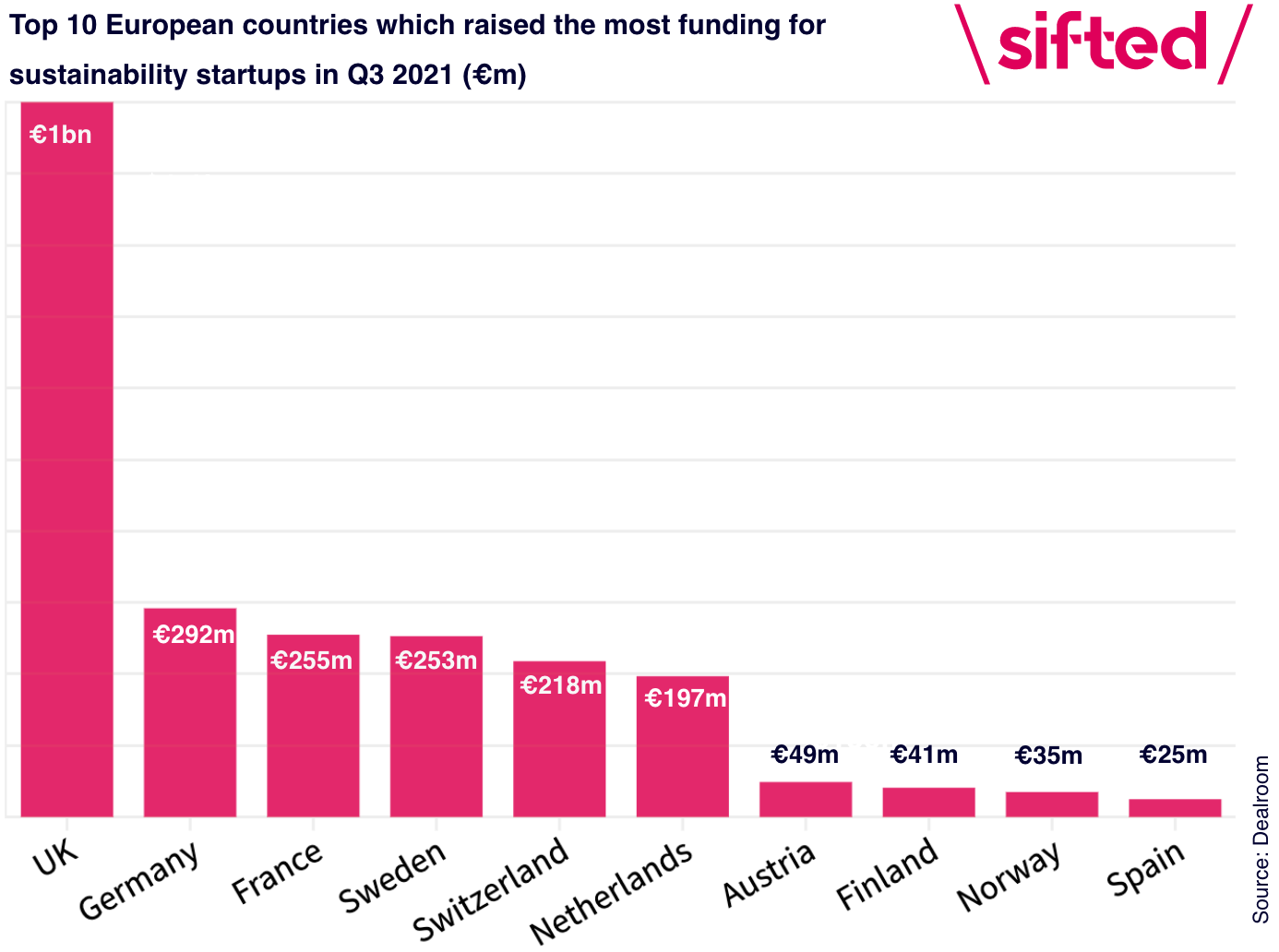 Megarounds aside, Sifted has cherry-picked the most interesting deals of the past quarter. Here they are:
Carbon offsetting/reduction
44.01, a UK and Oman-based startup turning carbon dioxide into stone raised a $5m seed round led by Apollo Projects. The startup uses a mineralising process — where CO2  becomes a solid mineral via a chemical reaction when certain rocks are exposed to CO2  — thus lowering CO2  levels. Read how other European startups are capturing CO2 here.
Swedish startup ClimateView, which has built a tool to help cities model different economies and infrastructures to test how they would contribute to decarbonisation, bagged a €10m Series A round. Despite launching at the start of the year, the tool is already being used in 30 cities and towns in Spain, Canada and more.
Consumer
refurbed, an Austrian refurbished electronics marketplace, received $54m in Series B funding from Finnish VC Evli Growth Partners and US-based Almaz Capital. E-waste is a huge issue — the latest figures show that 53 tonnes of electrical products were thrown away in 2019. One of its competitors — Back Market — raised €276m in May.
Energy
Fintech
Carbon Equity, another Amsterdam-based startup enabling small ticket access to climate funds, raised €1.2m in seed funding from Dutch VC 4Impact. While one usually needs €5m to €10m to invest in top VC funds, Carbon Equity says its platform enables people to invest as little as €100k (and plans to reduce this further).
Food
Fancy a faux fois gras? Gourmey has it. The French alternative protein startup wooed investors like Point Nine and Air Street Capital with its cruelty-free version of the staple French delicacy and bagged $10m in seed funding. Gourmey is just the tip of the iceberg when it comes to Europe's alternative meat market. Get a comparison of the main players here.
Octopus Ventures and Norrsken VC were among the investors which backed London-based startup Collectiv Food at its £12m Series A. Collectiv Food connects restaurants directly with food and drink producers — and claims that its last-mile delivery methods result in 50% less CO2 emissions than traditional methods.
Industrial 
The industrial sector is one of the hardest sectors to decarbonise but Manchester-based Fractory, which raised €7.5m to develop its platform to help industrial businesses simplify their manufacturing supply chain, is hoping to reduce carbon intensity in the sector.
Manufacturing
Calyxia, a Paris-based startup which claims to have developed the first commercially viable biodegradable microcapsules (a green alternative to microplastics), raised $17.6m in a Series A round led by Astanor Ventures. The startup says it can't disclose its customers yet, but does mention that they are top European manufacturers of fast-moving consumer goods like laundry liquids.
Mobility
Swedish micromobility startup Voi brought its total funding to $205m after raising $45m in a Series C extension. The green credentials of escooter startups like Voi has often been questioned — Sifted recently investigated just how well escooter startups are doing in the sustainability department.
VanMoof became the best-funded ebike company on the planet following its $128m Series C, featuring top investors like Balderton Capital and Felix Capital. Amsterdam-based VanMoof saw ebike sales more than triple in 2020 amid the pandemic as consumers shifted towards buying greener products and services.