To visit the new project of Mikko Kodisoja, the cofounder of Finnish gaming studio Supercell, I had to promise to never reveal its location. 
The secrecy seemed over the top for a new movie studio near Helsinki. But then I saw the technology for myself — and understood how it could change cinema forever. 
The idea of Kodisoja's studio is to use new technology to combine the realism of filming on camera with special effects that used to be possible only on green screen.
In most special effects-heavy films today, actors perform with a green screen behind them and the special effects (explosions, aliens, foreign planets and the like) are added afterwards digitally.  
On Kodisoja's set, there is a giant semicircular LED wall where special effects and backgrounds can be rendered in real-time with the help of powerful gaming software and live camera tracking. The actors then say their lines in front of this wall, which means effects can be shot in-camera instead of added in post-production.
I had two dreams. One was to be a game developer, and the other one was to be a

moviemaker
The benefits to this new way of filming are many — not least that it's much more enjoyable for actors to interact with a real background instead of putting on a show in an empty green room. Actors, props and backgrounds are blended in a realistic way, and teams can save money by eliminating or reducing the need to add special effects in post-production. 
The idea of shooting against an LED wall isn't new — in its current form it emerged in the last couple of years, and was used extensively for the first time for the first Star Wars television show, The Mandalorian.
The effects can be breathtaking though, and Kodisoja's studio is at the cutting edge on the tech side and is the first of its kind in the Nordics.
A 30 million-pixel virtual forest 
I arrive at the Fireframe studio, housed in a nondescript building in an industrial park, straight from Helsinki airport. A member of the team leads me straight to the main attraction: the volume. That's what they call the huge semicircle of 1,480 LED panels 18.5 metres long and five metres high, plus an LED ceiling, where the magic happens. The whole volume covers more than 30 million pixels. A wall like this can cost more than $2m depending on hardware and processors.
Right now, the wall is a forest. The shadows and subdued lighting are eerily real, and it makes the busy airport seem a lifetime away. Kodisoja greets me (he's wearing a black t-shirt with the Fireframe logo) and starts to explain as he sips coffee from a mug.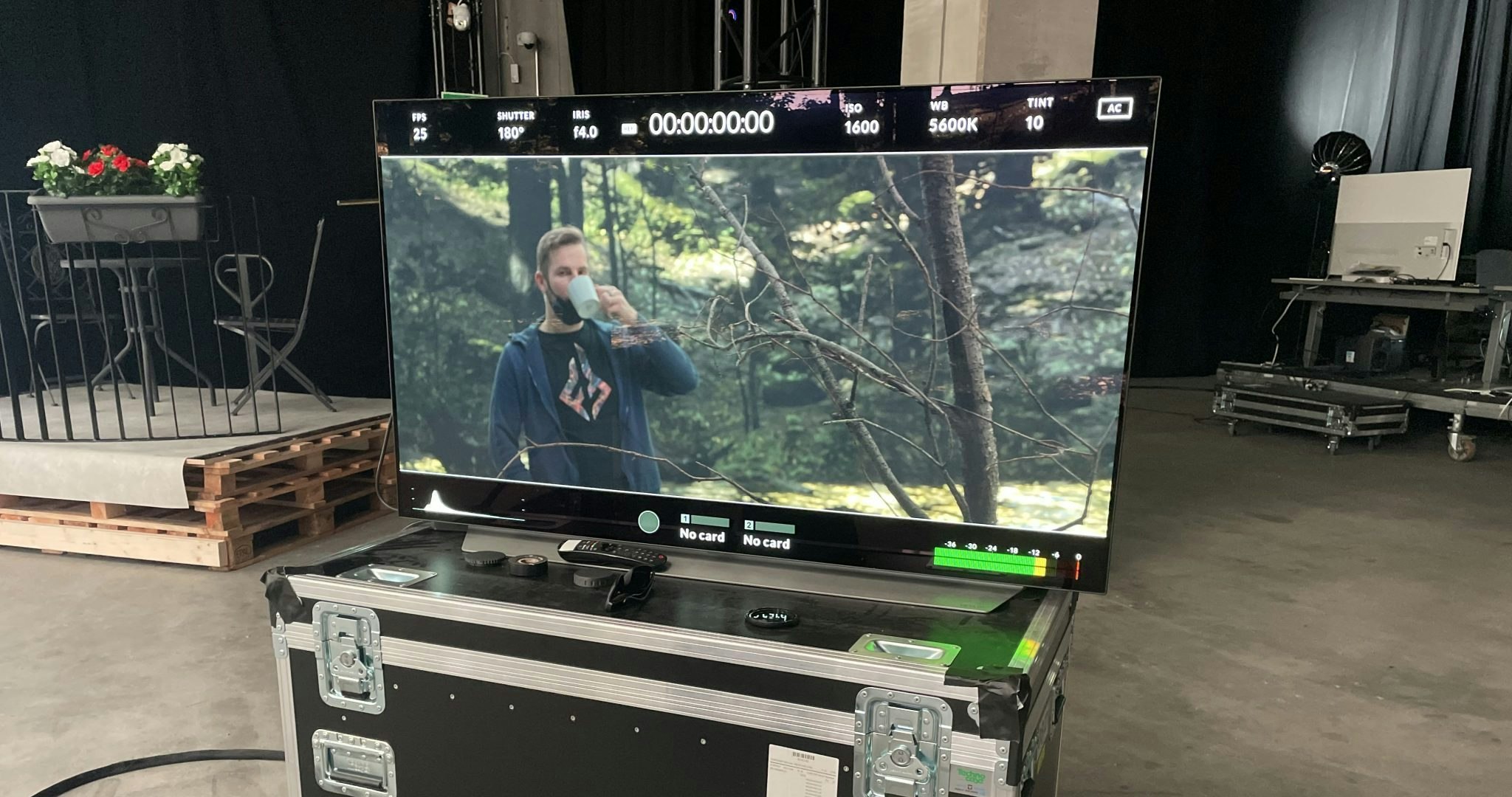 He first points out the 10 infrared cameras situated around the LED volume, all of which send data to track the camera's position in real-time and adjust the LED image to the angle of the camera. That way it doesn't look like a flat wall on film. 
All of this is powered by a game engine; in the case of the forest, it's Unity, but I later see scenes powered by Unreal as well. A team of technicians sitting at a bank of PCs nicknamed the "brain bar" control all of this from off-camera. 
Go close enough to the LED wall and you can see the individual pixels. But slightly blurred behind Kodisoja on camera, it looks like a real forest. Even the fake tree prop that the team have made from sticks in the forest behind the studio looks convincing (they've cunningly hidden the more homemade parts from the camera). 
Second dreams and Paris 
Kodisoja has to take me to Paris to explain why he created this playland. 
One team member uses a pallet truck to wheel over a balcony with two chairs and fake flowers. The scene on the LED wall switches to a golden-hour view of Paris with the Eiffel Tower in the distance. 
"In reality, we'd have a small wind machine here," Kodisoja jokes, ruffling the flowers.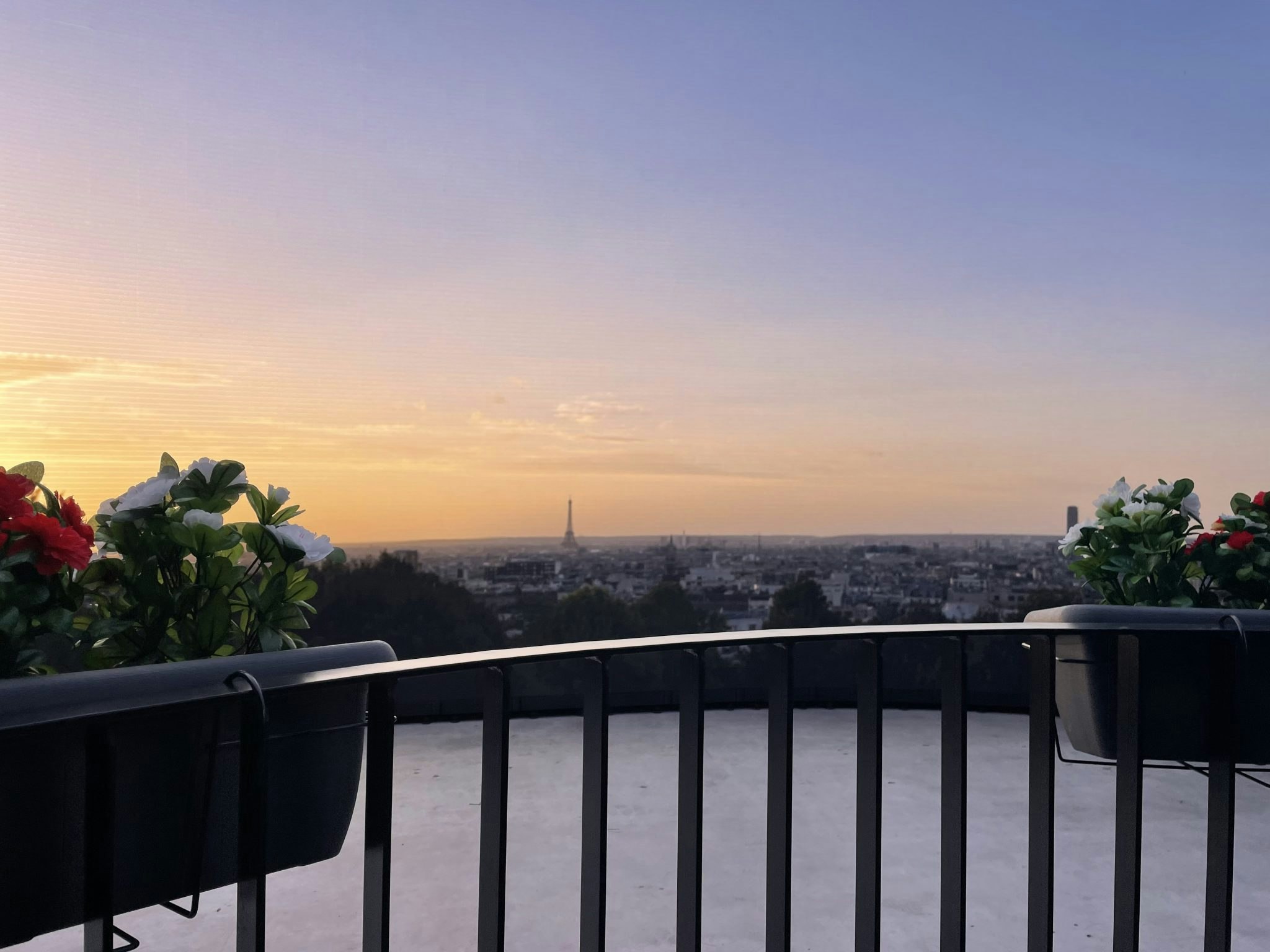 It looks realistic enough to me — especially when I look down at the glass-topped table between us. It perfectly reflects the pinks and purples of the Paris sunset. This is another strength of the LED volume: capturing reflections even more accurately, without the need to add them in post-production. 
"I had two dreams. One was to be a game developer, and the other one was to be a moviemaker," Kodisoja says. "I put the moviemaker dream in the back of my mind, and it was sleeping there for 25 years." 
Kodisoja stepped down from Supercell in June last year, thinking he'd take it easy for a while. But by August, he had rented a space and was already prototyping the studio. 
It's an interesting second career for one of the most successful founders in the first generation of European tech companies. 
In 2016, Chinese giant Tencent bought a majority stake in Supercell for over $8bn. That year alone, Kodisoja's paycheque was over €40m, according to Finnish media, and he's still Finland's top earner. 
Your eye gets trained to notice bad effects from good effects in movies that you didn't pay attention to

before
Other first-gen European tech founders have become angel investors or started venture firms, but Kodisoja's choice to turn to entertainment is also notable. The Nordics have a strong gaming sector, but Europe in general isn't known for entertainment tech. Investors say that's because entrepreneurs and creative industries are not as close as they are in Hollywood. Kodisoja sees opportunity in bringing those two worlds together. 
"You have Slush and the whole startup ecosystem in the Nordic region, and then you have a lot of talent around real-time interactive arts, games, virtual reality and so on. These two combined creates a fertile environment," he says. 
The Fireframe studio is now on its fourth iteration, and the team has grown to 10 full-time employees, a combination of gaming industry and visual effects professionals. Given the pandemic, they've been working mostly in isolation; they haven't visited any other similar studios which Kodisoja says means they have spent their time experimenting in blissful ignorance (including makeshift tree props).  
"I figured if I want to do this, I need to come from outside the industry and start to do it a bit in a bubble, learn the ropes without maybe too much interference," he says. 
Kodisoja says that it has been challenging at times to bring the worlds of moving making and gaming together, but that both sides have taught each other things. For example, game art doesn't require exactly the same quality as visual effects in movies, and Kodisoja says VFX specialists on the team taught him and others with a gaming background to identify really high-quality art. 
"Your eye gets trained to notice bad effects from good effects in movies that you didn't pay attention to before."
Moving mountains
Kodisoja next takes me to a frozen landscape. We look down at a town, its lights blinking underneath foreboding mountains and the neon smudges of the Northern Lights. I know these aren't just any mountains: they can be adjusted and moved in real-time. 
He runs off to get an iPad and show me how directors can see how different props would look in this mountain space. He explains how this completely shifts the workflow from how special effects-heavy movies are currently made. Directors and cinematographers can actually spend more time experimenting in these made worlds before filming, instead of trying to tweak things post-filming.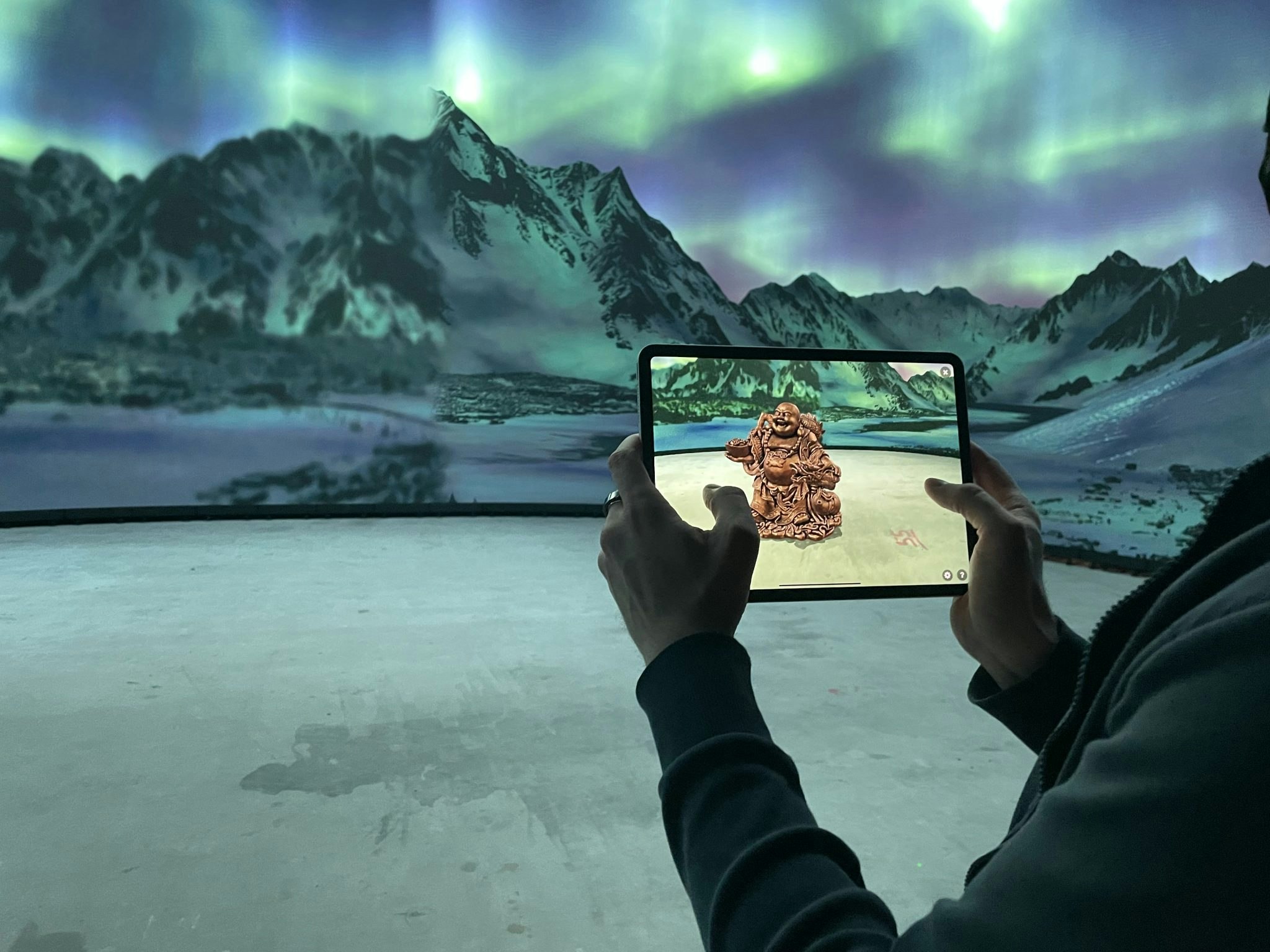 The last scene that Kodisoja demos for me is a graffitied warehouse. He slips on sunglasses to show how the technology enables the capture of reflections. He looks a bit like Neo in The Matrix — one of his professed favourites from the 1990s — and it makes me wonder what that iconic film would have looked like had the Wachowskis had had this kind of studio. 
What's next for Fireframe? The studio has already been used to shoot some commercials and parts of films, but Kodisoja says he wants the studio to be used for longer films. He's also open to other kinds of non-traditional collaborations; game studios have used the space, for example. 
He talks about other fun things this kind of studio could make possible, like placing NFTs in TV series or movies, almost like products are placed in films and series today. That's something that his studio, with closer ties to gaming, could be better at. 
"The collection element is really interesting," he says. "Like if you could then see something that you own in an upcoming episode that will actually increase the value of your NFT." 
The current strategy is to act as a coproducer — supplying everything from the lighting to the virtual production.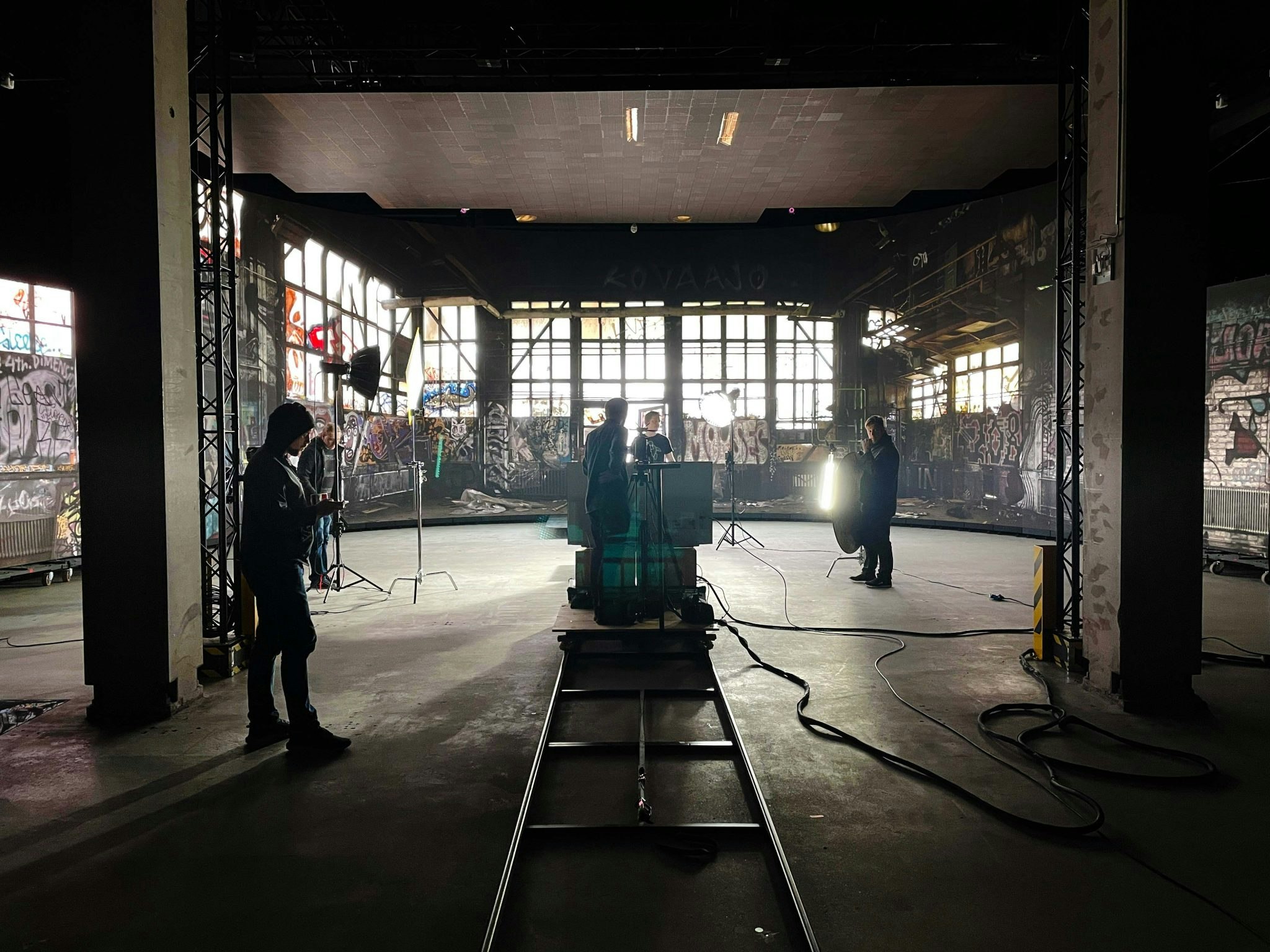 Roughly a year after the Kodisoja started tinkering with cameras and LEDs, the first full-length movie to be partially shot at the Fireframe studio is already in theatres. It's a Finnish action film called Omerta 6/12. Kodisoja took his family to see it. 
But one day, Kodisoja says he wants to create Fireframe's own intellectual property, including movies and TV series. 
"My dream is to make movies and TV series," he says. "And we want to hone our skills to truly become the masters of virtual production."