There's a revolution happening at universities — students aren't quite as keen as they used to be to become lawyers and bankers and management consultants; they want to become founders instead.
A quarter of UK students now run — or plan to start a company — while at university. Collectively, they raked in £1bn in 2019; a 32% increase on 2016. 
Many universities now have accelerators, incubators and other programmes to encourage and support tech startups — and Ana Bakshi, director of Oxford's entrepreneur centre Oxford Foundry, recently called for more to jump on the bandwagon to stimulate the UK's economic recovery.
That's something Creator Fund, Europe's first VC to use student investors, can get behind.
Today it releases its first 'State of Student Startups' report, which takes a closer look at just what student founders in the UK are getting up to. 
The headline findings are promising; startups built at university have more diverse teams than the average, are more widely spread around the UK and are especially interested in innovations in healthcare and food tech, which we all know the world needs more of.
But the Creator Fund's team of 'student investors', which have met with more than 800 startups from 94 universities in the past eight months, have discovered that student entrepreneurs can be a little too self-focused.
"A common theme here is students focusing on their own needs and experiences, rather than thinking about solutions for problems faced by a wider base of consumers," says the report. Many student founders are working on tutoring marketplaces, student housing, student social media platforms and 'Tinder for jobs' apps. 
They're also a little obsessed with artificial intelligence. "Another [theme] is the promise of AI to solve everything without enough substance to show it works."
Still, that hasn't put off Creator Fund. The VC, which is wholly backed by startup builder Founders Factory, has invested in four companies so far. It's closing a further two deals and will be expanding its network to include Dundee, Durham, Birmingham, Cardiff, Southampton and Queen's University Belfast from September.
It also has "students on the ground" in Stockholm and Paris. "Our vision is to be the best partner for any student looking to build a company in Europe," says the team, which is raising further investment at the moment.
Here are the report's most interesting findings:
1) 43% of startups have a BAME founder and 40% have a female founder

Student startups have more diverse founding teams than startups in the UK in general; 40% have at least one female founder, while 43% have at least one founder from a black, asian or minority ethic (BAME) background. 
That suggests that BAME students are more entrepreneurial than the average, as they make up just 21% of the student population.
The most diverse teams are at Oxford and Cambridge, where 61% of teams have a BAME founder. Oxbridge also has a higher percentage of PhD students getting the entrepreneurial itch; 53% of startups founded at Oxford and Cambridge have PhD students as founders.
2) 57% of UK university startups have an international founder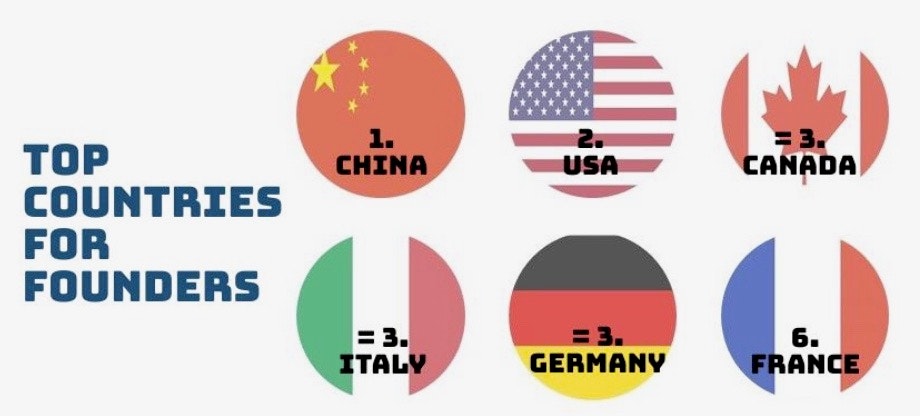 International students appear to have a fondness for entrepreneurship. 57% of startups founded at UK universities have at least one foreign student on the founding team, while international students account for 19.6% of the total student population. 
26% of university startups have a founder from the EU.
3) 38% of student startups are founded at London unis
London might be the biggest hub of startup activity in the UK in general, but when it comes to startups begun at university, it accounts for just 38%. 
Cambridge tops the chart for entrepreneurial activity from Creator Fund's perspective, which has interacted with 71 startups in the city, followed by Imperial in London with 50 startups and Oxford with 48. Overall, London, Oxford and Cambridge — known as the 'golden triangle' — account for 60% of student startups.
Scotland is pretty entrepreneurial too, producing 15% of student startups, despite having a student population of around 242,000 (which is just over 10% of the UK's student population of 2.38m).
There are regional trends, too. Scotland, Oxford, Cambridge and London see the most healthcare startups founded, while the Midlands has several sport tech startups and the North and Yorkshire show an interest in manufacturing and energy.
4) 16% of student startups are in healthcare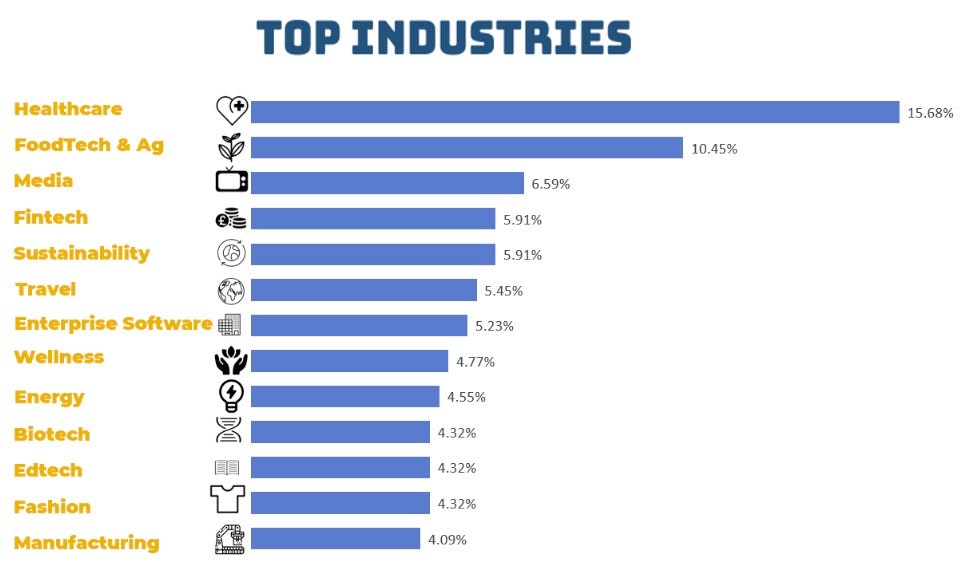 The sector du jour — healthcare — is a favourite with students too. 16% of university startups are in healthcare, while 4% are in biotech. Notably, this report doesn't cover university spinouts — which also include a high percentage of healthcare companies.
Food tech and agritech takes second place, with 10% of startups founded, followed by media, fintech and sustainability.
Postgraduates are most likely to tackle healthcare challenges; 81% of healthcare founders are studying for masters or PhDs.
5) Postgraduates more likely to be founders than undergraduates
Unsurprisingly, postgraduates are more likely to start a business than undergraduates — many of whom study for just three years in the UK.
30% of university startup founders are undergraduates, while 40% are studying for masters and 26% for PhDs. 
6) Solo founders are rare

Finally, students like doing things together. 
Just 21% of student founders are doing it solo, while 13% of student startups have (a perhaps overenthusiastic) founding team of four. 35% have three founders.
Female founders are even less likely to strike out alone; just 17% of female founders are solo founders.
This article was amended on 27 July to clarify that the number of startups listed for each university are those that the Creator Fund have met with — rather than a definitive list of the companies founded at these institutions.