Alex Mahr is cofounder and managing partner of Stryber, an independent corporate venture builder based in Switzerland, Germany and the Ukraine. Before Stryber, he founded two other startups and has specialised in corporate venture capital and strategy consulting.
Stryber, which began in 2016, focuses on helping clients to launch and create the strategy behind new digital ventures. Mahr sees digitisation as the future of corporate companies and a key way in which they should evolve. Here are Mahr's tips: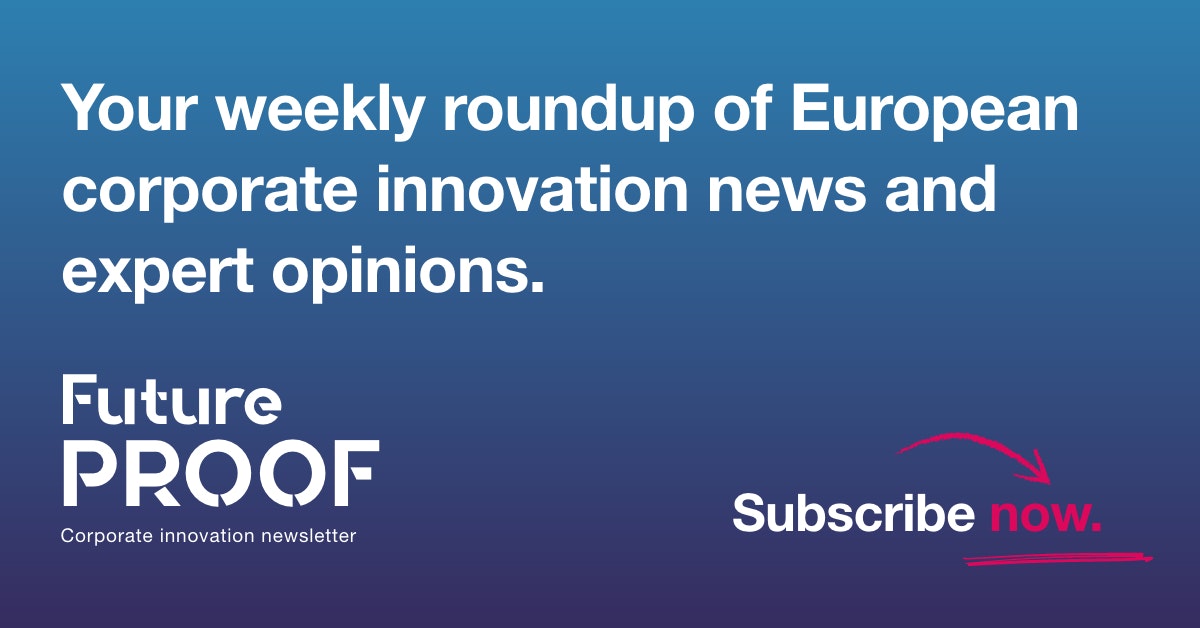 Want the Future Proof corporate innovation newsletter in your inbox every Tuesday? 
How do you define 'innovation' and how do you best describe your job?
Innovation is all too often understood as a creative process. But the focus definitely is not creativity, it is the process. So for me, innovation means the process of thinking and developing new things. Innovation can create value for different levels of an organisation and can touch many aspects of a business.
My job is to create growth and a sustainable future for corporate clients at Stryber. To achieve this, my team enables them to build a portfolio of ventures. These ventures are tailored to follow the respective corporate strategy and designed to fulfil that specific growth target.
What do you think will be the biggest threat to Stryber in the next five to 10 years?
If I only focused on threats, my life as an entrepreneur would be difficult. I tend to believe in challenges that push me to think creatively and that open up new opportunities. But in this sense, it would be a challenge for example to create the right sense of urgency with traditional companies. Digitisation of all industries is a massive opportunity for companies, if done right and quickly. And speed definitively matters. In the current crisis, potential shortcomings are amplified in many industries — take supermarkets, for instance
We have more than 15 years of experience in how not to do

things.
Therefore, companies should seek expert support in this field. Every innovation professional has a different approach, and clients might be overwhelmed with selecting the right one. Stryber is unique in the way that we all have more than 15 years of experience in how not to do things — in strategy consulting, corporate innovation departments, corporate venture capital teams and, most importantly, startups. This results in a solid set of methods, cutting out the nonsense.
How do you think innovation and design companies will differentiate themselves in the next five to 10 years?
Digital transformation can be divided into three problem areas. First, processes: more user-centricity, structured on demand, more cost-efficient and agile. Secondly, people: find digital talents, enable user-centric thinking and a collaborative work style. Thirdly, growth: existing business models come to the end of their lifecycle and new revenue has to be generated.
Many service providers — due to the lack of special expertise — simply offer everything, but I don't think this approach is efficient. I think we will see more specialised service providers providing bespoke solutions to a business's specific needs.
How do you challenge yourself and your team to 'think outside the box'?
We always aim to reframe problems, so we can come up with a set of creative solutions on how to get from point A to point B in the shortest possible way. This set of solutions then are the hypotheses, out of which we test the most promising ones in a data-driven manner.
Sifted Newsletters
Sifted Newsletter
3x a week
We tell you what's happening across startup Europe — and why it matters.
In order to think freely, we have to constantly learn and challenge our own biases based on our experience. Everything develops so fast, you cannot assume that old knowledge is still valid. For instance, in digital advertising, your SEO [search engine optimisation] knowledge is pretty much outdated with Google's next 'Panda' or 'Penguin' update.
What is currently not working in corporate innovation?
Corporates need to evolve their thinking on how to manage and drive corporate innovation. They are certainly not picking up speed fast enough. Innovation takes time to show results, so you have to start early in order to allow yourself to be patient. It is for a reason that a typical venture capital fund has a planned lifetime of 10-15 years to make a return.
By the time a [troubled incumbent] realises that they need to act, they might be very late to the

show.
When you look at the longevity of a troubled incumbent business model, it might be too late to just wait another two to three years. By the time they realise that they have a substantial problem and that they need to act, they might be very late to the show.
Too many corporations waste their time with what I call "Corporate Innovation Theatre" (Professor Steve Blank coined this expression). It refers to innovation programs that are not specifically designed to show any measurable impact on company results.
What advice would you give to a new head of innovation — what do they need to get right from day one?
I would say that a new head of innovation has to use his or her first 100 days to put a program in place that builds the groundwork for the execution. The plan should be result-driven, measurable and tailored to the specific company and situation in order to make an impact.
One important mission that ties to the program is to back it up with serious budget commitments. Innovation doesn't come cheap. With all this in place you have to deliver results; after two to three years the first tangible outcomes need to happen otherwise stakeholders will question your work. But, above all, avoid all the myths about corporate innovation.
What book has been most helpful to you in thinking about corporate innovation?
Literature can help significantly in establishing thinking in first principles. So, here are some basic reading recommendations for corporate innovation:
The Innovator's Dilemma by Clayton Christensen explains very well why corporates suffer inertia and can be hit hard by innovation. For corporate innovation, this is essential to understand.
The Four Steps to the Epiphany by Steve Blank provides a beginner's guide on how to think about customer-centric innovation. This book laid the foundations for a lot of literature on lean startup and customer-focused methods.