Street Fleet, a Berlin-based rider platform owned by embattled speedy grocery startup Gorillas, has told its 100+ riders that it's closing at the end of July, leaving many of them jobless. 
Riders tell Sifted that they're unsure whether they'll be paid all the money they're owed by Street Fleet. The platform — which provides riders to Gorillas and other Berlin-based delivery companies such as Delivery Hero — has been accused of failing to pay riders for up to three months, which led to protests in Berlin over the weekend. 
Gorillas says that it has offered to hire a "sizeable number of Street Fleet riders into its own crew" but has not specified how many.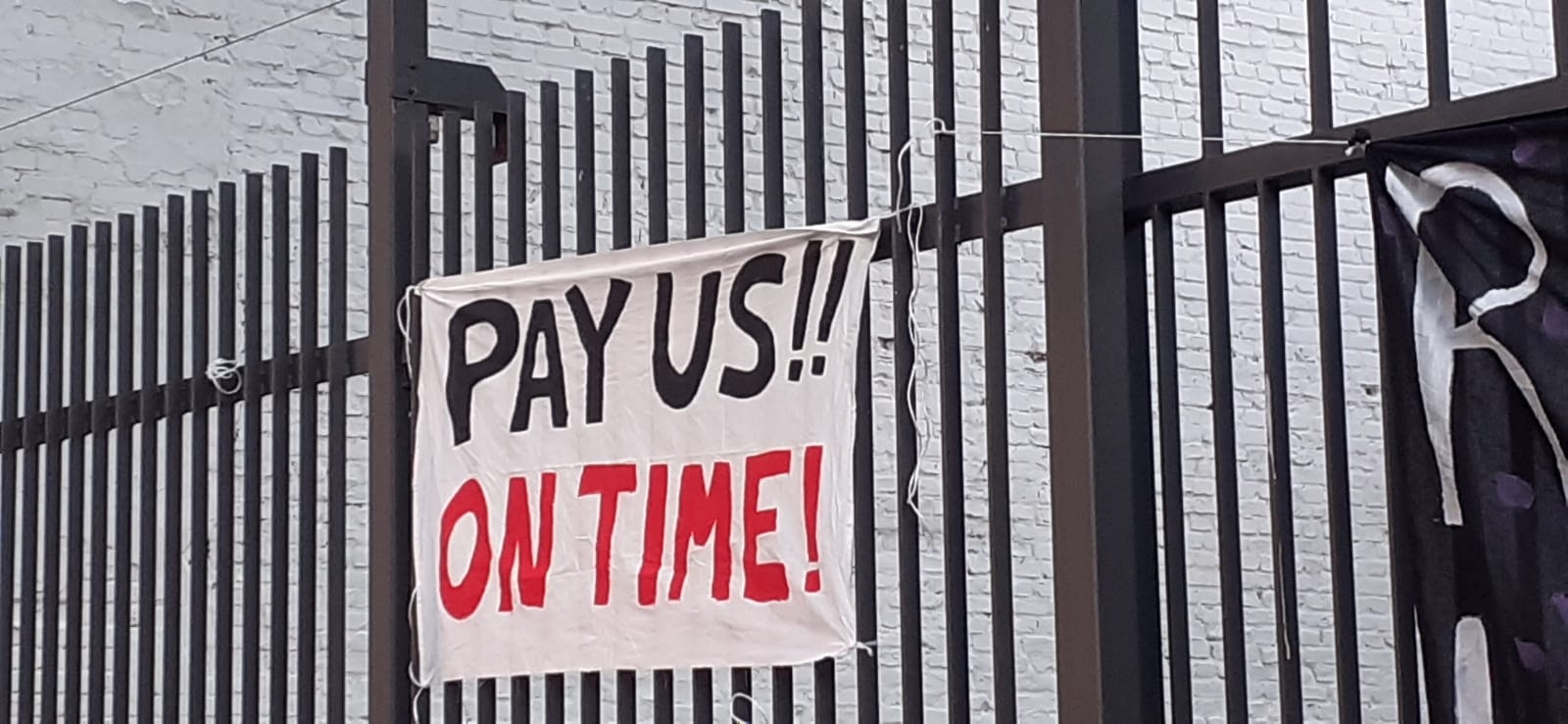 The closing of Street Fleet is the latest sign that Gorillas, which shot to unicorn status within nine months of launching and has raised over $1.2bn from VCs, is struggling amid changing market conditions. 
Two weeks ago Handelsblatt reported that Gorillas was struggling to raise fresh investment, and that the entry of a "strategic investor" or a sale to a competitor could be on the cards. Gorillas also recently lost two of its most senior HR executives, pulled out of Belgium and closed its main distribution centre in the Netherlands. 
Gorillas, which owns 100% of Street Fleet's shares, according to documents seen by Sifted, says this is all part of a company refocus: "Following Gorillas' recent change in strategic direction from operational activities to a focus on its five core markets and brand, combined with growing market uncertainty, Street Fleet has had to announce the folding of its operations." 
The company didn't comment on its fundraising plans, but tells Sifted that it has a "healthy run rate".
Missed wages
Street Fleet came under fire last week from riders, some of whom claimed they weren't paid for their work for up to three months. 
Sifted Newsletters
Startup Life
Every Wednesday
How (and how not) to run a startup.
Riders at Street Fleet are employed on contracts guaranteeing them a set number of hours: some work full-time, some part-time and others have so-called mini-jobs, where the maximum monthly salary is €450 a month or the maximum workload is 70 days per calendar year. They are not "gig" workers.
In the case of the missing payments for May — which should have been paid out on June 15 — riders said they alerted Street Fleet to the problem immediately, but payments only started to be made to riders from June 29. 
Five days before that, Fleet Street employees were told via an email that the company had attempted to make another "payroll run" and had "successfully completed about half of the remaining payments" for the month of June alone. But, the email claimed, errors in personal data had prevented the rest of the payments from going through.
I also haven't received my bonus for over three months now — but I don't even bother to chase it up anymore as I know that it has no

impact
The company added that it would issue "an advance payment of 60% of the missing salary" to those who hadn't been paid. According to 10 riders Sifted spoke to, some were paid the 60%; others were paid nothing. 
Asked about the late payments, Gorillas tells Sifted: "Street Fleet's payroll was, until this incident (with wages this month), in the hands of a subcontractor, who made a serious error in the processing of Street Fleet's riders' wages." Neither Gorillas nor Street Fleet would explain why it took up to three months in some cases for the problems with payments to be recorded, measured and acted on.
Complaints over delays in pay have been lodged against Gorillas in the past. Last June, when rider protests erupted in Berlin over poor working conditions, one of the key demands was for pay to be fair and on time — but riders tell Sifted that problems with late or missing payments persist.
A rider, who prefers to remain anonymous, tells Sifted that she's in a WhatsApp group of 15 riders that was specifically set up to share information about how to address payment issues with Gorillas.
"Earlier on this year, during March and April, I was not paid my salary due to payroll issues — which was really hard considering I'd just moved to Berlin from South America," she says. "I also haven't received my bonus for over three months now — but I don't even bother to chase it up anymore as I know that it has no impact."
Gorillas says that it's been improving its payment processes and that now only 1-3% of payments have discrepancies.
Unprofessional HR
The payroll problems aren't the only HR issue that riders have encountered at Street Fleet. Seven riders tell Sifted that they still haven't received payslips for the last two months — a legal requirement in Germany. 
Sifted understands that Street Fleet riders should be able to access their payslips through the ADP (Automatic Data Processing) payroll system used by the company. But four riders tell Sifted that they were still asking for access months after they began employment with the firm. 
As a result, while most riders have now been paid for the month of May, they're unsure whether they've been adequately compensated for the missed payments prior to that month — or, indeed, whether payment problems will follow. 
"I think [the salary is about right] but I don't know. I don't have access to the ADP portal so I won't know until I've seen a payslip," says Pearl, a rider from Asia who's been living in Berlin for more than a year. She does not want to give her real name for fear of repercussions from her employer.
"I am not sure whether they will pay us on July 15 for June. They have already paid so late for May with hundreds of excuses," a rider, who did not want to give his name, says. "It's been chaos in the last three months." 
Health insurance is also an issue. Three riders who were employed full time at Street Fleet tell Sifted that they haven't been given health insurance since they started at the company. In Germany, employers are legally obliged to subsidise the health insurance of full-time employees. Individuals that don't have adequate cover can be fined up to 14 months of contributions at a maximum of €639.38 per month.
In an email seen by Sifted, where riders complained to Street Fleet about the lack of insurance cover, the company said that employees had not provided the correct information and paperwork needed to set up their health insurance with insurance providers. 
Street Fleet didn't elaborate on what the possible issues could have been with employees' health insurance, but said: "We have done and continue to do everything necessary to comply with all legal requirements. This obviously includes application for mandatory insurance."
Street Fleet closing
Internal emails seen by Sifted state that Street Fleet is closing on July 31 — and riders are questioning whether they will receive all the money they are owed. 
"They've said they're going to shut down at the end of July," says John, a rider who moved to Berlin from southern Europe less than a year ago. "Even when the company is still active, it's difficult to find someone to talk to. You send an email and then there's a delay."
If they're shutting on July 31, how is the August 15 payment going to be

made?
He adds: "We have two payments  — one for June and one for July — that are supposed to be paid the following month on the 15th. But if they're shutting on July 31, how is the August 15 payment going to be made? We're not able to get any information about this. And what happens if they don't pay us then?"
Street Fleet tells Sifted that the closing of the company "is not connected with the payroll issues. All riders will get fully paid until their individual contract ends. We truly regret the situation for our riders and were very open and transparent with them."
For three Street Fleet riders, the unpaid wages have left them approaching destitution, and they worry about finding new employment soon. A rider named Rose, who works for the company with her partner, says: "I asked [Street Fleet) to have at least a Gorillas coupon; they never answered me. With my boyfriend, we literally have €10 in our account, so we had to ask a friend for money to pay rent."
Gurdeep, another rider, tells Sifted that his family sold their home in India for him to come to Germany for his education. His student visa is about to run out — and without one, he cannot apply for another job. 
"Once it expires, I cannot go out of the country, I cannot apply for other jobs. And now, I've been fired from this job," he said.
"I have already paid my rent for next month. After that, I have no clue."
A new rider platform
Two riders tell Sifted that when they applied for jobs directly with Gorillas earlier this year, they were told by email that Gorillas was not hiring in Berlin — but that another company was. The same email, sent to multiple people, reads: "However, a new player in the delivery scene called Street Fleet is currently hiring and offering an hourly salary of €12, flexible scheduling and a signing bonus of €200. Please apply through this link if you are interested in working with them." The email was signed "Your Gorillas Rider Growth Crew".
Now that Street Fleet is closing, riders are being advised to apply for yet another platform. In an email to riders on June 30, Street Fleet recommended that riders apply to Quickzii Delivery, a "third-party logistics company based in Berlin" that is offering part-time jobs to riders.
The email reads: "This opportunity is with another independent employer, not Street Fleet, and is not a job guarantee. Street Fleet is not involved in the application process or selection of candidates. If selected, you will receive a new contract with the new employer."
An employee from Street Fleet who prefers to remain anonymous tells Sifted that they don't know too much about Quickzii — only that it's looking for riders. Street Fleet management forwarded the advert to its own riders to support them in finding a new job, they add.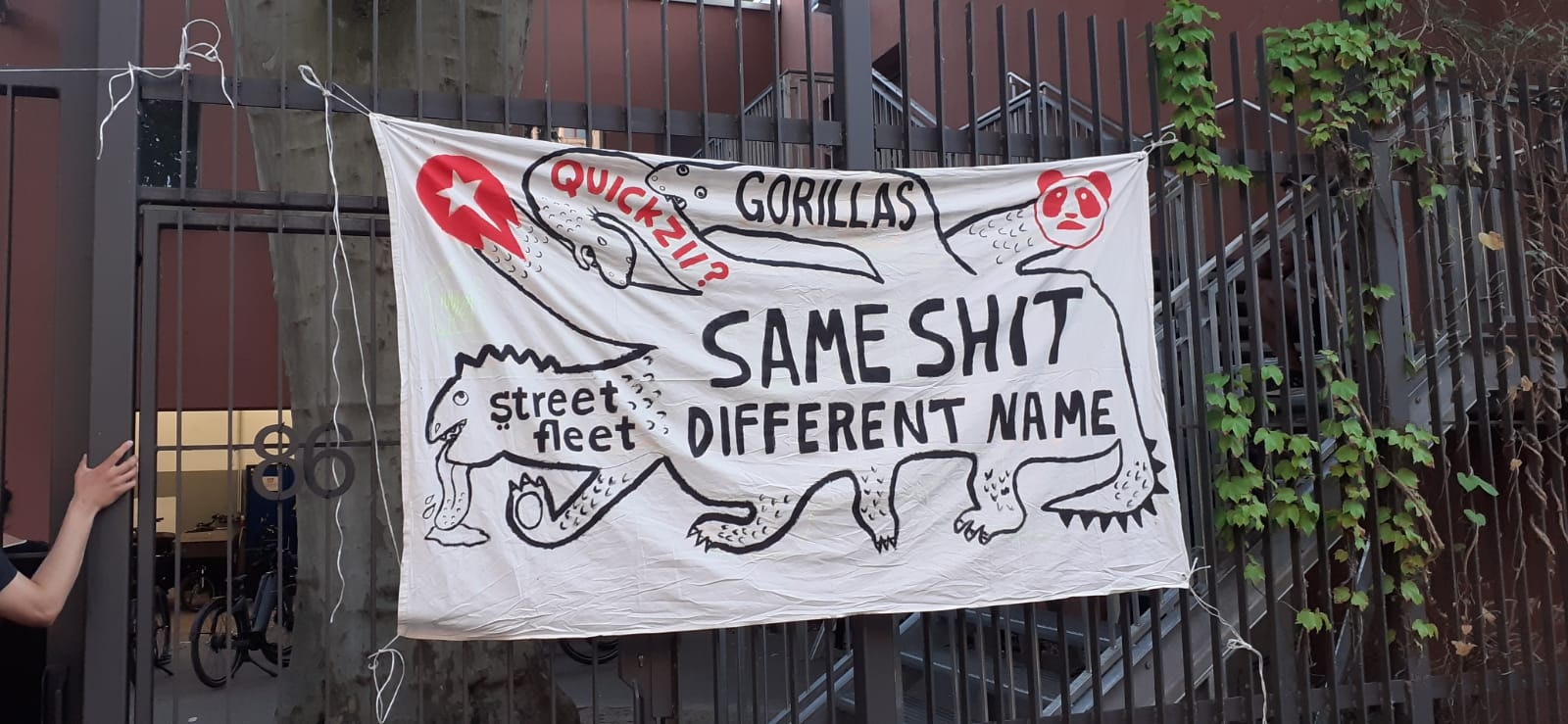 According to government documents seen by Sifted, Quickzii was incorporated on April 28 by Delivery Hero. Its owner is a managing director at Delivery Hero, Parham Jabari, and it has no obvious connection to Street Fleet or Gorillas. 
Many riders of Street Fleet are sceptical about working with Quickzii. At a protest organised by 20 Street Fleet riders on July 2, the group waved a banner featuring a many-headed beast, with each neck emblazoned with the names of delivery companies. Its caption read: "Same shit, different name".
Miriam Partington is Sifted's Germany correspondent. She also covers future of work, coauthors Sifted's Startup Life newsletter and tweets from @mparts_
Pete Carvill is a Berlin-based reporter, writer and editor. He tweets from @pete_carvill