Series A funding is the point where founders consolidate their idea into reality. But as economic uncertainty lingers, the opportunity to access the necessary capital is becoming harder. 
How has the downturn affected investor priorities? Do founders need to be worried about decreasing valuations compared to the post-Covid boom period? And what metrics should founders focus on to present the best possible picture to investors when raising Series A funding? 
We put these questions to our expert panel. Our lineup included: 
Louis Coppey, a partner at Point Nine, a VC firm specialising in helping seed and late seed startups prepare for Series A rounds
Christina Caljé, an angel investor and founder of marketing technology platform Autheos 
Martin Sokk, cofounder and CEO of the investment platform Lightyear
Watch this Sifted Talks here or read about what we learnt: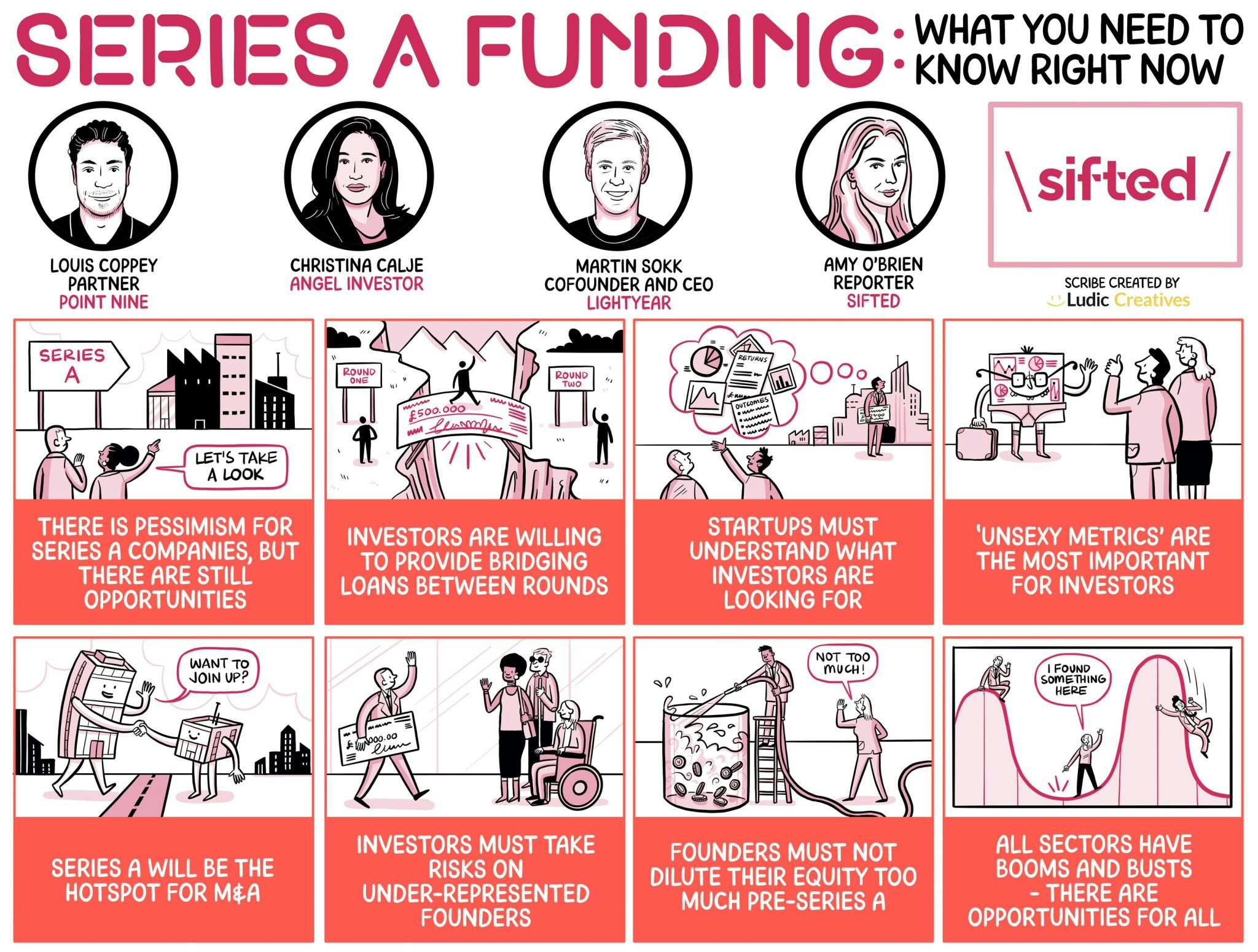 1/ There is pessimism for Series A companies, but there are still opportunities
Coppey started the panel discussion by sharing data from the equity platform Carta. In the first half of 2021, there were 800 startups that raised a Series A round, raising $15m on average. In the first six months of 2023, that number dropped to 300-400 startups, with a mean of $10m raised. He suggested most startups were extending the time between rounds and preparing themselves to seek investment when the market turns. 
Sokk said the general feeling among founders has gone from 'hyper-optimism' to 'hyper-pessimism' since Lightyear raised its Series A just over a year ago. He believes that this presents an opportunity for investors to help viable startups reach the next level. 
Coming from an investing angle, investors should invest when there is blood in the market, because everything's cheap. So today is an amazing time to invest" — Martin Sokk,

Lightyear
2/ Understand what investors are looking for before fundraising
Caljé spoke about the challenges facing angel investors and VCs in today's market. She said that many angels are having to reach out to their networks to help companies with their runway between rounds, but that investors are willing to do so in order to keep their investments afloat. 
Coppey said startups have to assess their viability as a late-stage company much earlier,  taking collaborative discussions with their investors to see if they'll be able to scale, something which might not have happened until a Series B round during the boom period. 
Given this environment, Caljé said it's important for startups to understand the milestones investors are looking for before they seek out Series A investment. 
For Series A you have to think about who are the investors that you want on board. You need to already be having that dialogue six to nine months before you go out to fundraise" — Christina Caljé,

Autheos
3/ 'Unsexy numbers' are the most important KPIs for investors 
Sokk said that the KPIs investors are looking for have changed in the past 18 months. 
He stressed the importance of ignoring 'vanity' metrics — those that indicate potential performance — and instead prioritising the 'unsexy' stats that show how the business is performing today. At Lightyear, these KPIs are active users, customer retention and cost per acquisition. 
If we acquire customers, they don't leave and their accounts are doubling every three to six months, then it kind of shows that the product is there" — Martin Sokk,

Lightyear
4/ Valuations are lower, but that's ok
With companies typically raising less money compared to a few years ago, valuations are also coming down. Coppey said this is increasing the frequency of downrounds too. He estimated around 20% of rounds in 2023 were for companies at a decreased valuation. 
He suggested that this is not a sign of a failing company, but rather an indication of the state of the market. For companies that have to raise a downround, or are entering a Series A round at a lower valuation than they expected after raising seed capital, frank and open discussions with investors are crucial to finding the right path for the business. 
We're about to see the cohorts of 2020 and 2021 go out to raise money against valuations that were very steep. They will either need to perform very, very well in order to justify these valuations or they will need to have these conversations on what's the right valuation for the company now" — Louis Coppey, Point

Nine
5/ Investors must take risks on under-represented founders
Both Caljé and Coppey suggested investors will fall back on their networks for investments during a lean period. This could lead to serial entrepreneurs getting the benefit of the doubt over less experienced peers. 
For this reason, founders from under-represented groups often have to bootstrap for longer, Caljé said. Coppey said that the onus is on investors to still take risks on founders from all backgrounds, and that downturns present a great opportunity to level the playing field.
Like this and want more? Watch the full Sifted Talks here: