Across 2021, at the height of the tech boom, VCs invested $5.5bn into European speedy grocery companies — almost double what the UK government has pledged to quantum computing over the next decade. 
Let's hope the UK government is more successful with its investments — less than two years on, the drive to revolutionise grocery shopping has veered off course.
Many smaller players — and some big ones — have been gobbled up or had to shut their doors, while those still standing — like Flink and Getir — are looking at valuations far below their peaks. 
So what's the state of play for those who remain, and what lies in store for the market?
The remaining players
Getir seems to have won the war in Europe — it's present in more markets than any other remaining European player. The Turkish scaleup snatched hoovered up further market share when it acquired Gorillas, including its operations in Germany, the UK, Netherlands, the US and France. The company is still in the throes of merging the two.
Getir is active in nine countries: Turkey, Germany, the UK, Netherlands, the US, Italy, Portugal, Spain and France — though it filed for a receivership in France last week, following a national crackdown on dark stores. 
Getir was valued at just under $12bn at its last funding round. Business Insider reported last week that Getir has raised $500m in a deal that cuts its valuation to $6.5bn. Getir tells Sifted that this is "incorrect" though it adds that it's "always in talks with its existing or potential investors for new funding".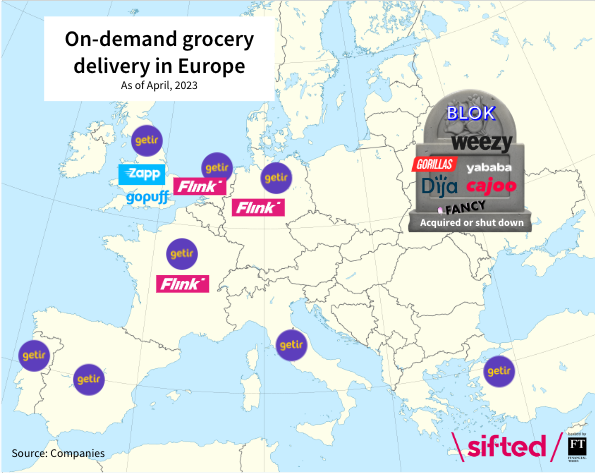 Flink hit €400m in sales in 2022 and expects to be profitable by the end of 2023, the company confirmed to Sifted. The German unicorn is seeking fresh funding but will very likely raise a downround, local media have written.
Flink withdrew from Austria in December 2022 after filing for bankruptcy there, and is active in Germany, France and the Netherlands.
Sifted Newsletters
Sifted Newsletter
3x a week
We tell you what's happening across startup Europe — and why it matters.
Zapp is only active in the UK after withdrawing from France and the Netherlands last year. It has partnerships with UberEats and Deliveroo and its products can be bought via the two marketplaces. 
Last summer, the company scaled down its operations in the UK: it pulled out of Bristol, Cambridge and Manchester and let go of 10% of its staff. It now focuses exclusively on London.
GoPuff, an American company, is only active in the UK in Europe, having exited France and Spain last year. It entered the UK market in 2021 after snaffling up Dija and Fancy and reportedly plans to increase its presence in Europe.
App downloads plunge
A sharp drop in app downloads also shows demand for speedy grocery services slowing. 
Data from Apptopia shows that Zapp has seen the largest decrease (91%) in downloads between Q1 2022 and Q1 2023.
A Zapp spokesperson says the company "does not recognise these figures and has grown 3x in revenue and orders in the last year with very limited marketing".
Getir isn't managing much better: its downloads have dropped 82% in the same time period.
In response to the data, Getir tells Sifted that "the vast majority" of its orders come from existing customers, so it's "much less dependent" on downloads for growth.
The company adds: "This [factor] and decreasing competition naturally leads to a decrease in digital advertising spending in the entire industry. Therefore, it was expected that the number of app downloads would slow down to a more organic level."
Flink says the app data is "not a relevant KPI… as marketing efficiency is our big focus".
Apptopia says that when app installs rise very quickly, as they did for speedy grocery companies in 2021, and then fall so consistently, "it is a sign that the downloads were driven by transactional offers such as steep discounting and/or big app install advertising budgets".
"Both are likely to have mostly gone away, which is reflected in the numbers we're seeing."
Finding efficiency as demand wanes  
Peter Backman, a food delivery analyst, says that while the rapid grocery delivery sector will grow "modestly" — between 5-10% — this year, demand has "reduced substantially" since lockdowns in 2020-21. Most people are happy to go to the supermarket themselves or wait 24 hours for an incumbent supermarket's delivery service, which are typically cheaper and have a wider selection.
The other issue is that restaurant delivery companies — the UberEats and Delivery Heros of the world — are "increasingly getting in on this market, and have been for years,"  Backman says. 
"And they are reasonably well-placed to take up this market because they've already got the infrastructure and the drivers."
This explains why remaining players are doubling down on certain locations and slimming down on dark stores to stay alive. 
Getir has closed down a big chunk of its stores in the UK, which the company says was "inevitable" given the overlap of its store network with Gorillas'. It's also had a trickle of layoffs: 100 employees were cut at its US headquarters in February and further cuts were made this week in the UK as a result of store closures. 
Sifted understands that Zapp's goal is to conquer London, and become the city's leading 24/7 delivery service with a focus on premium products, before launching into other big cities.
Zapp is already operationally profitable, Sifted understands, and the company's next step is to get to group-level profitability. 
Flink declined to comment. 
Consolidate or raise 
Despite the already huge wave of consolidation, investors and analysts say more mergers could be on the cards. 
"I wouldn't put it past anybody in this market to make that big bold move to acquire a player like Getir. But whether it's better to acquire them or let them go to the wall and pick up the pieces that remain is another question," says Backman.
He thinks that the larger players working at scale will suffer more this year than smaller local players — such as Bother, which focuses on delivering everyday essentials and operates exclusively in the UK — as they can operate a more efficient and low-cost model. Though, he adds, he's confident that bigger companies like Getir — which have so far been puffed up by investor cash — will continue to be able to raise funding. 
I wouldn't put it past anybody in this market to make that big bold move to acquire a player like

Getir
"Rapid delivery companies are kept alive by investment," says Backman. "Investors don't seem to be too happy with the outlook at the moment, but they're still prepared to support them… probably on the assumption that one day, one of these companies is going to come and dominate and they want to be invested in that company."
But there are still some founders — and investors — who haven't given up on the grocery delivery dream. Many new players are going back to the original Ocado playbooks — delivery in days or hours, not minutes. Subscription-based models, they hope, will create repeat customers. 
France's La Tournée — which offers a zero-waste grocery delivery service to customers on a day of their choice, instead of on-demand — and Italy's Babaco Market — which offers a flexible subscription for fruit and veg boxes with produce from Italian farmers — both raised seed rounds in December 2022. 
While these offerings do market themselves as being more sustainable — are we simply back where grocery delivery was pre-2021?
Update: April 28, 2023. The article has corrected to say that Getir is in receivership in France, not bankruptcy.