The Blue Zone at Cop26 is essentially the climate conference's VIP section. It's where politicians, scientists, NGOs and activists at the United Nations-managed event hash out the planet's future. 
But there's one group notably absent from this exclusive schmooze-fest: startups. 
It feels like a bit of a disconnect. Sifted readers are used to hearing that the climate tech sector is booming (companies in London alone have raised over $1bn in funding so far this year), so why are young tech companies so hard to find in Glasgow?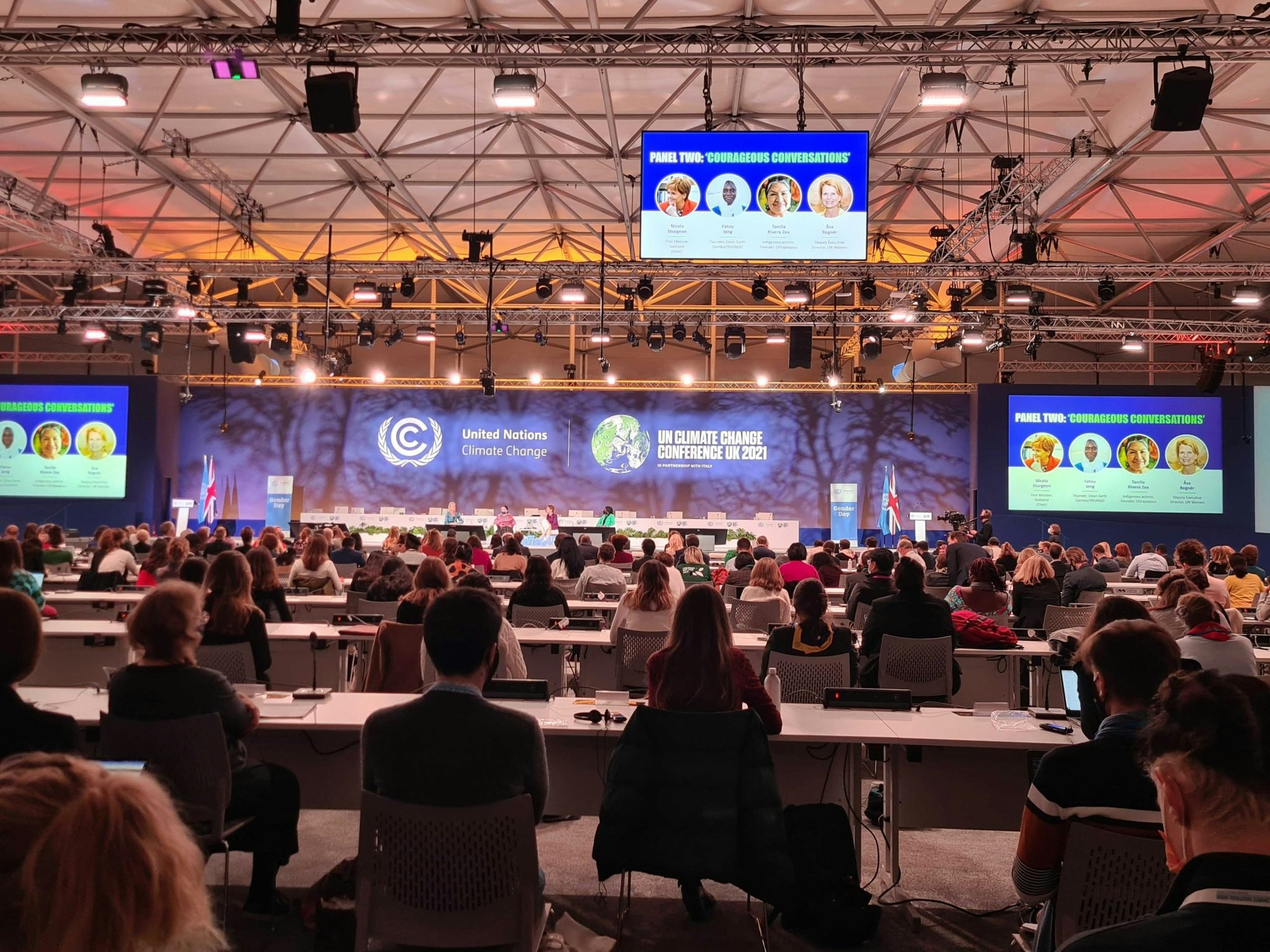 "It's been a hard realisation," Lubomila Jordanova of carbon accounting startup Plan A tells me. She was admitted into the Blue Zone through one of Plan A's advisers but says she's only met a few other founders with a pass. 
"Greentech startups are not invited to the table on which the agenda is set," she says. "This is concerning given that only through the implementation and scaling of technologies do we stand a fighting chance of addressing climate change."
Jordanova says she felt some uncertainty from governments around the solutions the tech community can offer. "We don't have a lot of time left and corporates can seem the safer bet, rather than building an innovative force based around the capacities of startups."
The Green Zone
It's not to say that startup founders haven't headed to Glasgow — many have and are attending fringe events and those held in the Green Zone, which is the part of Cop26 open to the public.
Some startups have managed to get a stall in the Green Zone too — though it's mainly dominated by pavilions run by the corporate sponsors of the event like Quorn, Microsoft, Sky, Sainsbury's, Ikea — even Minecraft. And it's still a sideline event that feels a lot less dynamic than the Blue Zone. 
Sweep, a French carbon accounting startup, was one of 10 startups invited to showcase their work at a Green Zone event, "TechForOurPlanet", in conjunction with the UK government. There were innovative solutions showcased: AI to make commercial buildings smarter, a database of insect biodiversity, earth observation tools and sustainable agricultural systems.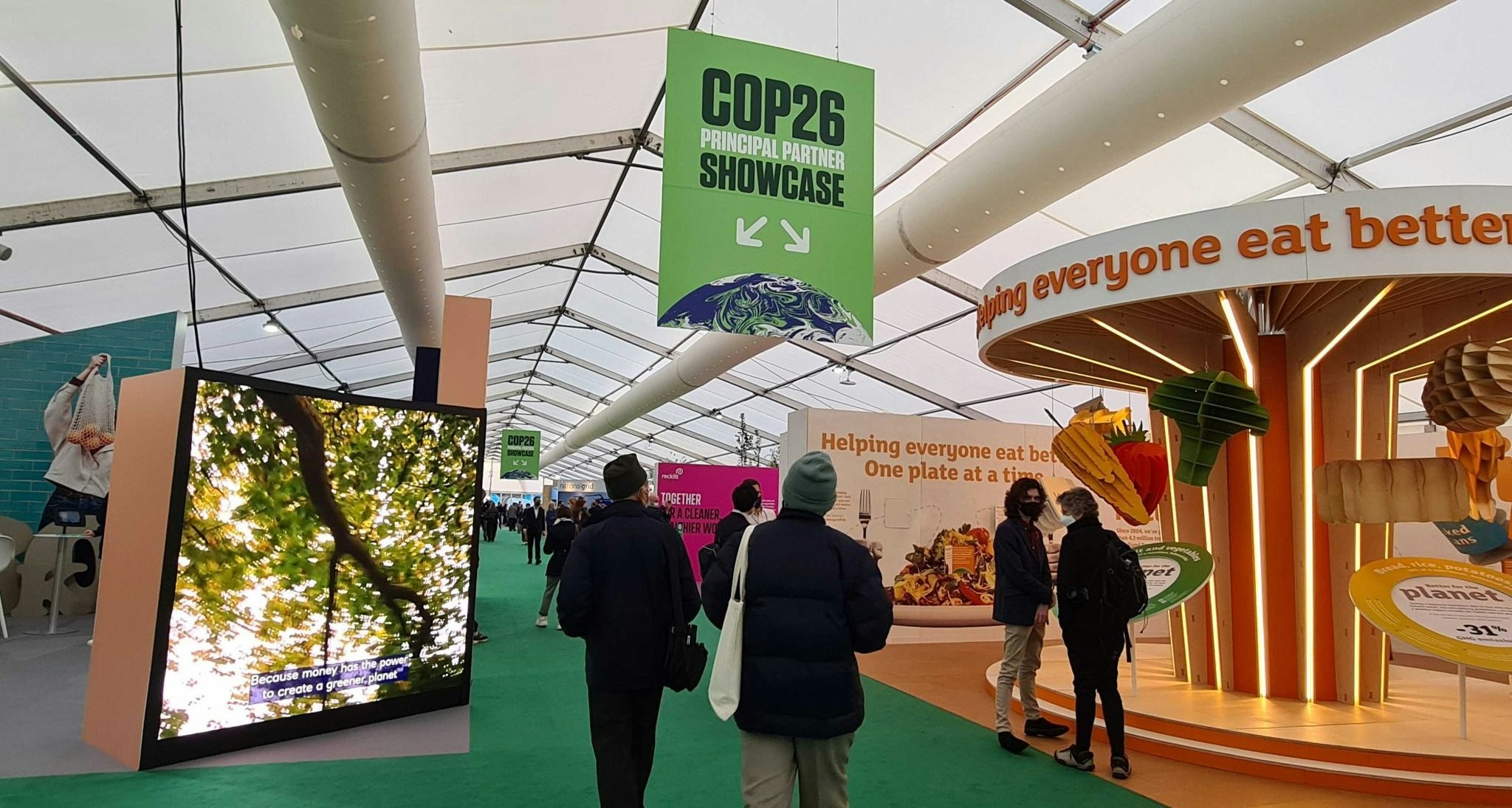 "We were super excited that we got invited to exhibit in the Green Zone, that's a massive win for us," says Raphael Güller, founder of Sweep.
"Going into this, I thought the Green Zone would be the hub where all the countries and big companies were. The reality is not quite like that, the Green Zone is a general festival and it doesn't feel like it's the beating heart of Cop at all."
What are startups missing out on?
So would startups actually want to be invited into the coveted Blue Zone? 
The Blue Zone is about press conferences and open meetings, but it's also about closed-door negotiations between countries and different stakeholders. Many of those talks will result in regulation affecting green tech startups.
"It's incredibly useful to be in the Blue Zone and able to speak to the delegates," says Sam Gill, cofounder of carbon offset rating platform Sylvera. As one of the few founders to get inside, he says it's easy to grab a coffee with a delegate participating in negotiations.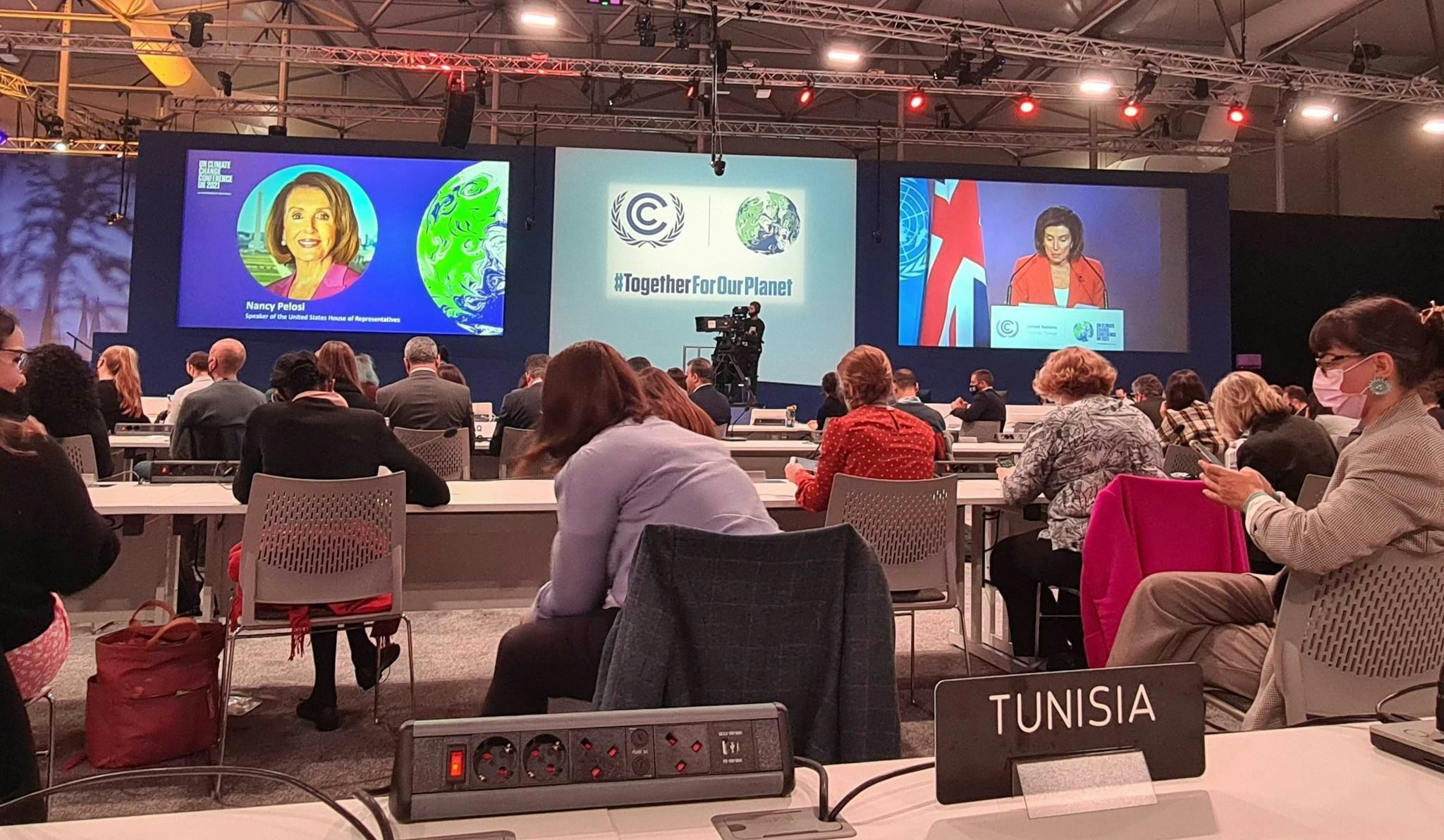 The Article 6 negotiations at Cop26, which will regulate how carbon markets work, are critical to Sylvera's work, Gill says, so seeing how they're developing has been key.
One founder, who's working on a cryptocurrency carbon trading platform and wasn't admitted into the Blue Zone, said his team are waiting to hear certain regulations settled on at the negotiations before they write the code for their platform. 
Corporate lobbying
There's a general feeling that corporates get a seat and have the ears of politicians, despite perhaps not being the most agile or able to bring forward innovative solutions. "The talks are between big old companies and big governments," says Güller. 
"They're really slow to move and I think that's where the energy of startups can come in. There's none of the legacy, and they can bring fresh thinking, that's why I think startups should be a key stakeholder at the table."
"In the non-public parts of Cop, there's a lot of lobbying," explains Renaud Bettin, who's head of climate action at Sweep and was admitted into the Blue Zone. Some corporate companies get "party" status, meaning they're part of a delegation and can go into all the negotiations.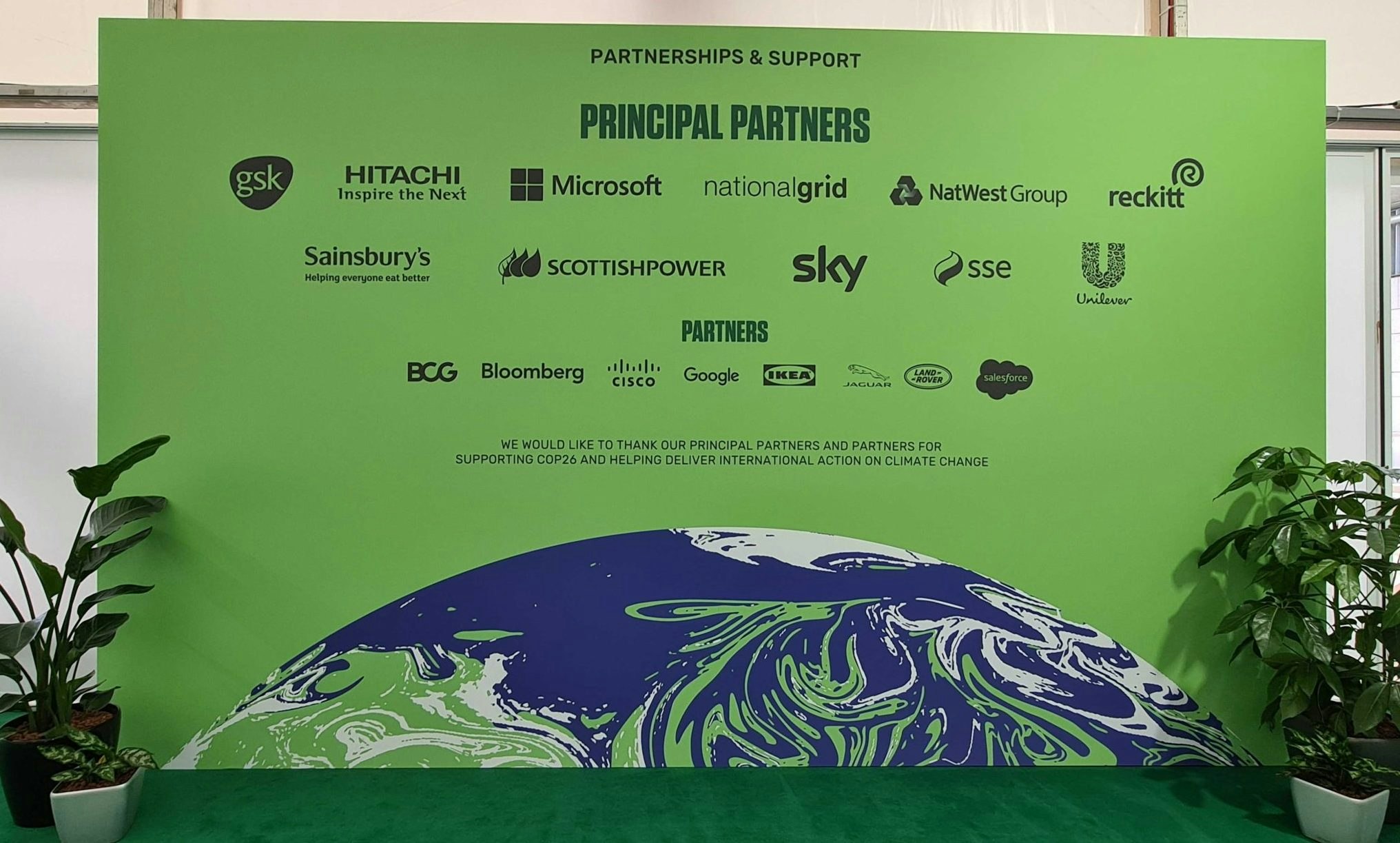 "It can be positive or negative. Companies can lobby based on their status as one of the biggest companies in a certain country, or a company based across multiple countries. They can lobby and say they'll help countries meet targets. You also have the fossil fuel industry there trying to reduce ambition."
It's not in corporate companies' interests to bring startups along with them, Bettin says. "They are afraid of the disruption, and the ambition."
It could also just be an issue of timing. The applications to get into the more exclusive parts of Cop started about nine months ago. A lot of the startups attending now would have been young, pre-seed companies back then, when perhaps attending UN conferences wasn't the highest thing on their agenda.
VCs can't offer enough
Another reason startups don't have a bigger presence in the conference's inner circle might be the scale that startups work on versus the scale of governments. 
At Cop, countries pledge the amounts of money they are willing to put towards tackling the climate crisis — Japan pledged $10bn in climate finance, the UAE $4bn, and Biden touted the climate focus of his $1.75tn social spending package.
This was my first Cop. It was about understanding the mechanics. I feel like, going into the next Cop, we'll know a lot more about how to play the

game
Those figures that dwarf the amount of money going into startups. Last week, the World Fund announced Europe's largest ever climate-focused fund, worth €350m — enormous for VC, but tiny compared to the amounts countries are pledging. 
Plan A's Jordanova says she's got the feeling from Cop that corporates seem like a safer bet for countries looking to fulfil their climate targets. And if countries award their huge climate spending budgets to large corporate companies, VCs can't give enough to bring startups up to the same level where they could compete for future contracts.
Future Cops
For a lot of startups, it was their first time attending a Cop. There's hope that by the next one in a year's time, more will have learnt more about how it all works and can use that knowledge to their advantage.
"This was my first Cop," says Güller. "There's a new cohort of startups that are starting to enter this space and this was our learning Cop. It was about working out how it all works and understanding the mechanics. I feel like, going into the next Cop, we'll know a lot more about how to play the game." 
But even if startups are able to gain access, is it really all that fun to be in the most exclusive conversations?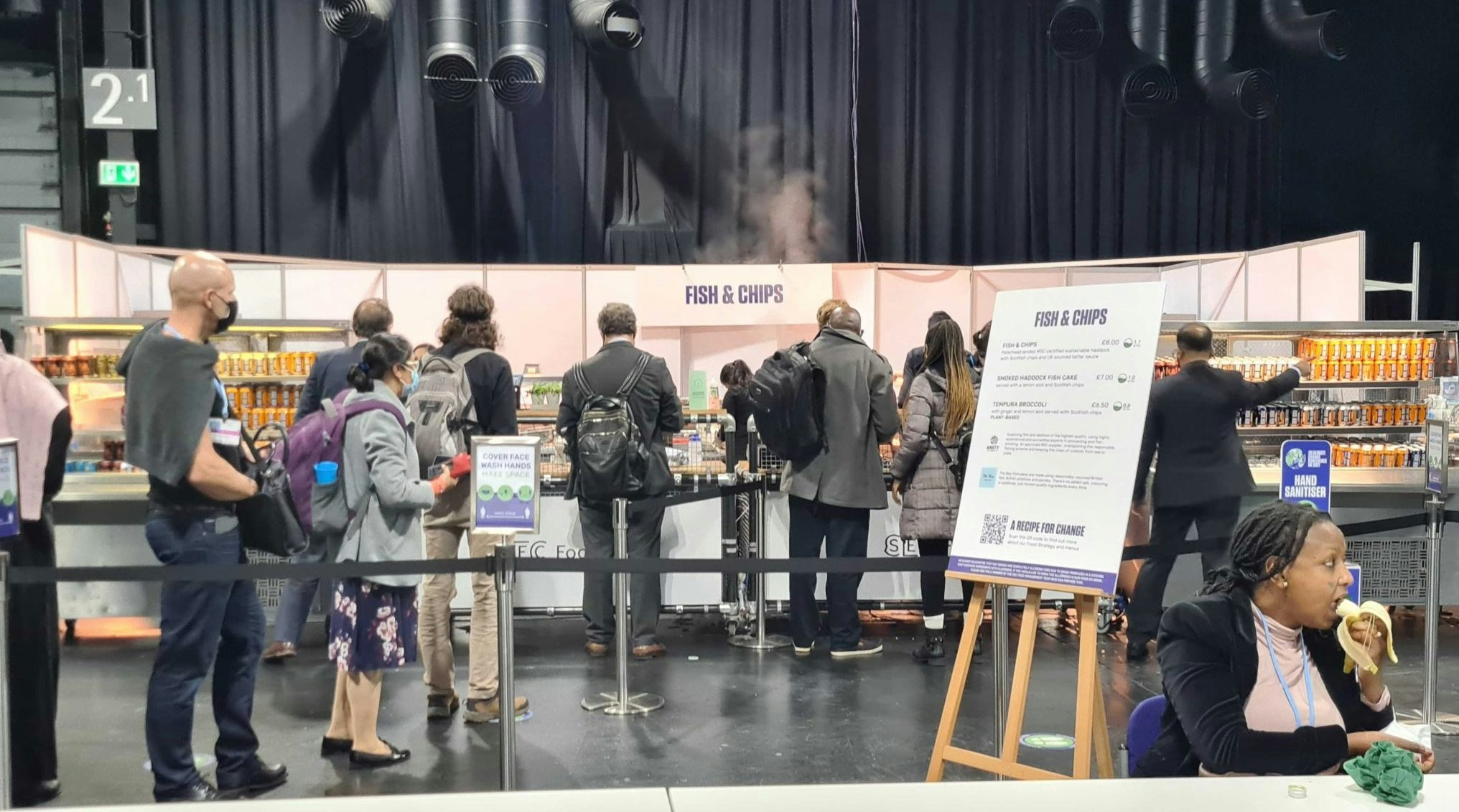 This year, delegates to the Blue Zone had to do a lateral flow test each time they entered, which meant joining a crowd of men in suits poking testing sticks into their noses in the lobby of the hotel next door.
And once inside, the food was positively vile. Options include a tiny pot of ramen with beetroot floating in it for £8, fish and chips, haggis, vegan haggis or haggis pizza.
"It's all pretty grim isn't it," one attendee told me, "but at least we haven't got food poisoning like in Marrakech."