Salary expectations have dropped for startup roles in London in almost all departments, apart from data science and business intelligence, according to data from job platform Kandidate.
Kandidate chief executive Alex van Klaveren isn't surprised by the data: "This year, many startups have made layoffs, staff have been furloughed and for some revenues are lower than expected." 
But he thinks salary expectations will start increasing in spring next year as the UK starts to recover. 
Here's what else you need to know about London's startup job market in late 2020.
1) Data scientist salary expectations up 30%
Salary expectations for startup candidates in data science and business intelligence soared by 30% between January to September 2020. For roles in operations, strategy, finance and HR, expectations dropped by 15%.
Marketing, community and PR has been the most impacted department, with a 24% drop in salary expectations.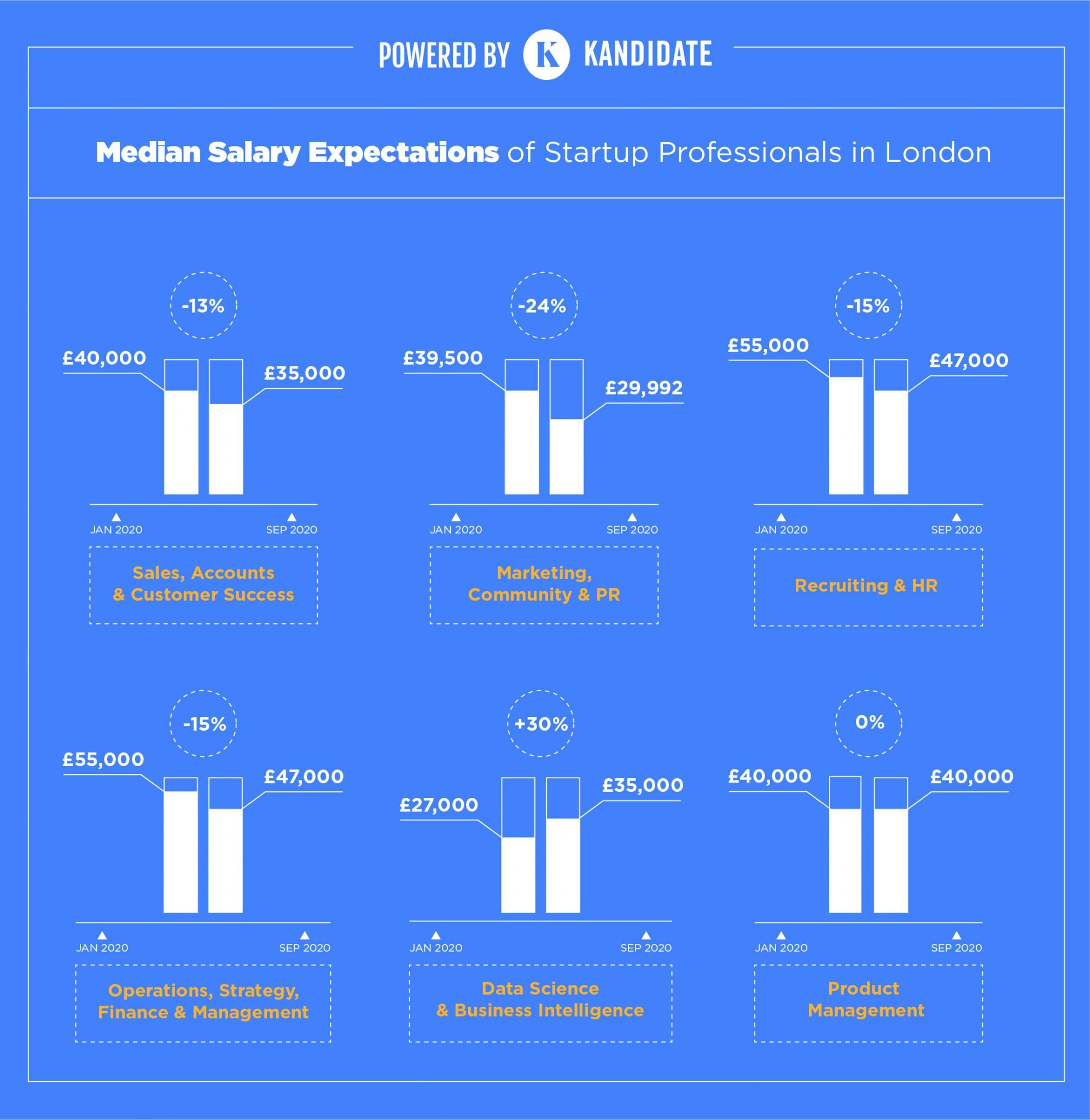 2) Experienced sales people get the most moolah
The median salary for an experienced data scientist at a London startup is now £65k, but the top three highest paid roles are in sales, operations/strategy/finance and product.
Someone working in sales with more than 10 years of experience expects a salary of £115k, including commission, according to Kandidate's survey of 15,000+ startup professionals in London.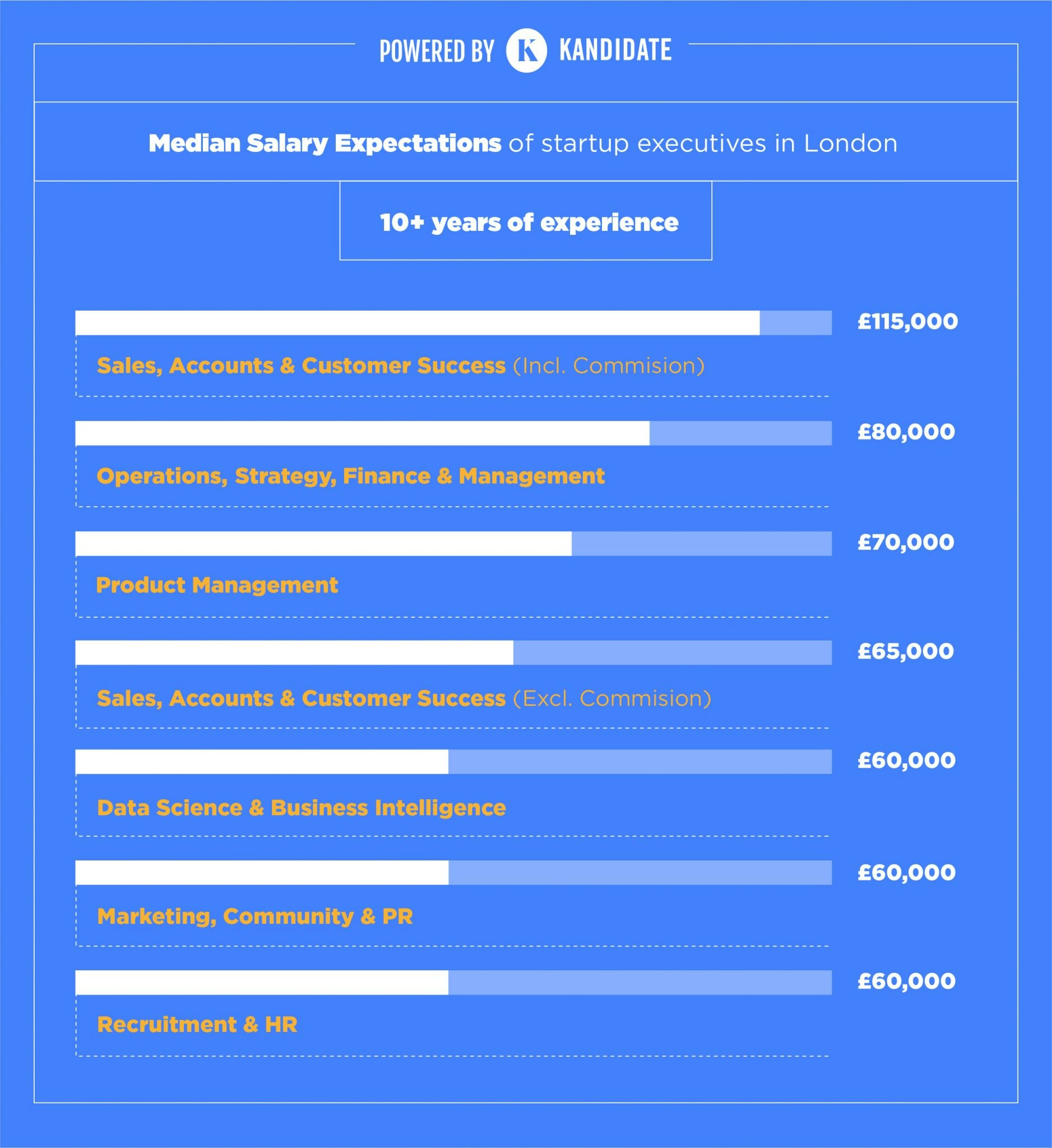 3) People in junior HR roles expect the smallest salaries
Meanwhile, salary expectations for people with less than two years of experience are much lower.
The current median salary expectations of junior professionals in London are between £25k and £38k. Sales folk take home the biggest salaries — although salary expectations have dropped 13% since January.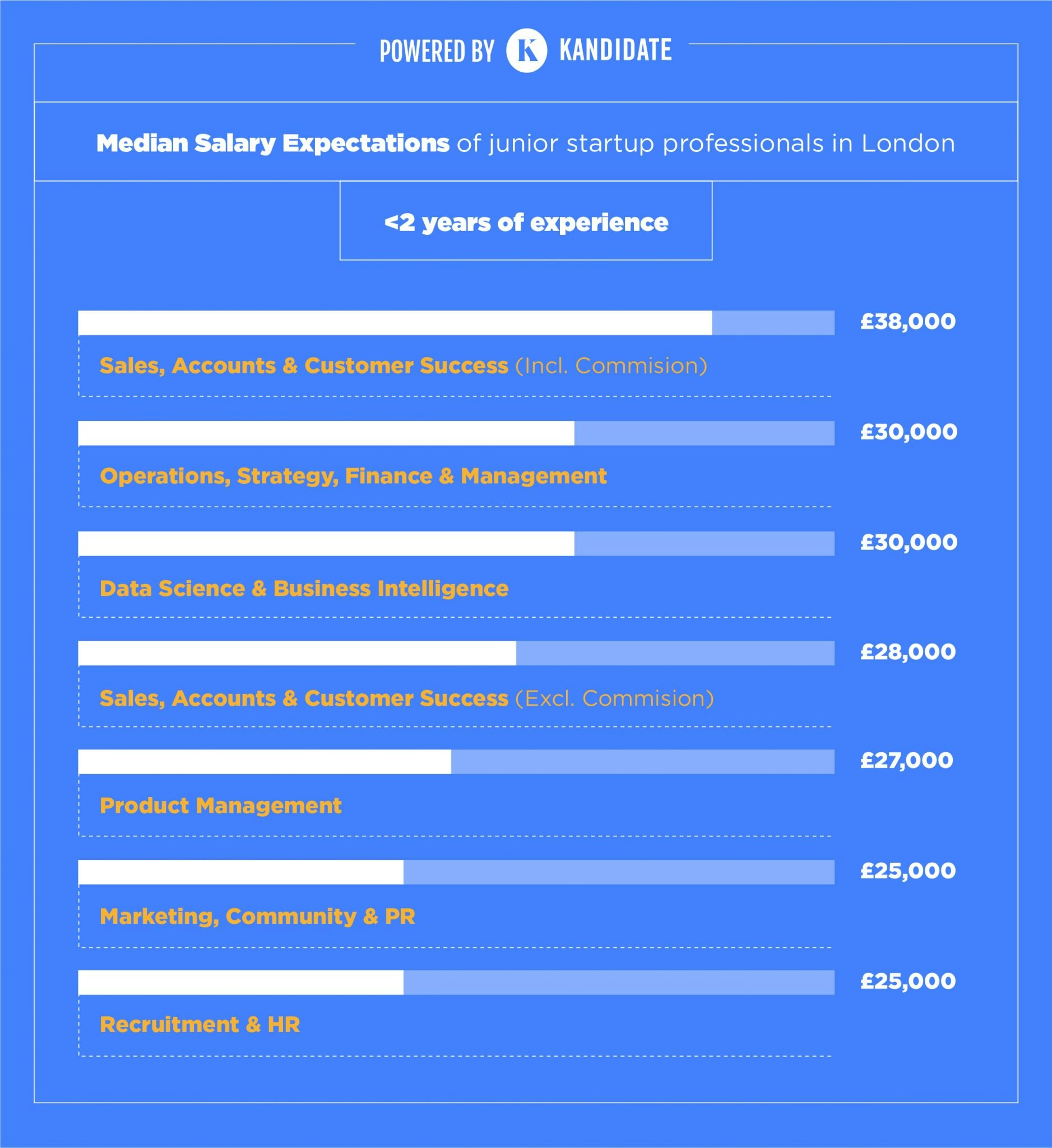 Although candidates applying for jobs in the UK might be lowering their salary expectations, employees are still expecting a pay rise in the next 12 months, according to a CV Library survey conducted in August 2020.
4) Chief revenue officers take home the big bucks
Unsurprisingly, the highest-paid executive roles expect big pay packets. Chief revenue officers (CROs) expect £100k, chief marketing officers (CMOs) £80k and chief operating officers (COOs) £75k.

Chief product officers (CPOs) ask for £82.5k on average, while heads of talent expect £70k.
5) Startups love data and SEO whizzes
To get a better understanding of how customers interact with their products/services, it's common for startups to employ people in search engine optimisation (SEO) and SEM (search engine marketing) roles, and have teams focused on data. 
Here are the current median salary expectations for some of the most popular startup roles.