Startups in Europe increasingly want to take angel investment from experienced operators — and they also want to add them to their boards.
"Businesses are getting smarter to the benefits of having experienced operators around the table," says Maria Josife, senior partner at recruitment firm Erevena, which has today published a new report on the boards of high-growth businesses in Europe.
At the same time, those operators want to get stuck into startups. "There are more exited founders and executives who can participate at a board level, and more NEDs [non-executive directors] who traditionally operated in the public domain and want to diversify their portfolios across private and public activity," she adds.
Startups are also bringing NEDs on board earlier. Josife suggests this might be because they need expert help navigating tricky regulation in sectors like fintech and healthtech; or as a way to diversify the voices around the table. 
Still, most startup boards are far from diverse, as Erevena's report shows. It surveyed 300 board members of European startups, most of whom are based in the UK.
Here are our key takeaways. 
1/ 34% of startup boards still include no women
That's an improvement from two years ago, when Erevena last ran this survey: in 2019, 47% of startup boards had no women.
But that's still over a third of startups lacking any female representation on their board. 
When we look at the ethnic diversity of boards, it's predictably even worse. Only 9% of startup board members are people from ethnic minority backgrounds.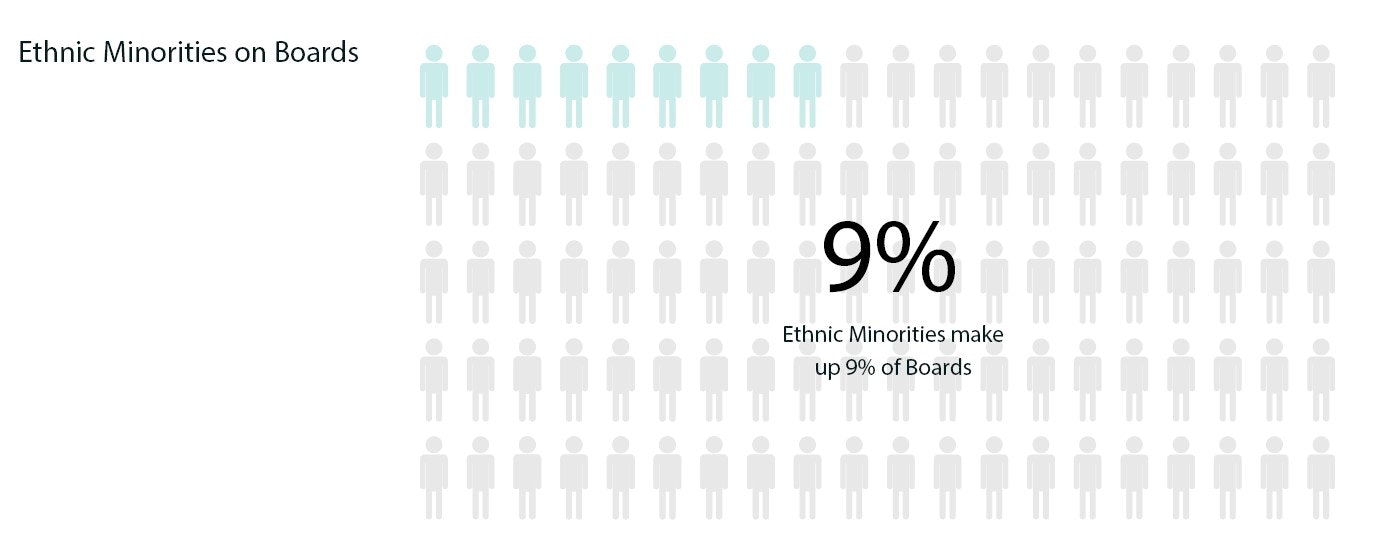 26% of startup boards include no women or people from ethnic minorities. 
2/ Just 3% of chairs on startup boards are female
And, just like the proportion of funding going to female founders in Europe, this statistic isn't shifting. 
Non-executive directors (NEDs) are a slightly more diverse bunch. 30% of NEDs are now female, compared to 16% in 2019. 
3/ Chairs can get paid as much as c-suite executives
Chairs are getting paid more than they used to — but not that much more.
A good chair can be a big help to a startup CEO, and more and more founders are recognising this. "The CEO role can be a lonely one and the chair is a coach and sounding board as well as a point of accountability for a CEO," Josife says.
Remuneration typically comes in the form of both salary and equity.
As you'd expect, chairs are paid less when working with pre-seed and seed-stage startups (44% of the chairs of seed-stage startups are paid less than £9,999). 
Once companies hit Series B, 46% of chairs are paid more than £50k. From Series C to IPO, 39% of chairs are paid over £80k. 
As for equity, 15% of chairs own a whopping 3% or more of the company. That's doubled since 2019, when just 7% of chairs had 3% or more. 
"Along with the upward trend in chair remuneration, [this] reflects the increasingly competitive market for talent in Europe," comments Michelle Cheng, head of talent at VC firm Notion. 
4/ NEDs get paid a lot less
Meanwhile, NEDs are generally paid much more modest amounts: 40% take home less than £10k. 
48% of NEDs are not offered any equity. Just 6% of NEDs are offered 2% equity or more.
5/ Female board members are offered less equity
Ah, the gender pay gap strikes again! 
67% of female board members are not offered any equity in the startups they work with, compared with just 31% of male board members. 
6/ Chairs are getting more stuck in
When Erevena ran a similar survey in 2019, most chairs were committing two days per month to companies. Now, 44% are spending 3-4 days per month with them. 
It seems to be a fairly addictive pastime — 71% of chairs sit on three or more boards.
NEDs, meanwhile, commit less time to the startups they work with. 52% of NEDs spend one day per month or less  with a company. 
7/ Startups are adding spring chickens to their boards
Board members are getting younger. 
22% of startup chairs are now under 50, compared with 9% in 2019.