When generative AI startup Stability AI raised a $101m Series A round in October 2022, many wondered where the company had come from. CEO Emad Mostaque — a former hedge fund manager — was a relative unknown in the machine learning community. Yet Stability appeared to be behind Stable Diffusion, one of the most impressive text-to-image models on the market, ready to rival even a Silicon Valley giant like OpenAI.
It soon emerged that it was, indeed, too good to be true. Stability hadn't built the Stable Diffusion code, and it didn't own the intellectual property to it — but had created the easy-to-use interface on top of the model that was being used around the world to make images.  
Now, leaked pitch slides and Telegram messages obtained by Sifted give some clues as to how the company went about raising that bumper Series A.
In absence of owning a generative AI model of its own, the leaked material suggests that Stability was saying it had "co-created" products developed by other generative AI organisations, like its rival Midjourney, when in reality Stability had just provided compute grants — paying for cloud access to the massive processing power needed to train AI models.
The leaks come as Stability looks to raise a new round of funding that will likely be in the hundreds of millions of dollars, amid reports that it's struggling to generate revenue.
The pitch deck
The leaked pitch deck, dated June 2022 — several months before the Series A raise was closed — was sent to Sifted by a former Stability employee, while a second employee who worked at the company at the time of its circulation verified its authenticity.
When Stability went out to fundraise, the company hadn't announced any proprietary AI model of its own. Its flagship product at the time, DreamStudio, is a user-friendly software for turning text into images. DreamStudio is powered by the open-source AI model Stable Diffusion — which was developed by researchers from LMU Munich and the startup Runway, and is free for anyone to use.
Stability did not develop the original Stable Diffusion code and didn't own the IP to the model.
However, in its pitch deck, along with highlighting the strengths of DreamStudio, Stability said it had "co-created" other products with several generative AI startups, including AI text and image generation platform NovelAI and text-to-image generator Midjourney.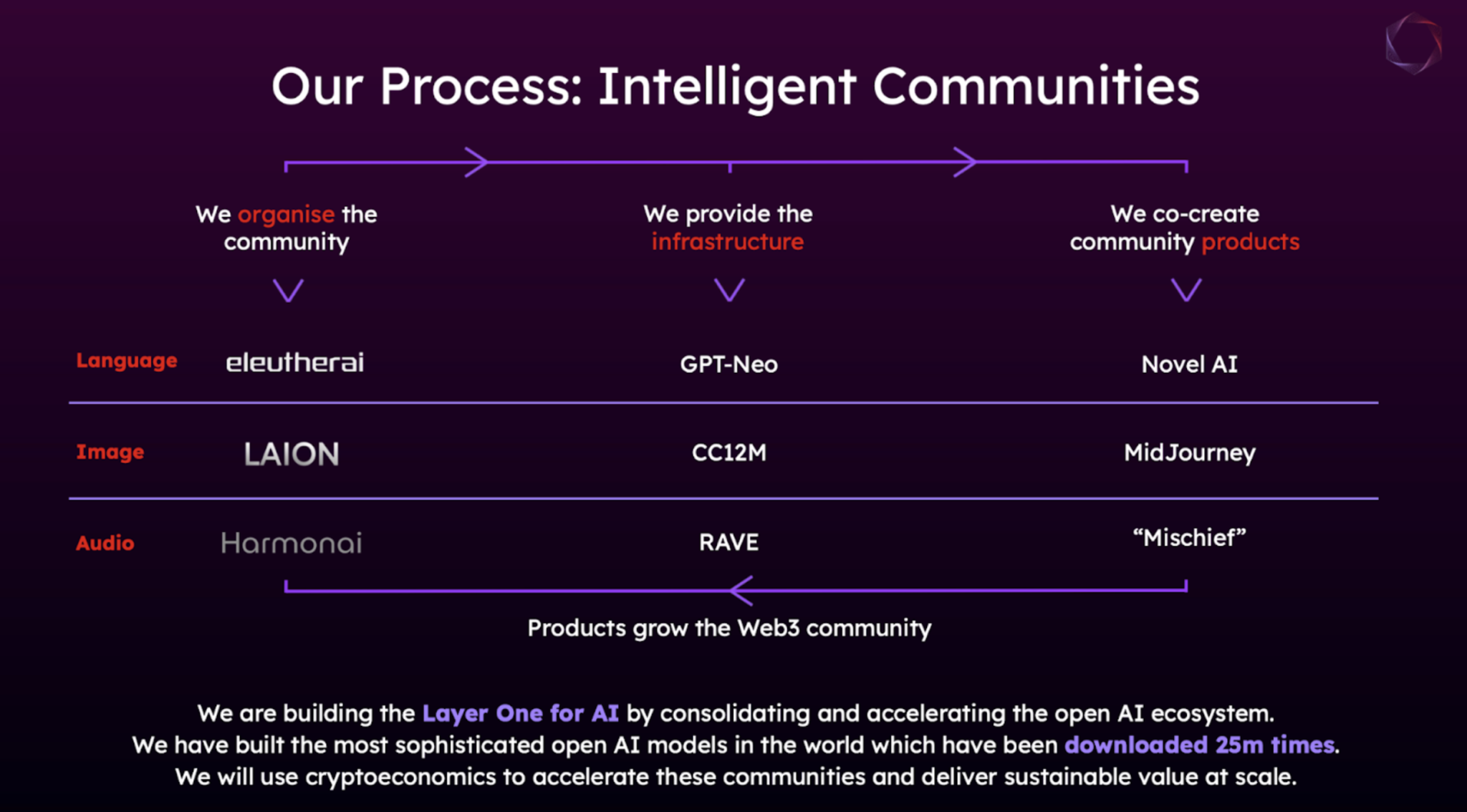 Midjourney, which was founded in March 2022 in Silicon Valley, competes directly with Stability's DreamStudio. Sifted reached out to Midjourney and NovelAI for comment.
Sifted asked Stability what the company meant by "co-creating" products. A spokesperson said the company had provided infrastructure in the form of compute grants to Midjourney, but did not elaborate on what it meant by "co-creating" products.
Leaked Telegrams
It also appears that Mostaque was telling potential investors that Stability had millions of people using its "models" — despite using a third-party model (Stable Diffusion) to power its then sole product, and not having announced any of its own AI models yet.
Ahead of the funding round, Mostaque sent a message in a Telegram group titled "Growth Round" which appears to outline a change in the company's messaging to investors. In it, he says that "the simple narrative is that 5m people are using our models now".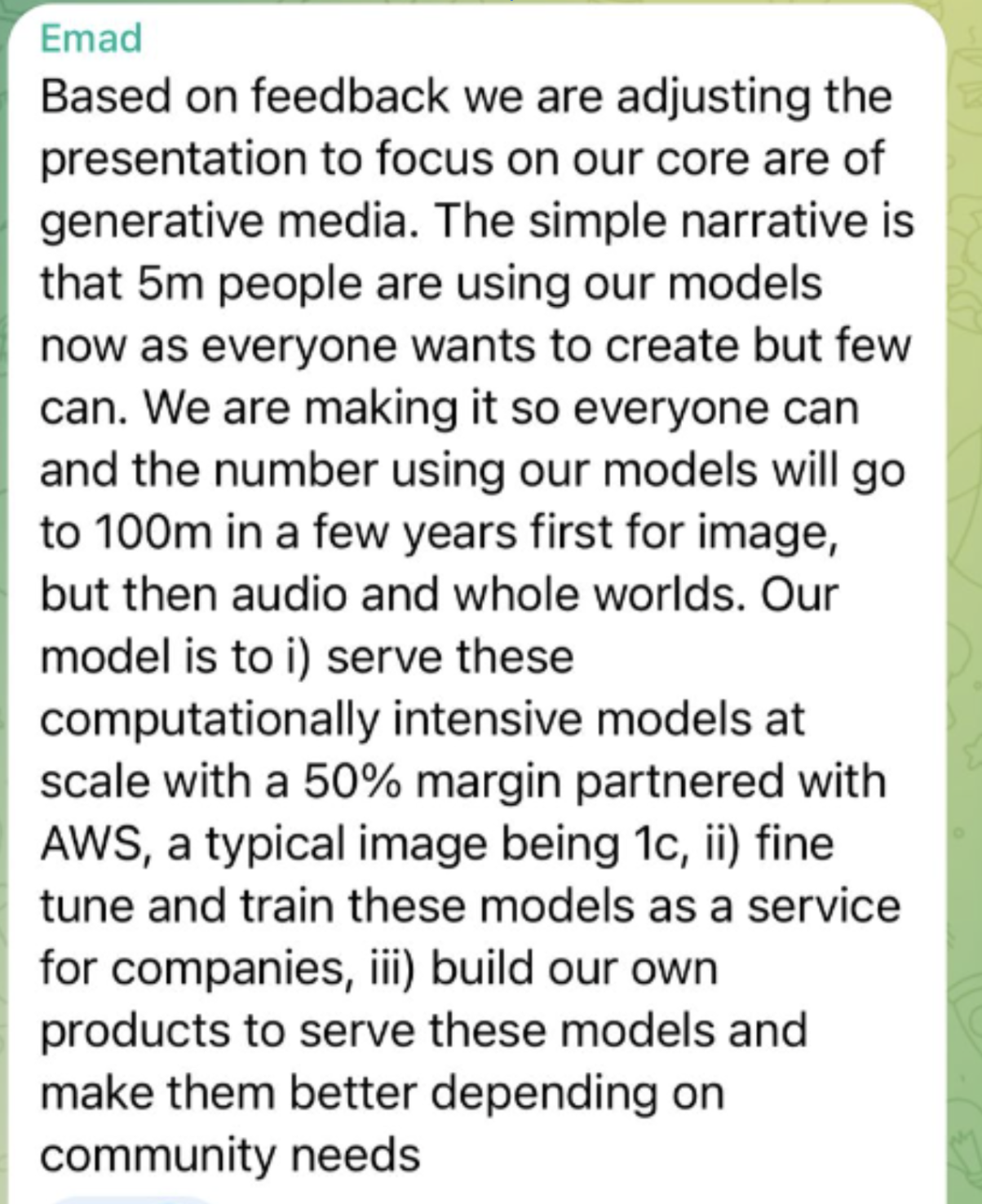 Stability told Sifted 'our models' referred to models developed in house or under its umbrella of research hubs for which it had supported. This support included providing a platform for the research and training of the models as well as compute power.
This messaging, conflating Stability's compute grants with ownership of the models, is consistent with a presentation that Mostaque gave at an event announcing Stability's Series A. 
"A lot of people see us and they're like 'Oh they're the image guys, they make pretty pictures.' No," Mostaque said in the presentation, before highlighting the successes of "our communities". One of which was EleutherAI, he says, which "does language models… they came up with GPT-Neo and GPT-J".
Stability funded some of EleutherAI's research, but has no IP ownership of models like GPT-Neo and GPT-J. When Sifted asked a former EleutherAI member about what official affiliation there was between Stability and EleutherAI, they said: "None."
Sifted reached out to EleutherAI for comment. Stability referred Sifted to EleutherAI's "about" page, where the company is listed as a donor.
The Stable Diffusion backstory
While Stability didn't own any rights to the Stable Diffusion AI model, it was closely involved with making it more powerful. The Stable Diffusion code was released by researchers at LMU Munich in April 2022. It wasn't until summer that year that Stability approached the team, offering to provide the researchers with compute credits to train it on more data. However, that didn't give the company any ownership over the results.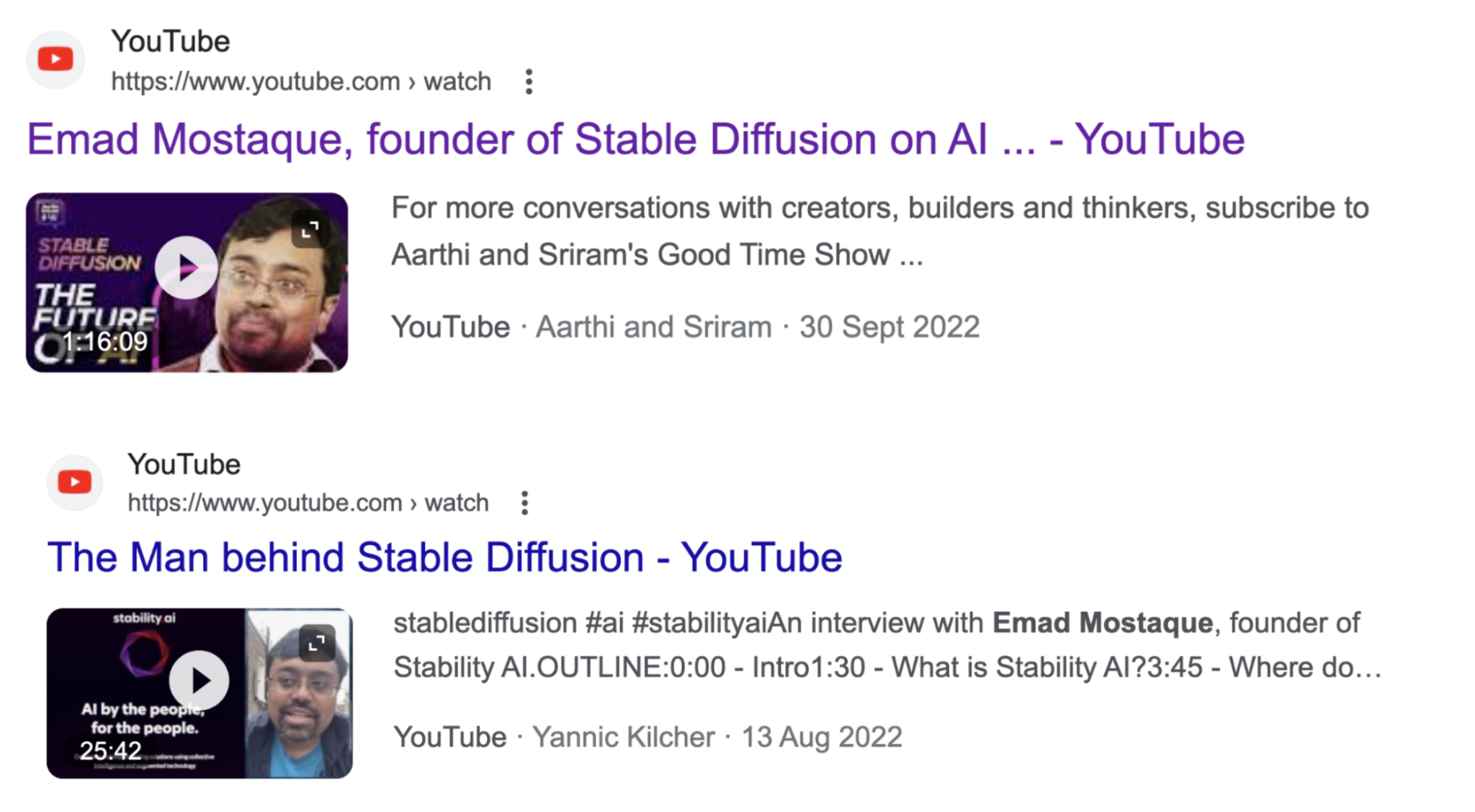 Before Stability's funding round, Mostaque toured tech-focused podcasts and YouTube channels. In September last year he told the Narratives podcast that his company had "spear-led" Stable Diffusion. While he was careful to not explicitly take sole credit for the AI's development, he equally didn't seem to make much effort to correct some misleading framings.
Sifted asked the producers of Narratives and two other podcasts if Mostaque or Stability had reached out to suggest amending the titles of the episodes. Stability declined to comment.
It was only after the October funding round that Mostaque took to Twitter to state clearly that it was actually a team of researchers from LMU Munich that had developed Stable Diffusion, not Stability itself. 
Björn Ommer, who leads the lab at LMU which developed Stable Diffusion, tells Sifted he found it interesting how the messaging switched.
"Once he had this money he became a bit clearer who actually developed Stable Diffusion and that his company did not own the IP," he says. "Now we come to the interesting thing — if you're running a company that's raising a Series A and pushing for a lot of money and your VC guys realise that you don't own any IP, that probably makes it a bit tricky."
Stability told Sifted that the investors that backed the company were fully aware of Stable Diffusion's IP ownership.
"Stability AI was a collaborator in the development of the first release of Stable Diffusion, alongside the Computer and Vision learning group at LMU, and Runway," a Stability spokesperson told Sifted. "The details of this collaboration have been shared publicly on Stable Diffusion's Github and Stability AI's website since its release."
What's next?
This week Stability AI released its first proprietary AI model, a language model dubbed StableLM. 
Stability said it would be selling "models as a service" to organisations who want private AI models trained on their own data as a way of monetising its product.
The company did not respond to questions about fundraising or runway.
This week's release is undoubtedly a big moment for Stability, but the models-as-a-service business is a competitive one. Along with the big tech players, there are European businesses like Aleph Alpha and Silo AI who do similar work. The big question will be whether Stability can secure fresh funding while it works to monetise this new product.
Tim Smith is a senior reporter at Sifted. He covers deeptech and all things taboo, and produces Startup Europe — The Sifted Podcast. Follow him on Twitter and LinkedIn
*Sifted made a correction on Saturday 22 April, replacing:
"Stability told Sifted that by "our models", Mostaque meant to refer to models which were developed with help from compute provided by Stability."
With: "Stability told Sifted 'our models' referred to models developed in house or under its umbrella of research hubs for which it had supported. This support included providing a platform for the research and training of the models as well as compute power."