Spain — like just about every country in Europe — has seen record levels of VC investment this year. Startups have raised €2.1bn in 2021 so far — over double that of the €917m invested in 2020, according to Dealroom. 
This year, Barcelona-based on-demand delivery startup Glovo nailed Spain's largest ever funding round, with a €450m Series F, while business travel platform TravelPerk secured a hefty $160m Series D. 
With more international investments flowing into the Spanish market in the past year than ever before, Spain is also fast becoming a hotspot for global investors. 
We asked five top Spanish founders to pick out some exciting early-stage Spanish startups. 
Here's what they said: 
Avi Meir — cofounder of TravelPerk
Barcelona-based TravelPerk is a business travel platform with 445 employees and an estimated valuation of €582—873m. 
Fellow Barcelona startup Heura is the Tesla of plant-based food. It's taking a terrible product that no one likes (tofu) and upgrading it to a tasty and exciting product which everyone loves (like Tesla). Despite producing a physical product, it's growing at a breakneck tech startup pace, thanks in no small part to the amazing founding team (Marc Coloma and Bernat Añaños) and their global ambitions.
Disclaimer: Meir is an investor in Heura. 
Every task performed on Excel is potentially a SaaS product, so I'm always a big fan of alternatives that come along — and Abacum is that par excellence. I've known the founding team for 12 years: I studied with both Julio Martinez and Jorge Lluch, and Jorge worked for a time at TravelPerk. They're Y Combinator graduates and have recently attracted some top VCs like Thomas Lehrman, Justin Kan, and myself. These guys are going places.
Jeff is something quite different. Run out of Valencia, it's truly global in scale with a network spanning 35 countries. The app lets you manage your beauty, fitness, relaxation and laundry needs all through one easy-to-use portal, linking you up with providers like masseurs, laundry services and yoga studios. The platform is part of a really exciting movement of service provision going from offline to online — and the team behind it, with Eloi Gomez at the helm, is second to none. 
Andrea Oliver Garcia — founder of Emjoy
Emjoy is a Barcelona-based app that empowers women in their quest for sexual happiness.
Vasquiat is redefining the fashion industry by introducing pre-orders of luxury collections. It's growing very nicely and the cofounder Rafa Blanc Cumellas is great. The business is incredibly international with most of their sales coming from outside Spain. 
Sifted Newsletters
Startup Life
Every Wednesday
How (and how not) to run a startup.
This company sells natural cosmetics mainly in Spain and has an offline and online business model. It's redefining the cosmetics industry because it asks customers what they want and based on that feedback, creates the products, rather than creating a product, finding a storyline and pushing it to consumers. Hence, their brand motto (You Ask, We Lab). The three founders are really good —  Eric Steinbauer (one of the founders) used to work at Antai Venture Builder for several years.
Pablo Viguera — cofounder of Belvo
Belvo is a Barcelona-based open banking platform that enables any company or developer to access and interpret its end users' financial information.

Oliva is a health platform for employees and managers, providing a modern approach to mental health (and selling to companies as a perk for their employees). It also runs mental health training for workshops for company leaders and offers on-demand sessions for managers to help support struggling teammates. We use them at Belvo and the team is super happy.  
Launched in 2019, Parallel is a technology company that takes the pain out of sharing docs back and forth over email. It also offers other tools, such as managing tax return documents, real estate transactions and a platform to manage investors' information. It's like a type form, but for document sharing. We use it for KYB (know your business) processes with our customers.
Gocleer was founded in 2020 and is an insurtech startup that wants to help people get their insurance in an easy and transparent way by combining tech, behavioural science and data. Anything in the insurance field has huge room for disruption. I like its model, as it allows for a more flexible, pay-as-you-use insurance model that's adapted to new and more predominant forms of transportation in cities (eg. bikes, escooters, etc.).
Christian Rodriguez — cofounder of Byhours
ByHours is a Barcelona-based short-stay hotel booking platform, which offers its customers rooms for three, six or12 hours, in 3k hotels in 600 different destinations.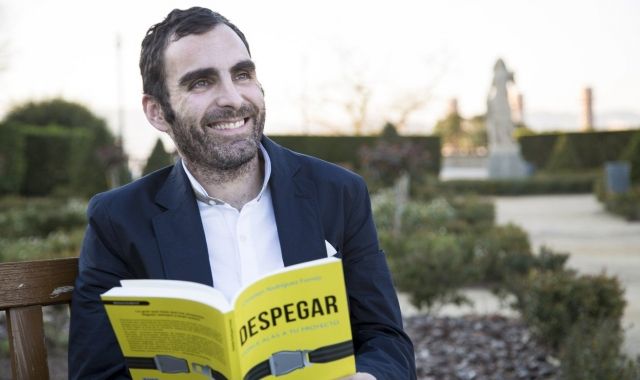 A startup dedicated to providing financing to ecommerce/digital companies to specifically finance their marketing/customer acquisition campaigns, as well as the stock that they will later sell.

It gives a totally different vision of the risk analysis of the loans and the destination of the funds themselves. I like this startup because they show that they understand the needs of many companies and how, thanks to technology, they can generate a financial product with little risk for them but a lot of impact for the client, thus allowing an important margin that makes the business viable and scalable.
A startup dedicated to providing a comprehensive fully-digitised logistics management solution. I like Amphora because we're gradually realising the importance of optimisation and control of non-core areas such as logistics, picking or packing — which, if poorly managed, can make any company disappear.
A startup that, through artificial intelligence (AI) has developed solutions for the management of its own channels of control and security cameras, giving it clear and concise applications.

We all talk about artificial intelligence and related solutions, and Bee the Data has managed to apply it to something as common as the establishments' own security and control cameras, taking advantage of what already exists to generate an easy control panel, with key performance indicators to decide on the client – and most importantly, taking advantage of the structure and minimising the cost. With dozens of applications, it will mark a before and after in the management of these elements.
Ana Villanueva — cofounder of Tiko and CEO Iberia
Tiko is a Madrid-based proptech startup that makes selling and buying a house easy, allowing customers to buy a house within seven days.
An online platform for filing annual tax returns. It makes sure that all the tax deductions that correspond to taxpayers are applied, thus obtaining the maximum possible savings.
It's based on its own intelligent algorithm that performs a professional analysis of the user's tax situation. Thanks to this technology, in just 15 minutes and after answering an average of nine questions, your annual tax returns are obtained.
I find the approach of its founders very interesting — they're using the latest technology to solve a need that affects everyone and has a direct impact on their savings. I also love how easy it is to use. Users no longer have to face these unfamiliar and, sometimes, complex procedures; on the contrary, they become very simple. 
Since it launched in 2019, it's already made more than 150k tax returns — and I think that in a short time, it will become very popular.
It seeks to detect heart problems early to prevent diseases such as heart attacks and sudden cardiac death. It diagnoses cardiac arrhythmias by combining artificial intelligence algorithms in the cloud with wearable technology. 
It does this by giving users a non-invasive device that monitors their hearts for days or weeks. Then the recorded electrocardiogram is analysed by IDOVEN with the help of their artificial intelligence algorithms, which converts the patterns of millions of beats into medical information.
In my opinion, it has a promising path ahead, as this not only will help people that use its device but the information being collected (the company has already studied 8k hearts) will serve to find patterns and help many more people.
This is a Spanish in-vitro diagnostics company developing a platform of minimally invasive, blood-based solutions for detecting cancer early. The UDX diagnostic platform is designed to detect various cancer types, eg. colorectal, liver, pancreatic, lung and gastric cancer via one simple blood test. 
The knowledge and platform it has developed can truly change our health. A simple blood sample collected as part of a routine checkup can be uploaded to the UDX cloud for algorithmic analysis. This analysis has a reliability of between 89 to 97% in the initial phases (stage I or II), which makes them a benchmark in early detection.
I love the perseverance of its founders for such a necessary and complex purpose, to make cancer a curable disease.
A visual intelligence algorithm replicating human eye-brain connection. It uses fingerprints for instant recognition and natural learning. This way, any company can manage its assets through visual identification.
It's quite remarkable that Shazura's been dubbed the Google of images due to its processing abilities. I find founder Sira Coba's idea very smart: to replicate the human eye will always be more intuitive.
A tech platform that allows the booking of workplaces in coworking networks, hotels and office buildings. The user has access to the whole network of places from their phone. 
The pandemic has made the advantages of this proptech more evident. For example, workers can have their office close to home and, on the other hand, pollution from transport in cities is reduced. I find it quite amazing how many benefits you can get from such a simple thing.