Spanish tech is going from strength to strength.
In the first half of 2021, Spanish startups hauled in €1.9bn in VC investment, according to data from Dealroom. That's nearly four times more than the first half of 2020, when €500m was raised, and a real indicator that Spain's tech sector is bouncing back stronger than ever from the depths of the pandemic.
Venture capital investment in Spain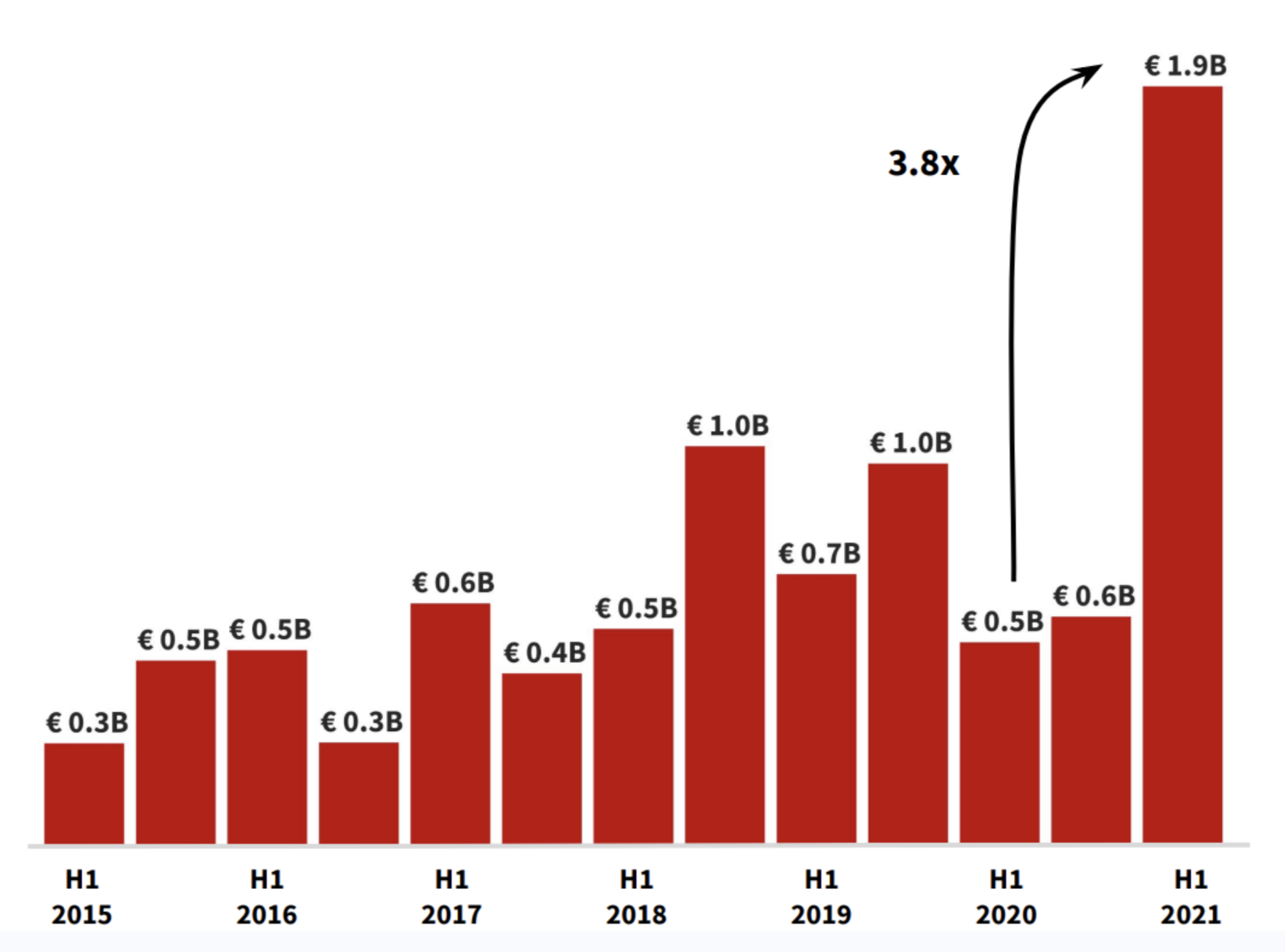 The country minted two new unicorns. Barcelona-based electric vehicle charger startup Wallbox is now valued at $1.5bn, after a SPAC deal which saw the company floated in New York. In the last month of the year, temporary work platform Jobandtalent raised a $500m Series E at a $2.35bn valuation.
Meanwhile delivery company Glovo — a unicorn since 2019 — raised Spain's largest ever VC round in April, bringing in €450m from international investors to help scale its quick commerce business. Then, as the year drew to a close, the company was acquired by Delivery Hero at a valuation of €2.3bn. 
But behind the Series Es and Fs, a lot else happened in the Spanish tech sector this year. Sifted looked back over its 2021 coverage to pick out some key moments to revisit.
We finally got some details on Spain's startup law
Spanish entrepreneurs have had to wait patiently for details of the government's new startup law. In February, the head of Spain Entrepreneurial Nation — the government body behind the strategy — told Sifted about his ambitions for the law, laid out in a groan-inducing 160-page strategy document. 
It took until December for any concrete details to come out, but now we finally have a draft law which will go to parliament for debate and amendment in the new year.
The headlines include a reform of stock options, raising the tax exemption on income from €12.5k to €50k a year. The draft bill also outlines a reduction in corporation tax in a business's first four years, a streamlined process for incorporating companies and new visa rules designed to help attract talent to the country.
Will the law finally get passed? 2022 might just be the year.
Belvo broke records to become the Plaid of Latin America
Spain cemented its reputation as Europe's launchpad for fintechs taking on Latin America, when Y Combinator-backed fintech Belvo raised a record-breaking Series A round in June.
The Spanish startup is trying to be the Plaid of Latin America — providing the tech layer that lets fintechs interface with financial data from bank accounts, digital wallets and other sources.
It's easy to imagine why investors are seeing dollar signs, with LatAm fintechs filling a market gap in a region where 70% of the population doesn't have a traditional bank account. This drew in big names like Twitter cofounder Biz Stone's Future Positive fund, as well as David Vélez, founder of Brazilian Nubank, the world's biggest neobank.
Belvo has been busily investing in product since the raise, with plans to hire 50 engineers in Brazil and Mexico as it races local rivals to become the regional market leader in open finance.
Spanish entrepreneurs defied predictions, bringing quantum computing to finance
Quantum computing watchers from Goldman Sachs predicted it would take five years for quantum computing to become useful to finance institutions. Not if San Sebastian-headquartered Multiverse has anything to do about it. The startup, founded in 2019, has developed a quantum software product that it is already supplying to customers including Bankia, BBVA, the European Tax Agency and the Bank of Canada.
Back in October Multiverse Computing raised a €10m seed round, and in December topped it up with €12.5m from the European Innovation Council. The startup's chief executive Enrique Lizaso told Sifted how, for specific applications like portfolio optimisation and fraud detection, quantum computers are already 100 times faster than traditional ones.
The startup is planning to grow its headcount from 27 to 200 by 2027, and it's looking to expand into other sectors beyond finance, such as energy. Multiverse Computing is planning a €50m raise next year, and is firmly among Sifted's ones to watch for 2022.
Wallapop takes on the world (again)
Barcelona-based second-hand marketplace startup Wallapop has achieved impressive things in its home market since it was founded in 2013. It's the country's most used marketplace app, outperforming Amazon and eBay, but success overseas has historically been a bit of a sore spot for the company.
In 2018 Wallapop ended an attempt to take on the US market by selling its stake in New York-based LetGo. But in September, Wallapop announced its latest international expansion with a move into the Italian market.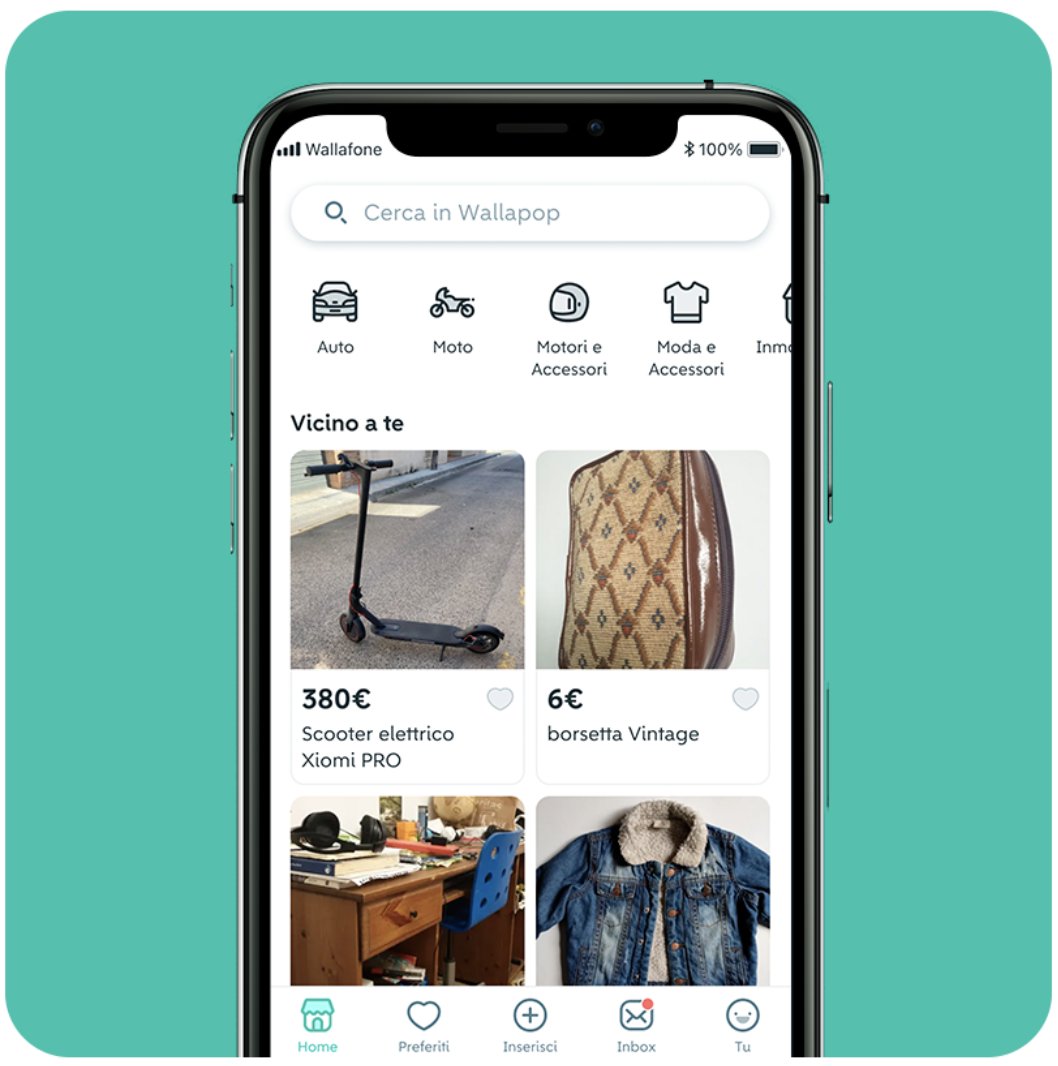 Chief executive Rob Cassedy (who took on the job as Wallapop's US adventure came to an end) told Sifted he sees Italy as an extension of Wallapop's home market, rather than a new market altogether. He also hit back at claims the halted US move had been a "failure", saying that the LetGo sale provided good returns for investors. 
Meat-loving Spain began to embrace alternative protein
Spain is known for its love of Iberico ham and chorizo, but the country is increasingly churning out alternative meat startups.
In June Barcelona-based Heura, which makes plant-based "chicken" strips, "beef" burgers and "meatballs",  raised €16m to continue its expansion, which has already seen it grow across 16 countries. The startup uses olive oil as its main fat source, making it healthier than alternatives that use saturated fats.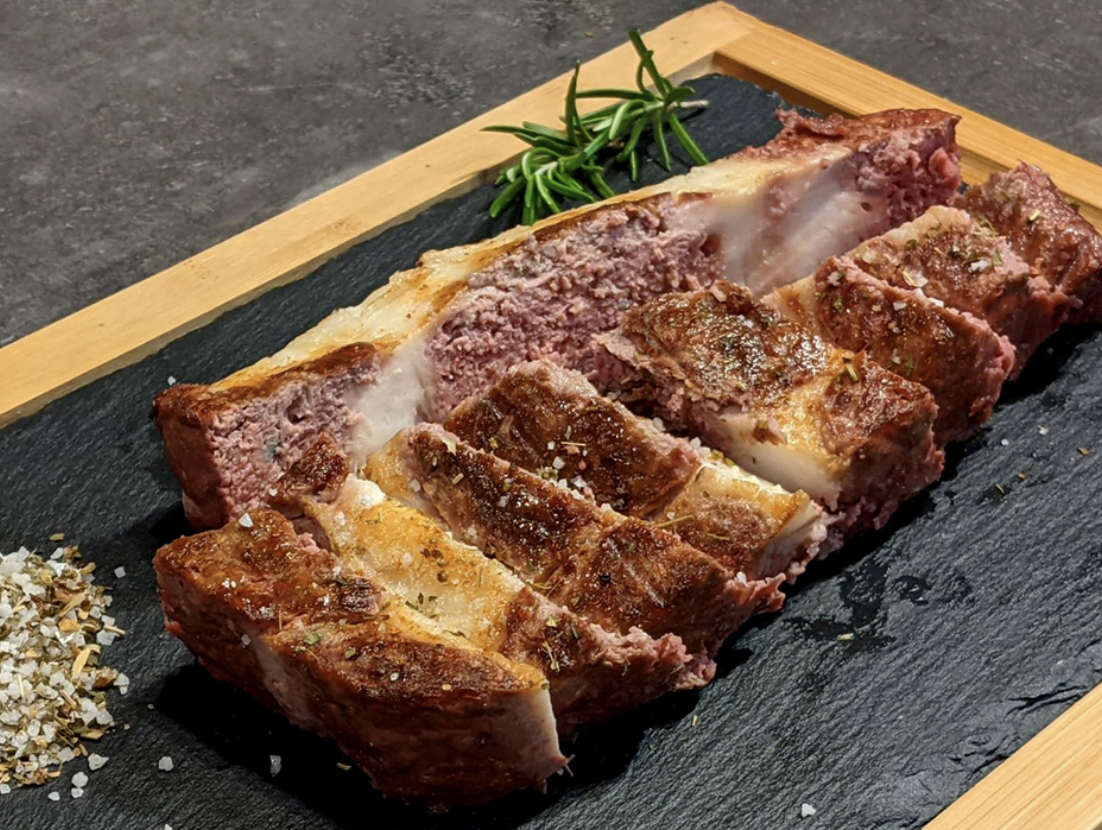 In January, Novameat created the largest ever piece of cellular "meat" using 3D printing technology. Meanwhile, Navarra-based Cocuus is "bioprinting" steaks and lamb chops that are starting to look like the real thing, putting Spain at the cutting edge of the alternative protein market.
Spanish founders made big progress with neural interface technology
Move over Elon Musk, Spanish entrepreneurs are making big steps in technology that lets computers interface with our brains. Inbrain, led by Carolina Aguilar, is using the futuristic material graphene to develop brain implants which it says "vastly outperform" those being made by Musk's Neuralink.
It's a classic European success story, having started life as a research project funded by the EU's Graphene Flagship Project, a €1bn effort to find commercial applications for the material.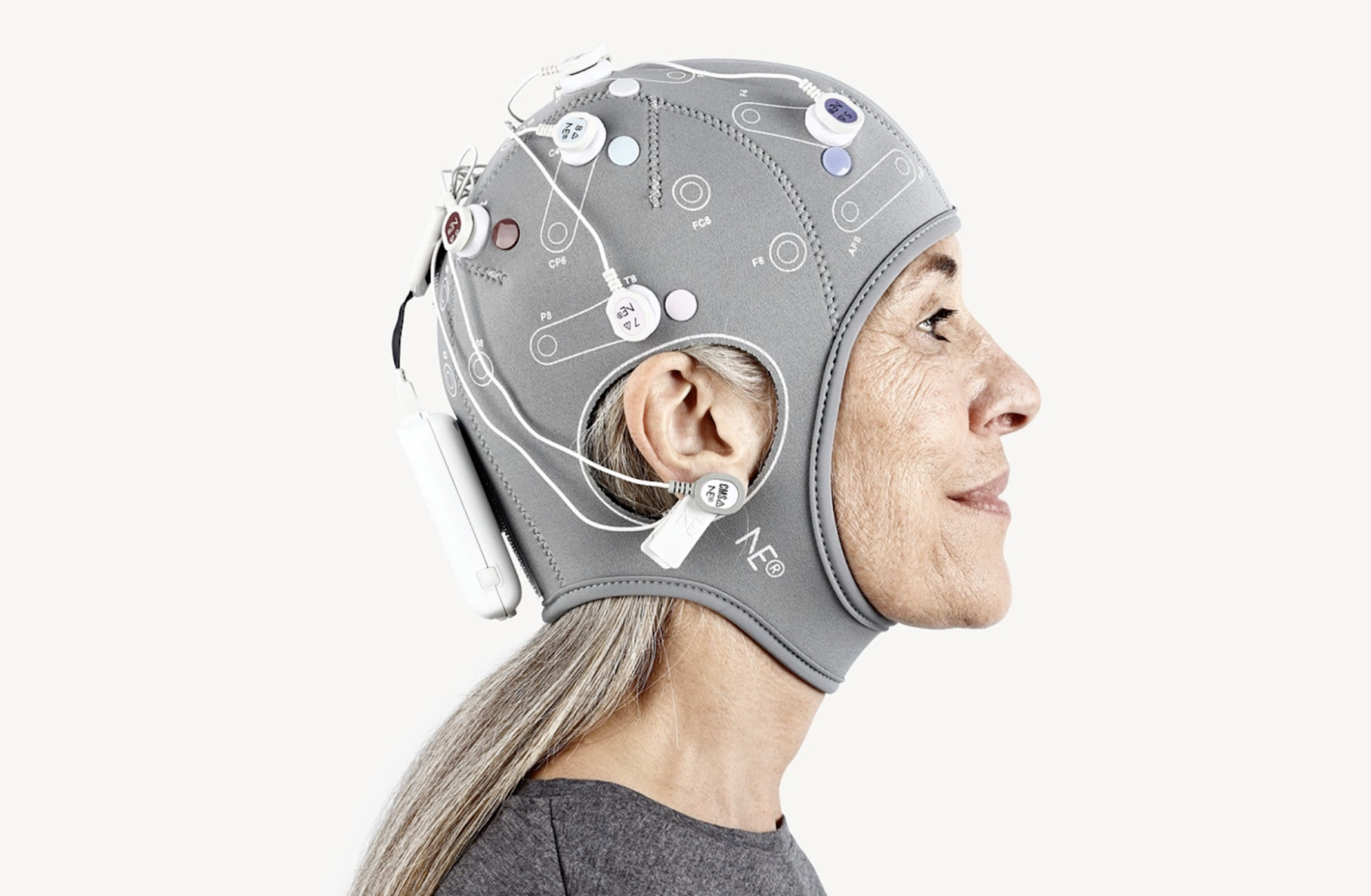 And while physical implants on brain tissue are some way off being clinically used in patients, Spanish startup Neuroelectrics raised €17.5m for a phase III clinical trial, to test its neurostimulating electrical headcap's ability to treat epilepsy non-invasively.
***
Predictions
We've given a brief wrap-up of some big moments in Spanish tech this year, but what's coming in 2022? We asked 10 founders and investors to give their predictions for the year to come. The gist of these is: a wall of money is heading for the ecosystem. 
More Spanish startups will go global as the country's growth continues to accelerate
We are at a unique time for tech companies in Spain, as VC investment last year grew nearly three times over year-on-year according to Dealroom, and more pro-startup legislation is being introduced across the country. We are primed for innovative startups from Spain to start taking a global stage. 
We've already seen this with companies like Glovo and Wallapop. Driven by a fresh breath of young talent, I predict that 2022 will be a launchpad for Spanish startups, with the country solidifying itself as the fastest growing global tech hub in Europe. 
Marc Coloma, chief executive and cofounder of Heura
Institutional investors in Spain will get hungrier for VC investment
As value creation in tech is increasingly shifting from public to private markets, large private investors such as pension funds and insurance companies are showing growing interest in VC as an asset class and are allocating more capital to it when building their portfolios.
There is no doubt that investors are becoming more knowledgeable and interested in VC as an asset class, in Spain. There is still a long way to go to get to where our American peers are, but I think this trend is here to stay and it's great news for the development and sustainability of the Spanish ecosystem as a whole.
Ander Michelena, founding partner at All Iron Ventures
Spain will develop as a deep tech hub
Spain needs to invest in growing its "industrialisation mindset". We have been focused for too long on the R of research and much less on the D of development. 
My bet is for Spain to start waking up in 2022 to a new and more specialised high tech entrepreneurial spirit in areas such as the next generation of green energy, quantum computing, semiconductors, AI, neurotechnology and foodtech.
These will create strong contributions to the Spanish economy and attract global investment with larger rounds. 
Carolina Aguilar, chief executive and cofounder of Inbrain
Bigger rounds incoming
2021 has shown us that Spanish companies can compete on the global stage with world-changing technologies and valuations that rival any other country. Further, investors are seeking out Spanish companies in important deeptech industries like electrification, space exploration and medical technologies.
Wallbox, the Spanish electric car charging technology company, debuted on NYSE, valued at more than $1.5bn, and came in with a solid Q3 performance. Another company that supports this is Jobandtalent, who recently raised €500m.
I believe that in the Spanish technology sector in 2022 we will see even more large financings and valuations, and more progress in important new markets that will benefit humankind.
Ana Maiques, cofounder and chief executive of Neuroelectrics
Spain will see a boom in planet-positive startups
2022 will be the year when we witness how startups aiming to have a positive impact on the planet's future have a dramatic increase in both funding and the number of companies created. I believe this will be particularly true for the ones focusing on the fight against climate change. 
We have an opportunity and a moral obligation to ignite the climate revolution from this part of the world, and undoubtedly tech is going to play its part.
Jose Ojeda, cofounder 011h
Reforms to pension fund regulation could mean big bucks for startups
I hope and believe that next year the funding side of the industry will grow importantly thanks to long awaited regulatory reforms regarding pension funds. These would allow them to start investing in venture capital and private equity funds in Spain, adapting the "cascade commissions limits". Today, pension funds can only charge a limited percentage of cost to their clients, which is way below the typical 2% that private equity and venture capital funds charge. 
As a result pension funds only invest a tiny part in PE/VC when compared with other European markets and achieve lower returns as they are not exposed to the robust returns that we are achieving. These regulatory changes would create a new LP base to allow the funds to grow in size and be able to support companies for longer.
Aquilino Pena, founding partner at Kibo Ventures
Demand will increase for solar infrastructure technologies
In the current context of rising world energy prices, it has become more evident than ever that the solution is to transform the current electricity system in Spain into a distributed generation system through the installation of solar panels. 
Therefore, in 2022, it will be more necessary than ever to develop distributed generation technologies and smart grid systems in the country.
Carlota Pi, cofounder and executive president at Holaluz
International funding and talent will pour into Spain
Spain will solidify its position as the most attractive destination for foreign capital in southern Europe, measured by the amount invested by both LPs and GPs. It will surpass every other European country for year-on-year rate of growth in cumulative venture capital investment amount. 
The gap separating the financing market of Spain from those of Germany and France, historically more open and active, will consequently reduce. Regulation has always been one of the issues hindering the growth of the local venture economy, especially stock options and tax regulation. True change will take some more years to achieve, however, a new optimism around future reform will bring more talent to the entrepreneurial community.
Marta-Gaia Zanchi, founder and managing partner at Nina Capital
Healthtech, traveltech and enterprise software will be key industries
I firmly believe that we will have to look at everything with an impact, sustainability and gender lens, and this will apply to any industry and especially in the tech space.
Moreover, I predict that there will be more collaboration and business between the corporate world and the startup world, because both need each other.
It is clear that leadership nowadays involves and needs technology, which leads to technology-driven innovations across many industry verticals. Three key industries will be healthtech, traveltech and enterprise software.
Helena Torras, managing partner at Pao Capital
2022 will be an "explosive" year for Spanish tech
2022 will be an explosive year for the entrepreneurial ecosystem thanks to several factors that come together for the first time: more capital than ever for the early-stage phases and consolidation of the industry thanks to relevant operations of existing funds to provide liquidity to investors and explore new markets.
Spain has a privileged position in infrastructure that offers advantageous connectivity compared to other European countries, which facilitates the development of enabling technologies.
We have the capacity to become technology exporters, even more now after the approval of the ambitious new startup law that puts Spain among the leading countries in promoting entrepreneurial culture. We have the responsibility to make the most of the combination of these two advantages, a privileged position in connectivity and a very competitive law that encourages entrepreneurship. 
Carina Szpilka, cofounder and managing partner at K Fund