Fresh water is becoming a scarce resource, and agriculture shoulders some of the responsibility. According to the Food and Agriculture Organization (FAO), up to 60% of water used to water crops is wasted because of inefficient watering and planting methods, among other reasons; that's about 40% of global freshwater. 
German startup ConstellR thinks it has a solution, and wants to help farmers save water to ensure we can feed the world's growing population. How? With satellites. 
The startup, based in Freiburg, has just raised $10m in a seed round led by Lakestar and VSquared — VCs active in the spacetech sector, which both count German micro-satellite builder Isar Aerospace in their portfolios. 
The money will be used to build and launch ConstellR's first two satellites, grow its team from 40 employees to up to 100 and develop its data processing platform. 
How it works
ConstellR's satellites will take measurements of thermal infrared light to calculate the temperature on the Earth's surface with high resolution. At higher temperatures, more water evaporates. "This is the most robust measurement to predict water loss into the atmosphere," ConstellR cofounder and CEO Max Gulde tells Sifted.
The tech can determine how much water a particular crop field requires. It can also recognise an impending drought much earlier than existing remote sensing methods — fast enough for farmers to reduce damage to the crops with targeted watering.  
Within the next five years, ConstellR plans to save 60bn tonnes of water, which in turn will prevent 14 megatonnes of CO2 emissions.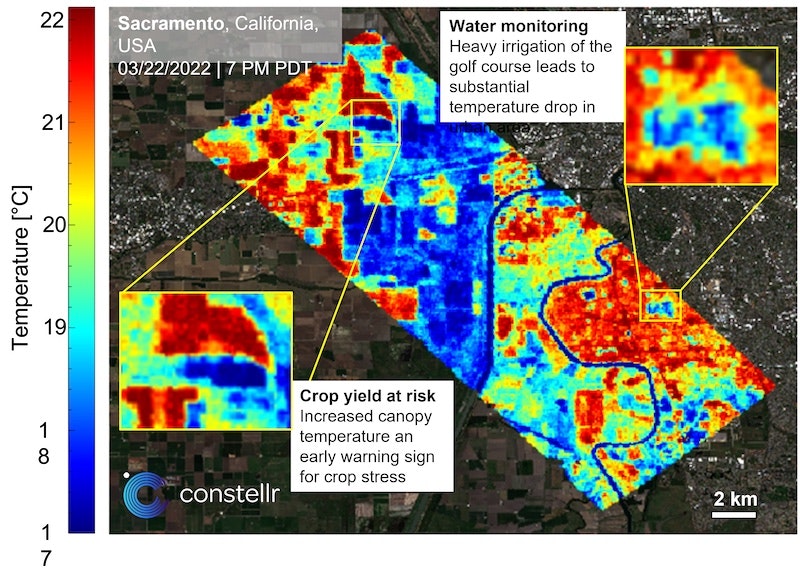 Affordable and scalable crop monitoring
Earlier this year, ConstellR ran a pilot programme onboard the International Space Station (ISS). According to Gulde, they were able to produce data comparable to that of high-performance systems at public institutions for less than 1% of the cost.  
The company is now working with OHB, Germany's largest satellite integrator, to build the cameras that the satellites will carry. 
The launch of the first two satellites is planned for 2024 and will allow ConstellR to monitor water loss at a target location multiple times a week. Over time the startup will increase its fleet to increase the number of locations it can track. 
It also plans to measure chemical fingerprints across crop fields to look at nitrogen and phosphate levels, which will allow farmers to determine when crops need fertilising, as well as monitor the growth stage of the crops.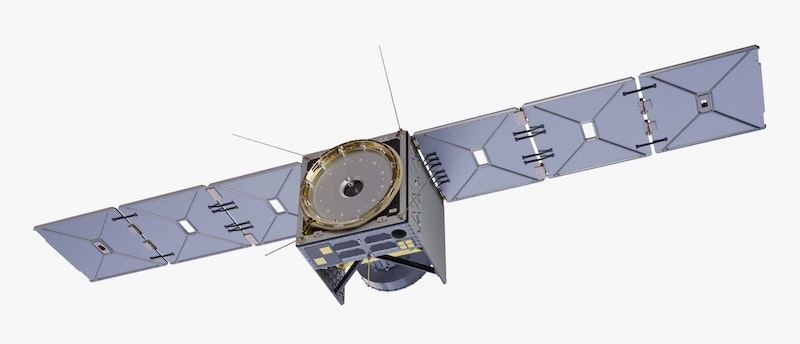 ConstellR's clients will be governments, as well as agrochemical and agrifood companies. Names aren't public, but Gulde says his team is working with some of the largest players in the industry to run pilot projects. 
One of these projects looks at maize, a crop that's particularly sensitive to temperature. For every 1C increase above 30C, the yield of maize is reduced by around 1% per day, explains Gulde. That means that just 10 days at 35C would reduce maize production by 50%.
Can spacetech tackle climate change?
Food demand is growing, and fast. The UN estimates we will need to produce 50% more food by 2050 to cope with population growth. Together with climate change, this is likely to make regulations on water and fertiliser use much stricter. 
Early warning systems can prevent crop yields from plummeting and avoid "potentially catastrophic supply chain effects". But there are currently no affordable and scalable solutions to monitor water need for crops. "In-field sensors and drones are simply too expensive and current satellite systems cannot detect water stress in time," says Gulde. 
"No other commercial mission, existing or upcoming, can achieve the measurement accuracy required for agriculture. And public missions, including Copernicus, will not address this urgent issue until the end of the decade."
We're now seeing a wave of startups monitoring the Earth from space to track and tackle the effects of climate change. Finnish startup ICEYE, for example, monitors natural disasters including floods and hurricanes, and OroraTech, a German company, monitors wildfires. 
Governments used to act as gatekeepers for space, but legislation in the US and Europe now allow private companies to operate off-Earth. Europe in particular is now pushing for space sovereignty and encouraging founders to start spacetech companies.
"Costs are down and the regulatory environment has made spacetech very attractive," says Steve Jacobs, venture partner at Lakestar. "The time is perfect for new space companies."