Everyone who is anyone in the US is now issuing a SPAC.
It's part of the latest craze which sees investors — from VCs to famed entrepreneurs — raise funds for a shell company, before taking it public with the intention of acquiring a startup.
In Europe too, the SPAC hype is slowly catching hold. Nick Koemtzopoulos, a European director at Credit Suisse, confirmed to Sifted that the bank was working with a good "pipeline" of local issuers, and anticipated a "snowball" effect from recent SPAC debuts by Lakestar and Martin Blessing.
But not everyone seems so sure about the SPAC hype.
While dozens of American VCs have now formed SPACs, Sifted spoke to 14 top European VC funds who say they're still hesitant.
The overall sentiment is that while investors like SPACs as an exit-route for their portfolios, most VCs don't yet want to sponsor (issue) them.
"It's not at all in our plans to sponsor a SPAC, the market feels overheated," said Tim Levene, a partner at London's Augmentum. He also warned that hype in the SPAC market has made them a risky vehicle to get behind.
"With over $150bn of SPAC dry powder sitting on the sidelines, we feel many of the companies that these SPACs are targeting do not wish to go down that route, and there is a danger that second and third tier propositions become the eventual outcomes," he said, before predicting that next year won't see "anywhere near the same level of SPACs.'
This marks a tangible divergence from the mood in the US, where Amy Wu, a partner at Lightspeed, recently told Pitchbook: "I think every [VC] fund is thinking about doing this now."
Aside from Anthemis, the following VCs also said they had no immediate plans for a SPAC:
Cherry Ventures
EQT Ventures
Dawn
HV Ventures
Creandum
Felix Capital
Draper Esprit
Local Globe ("it's pretty low down on our priority list")
OMERs Ventures
Albion
Northzone
If true, these denials suggest the shortage of European SPACs isn't just down to regulatory difficulties — it's also that investors aren't yet ready to throw their hat in the ring. (Sifted did not receive a reply from Atomico, Balderton, or Latitude.)
Sifted Newsletters
Up Round
Every Friday
Dive into VC and meet the people holding the purse strings.
Why not?
For Dawn, it's still too early and uncertain to commit major resources to a SPAC, explains partner Haakon Overli.
"It's a bit of a strategic bustle right now...we have to think about core competencies," he said. "I'm not sure what the steady state is...[of] if anyone is entirely clear how it's going to play out." 
To his point, SPACs haven't yet proven they have particularly good returns for investors. This reticence may also come from the fact that early-stage VCs don't really engage with public markets, says Frederic Court from Felix Capital.
"I don't think we will see as many VC managers sponsor as in the US...fewer managers [here have] public markets and IPO experience."
Indeed, Berlin's Rocket Internet floated publicly in 2014 but announced it was delisting last year in what was dubbed an "ill-fated experiment with public markets."
The exception to this, Court says, is VCs who do "growth-stage" investments.
Examples include Atomico, Balderton, and EQT Ventures, while dedicated late-stage investors include IP Group, Finland's Finnvera, as well as Sofinnova Partners in healthcare.
"[SPACs are] a later-stage strategy but a logical expansion for anyone with a successful growth programme," Court explained.
Creandum's Johan Brenner added that those with "great brand names and with specific vertical sectors" would be particularly strong candidates.
Indeed, this is fitting with Lakestar's decision to launch Europe's first blank cheque company focused on tech last month. Meanwhile, the VCs who are issuing SPACs in the US are generally well-known funds like Ribbit Capital and SoftBank.
The 'maybes'
The good news for Europe is that VCs aren't the only viable SPAC sponsors.
Entrepreneurs and high-net work individuals have also shown an appetite for SPACs. So far, we have seen top European entrepreneurs like Xavier Niel, Arnaud Massenet, and LVMH founder Bernard Arnault dip their toe into SPACs (although the latter two listed in the US).
Meanwhile, British entrepreneur Michael Tobin and former Credit Suisse boss Tidjane Thiam are both currently fundraising for their own.
To this point, Felix Capital's Court predicts that several European SPACs will come from "successful operators in public tech companies," teaming up with financiers.
Another future contender could be Founders' Factory Brent Hoberman. In an interview with Sifted, Hoberman said he wasn't actively working on a SPAC, but that he wasn't "ruling it out yet."
"The question here...is can you be a talent magnet," he said. "It's [also] how do you get to the right deals at the right price."
Hoberman suggested other obvious sponsors included Taavet Hinrikus, the cofounder of Wise (previously Transferwise), or Tom Blomfield, given their fintech expertise and that they're no longer full-time CEOs.
However, he also questioned whether Europe needed that many SPAC sponsors given there's a limited number of eligible startups to buy. He also begrudged the trend of "celebrity SPACs", dismissing the idea of a 'David Beckham SPAC.'
Finally, Europe's private equity (PE) firms are also in the running, including Vitruvian Partners, IdInvest, Blackstone, Palatine and BC Partners.
"I see a PE firm doing [a SPAC] to compete with VCs earlier," said an insider at a top VC fund, especially those with more rigid "capital allocation."
To stay in Europe or not to stay
European SPACs could offer a counteroffensive to the wave of US sponsors now looking to buy European startups. This will help keep Europe's top companies local and allow retail investors here to buy-in.
Still, the reality is it's still easier to list in the US given its regulatory process. It's also cheaper.
Klaus Hommels from Lakestar told Sifted he paid "seven figures" more than he would have done in the US in order to list his SPAC in his native Germany. In short, negative interest rates in Germany meant there is now a price to pay on the funds raised (which stay in escrow until an acquisition is made).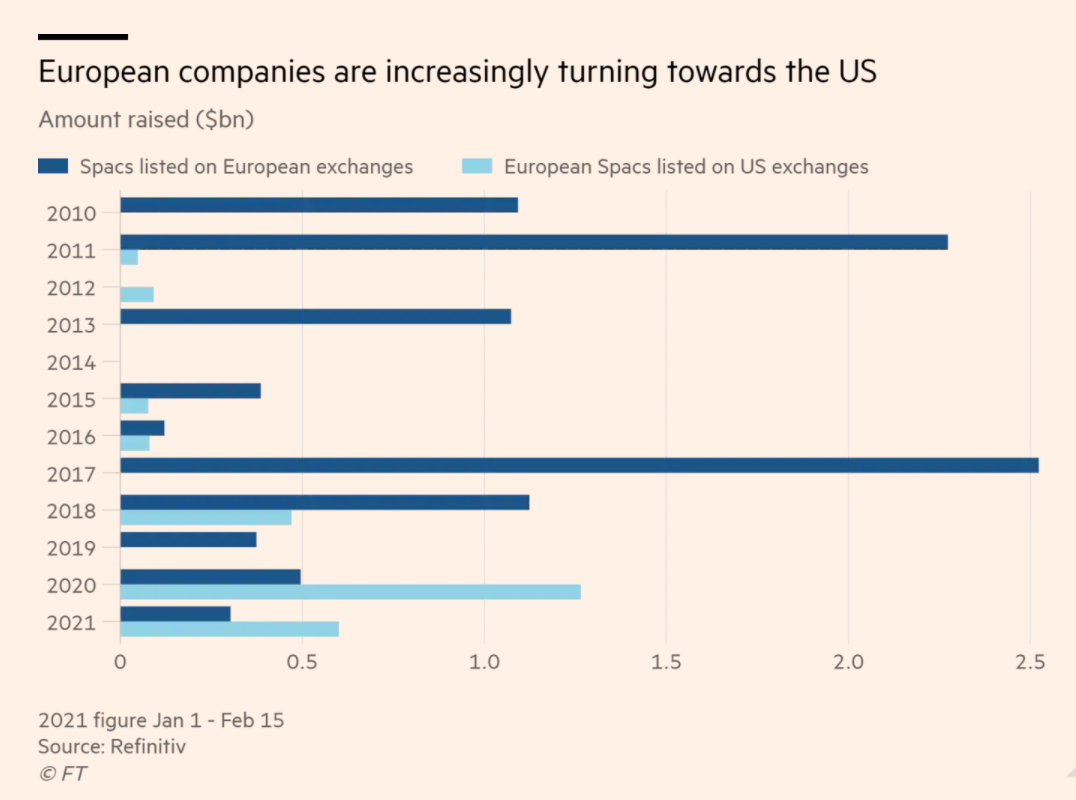 In an effort to address the regulatory hurdles, there is now a big push in London to reform exchange rules to make SPACs viable. That may help boost the demand among sponsors.
But there is a degree of time sensitivity in getting European SPACs to market.
According to Dawn's Overli, European CEOs are getting "a call a day" from US SPAC sponsors (there could be up to 20 scouting here, including the North Atlantic Corp and Tailwind).
UK startup Paysafe has already SPAC'ed in the US, while there are rumours around WorldRemit and Cazoo doing the same.
Will Europe be left out to dry?