Nicolas Julia sits down in the conference room at the Paris headquarters of his NFT startup Sorare and proceeds to be disappointingly calm.
It's not that I was expecting the kind of histrionic theatrics that I had so often witnessed back in my Silicon Valley days. But I had expected at least some hints that he was pressed for time, maybe rushed between meetings.
Just six months ago his company, which uses the most hyped technology (NFTs) in the buzziest of industries (Web3), raised a $680m Series B round. It must now expand its fantasy sports league platform around the world — a scaling burden that requires hiring hundreds of employees, opening international offices and signing major sports leagues to deals to make critical growth milestones.
And yet, Julia gives no hint of someone labouring under the impossible expectations of some of the world's wealthiest investors or hobnobbing with some of the planet's biggest sports stars as he slides into a chair and asks forgiveness for being a few minutes late. We've agreed to eat a speedy brunch at the Sorare office to more easily squeeze into his schedule. His short-brown hair is only slightly tussled and his facial hair has settled unapologetically somewhere between stubble and a legitimate beard. His button-down green shirt, with sleeves sensibly rolled up to the elbows, is absurdly unpretentious, and he arrives without even the hint of an entourage.
"To be honest, I'm not sure you'll find something crazy about me," he says laughing.
By coincidence, just after our lunch, I had a phone interview with Jean-Sébastien Beaucamps, founder of LaCollection, which is developing an NFT platform for museums and had just announced a seed round whose investors included Julia. Beaucamps and Julia first became friends while attending business school in Lyon more than a decade ago.
"I don't know how you found the lunch," Beaucamps said. "But I think that as a person, despite this wonderful journey, Nicolas remains the same person he was even a couple of years ago. He's very humble and normal."
Normalville, France
The Sorare office is hidden in a nondescript building in Paris' first arrondissement. The company has the misfortune of sharing its address with the adjacent Café Oz, a garish "Australian bar" that sports a large stone crocodile running down its facade that likely has Baron Haussmann turning in his grave.
Entering Sorare's offices, I pass a handful of football shirts festooned with autographs of players that this particular football (or soccer as it should be) ignorant American could never hope to decrypt. Up the stairs on the main floor is a small indoor pitch, which no doubt would have made for a lively scene in non-pandemic times but now stands silent.
A decision has been made somewhere along the chain of command that food will be ordered from Frichti, the French delivery kitchen that had recently been acquired by German delivery giant Gorillas. French companies are more or less required to provide lunch to employees. But rather than having a canteen, Sorare has a corporate account with Frichti that allows employees to order each day.
On this day, I've ordered a pillowy burrata arugula salad to start while Julia has a bowl of steamed vegetables with aioli. This is followed by cauliflower risotto for me and lieu jaune fish with green salsa for the CEO. We stick to water from the Sorare taps. Brian O'Hagan, Sorare's head of growth, has been pressed into duty as our unlucky server for the afternoon and makes a good show of not being insulted by the demeaning task.
This is the first time Julia and I have met in person, but it's the third time we've spoken over the past year. I interviewed him once on Clubhouse, back in the days when Clubhouse was fleetingly a thing. The occasion was the announcement in February 2021 that Sorare had raised a $50m Series A round, a seismic amount at the time which thrust the startup into the international spotlight.
Julia grew up in the southern reaches of France near Perpignan close to the Mediterranean before moving to Toulouse to finish his pre-college studies — and leaving his accent behind him.
"I left the south when I was 18," he said, by way of explanation. "But it's a crazy thing because when I go back down my accent comes back after a couple of days."
From there came business school in Lyon and brief adventures in Sydney and Helsinki before getting sucked into Paris's vortex when he was 24. Following a few years as a consultant, he cofounded an AI incubator for corporates and startups before jumping ship to blockchain startup Stratum. There he worked with Adrien Montfort, who became his cofounder and Sorare's CTO.
While working on blockchain projects for enterprises, the pair became intrigued by a new asset protocol that was being developed called a non-fungible token. Basically, an NFT creates a unique identifier for a digital good on the blockchain. And without getting too technical, this meant that rather than being infinitely copied and commodified, a digital thing could come with a certificate of authenticity which allows it to have some value.
"We were fascinated by that because as human beings, people have been collecting things in the physical space for centuries," Julia says. "But with this technology, they have an opportunity to collect face in the digital world."
WTF is NFT?
Back in the early 1960s amid the rise of LSD and hippie culture in the San Francisco Bay area, author Ken Kesey addressed the emerging cultural divide by saying: "You're either on the bus or off the bus."
NFTs have a similar feel that is partly generational and partly cultural. Blockchain protocols and technical gobbledygook aside, NFTs come down to a feeling: does owning a purely digital object on a blockchain platform or the metaverse or a video game or your smartphone carry the same emotional attachment as something you can hang on a wall or put on a shelf?
Growing up, Julia and I both were avid collectors of sports trading cards. For me, it was primarily Topps baseball cards. I'd save up 25 cents and buy a pack at a convenience store to build up a collection that I could trade with other kids in the neighbourhood. For Julia, it was the same, but with Panini football stickers. And later, we also both played in respective fantasy sports leagues, drafting and trading players to compete against others based on the respective performance of the players we "owned".
With NFTs, the Sorare cofounders saw a way to replicate and combine trading cards and fantasy sports leagues in the digital realm.
"We liked NFTs, but it had to be more than the technology," Julia says. "What if, on top of this, we add something that people relate to emotionally? And soccer is the biggest sport in the world."
And this is the moment with NFTs where you're either on the bus or off the bus.
"Most of the value was derived from just having the physical collectible and then you put it in your album and then that's it. You don't have any more experience, right?" Julia says. "But as our lives become digital, people get comfortable with collecting digital things. On top of that, you can use them to unlock experiences. So for us, it's the fantasy game, but it's also meeting the player or having a discount to go to the stadium based on the ownership of the NFT. It goes beyond being a pure collectible. That's what we're trying to do."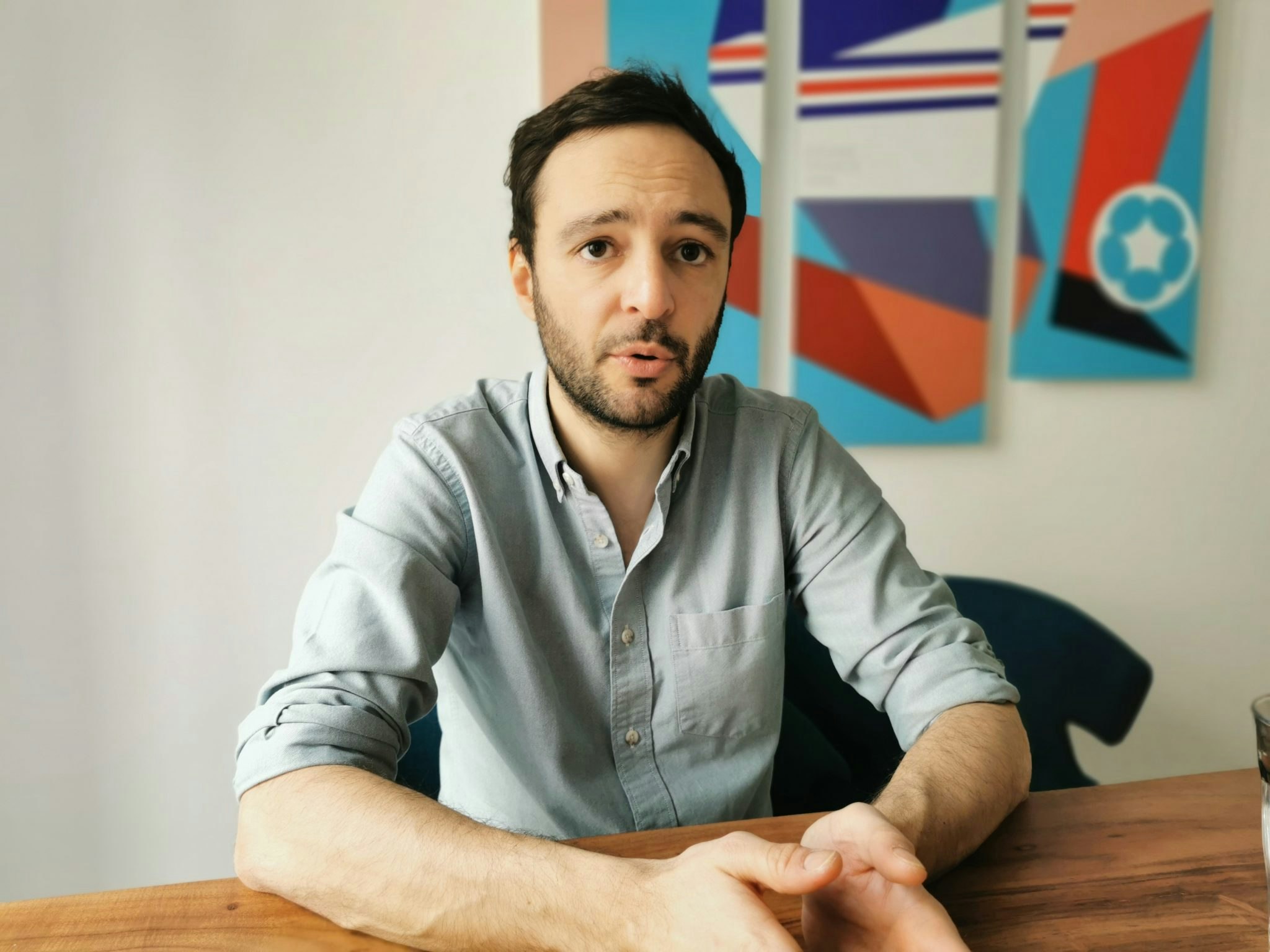 This has been the same business plan Sorare has been pitching from its first pre-seed slide deck, Julia says. By owning a player's card, there was also the opportunity for the real player or the club to build a relationship with fans that would lead to a community that could present other monetisation efforts. For players, or sports leagues, who make money licensing their brands and images to trading card companies, the value proposition is similar but potentially much larger and deeper.
Still, those first few months, the cofounders were greeted by a lot of puzzled looks as they tried to explain NFTs to scratch together a $610k pre-seed round in 2019. But by 2020, the world had caught up. Headlines were filled with stories about NFTs selling at auctions for ridiculous sums. A $4m seed round in July 2020 came as they were rushing to keep up with growth and were already profitable.
So they weren't necessarily looking for more money when investors came knocking again several months later, led by Peter Fenton of legendary Silicon Valley VC firm Benchmark. Just 48 hours after meeting with the man who backed Twitter and Yelp, Sorare had a term sheet for that $50m round that would also include French football star Antoine Griezmann and Reddit cofounder Alexis Ohanian.
From €40k in revenue in 2020, the company had leaped to €11m in the month of February 2021.
The round, as Julia notes, turned out to be the "entrée before the main dish". Seven months later came the $680m round, and more recently word that tennis legend Serena Williams (and Ohanian's wife) had joined the board as an adviser.
Over time, Julia expects the term NFT to fade into the background. It's the experience on Sorare that should matter.
"The same way you don't talk about the HTTP protocol when you talk about Airbnb, you're not going to talk about the technical infrastructure when you talk about NFT companies," he says. "You're going to talk about what you're doing for consumers. In five years, I don't think we're going to have 'NFT' on our website."
America, ahoy!
The world conquest begins on the shores of the United States. Julia has been shuttling back and forth getting the company's New York office opened and staffed while preparing strategically and culturally to tackle America.
"Everything is bigger, right?" he said. "So that's exciting when you have the ambition that we have. You cannot treat the US as a second-class citizen. It needs to be front and centre in everything that you do."
He said the company is "going to launch two US sports" later this year, though he won't say which ones. I'm guessing it's not lacrosse and fly fishing.
Along the way, Julia has been slowly absorbing the fundamentals of esoteric American sports like baseball and American football and will likely soon be able to bore his French friends to tears by explaining the nuance of the infield fly rule. Still, the creep of this global ambition has brought with it the slightest of corruptions. Julia heretically refers to the global sport of people trying to kick a ball into a net as "soccer" rather than "football" in a nod to the cultural and economic importance of the US.
"Did you watch the Super Bowl?" he asks me. "It's more than watching a game, right? It's spending time with your friends and other fans. There's a connection that goes beyond the game."
"I did not watch," I reply. "Because my team (the Kansas City Chiefs) should have been playing but choked in the league championship. But here's a quiz for you: which teams played in the Super Bowl?"
"The Bengals and the Rams," he answers correctly. "I mean, I know the basics."
For the most part, he's going to be relying on the people he's hiring for the US office to be a bridge to those sports. He sees that same passion among American sports fans for trading cards and fantasy leagues as he sees in Europe. When the new US sports go live, he knows that Sorare will effectively be a single company standing on two important legs.
"It's going to change the face of the company," he said. "That's going to be massive for us and we're making sure we're ready for that. We are going to build a global marketplace that's going to transcend one sport."
A quiet place
Our lunch finished, Julia offers me a coffee. As there is not another soul in sight, Julia leads me to a kitchen to make it himself.
There are two bags of sweets on the table labeled "San Francisco Chocolate" which he says were a gift from a new hire. There is the obligatory table of freebie snacks under a gallery of employee polaroids. A photo of Kylian Mbappé kissing the World Cup trophy hangs on the adjacent wall.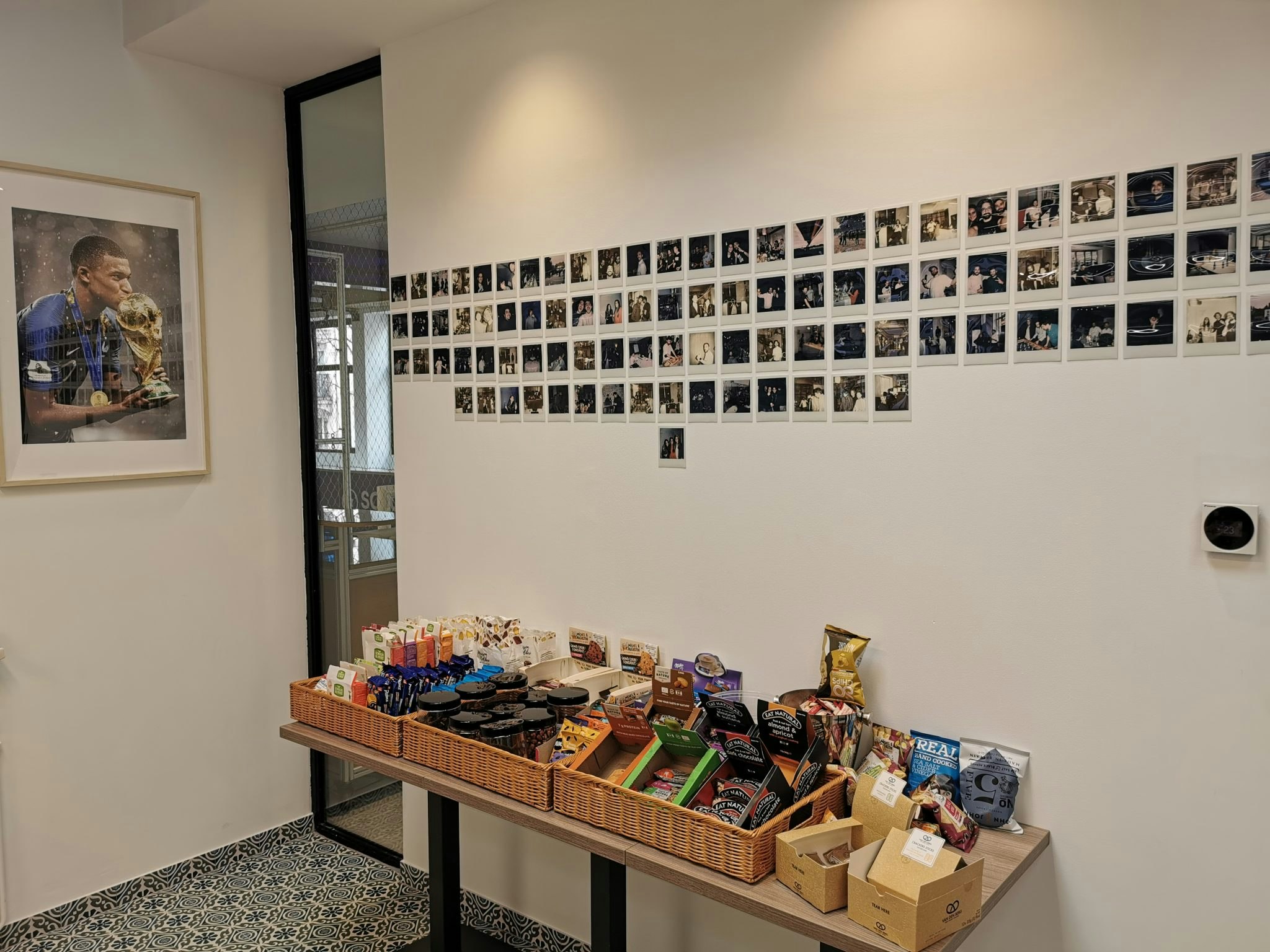 As we stand in the kitchen and sip our drinks, I circle back more directly to the question on my mind: aren't you feeling tremendous pressure?
He thinks for a moment before almost veering into platitude-adjacent territory.
"You want to have a huge impact and you want to build something important," he says. "I see fundraising as the fuel that you put on the engine. But you have to make sure that you stay true to your principles and values and focus and you keep on growing. So yeah, it's more responsibility."
That responsibility has forced him to become "laser-focused" on the most important opportunities. He is learning to rely more on his team. But perhaps most importantly, he is trying to make his personal life a priority — albeit with some adjustments.
Julia is married with two kids, aged three and five, and the younger one is more likely to keep him up at night than KPI-related stress. He has less time to watch sports (ironically) or for weeknight dinners with friends, but continues to play soccer pickup games (he's a striker, whatever that is). He tries to stick to a routine that includes dinners at home with the family and personal time on the weekends.
I notice that Julia is wearing an Oura smart ring, the latest startup hipster bauble and perhaps the only chink in his armour of normalcy. He said it was recommended by an investor and he's just in a sort of testing phase. Instead, his attention to wellbeing revolves around the basics.
"If you don't keep time for you to sleep, to exercise, to spend time with your daughter and wife, then you're basically dead," he says. "And I keep telling my team that. It has to be about the journey rather than the goals. Because you reach one goal and then there is another goal. But if in five years I meet the goal but fucked up my personal life, then is it really enough for me? No."
Our time is up and Julia thanks me for coming. He's got his next appointment and has to go. Though once again, there seems to be no rush. Julia walks off at a measured pace, still looking every bit like someone who knows where he's going but not particularly stressed about getting there.
The bill
Nicolas Julia
Steamed vegetables and aioli €4.90
Lieu jaune (pollack) with green salsa €11.90
Chris O'Brien
Burrata of Puglia with arugula €5.20
Fregola-based risotto with a creamy parmesan sauce €8.90