Blockchain-based fantasy sports game Sorare has today announced a new four-year licence deal with the UK's Premier League, after a lengthy negotiation process.
As part of the deal, the Premier League has been granted equity warrants that would allow it to buy a stake in the startup in the future. 
Bagging the world's most-watched football league is a huge milestone for the startup. It's now partnered with three of the biggest sports franchises in the world, with America's National Basketball Association (NBA) and Major League Baseball (MLB) also signed up.

A mammoth deal
The new licence deal will allow Sorare to produce digital, NFT-based cards of football players from all 20 Premier League clubs, from Arsenal and Liverpool to Manchester United.
NFTs (nonfungible tokens) are based on the blockchain, can't be duplicated and are actually owned by users, meaning they can be traded — in some cases for hundreds of thousands of euros. Sorare will also launch new features including league-specific competitions, draft-based gameplay and capped-mode competitions.
They were looking for a partner they can rely on for probably decades to

come
The exact cost of the deal to Sorare has not been disclosed, but sources previously told Sky News that Sorare could be paying up to £30m a year for the privilege.
In a media interview last week, Sorare CEO Nicholas Julia seemed confident that the licence will be extended beyond the current four years.
"They were looking for a partner they can rely on for probably decades to come," Julia told reporters.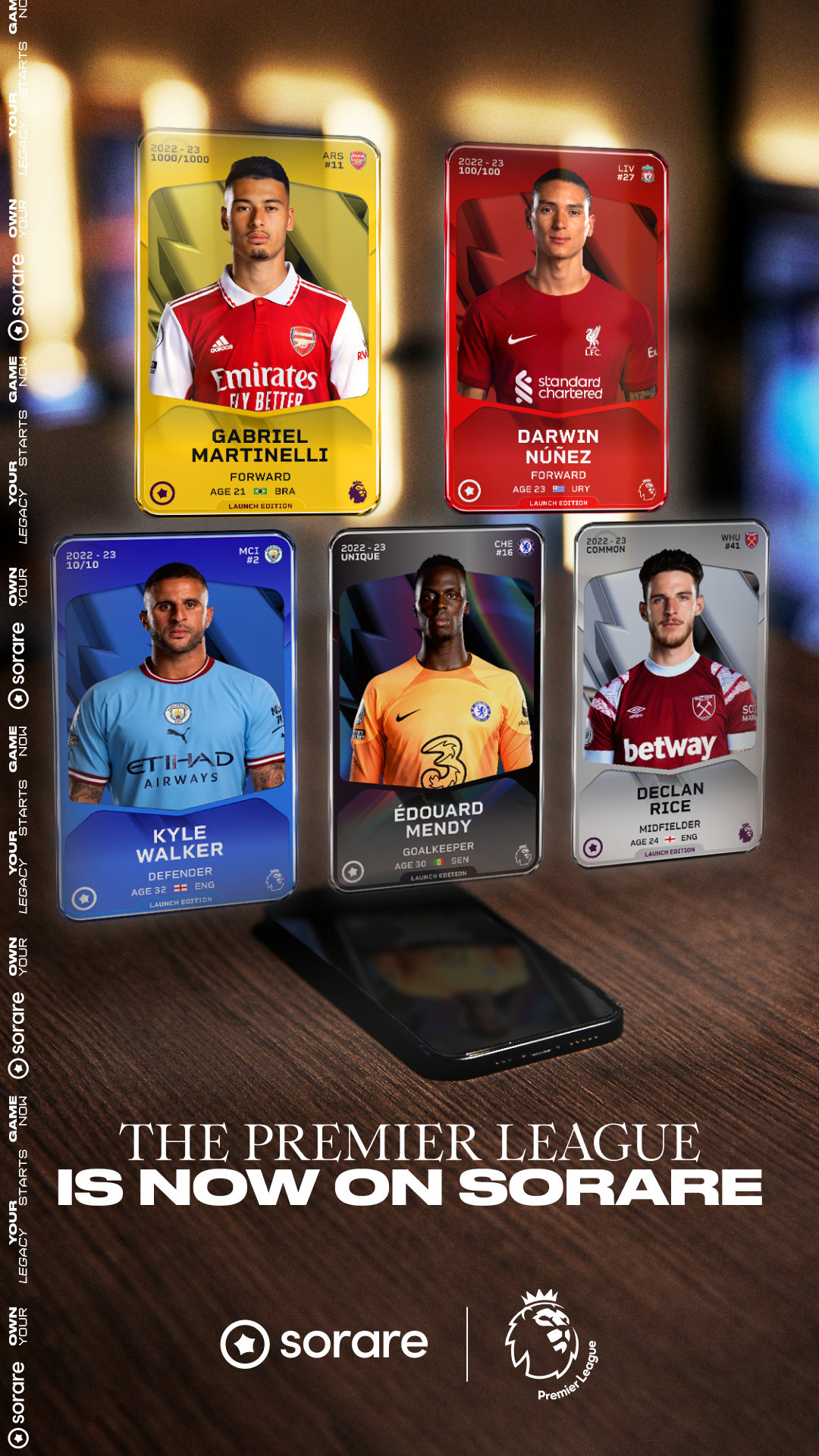 What does Sorare do?
Sorare is a fantasy sports game that allows users to collect and trade NFTs representing real-life sports players. Users — called "managers" — build their teams from these player cards and then play them in fantasy sports games. 
Team success is pegged to players' real-life performance, and the prizes up for grabs bridge the physical and digital world, ranging from in-person visits to training grounds to cryptocurrency prize pots.
The startup now has 3m registered users, up from 2m in early 2022, and claims it had 650k monthly active users as of December 2022. The US is its fastest-growing market, where users grew 6x between 2021 and 2022. 
Users' "cards" functioning as NFTs means that if the Premier League deal isn't extended beyond the current four years, users will still own and can continue using their player cards, according to Julia. 
If this deal were to come to an end, Sorare would cease generating new cards, which would likely push up their secondary market value.
Opening up secondary market revenue 
Up until recently, Sorare's main source of revenue was the primary sale of these cards.
But in November last year, it began charging users a 5% commission on the secondary sale of US player cards for the NBA and MLB: a new revenue stream that is evidently a key component of the logic behind this Premier League deal. 
"This second revenue stream is going to develop, and we plan to introduce it for football," Julia told reporters.
"We're finalising which players are going to work and so on, but it's coming," he added. 
As it stands, 87% of Sorare's users choose to play only with its free-to-use features. 
This second revenue stream is going to develop, and we plan to introduce it for football... we're finalising which players are going to work and so on, but it's

coming
The company claims to have achieved solid revenue growth in the last 12 months despite the dramatic slump in the NFT market, but declined to provide exact figures. Gross merchandise volume, which refers to the amount that users spend on the platform, grew by 50% from €270m in 2021 to €520m in 2022, Julia said.
The most recently available full revenue figures are those at its last SoftBank-led fundraise in September 2021, when it was generating more than €150m in annual revenue, earning it a $4.3bn valuation. 
Will Sorare shift away from crypto?
Currently, users can buy player cards on Sorare's site using either fiat money through credit card transactions, or Ethereum — the latter chosen because it was easier to integrate with the blockchain technology on which the player NFTs are run.

But after the diabolical year that the crypto industry has just had, Julia was keen to emphasise that the proportion of users using fiat money for transactions grew in 2022, and hinted that Sorare may abandon this crypto element altogether in the future. 
"Most users don't even know that Sorare uses NFTs, or is based on the blockchain," he said. "Our in-game currency is a cryptocurrency but this is something we plan to change, as it's the last remaining friction: people don't want to be bothered by the volatility of it all." 
Ongoing gambling probes
Although Sorare claims its "bridging" of the digital and physical worlds is what sets it apart from other fantasy sports games, herein also lies one of its biggest stumbling blocks. 
Because the winners of the in-game tournaments are influenced by how well the players do in real-life games, Sorare has attracted attention from gambling regulators in the UK and France.
In November, Sorare reached an agreement with the French National Gambling Authority (ANJ), promising to make the game easier to play without paying. At the time, the ANJ called on French lawmakers to introduce a new framework for Web3 games.
Meanwhile, an investigation by the UK's Gambling Commission into whether activity on Sorare's platform constitutes gambling is ongoing.
Julia declined to give specific updates on these probes, but said that France will "hopefully see a framework coming in the next year," while in the UK, he "doesn't have that visibility."
Amy O'Brien is Sifted fintech's reporter. She tweets from @Amy_EOBrien and writes our fintech newsletter — you can sign up here.