Some think Germany's Sono Motors will need a Christmas miracle to successfully crowdfund €50m by the end of the month. The company's founders, though, remain confident. 
"We came from crowdfunding," cofounder and chief executive Laurin Hahn says.
The Munich-based startup's target is ambitious. It has given itself less than a month to raise the €50m it needs to get its solar electric vehicle (SEV), the Sion, onto Europe's roads — and, with 10 days left, still needs €33m more.
Cofounder and chief executive Jona Christians says that if they don't raise the full amount the outcome is straightforward. 
"The Sion cannot come to the streets," he says. 
The Sion: an electric car for the masses
Crowdfunding wasn't Sono's only option, however. The founders were offered contracts by and "had discussions that went very well" with prospective investors — but realised this would have required them to ditch their product.
"We didn't say no to investors. We said no to those investors who didn't have an interest in bringing the Sion onto the street," Hahn explained ahead of a crowdfunding event at Berlin's MotionLab.
"We cannot stand in front of the 10,000 reservation holders, the people, and tell them we sold the company for the money, but you do not get your car. And it's not the easy way. It's by far not the easy way," Christians says. 
The Sion is not a flashy car. It's a four-door, family-friendly hatchback with a trailer hitch for a price tag of €25,500. Slicked in solar cells, the Sion also only comes in one colour — black.
It's meant to be an electric car for the

masses.
"It's meant to be an electric car for the masses," Hahn says.
Before the campaign Sono Motors received 10,000 pre-orders and conducted over 13,000 test drives across Europe with its current prototype. 
It has a 255km range, a bidirectional charger (Sion can store your energy "and give it back to you") and sharing services through its app, goSono. Hahn compares the sharing services to Airbnb: instead of the car sitting unused while on vacation, its owner can lend it to someone for a specified time. 
If the funding goal is met, Sono Motors, with partner National Electric Vehicle Sweden (NEVS), will manufacture the Sion in Sweden at an old SAAB factory.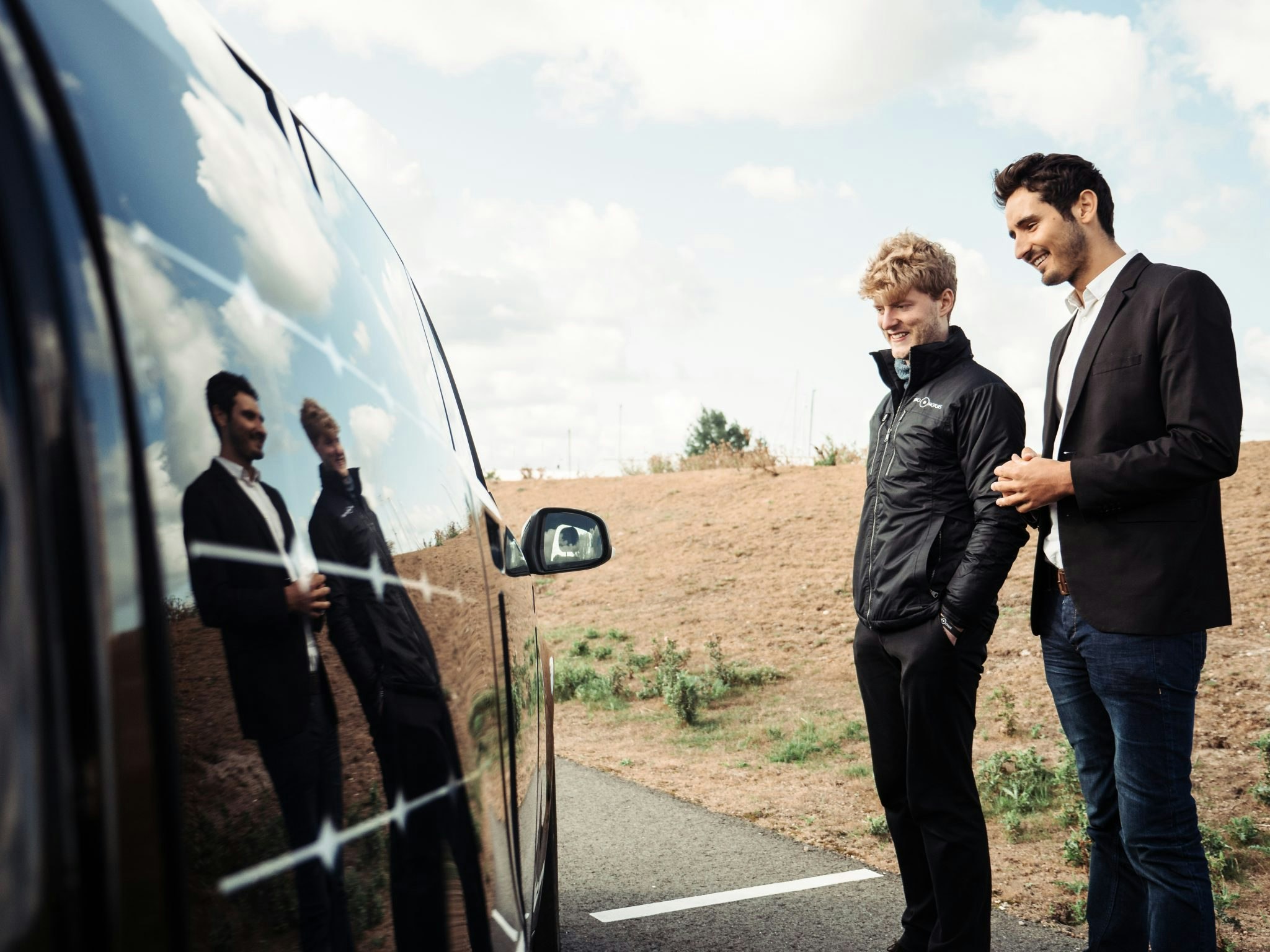 No strangers to crowdfunding
Christians and Hahn, who are both in their mid-20s, say they and their company "totally" believe in the power of community. 
"We say, if there's one way to bring this car to the streets, then it's with the people who really want it, the people who really want to change mobility on the streets," Christians explains. 
The startup, founded in 2016 by three friends, has previously raised on Seedrs: over €1.8m in its first round and almost €5.8m in its second.
So, why €50m by December 30? 
The team didn't want to risk further delaying next steps in production, which has already been delayed to 2021, by starting their campaign any later in winter. Christians also says they looked into successful crowdfunding campaigns and noticed they took place over a short period of time.
€50m will allow Sono Motors to build "the prototypes for the final design, give more test drives and also build up the production line," he adds.
It's not just raising money via donations, though. It's also taking payments for new vehicles and, if Sono Motors receives 2,000 more full vehicle payments, it will hit €50m. In the campaign video Christians describes that as both "concrete" and "achievable". 
Another aspect of Sono Motors' new financing strategy involves transferring the founders' remaining profit shares into a "community pool" and future profits to reservation holders, per an initial press release. 
"We bring our profit shares into this community pool. That's basically it," Hahn says, though the founders will maintain voting rights. Hahn wouldn't dive into the details of the pool, but said that they want to give back to the Sion community for giving so much to them by reserving a vehicle. This pool was approved on December 16, after Sifted's interview, by the German Federal Financial Supervisory Authority (BaFin).
The cofounders stress that they are only asking for a commitment from donors now. No one has to pay until December 30 and that's only if they meet their target. 
The atmosphere
Both the Sono Motors Sion and the company's campaign come at time when historically car-obsessed Germany is trying to figure out how it feels about electric cars and how it plans to reduce carbon emissions on the roads (there are proposals to introduce speed limits to Germany's famous Autobahns).
In November Elon Musk delivered a mic drop of sorts in front of German automobile executives by making a surprise announcement that he is building its Gigafactory 4 Europe outside Berlin. He plans to build certain Tesla models and batteries there. His announcement came after German automobile giant Volkswagen had announced plans to move forward with production of its ID.3 electric car.  
Yet, alongside the apparent wariness around electric cars, there appears to be a larger hesitation towards startups in Germany's crowdfunding landscape. 
According to Crowdinvest, the German crowd investment market was approximately €297m in 2018, with €80m going towards businesses. Of that, €18m went towards businesses labeled as startups. Keeping in line with more traditional practices, the vast majority of crowd investments in Germany went to real estate and have increasingly done so in recent years, with approximately €211m in 2018. 
Hahn and Christians also claim politicians hold a lukewarm embrace towards startups.
In Germany, startups don't have it very easy: from politicians there's not a lot of backing for

startups.
When they announced their December campaign, the founders demanded "urgent action" from politicians. "Had we relied solely on funding measures or the German market environment, Sono Motors would probably not exist in its current form," Hahn said in a press statement. "It should be possible to implement such a future project in Germany and lead it to economic success. We will continue to fight anyhow."
"In Germany, startups don't have it very easy," Hahn simply says. "From politicians there's not a lot of backing for startups."
"It's simply different in Germany, from point of mentality," Christians says about the political support of startups. "Having the risk in front of you scares a lot of people." 
With more than €30m left to raise and not much time left to do it, risk is certainly something that doesn't appear to faze the Sono Motors team.
This article was produced by Catherine Treyz in collaboration with Silicon Allee, which supports a community of international startups based in Berlin.