When I arrive five minutes early for my brunch with Accel partner Sonali de Rycker she is already settled in comfortably at a corner table. I expect a serious meeting — Forbes has recognised her as Europe's top female VC for the past four years running and her investments include Spotify, Hopin and Monzo. 
Yet, when she gets up and greets me with a warm smile, she is less imposing than expected and much softer spoken. Wearing a white blazer and the kind of high heels most of us have forgotten how to walk in during lockdown — she later confesses it was a toss-up between those and her comfy trainers — she fits in well to the wood-panelled room and background jazz. 
The restaurant she's picked is Dean Street Townhouse in London's Soho. Part of the Soho House group, it's a stylish but safe choice: according to reviews there isn't a single shocking item on the menu. Not that this matters — De Rycker barely touches her green smoothie and gluten-free toast. She drinks a coffee, remaining focused on the conversation about her career and the European startup scene. 
Both de Rycker and her PR have told me ahead of the interview that she does not enjoy being the centre of attention and that this is the first discussion of its kind she has agreed to. "Tell me about yourself," she says, before I get to ask any questions. So I talk, and she listens charmingly. 
Every night when I go to sleep, I think of everything I could be doing more

of
As I talk I imagine how hundreds or even thousands of hopeful founders have sweated through this. If I was pitching, this would be my multimillion-dollar moment. An investment by de Rycker is a seal of approval to future investors, employees and competitors — and provides access to the deep pockets and network of Accel, still the crème de la crème of European VC. It takes some effort to resist the urge of wanting to impress. I steer the conversation back to her. 
From Mumbai to Accel
We start at the beginning. This means Mumbai, where de Rycker grew up with her sister and parents. Her father ran an industrial packaging company, but money was short. "At a very young age, of nine or ten, I was already thinking how I could do my piece to help take care of my parents," she says, admitting that she might have an overly pronounced sense of responsibility.
However, the conventional options available in India — becoming an accountant or a doctor — didn't appeal, so she set her sights on the US. Without the means to pay, she applied to every US college she knew of. "I never had more grit than then," she says. Finally, Bryn Mawr, an elite women's college, offered her a full scholarship.  
After graduation, de Rycker joined Goldman Sachs in New York. It was around the time of Netscape's 1995 IPO, the first harbinger of things to come for Silicon Valley — the unprofitable tech company made millions for early investors when its shares doubled on its first day of trading. De Rycker joined the rest of Wall Street in paying serious attention to what was going on in California.
I was way too early; it was like watching paint dry in the

beginning
As a young banker, she was thrown into working with young tech companies and promptly "caught the tech bug". But before making it her career, she got a Harvard MBA.
"So many brands, I know," she says — almost apologetically — in reference to all the prestigious names on her CV. "But I took a big risk coming from India as a girl and wanted to make sure I could stay [in the US] and be independent." 
By the time she had earned her MBA in the summer of 2000 and joined Atlas Venture, the dot-com bubble was rapidly deflating. She started in the London office, keen to be part of the seismic change she anticipated in Europe. "I was so wrong," she says — and laughs. "I was way too early; it was like watching paint dry in the beginning." 
For de Rycker, 2002 was "the nuclear winter" of investing in Europe. "There really was no good news until 2007."
"If I stuck with it then, I must really love it," she says. "It wasn't the glamorous career it is today." Family members routinely asked "whether this was really what I wanted to be doing", she says — but she stuck it out and then moved to Accel in 2008.
Life at Accel
Today, the nuclear winter feels long gone and de Rycker is one of the most successful VCs in Europe — and one of very few prominent female VCs. Still, she insists: "I can tell you honestly that I have never felt a single disadvantage for being a woman." 
Today, she is frequently sought out by aspiring female VCs, which de Rycker calls a "real privilege". 
"I wish I'd had somebody who could have shared some of their lessons along the way. So, if I can, I love sharing mine."
I am the same person at home and at work; anything else would just be too

exhausting
While being a woman in a man's world appears no challenge for de Rycker, she admits that being a mother is a different matter. "I am totally open about how hard it is to be a mother and have a career,'' she says — all her CEOs know that her son has been sick with long Covid for a year. "I don't compartmentalise at all. I am the same person at home and at work; anything else would just be too exhausting." 
When asked how she does it all, she sighs. "Every night when I go to sleep, I think of everything I could be doing more of. I could have asked my daughter a few more questions, I could have spent more time with my son, I could have spent more time with my various founders, I could have read up more on a topic. There is that constant feeling that you could and should be doing more." 
As a result, she admits she "lives by her to-do list" — to the point that her husband gifted her an entire pad. She laughs at the memory: "Not jewellery, a to-do list! Who does that?" To show she wasn't kidding, she even sends me photos of the Draeger pad after our meeting.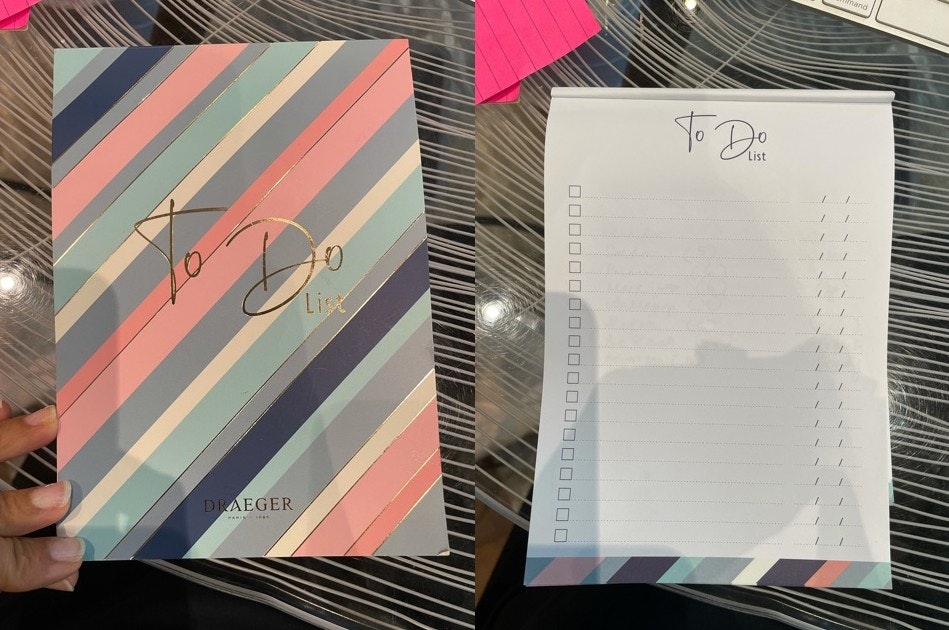 It has an impressive 100 pages — and I wonder how she fills them. According to de Rycker she spends about 80% of her week with founders; either those she has backed or those she may back in the future. She meets at least three founder teams that are not already in her portfolio a day. 
According to Crunchbase, de Rycker sits on 11 boards, including sennder, Hopin and Kry. When I ask her to confirm the number, she says: "I counted 10… could be 9, could be 11." She pauses: "It is pretty embarrassing that I don't know." 
Her entrepreneurs can always reach her via WhatsApp, she says; she's the kind of investor who'll talk to them about dealing with difficult employees or family planning and has monthly catch-ups scheduled with many of her founders. The same is true for journalists, apparently, as we regularly slip into side discussions, including on how to tame a toddler (mine) and a teenager (hers). "You will put this in some order when you write this up?" she inquires, suddenly concerned, when our conversation has meandered yet again. 
To Europe
When the conversation moves away from her to the European startup scene she appears relieved. While she was considering her answers carefully before, she is now quoting numbers and company names at rapid pace. She is back on message and the message is: Europe's startup scene is bursting into a golden age and Accel will be a key player. 
While an increasing number of US investors are now opening European offices (Sequoia opened a London office earlier this year — and Sifted knows of another about to announce that it's setting up shop), Accel has been on the ground in the continent for 21 years.
Accel's European portfolio companies are global leaders. Romanian startup UiPath was the largest global cloud IPO of this year. Accel also invested in Europe's wunderkind Johnny Boufarhat, founder of Hopin, one of the world's fastest growing companies in 2021. And it backed Celonis, which had the third biggest cloud fundraise of 2021. 
To make sure Accel doesn't miss any future superstars, it has catalogued the top talent of 200 leading European startups, across sales, engineering and product, says de Rycker. The belief is that as soon as those individuals emerge with their own startups, Accel can recognise and back them instantly. 
The ambition is here, the talent is here, the dollars are here. It is the perfect

storm
Listening to de Rycker, the European startup scene's exponential takeoff feels imminent: "The ambition is here, the talent is here, the dollars are here. It is the perfect storm." She must be excited? Yes — "and exhausted", she adds, after a pause. 
After almost two hours, we walk out together and, as I unlock my bike, I get a taste of what it might be like to have de Rycker looking over my startup. "Nice bike," she says, but appreciation quickly gives way to concern. "But no helmet? As a mother?" She instantly catches herself and laughs apologetically: "This was so over the line". 
As I weave through the London traffic, I think that I really should buy a helmet, first thing tomorrow. 
The bill
Sonali de Rycker:
Greens & avocado smoothie kale, avocado, kiwi, banana, spirulina, mint, lime, ginger, dates, coconut water £8
Coffee £4
Gluten-free toast and jam On the house
Katja Staple:
English breakfast tea £4.5
Avocado on toast, poached eggs £13

12.5% Service £3.69
Total £33.19