Earlier this month Nordea became the latest Scandinavian bank that was swept up in an ever-expanding Russian money-laundering scandal.
The bank, which has recently moved to Finland, handled €700m in suspicious money flows from Russia and other former Soviet states, according to a Finnish broadcast and a Danish newspaper report, sending Nordea shares sharply lower.
A few weeks before, another bank Swedbank lost a fifth of its value after Swedish TV alleged $5.8bn had moved between Swedbank and Danske accounts with some of its customers showing "several risk indicators of suspected money laundering".
When I look at the Swedish newspapers, I want to burst out 'what are you

doing'?
This is all in the context of Danske Bank, which is being investigated in five countries over some €200bn of suspicious payments from Russia, ex-Soviet states and elsewhere that were found to have flowed through its Estonian branch.
But it could all be so different, says Emil Eifrém.
For Eifrem, the 40-year-old founder and chief executive of the graph database company Neo4j, the solution to their problems is just a phone call away. All the banks need to do, he says, is give him a ring.
"When I look at the Swedish newspapers, I want to burst out 'what are you doing? We can fix this!" he tells Sifted.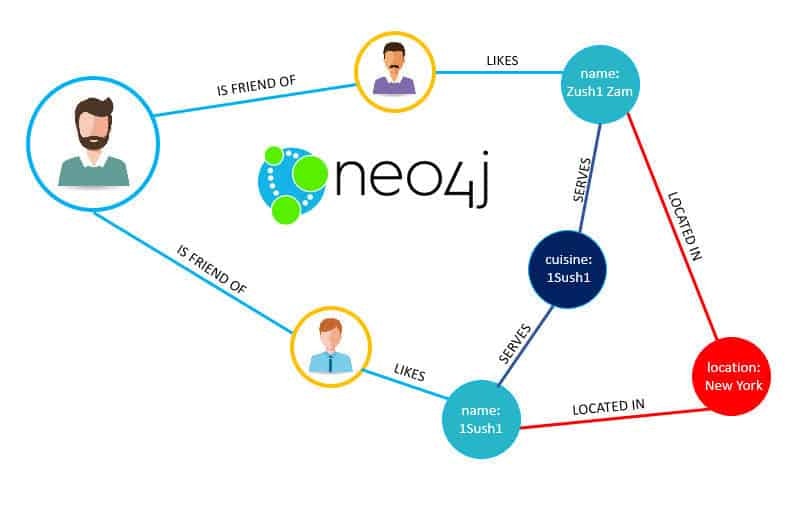 [/box]
Why does Eifrém think his tool — which after all, is just a way to visualise and find data — could help with tracking and preventing suspicious money flows?
Well, for one thing, he has done it before.
Panama Papers
The Panama Papers was a gigantic leak of 11.5m documents from the law firm Mossack Fonseca, which back in 2016 showed how the elite had been setting up offshore accounts in tax havens.
To connect the dots between people, companies and offshore accounts in the vast amount of data, the International Consortium of Investigative Journalists, which was looking into issue, used Neo4J's graph database to help them.
They were sitting on all the data, but we were able to find the information that they weren't able

to.
For Eifrém, The Panama Papers is an excellent example of how a graph database can be used.
"The former prime minister of Iceland, Sigmundur Davíð Gunnlaugsson, was one person we could link to an offshore account in the Panama Papers. But not directly to him but to his wife and the address they shared," said Eifrém at a recent conference.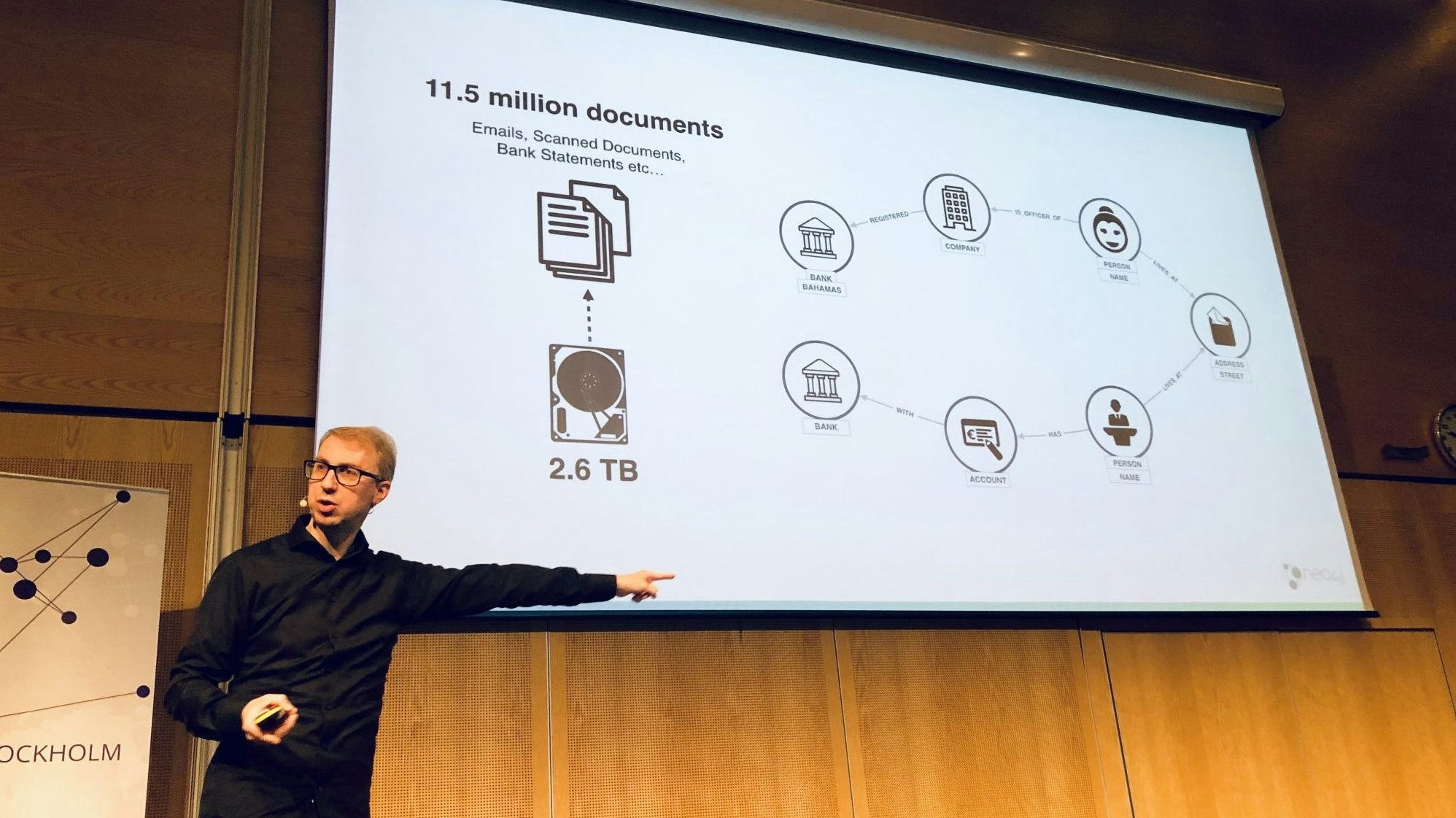 Eifrém says that being used in the Panama papers was hardly a boost to their business at the time, but led to a better understanding about the product among the global banks.
"After Panama Papers most of the banks and financial institutions contacted us," he says. "They were sitting on all the data but we were able to find the information that they weren't able to. They couldn't understand how. The problem is that at this kind of companies the data is spread out in silos all over the place but with the aid of a graph database they can connect them."
Using it for tax evasion – not money laundering
According to Neo4j, a number of large banks use the company's graph databases today.
But the problem is that the services are not being used in all areas where it could be adding value — with few using it to combat money laundering
"Since Panama Papers, we have been adopted by many banks to deal with tax evasion, but when it comes to credit risk and money laundering, it is a completely different story," says Eifrém.
All I am allowed to say is that this bank uses us for fraud

detection.
In Scandinavia, there are a number of financial organisations using Neo4j, although Eifrém is not allowed to say which ones. The only bank that has agreed to be named is the Brazilian lender Itaú Unibanco.
"All I am allowed to say is that this bank uses us for fraud detection," Eifrém says.
When asked for comment Nordea, one of the banks investigated for suspicious money flows, said that it had significantly strengthened the monitoring capabilities through investment in additional employees, technology and more sophisticated assessment techniques.
"We have invested more than €730m within risk and compliance and resilience since 2015. These investments have significantly strengthened the risk and compliance platforms and provide vital support to our financial crime prevention efforts, making Nordea a safer and more trusted bank," said press officer Petter Brunnberg.
The financial supervisory authority should have done more
The financial supervisory authority in Sweden, Finansinspektionen, is responsible for checking that the banks have established systems and procedures to prevent them from being used for money laundering.
However, the recent reports in the media about the serious deficiencies in the handling of money laundering in the Baltic countries shows that FI and other supervisory authorities should have done more to coordinate the supervision of banks with operations in several countries, according to a memorandum by FI.
"We are taking the initiative to strengthen our international supervisory collaboration against money laundering and we are redistributing our own resources to increase our supervision capacity," said FI's director general Erik Thedéen after a meeting with the minister for financial markets and housing, Per Bolund, a week ago.
Big tech leaps in
Neo4j was founded in Malmö in 2007 and has since grown to a company with 250 employees. Six months ago it raised its biggest round to date — $80m. And although the founder of Neo4j's and most of the employees are based in the US, the company still have a very Swedish profile and a lot of its development done in Malmö.
"You must remember to tell the audience that we are Swedish," says the German senior marketing director Claudia Remlinger, just after she went on stage at a recent conference in Stockholm.
She adds: "We are really proud of being a Swedish company and when we are in our home market we need to tell people where we come from."
If we had been the only ones doing it, graph databases had never reached the list of Gartner's top ten trends for

2019.
There is a crowd of people coming to see Neo4j executives speak — something that would not have happened a few years ago when few knew what a graph database really way.
But since then, other companies have entered the market, making the technology more high-profile, says Eifrém.
"It is a huge change from just a year ago. And the big change was Amazon. If we had been the only ones doing it, graph databases had never reached the list of Gartner's top ten trends for 2019."
Amazon, Oracle, SAP and Microsoft have all entered the market and although this means competition for Neo4j, it also means that the companies can share the burden of educating the market.
"If we look back the last ten years, the majority of our marketing budget has been spent on educating the market of what a graph database is. That is now decreasing rapidly since Amazon and Microsoft are taking over the education."
Category creator
Being category creator when it comes to graph databases, Neo4j could perhaps have had an easier time if they, like Apple with Ipad, had named their product something else, other than a graph database.
"We tried that in the beginning. We tried names like the Neo database, the Netbase — a network-oriented database, but neither worked," says Eifrém.
"I didn't want to use the word 'graph' because most people think of a linear graph. But in 2007, Zuckerberg added 'we are a utility for the social graph´ on the home page of Facebook. Then I thought, if he, who is doing a consumer product, can use the word graph, then I can too. And graph database worked."
From Nasa to Walmart
Apart from banks, financial institutions and money transfer companies Neo4j is used in a number of sectors and can brag of having closer to 300 commercial customers, including Walmart, Cisco, Ebay and UBS.
But also other organisations use Neo4j, like NASA that used it to find a connection between data from as far back as the 1960s. The service helped to advance the Mars program by two years, says NASA.
"In comparison to other databases we do one thing differently — we look beyond the store and retrieve. What is the best database in the world? The human brain, and how is the human brain structured? Neurons connected to each other through synapses; fundamentally, that is the original inspiration behind what we do," says Eifrém.