One of the biggest issues with solar energy is that it is inconsistent over days and over seasons. Many startups have focused on trying to smooth energy supply over the day — saving up energy during the day for use during the night-time or outside peak hours.
But few have tackled interseasonal storage of solar energy. What if homes could save abundant solar energy created in sunny months to be used for heat and electricity in winter?
So far, this vision has been impossible to achieve. Batteries are too expensive and have short lifespans, and high costs and poor efficiency have crossed hydrogen, which does not emit greenhouse gases when burned, off the list of solutions.
Now, one startup from Norway — a country in a region that probably hopes it could save a little sunlight for cold winters — says it could bring a solution to market in the next couple of years, using solid hydrogen.
The hydrogen lab
The startup, Photoncycle, has a space in the basement of an accelerator in the Oslo Science Park. It's more lab than office; on the floor is a chair-size copper cylinder with a thick styrofoam wrapping around it. This is Photoncycle's breakthrough technology.
The company wants to install a larger model of the cylinder — about three cubic meters large — in the ground a few yards from residential properties. The cylinder contains a patented solution of solid hydrogen, which has more efficient storage capabilities than batteries or liquid hydrogen.
Solar panels on the roofs of the nearby buildings will feed the system with energy to be stored in the unit. Excess energy will be sold to the grid.
A lack of storage for solar power generated in the summer creates a "significant mismatch" between when electricity is produced and when it is consumed: "This is one of the big challenges around how to get the renewable energy system to work properly," says Photoncycle's founder, Bjørn Brandtzaeg.
Houses are currently likely to only use about 50% of what is produced, he says.
"The other 50% increasingly has no value, because when it's produced it's basically going to be dumped or curtailed. If you can store that surplus, and then release it during the winter or when you actually have demand for energy, then you have a real possibility to make a difference."
Partnering with academia
Brandtzaeg is a seasoned infrastructure entrepreneur. The previous two companies he founded were large — one was an energy infrastructure company in Georgia, the other is Norwegian renewable energy company Clean Energy Group. In contrast, Photoncycle has just nine employees and has been financed with Brandtzaeg's own capital and funding from Startup Lab for the last two years.
The idea for the company began when Brandtzaeg was a visiting fellow at MIT in the US, and part of the team looking at the future of energy storage and how to balance an energy grid made up of 100% renewable energy. The entrepreneur, who does not have a technical background, has partnered with people in academia to come up with a non-flammable solution that doesn't lose a lot of energy in the conversion process.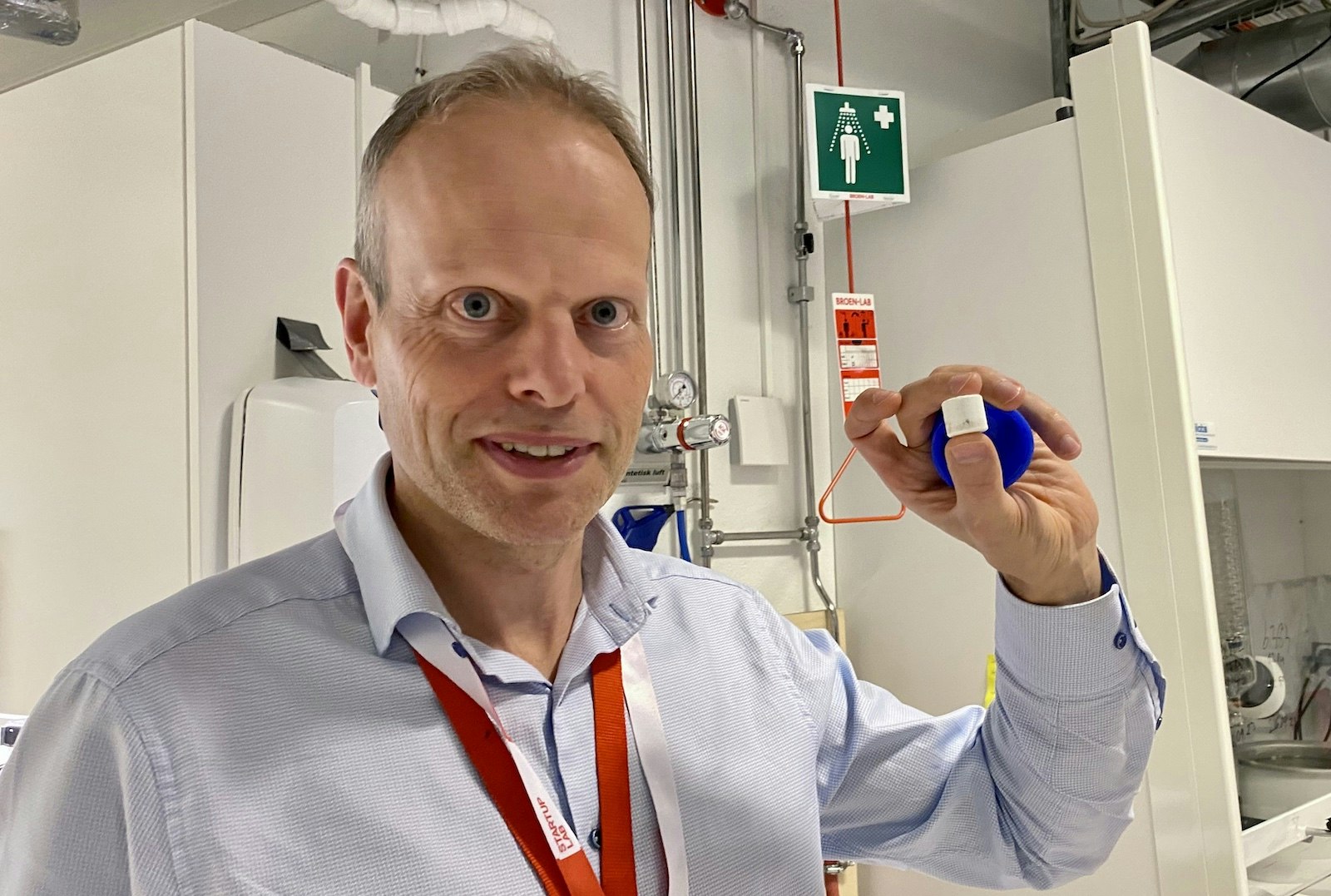 Brandtzaeg holds up a chalk-looking substance: "With this, you can store electricity 20 times as densely as in a lithium battery."
"We're locking up the hydrogen molecules in a solid to basically fix them. We're using a reversible, high-temperature fuel cell, so we're assisting a fuel cell which both can produce hydrogen and electricity in the same cell," he says.
That means no need to cool the hydrogen down, making it non-flammable and giving it a higher density than an ion-lithium battery.
The energy losses used for heating
No storage solution is 100% energy efficient, and neither is Photoncycle's system.
"Everyone knows that when you're turning hydrogen in and out of this fuel cell, there will be losses. In our system, the losses are effectively heat," Brandtzaeg says.
Photoncycle wants to capture this heat and use it to heat houses.
"You can actually use the surplus heat to effectively provide energy to the household — and 70% of energy needs in the household are heating related," he says.
The system, including solar panels, is connected straight to the existing infrastructure and can then replace natural gas with renewable energy in a combined heat and power system. Brandtzaeg says it takes about one day to install.
Denmark as a test market
One would assume a Norwegian company would start off with testing the product in Norway. However, with Norway being one of the cheapest countries in Europe when it comes to energy — it's not going to have the same cost-saving effects on users.
Instead, Brandtzaeg has picked neighbouring country Denmark, which has some of the highest energy prices in Europe, to roll out the tech first.
"Denmark is a suitable launch market with around 400k households that use natural gas and oil for heating," he says.
Denmark has also decided that gas heating is to be phased out by 2030, which gives people an incentive to find a new heating source, according to Brandtzaeg.
Consumers will be offered the fully integrated power station on a subscription model for a fixed monthly fee — an equivalent of an energy cost of less than €0.10 per kilowatt hour. As for the energy produced and sold on the grid, Photoncycle has set up a profit-sharing scheme with the consumers, which will entitle them to half of the income of energy sold.
With enough units set up and connected, Brandtzaeg says it could become a virtual power plant that can start trading energy on the European energy markets.
"Then you can both be selling energy as a service to the customer but also you can become a very big energy player in the energy markets."
The founder wants to triple the team with the goal of selling 10k units in Denmark in 2025, and to have them installed in 2027.
So why has no one done it before?
According to Brandtzaeg, the idea of using solid hydrogen for energy storage emerged a few years ago, but companies have not been using it for residential purposes.
"The solid oxide fuel cells that we use, they're just about to be commercialised. So people have used them mainly for larger applications, industrial applications."
With the EU Solar Energy Strategy, installation of rooftop solar panels is likely to increase further in the region. The plan is to make it compulsory for all existing public and commercial buildings larger than 250 m2 by 2027, and all new residential buildings by 2029 — a strong tailwind for Photoncycle.
"What Elon Musk understood was that in order to beat the gasoline car, you need to put in something which is more attractive for people as a replacement. I think that's the fundamental thing you also need to think about around renewable energy," he says.