When was the last time you sent a ripped or badly-fitting piece of clothing off to be fixed, rather than just getting rid of it? If that question has left you scratching your head, you're not alone. Today London-based repair and alteration startup Sojo has raised $2.4m to try and address that problem.
The round was led by CapitalT and Ascension, with participation from Mustard Seed MAZE and Vertex Albion Capital. 
Since launching in 2021, Sojo has earnt the label of "the Deliveroo of clothing repairs". It runs a bicycle courier network in London that takes clothes to and from the startup's registered seamsters. There is a big market — and a big behavioural shift — for the startup to address with some two thirds of fixable clothes currently being thrown away.
Until now, Sojo has run a direct-to-consumer model, allowing users to request repairs and alterations via an app, with the seamsters setting their price for the work, and Sojo taking a 30% fee.
With this fresh round of funding, the startup will be focusing on scaling its B2B service for fashion producers. In November it announced a deal with Scandinavian brand Ganni and it has another seven brand partnership pilots in the pipeline.
This will allow customers of those brands to easily request clothes repairs and alterations from Sojo's seamsters, which founder Josephine Philips hopes will encourage more people to build a habit of fixing — rather than throwing away — their worn out or ill fitting fashion.
The data of durability
Philips, who is 24, started her career as an intern at second-hand marketplace Depop (she has a passion for vintage fashion), and quickly realised that there were very limited options for getting the items she'd bought altered to fit her well.
"​​My first experience with going to a tailor was that I couldn't believe how it hadn't changed since the 1800s," she tells Sifted. "It was cash only, everything was just written down on paper in this tiny shop. The focal point here is bringing that into the modern age."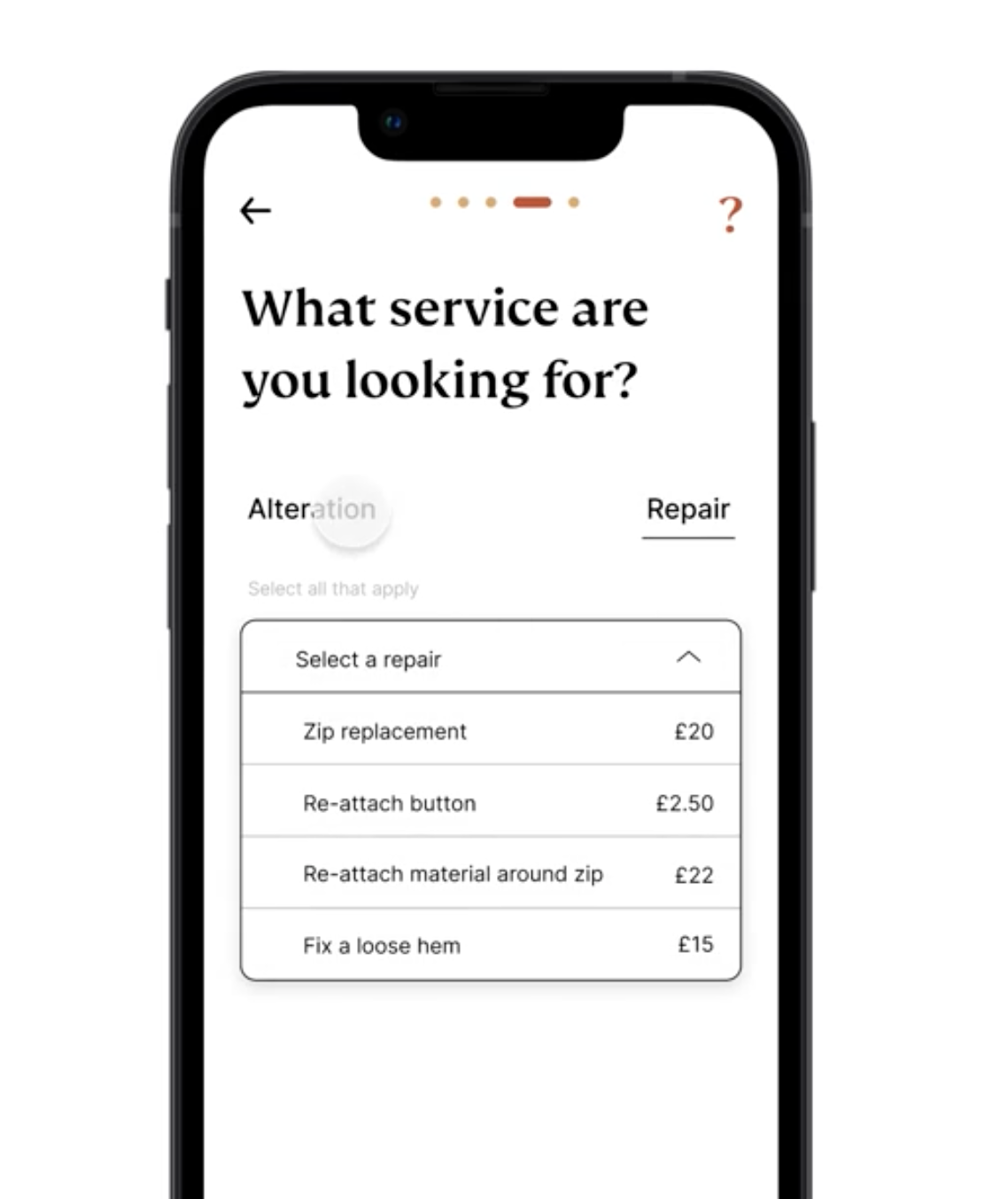 One aspect of this plan to modernise repairs centres on data. As Sojo begins working with brands, it plans to collect information on what is specifically going wrong with clothes that are sent in for repair, with the hope that this can help designers to create more robust items in the future.
"This data has never ever been gathered before. For example, one brand we spoke to said that if someone comes in with an item that's ripped, they give them a new one for free, which is problematic in and of itself; they don't actually have a repair scheme. But also they don't collect information anywhere on: 'What was the problem?" Where was the rip? Was it that specific seam on the inside leg? Was it the zip at the top?'" Philips says. "Ultimately, we want to help them embed more durability into their items in the first place."
Scaling
Sojo is also gearing up for a significant increase in order volumes as it begins to offer its service through brands like Ganni with a big following. Philips says that she is working on plans to outsource the courier side of the business, so that the startup can focus on scaling the numbers of seamsters on its books to handle higher demand for repairs.
This isn't an easy job, she tells Sifted, as people with sewing skills aren't necessarily always massive self promoters.
"Individuals with this skill set are sometimes undiscoverable — so they are maybe in a living room somewhere and it's not like they have a shopfront," she says. "What Sojo is going to do is really unlock this skill set, unlock this talent and get more people into it."
As well as working with independent seamsters, Philips also has plans to bring some of them in-house as employees, and hopes that Sojo will have a bigger impact of revaluing and legitimising work that is often dismissed to the domestic sphere.
"In terms of tapping into the network of those who don't monetise that skill set, it is going to be majority women," she says. "Someone like my auntie who I would bring something to sew —– how can we think about bringing structure to that skill set and also centralising it?"
Black equity
While bringing structure and professionalism to so-called "women's work" is one part of Philips's game plan, she also hopes that Sojo's success will have positive knock-on effects for other Black women founders.
"One of my personal values is the idea of female equity and Black equity. I'm so excited by that," she says. "Usually diverse money goes back into diverse money, and it just keeps growing and, ultimately, more money needs to be in the hands of women and Black people. So the idea that I could be a part of that with what I'm working towards — a billion dollar exit — and putting money back into the hands of those who believe in the same things that I do, both from an impact and gendered and racial perspective, that's incredibly exciting."
Philips has learnt principles like these first hand — 54% of the startup's investors are people of colour and 50% are women. 
"I was asked to do an intro with a fund and I saw that the fund only had men on the team. I just thought, 'I don't want that intro, because they obviously don't align with my values around diversity,'" she remembers.
As well as institutional VCs, Sojo boasts a star-studded lineup of angel investors from diverse backgrounds including Peanut founder Michelle Kennedy, Andy Davis of 10x10 Capital, Pangaia ex-COO Yael Gairola, FLOWERBX founder Whitney Hawkings, The Stack World founder Sharmadean Reid MBE and TALA founder Grace Beverley. 
"I'm so excited by the roster of individuals," says Philips.
And while she says she experienced her fair share of investor bias as a Gen Z Black woman, she'd rather focus on the fact that Sojo has succeeded in a world where white men are most likely to get funding.
"Being straight out of uni with no career history, being Black, being a woman, I had all of these factors, but ultimately the business is the business and that's really what got us through. And we had people who believed in that and also believed in me, which was really great."