This is final article in our four-part series on the future of fashion, exclusively for Sifted members. Check out part one, on the startups making the industry more sustainable, part two, on fashion's experiments in NFTs and crypto, and part three on digital fashion.
Sneaker sales have soared in 2021. Nike notched its best quarter for 50 years and Puma saw a 96% year-on-year increase in sales in Q2. Second-hand trainer trading has also boomed: the reseller market is now worth an estimated $10bn.
But it's not just the big brands propelling the sneaker world forward. 
Startups are changing the game too, pushing the industry forward with new tech — from sneakers to wear in the metaverse to 3D-printed shoes that can be remoulded over and over again.
Designing in virtual reality
Sneakers (aside from the NFT variety, which we'll get to later) are 3D, physical objects; but the methods used to design them have remained largely 2D, often beginning with pencil sketches or Photoshop.
That's changing fast: UK startup Gravity Sketch is producing software to let sneaker companies design in virtual reality, meaning the shoes are 3D from the outset. 
In Gravity Sketch's platform, designers wear VR headsets and join each other in a virtual studio, navigating around 3D objects to draw and sketch directly onto them. It means designers can sketch around the ergonomics of the foot more easily.
Adidas is using the platform and has just released a shoe designed in VR. Using Gravity Sketch means that Adidas's international workforce can see the shoes in 3D earlier than they would have done otherwise — including the manufacturing team in Asia.
"One thing we also saw during the pandemic is that people jump into these virtual studios and work on their own things but in the same space too," says Daniela Paredes Fuentes, founder of Gravity Sketch. "It's mimicking the in-person design studio experience."
Shoes for the metaverse
It's not just physical sneakers that startups are developing. London-based NFT brand RTFKT (pronounced "artefact") is working on unique digital shoes and says it wants to become the "sneaker brand of the metaverse".
The company, which operated quietly for a few years before entering the public sphere in early 2020, uses game engines and blockchain authentication tech to sell sneaker designs as NFTs. Consumers can use augmented reality tech to "wear" their shoes.
RTFKT are hoping that, as consumers spend more and more time in virtual worlds, as much importance will be placed on digital sneakers as physical ones. It's a vision that investor Andreessen Horowitz backs: the firm led an $8m round into RTFKT in May. 
The startup hit the headlines earlier this year after it partnered with 18-year-old artist Fewocious to design a range of NFT sneakers. They sold out in seven minutes, making $3.1m.
RTFKT also collaborated with retro games company Atari earlier this year, selling digital shoes (like the one in the video above) that can be used in metaverse games The Sandbox and Decentraland.
Several big brands are working on digital sneakers. Nike has filed for new trademarks that indicate its intention to design shoes for the metaverse, protecting its famous swoosh logo and "Just Do It" slogan.
3D printed and endlessly remouldable
Back in reality, other startups are developing tech to make the physical sneaker world more sustainable.
One of those is German company Zellerfeld. It 3D-prints sneakers using a material that can be remoulded into another pair of shoes when the wearer wants a new design, creating a circular economy of shoes that reduces waste but still allows for new designs.
The shoes are made from plastic printed into fine lattices, which make the shoes breathable. The plastic can be shredded, washed, ground up, reheated and reused to make new shoes.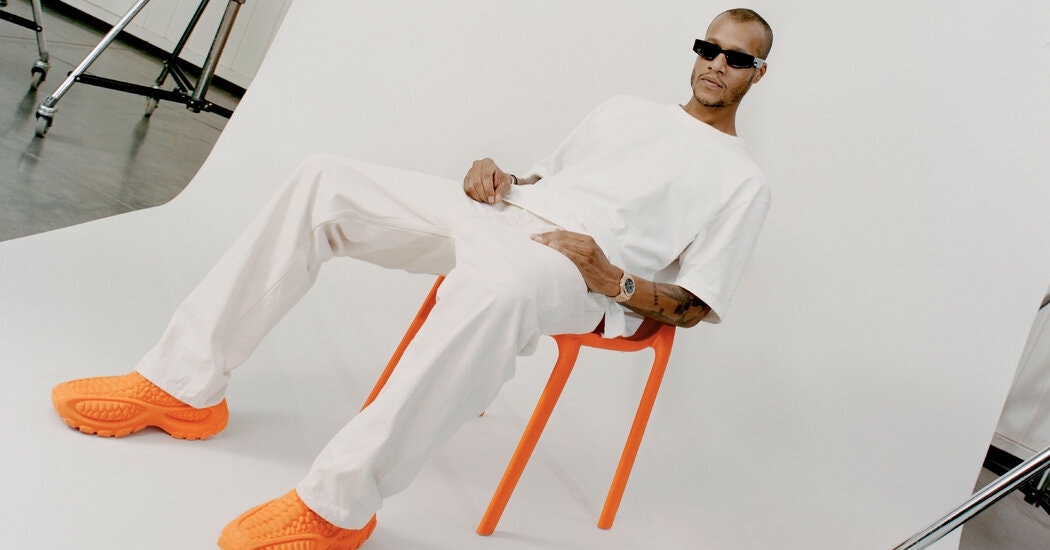 Traditional sneakers can take up to 150 manual labour steps to create, often done in factories with poor working conditions. Zellerfeld says its process can eliminate most of them and free designers to focus more on designs and less on how they'll be produced.
Zellerfeld has collaborated with American artist Heron Preston to design a shoe and also printed a pair for Elon Musk and Grimes's baby X Æ A-XII. 
Other sneaker tech companies to watch out for:
Materialise, a Belgian company, is another startup working on 3D printing for shoes. It's printing insoles which mould to a person's feet based on a 3D scan. Their tech has been used by British marathon runner Paula Radcliffe.
Rens, a Finnish brand, is making sneakers out of recycled coffee grounds. Each pair takes 150g of coffee and 6 recycled plastic bottles to make.
Croatian startup Miret is also working on sustainable materials for sneakers. It uses a combination of hemp, kenaf, cork, corn, jute, eucalyptus, rubber tree and New Zealand wool.
Volumental, based in Sweden, is working on 3D foot scans, which use AI to take people's foot dimensions and help designers build shoes based on the metrics.
There's also Futures Factory, a French startup, which runs an NFT sneakers marketplace. It raised $2.5m in September this year.